December 15, 2011
Too bad that the man in the photo - it's not your favorite, Cameron, a close friend. 39-year-old actress walking around New York in the naibanalneyshem image that oddly enough looks at it as something in a special way through the magnificent figure (not surprising, since its most beautiful legs in Hollywood). Black leather jacket, tied atop dark gray scarf, skinny little frayed jeans, boots and a black - set of old things, which is probably every girl. Furthermore Diaz wore a long cardigan, indecent strongly protruding from under the clothing. Perhaps the only negative nuance of all onions.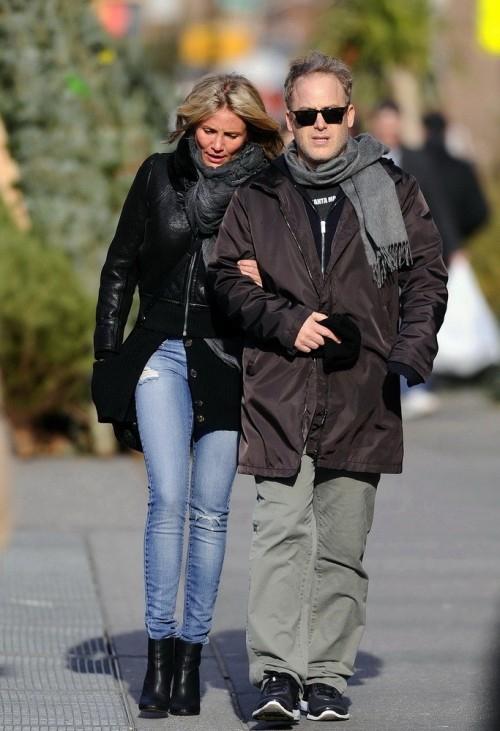 January 7, 2012
Cameron leaves the nail salon in Beverly Hills. Cam turns out great care of herself: goes to the gym, beauty salons, etc., and at the end of last year, she made a new short haircut. Kara is quite good, but I think with long hair Diaz would look younger. I remember the times Cam "Masks" and sad, so she's charming and attractive, and now ... Time does not spare anyone, but the smile and legs - this is her trump card, which, with its 20th anniversary has not changed. Bow in shades of gray to face the blonde, that's just too wide sweater.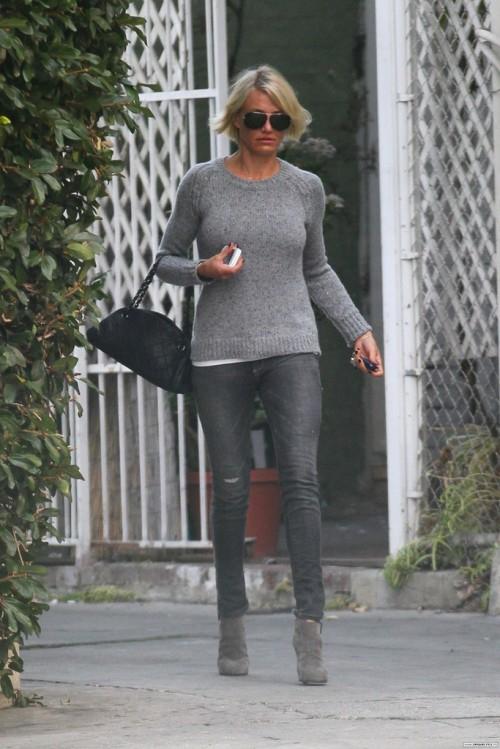 January 17, 2012
Visiting Los Angeles beauty Cam made in simple everyday set of all of the same blue jeans, ankle boots, adding to all this long knitted black jacket and a gray T-shirt stretched. Cute image, handbag clearly superfluous.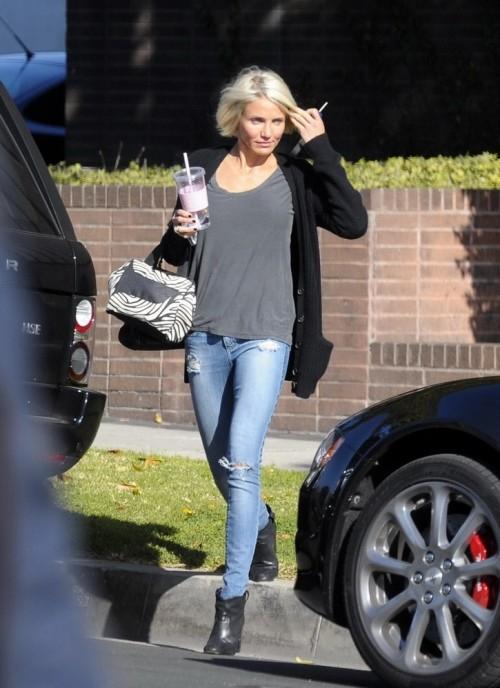 January 23, 2012
Cameron leaves the hotel «Four Season» in Paris. The capital of France is divinely beautiful, there arose fashion, well, stars almost always try to look at this city at 100. The chic image with open legs paparazzi photographed in January Monday. Elegant, refined, luxurious ensemble, but boots could be changed to something more presentable. Fleece is excellent, although short-haired Diaz I do not like.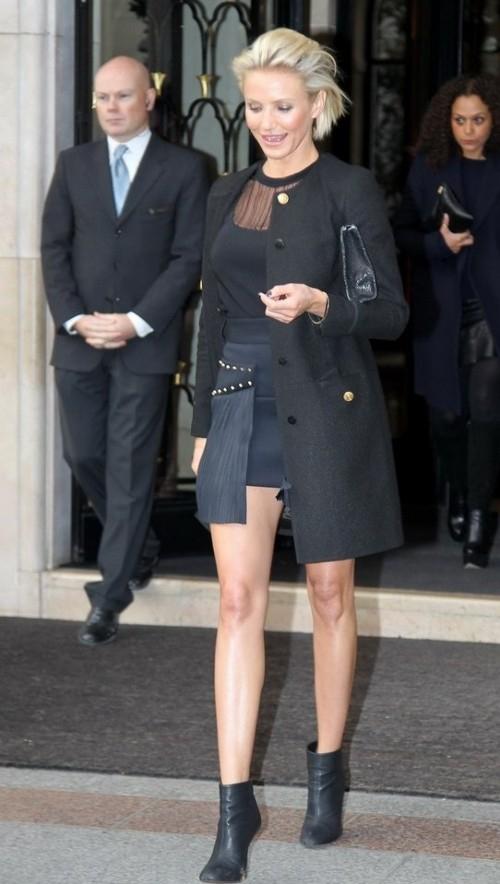 January 23, 2012
What a beautiful single-breasted jacket! As for the rest, leaving the Paris hotel, Cameron looked the same as usual. I also liked the bag, sorry I do not know ... But the firm jacket, jacket is great, it is very it goes.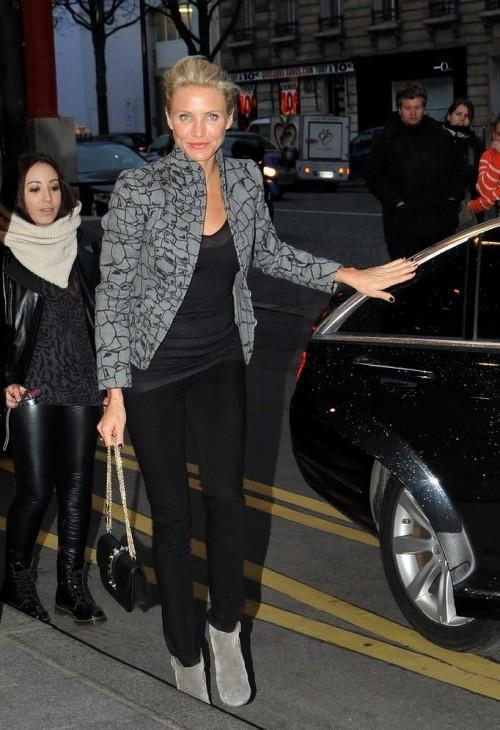 January 24, 2012
Cam arrived at «Givency Fashion Show» in Paris. Interestingly Fashion Week she crossed with Jared Leto? I would have wanted them to be together, but apparently is not destiny, so many years have passed ... along fine, leather pants are not for everyone, but the figure Cameron entire lower part looks great. Cute gray cape, initially wanted to call it a poncho, but apparently it is a coat or cardigan. In short cape :)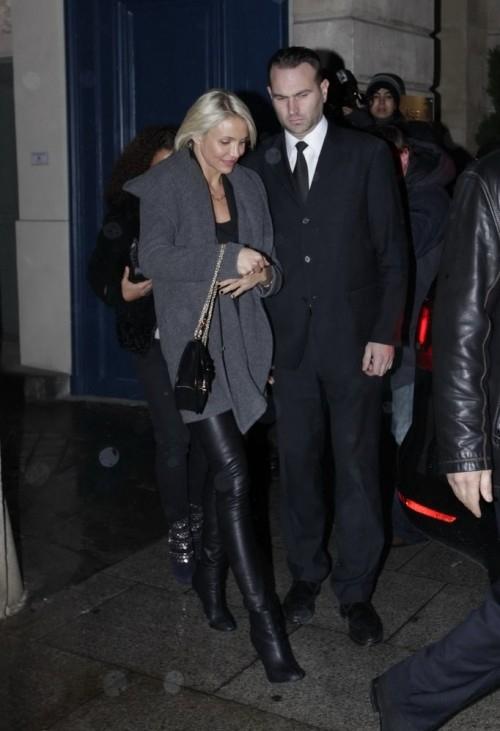 February 9, 2012
With a glass of drink veselitelnogo Diaz took a tour of Beverly Hills. Sunny day = sun image. Interesting beige widget on Cameron, though I do not know what it is, but when I want to "hide" it would fit perfectly. The rest of the image, as usual, casual design.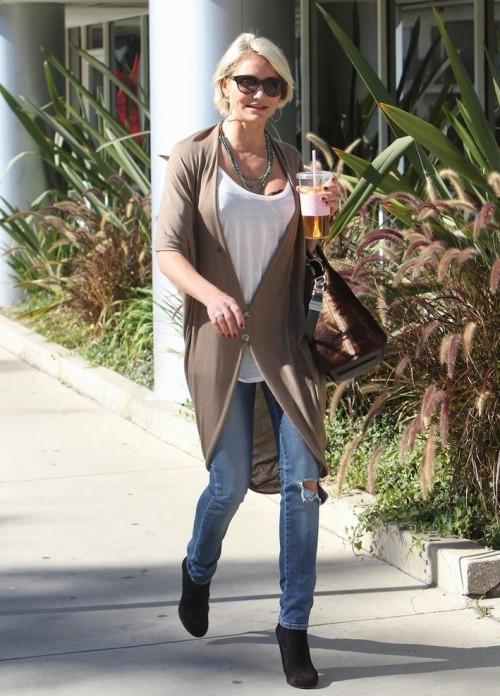 February 25, 2012
Blooming appearance actress demonstrated at the exit of a medical clinic in Beverly Hills, a city that is the main residence of Cameron. What she visited the clinic the media is not known, but apparently she is completely healthy, Miss positive. Zdorovskaya styling and a good image, which began military-jacket and ended elegant sandals. Combining things from different styles Diaz created a truly beautiful image.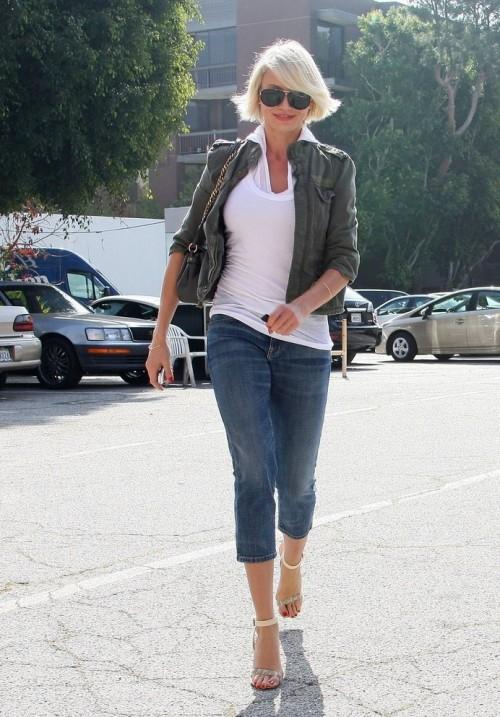 April 2, 2012
Cameron for a walk in New York, in the trendy youth bow.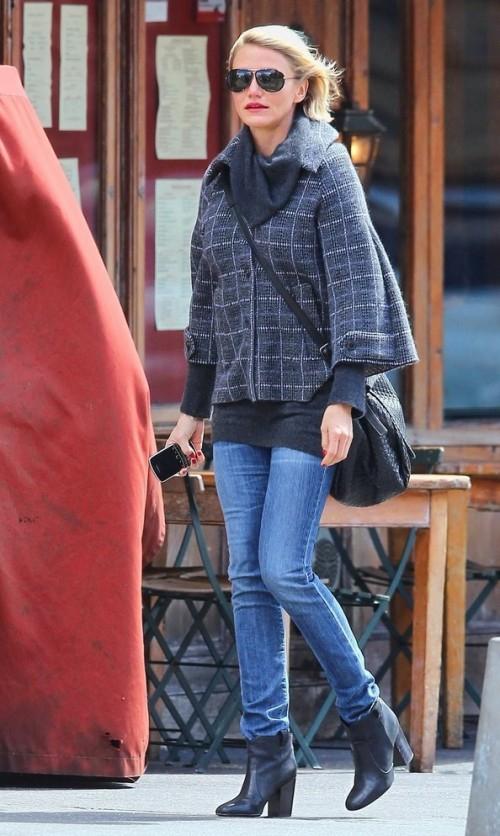 April 7, 2012
The actress left the airport LAX. Gentle, clean, natural way.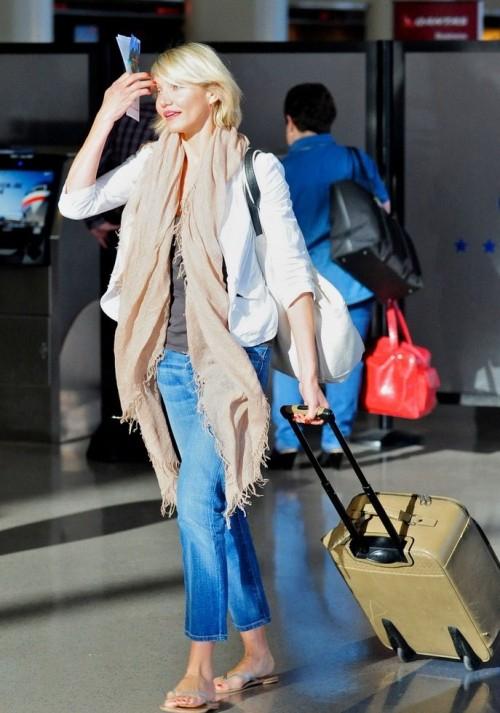 April 7, 2012
For the first time I see her sister's face and Cameron did so, they are similar. That's just something not very good look at her older sister's home. By the way, they rested together in Hawaii. Cameron in the same manner as in the previous picture. Scarf so long, I'm afraid not just povolokalsya on the ground.