Continued review of the fashion from the red carpet of the 70th ceremony of "Golden Globe". The first part of - here.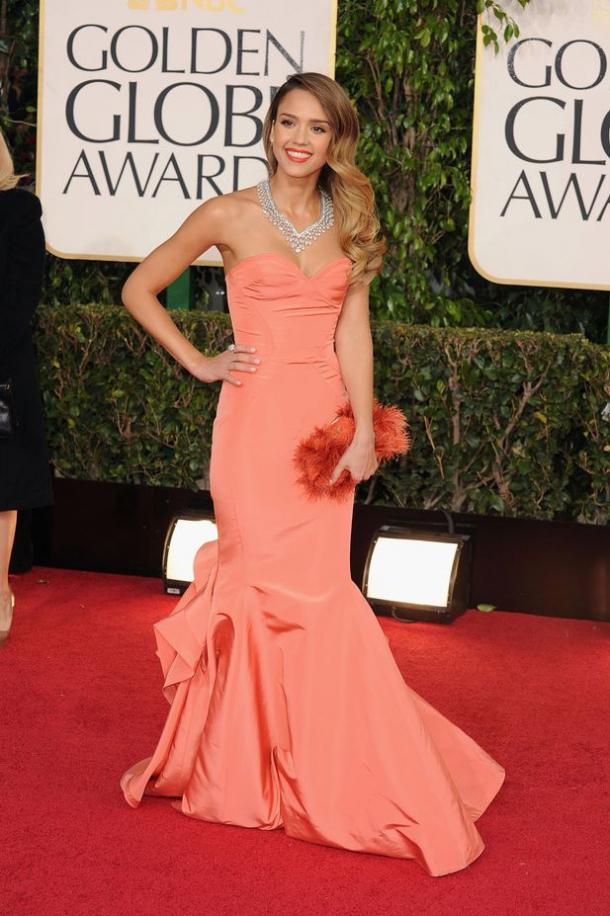 I fell in love! Jessica Alba has never looked more beautiful than in this delightful creation by Oscar de la Renta. Mermaid silhouette - is not new, but the asymmetric skirt and an unusual red carpet coral color (which, incidentally, is delicious combined with our dark skin Jess) look charming. Styling is also impressive - lipstick to match the dress and unusual "feathered" bag look very impressive against the backdrop of a diamond necklace in a few million dollars.
Despite the fact that the image of Jennifer Lopez was predictable, she looked at him for a million dollars. Dress Zuhair Murad, where the Jail and appeared on the red carpet ceremony was decorated with white embroidery on top nyudovoy fabric with transparency. A great option, especially with such seductive curves, like Lopez, but one should be careful - such outfits quickly stale.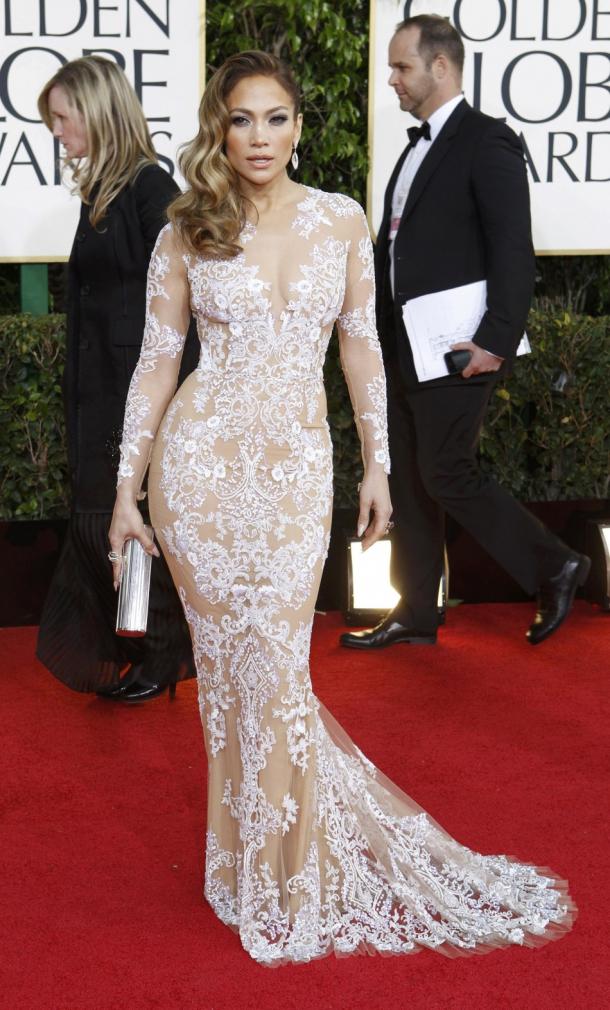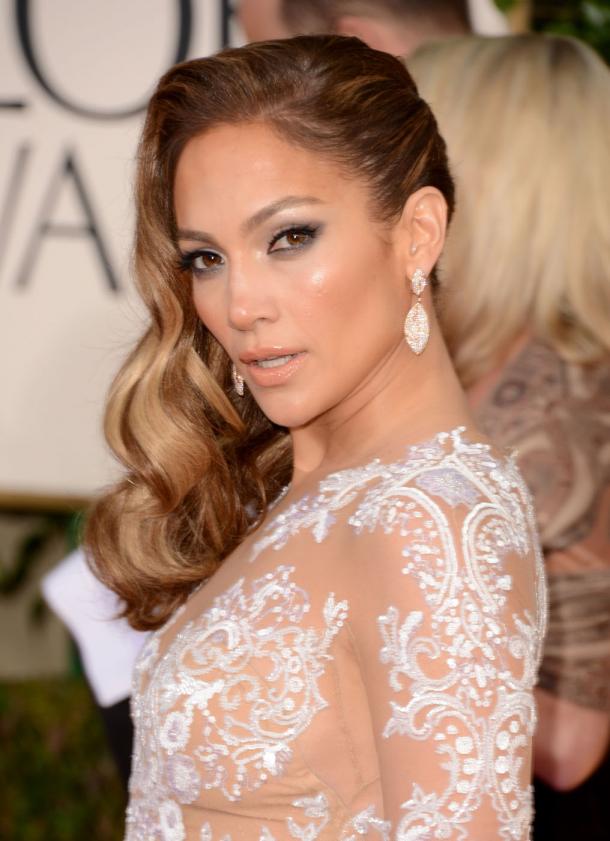 Tell me how it does it? Once a month had passed, like Claire Danes I became a mother, and she looks as if she had never been pregnant! As for Claire dress, she chose for himself the usual style that found its expression in Atelier Versace dress juicy red. I would prefer for this image smooth hair with low beam and tail, but even with long flowing hair Claire looks great.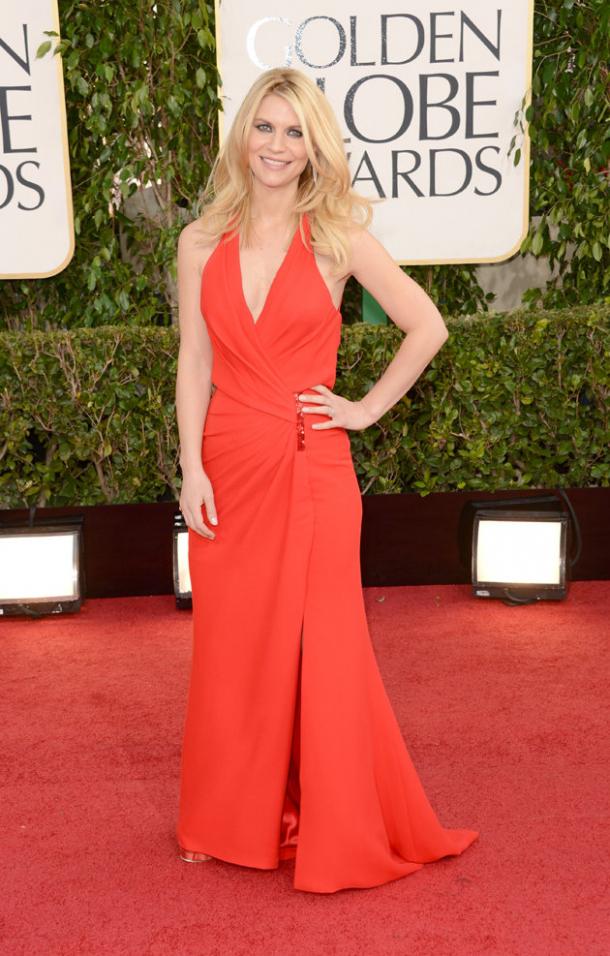 Claire with her husband Hugh Dance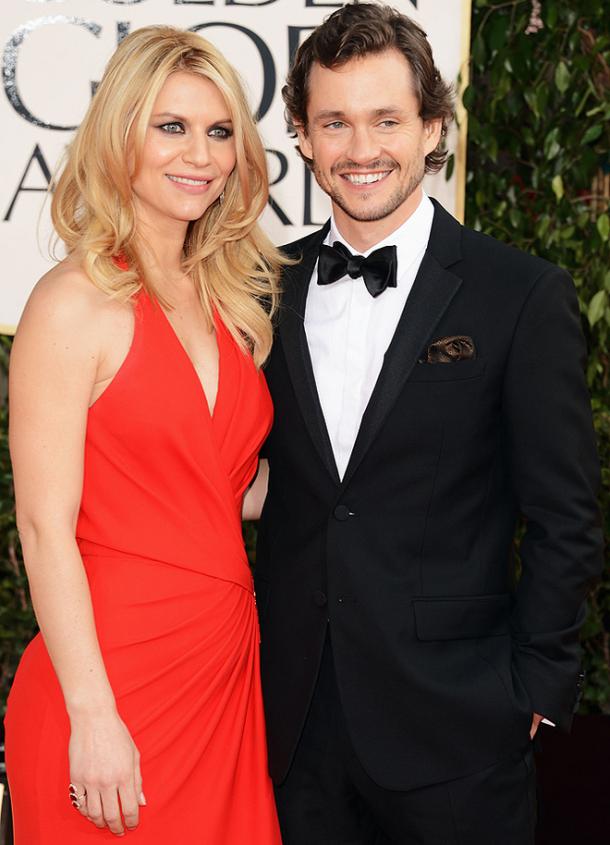 Rachel Weisz made a bid for a playful version of the little black dress with a skirt and a transparent insert on the bodice with polka dots. I created this intricate ensemble fashion house Louis Vuitton. I'm not a big fan of such experiments, but this dress I like - there is in him something very funny and cute. However, we dress is a minus, though insignificant - the skirt is too long, because of what the dress looks untidy.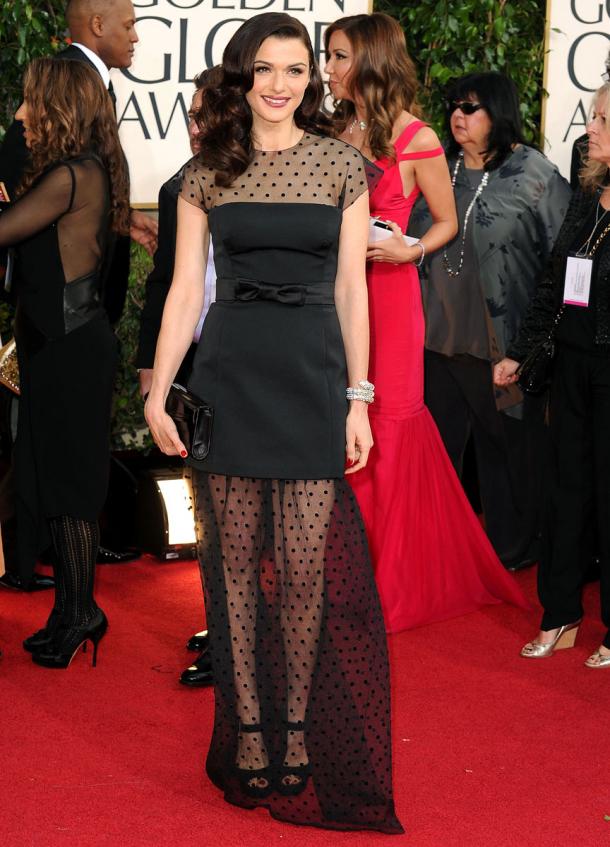 Rachel and her personal 007 Daniel Craig, which is oh so do not go his glasses :)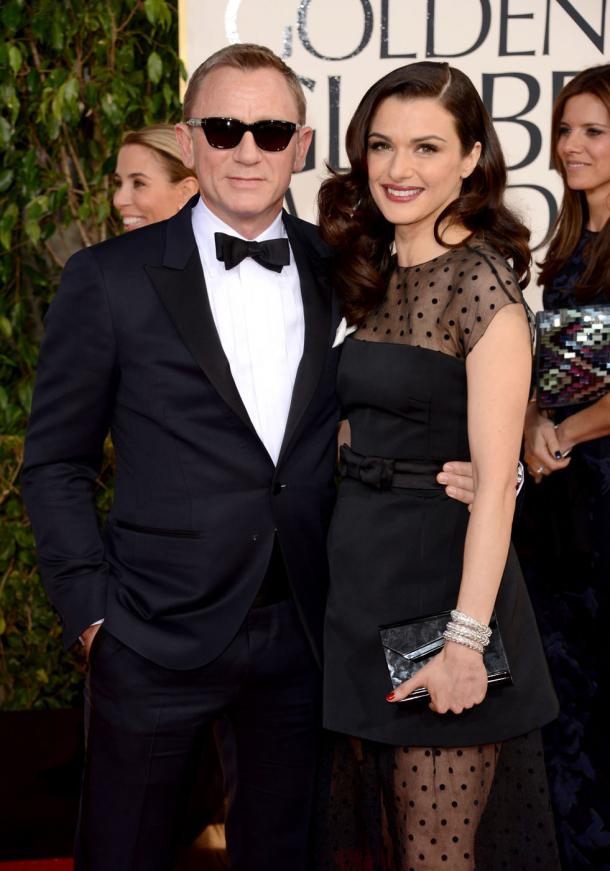 Every day the images of Naomi Watts are getting better and better. Yesterday, she showed us a delicate pink dress from Gucci, and now appeared on the red carpet supereleganton Zac Posen burgundy. Gorgeous evening dress with open back and dramatic train perfectly perched on Naomi, presenting her body in the best shape.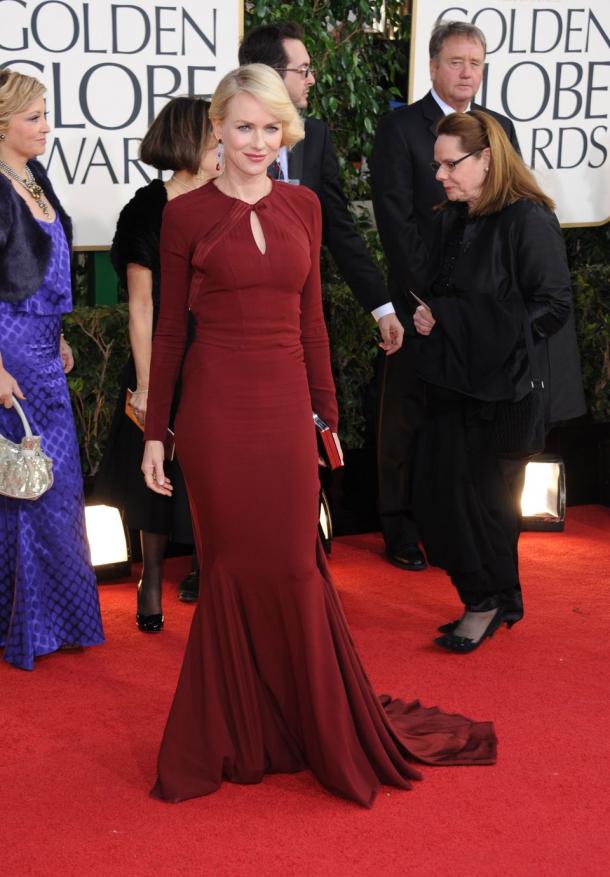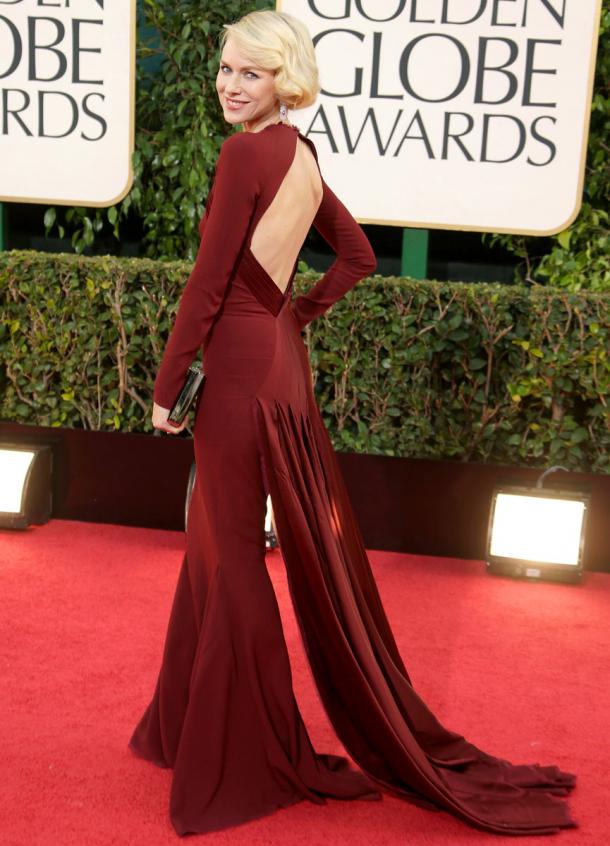 The singer of "Song of the Year" Adel has managed to make the black color of his calling card, but I'd love to see her in something other than black dress. Despite this, I can not deny that the young mother looked in her dress by Burberry fine. But I still hope that one day she decides to burgundy, navy blue, or perhaps an emerald dress.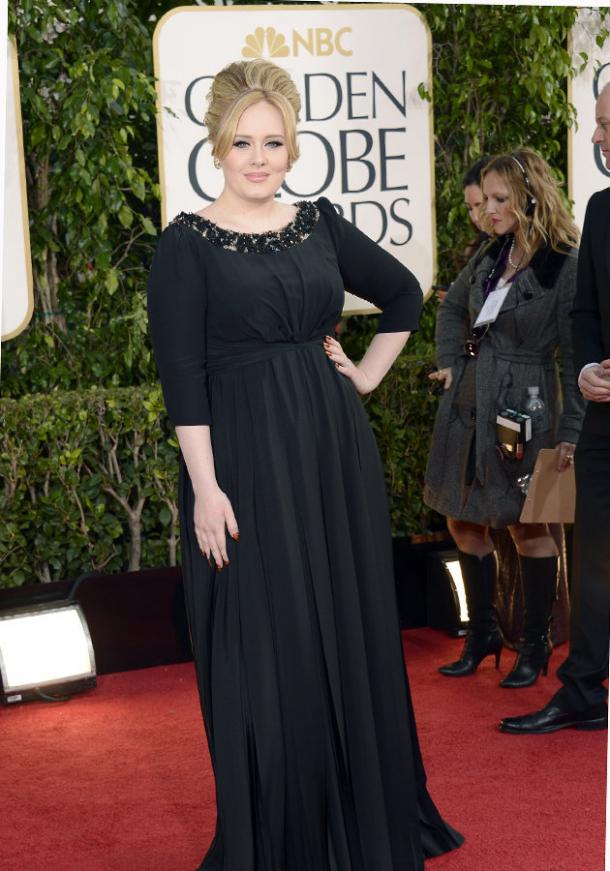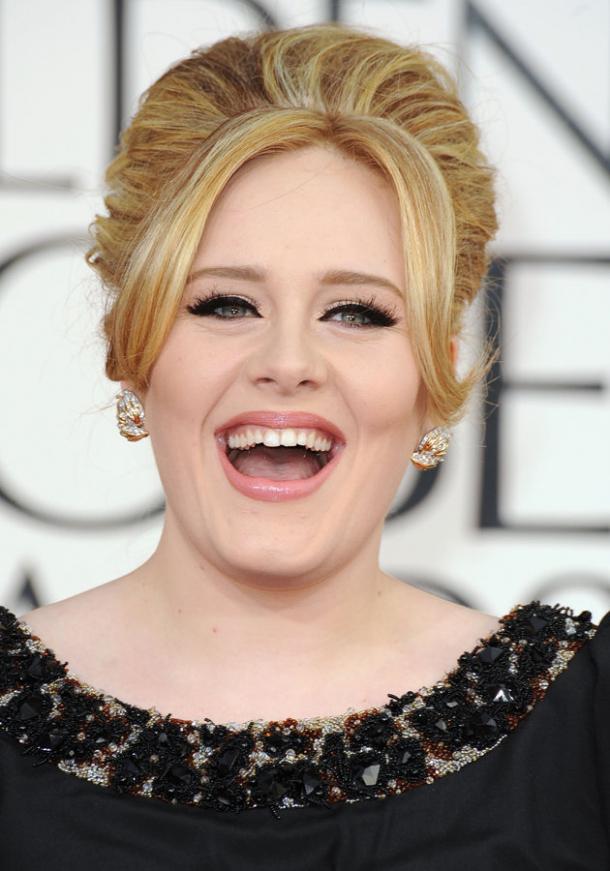 Actress Emily Deschanel in Badgley Mischka. I admit, I'm not really familiar with the work of the actress, but I could not show you her gorgeous dress chip which were decorated with emerald and gray stones straps. Very style and unusual!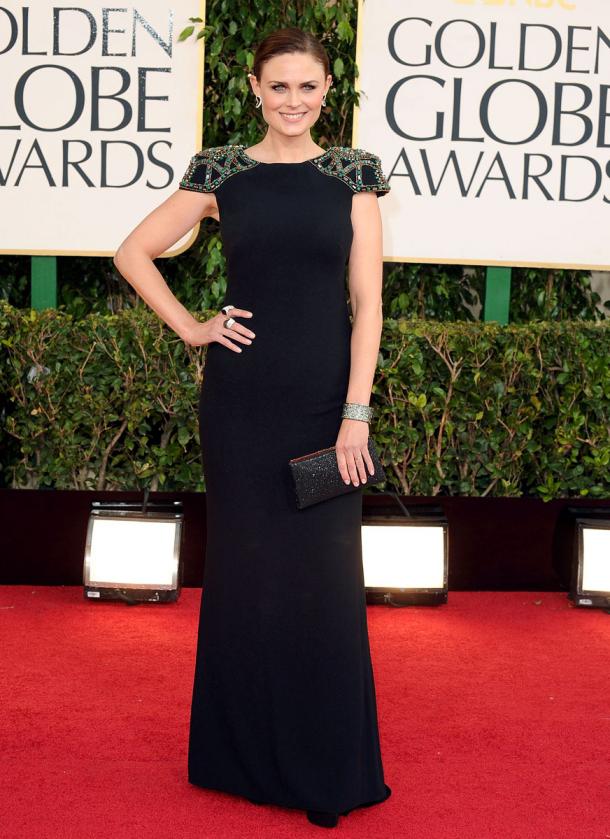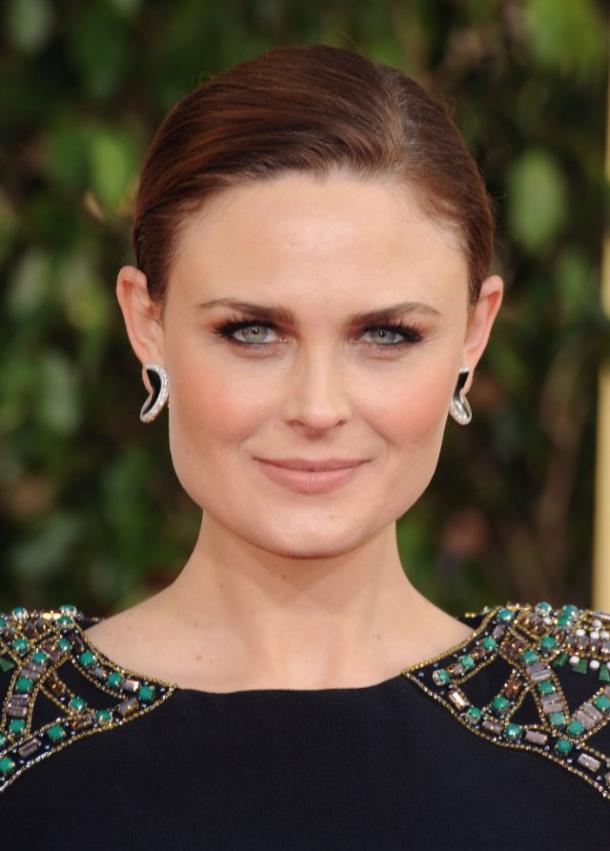 It is an unexpected version of the image chosen for the "Golden Globe" Sienna Miller. Apparently, the theme of infantile clothes became very close to Siena, otherwise she would not have chosen this unusual Erdem dress with volume application in the form of flowers, pastel and neon colors. I can not say that this outfit is adorable, but the retro silhouette and floral designs look interesting.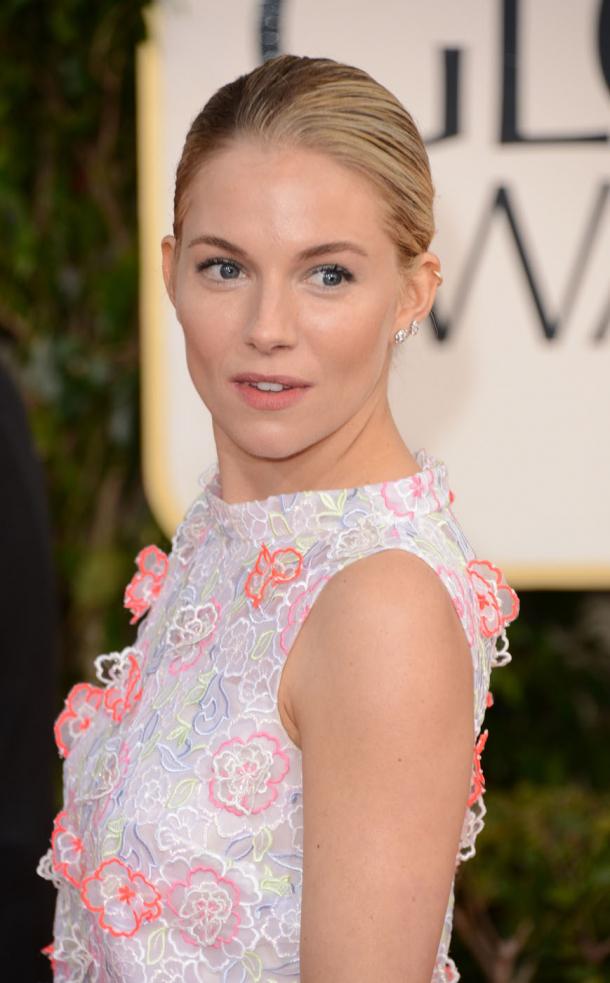 Kristen Bell opted for the red carpet perfect dress spring collection of Jenny Packham. This dress not only looks amazing because of the beautiful pale lavender and luxurious decoration on the bodice, it perfectly emphasizes the new figure Kristen, without making her tummy limelight. I think the Duchess of Cambridge would be very pleased to learn that her favorite designer house sews dresses for pregnant women.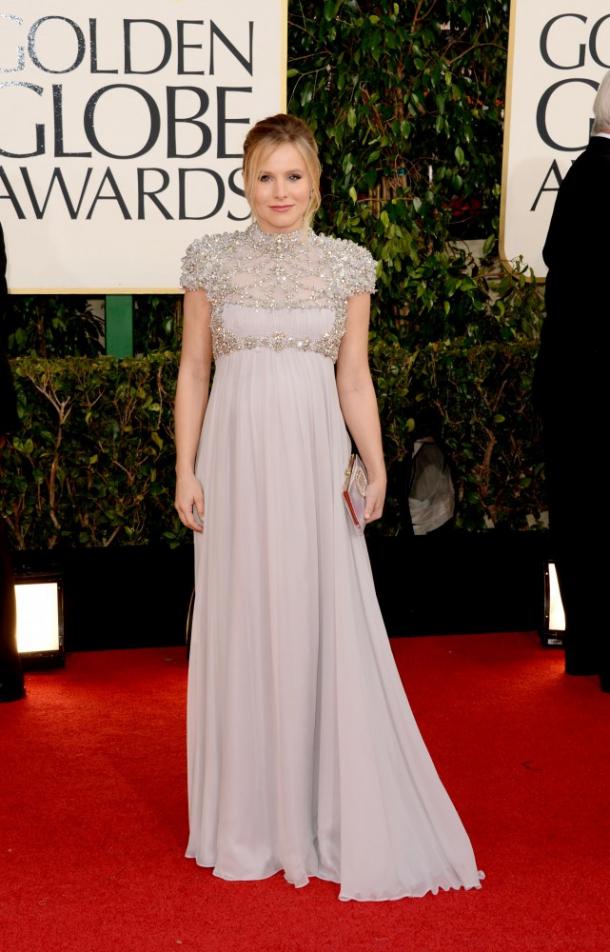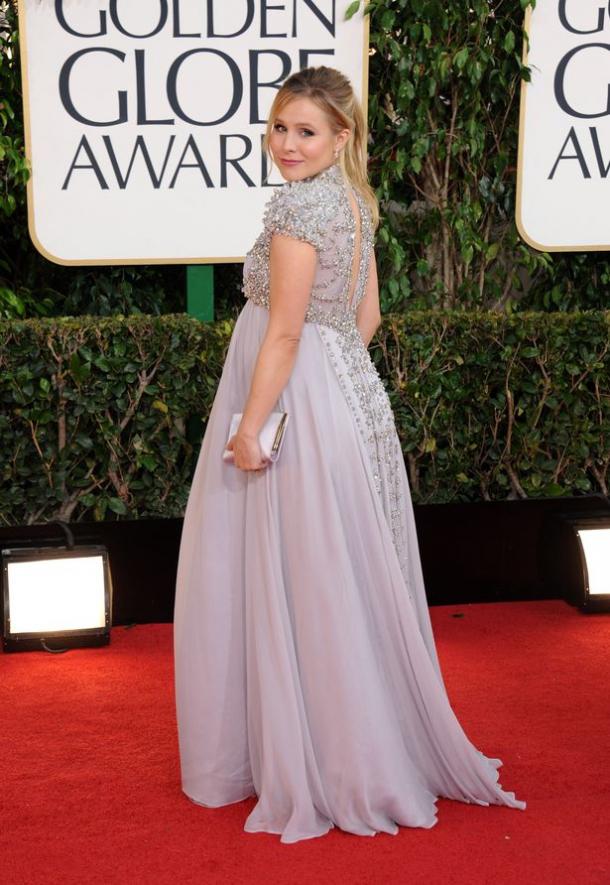 Julianne Moore opted for a red carpet creation of his good friend Tom Ford. Its minimalist black and white outfit perfectly reflects the style of his mistress - it is such an elegant and very expensive clothes to face the actress thoroughbred appearance.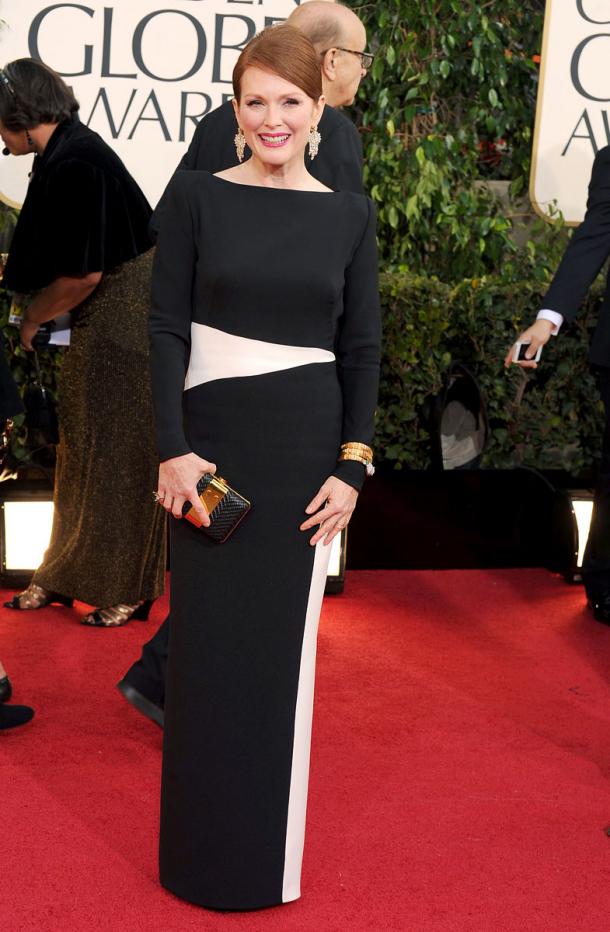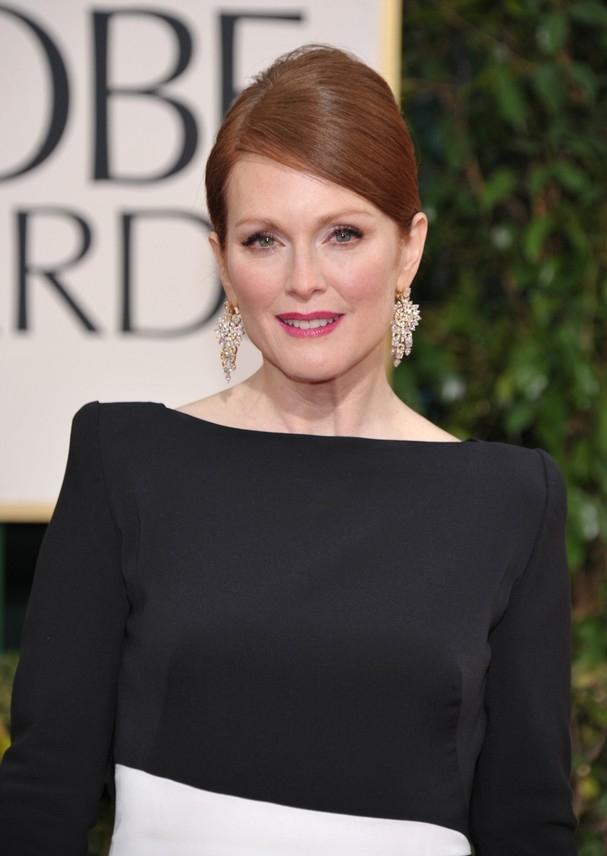 Jodie Foster could not think of anything better than appears on the red carpet in the dark blue creation house Giorgio Armani. This dress is perfect Jodie - it is elegant and at the same time is not boring, stylish and noticeable, but at the same time it does not go beyond the limits that are so important in the case of the actress with a great name - such legendary women like Foster, you should always keep the brand.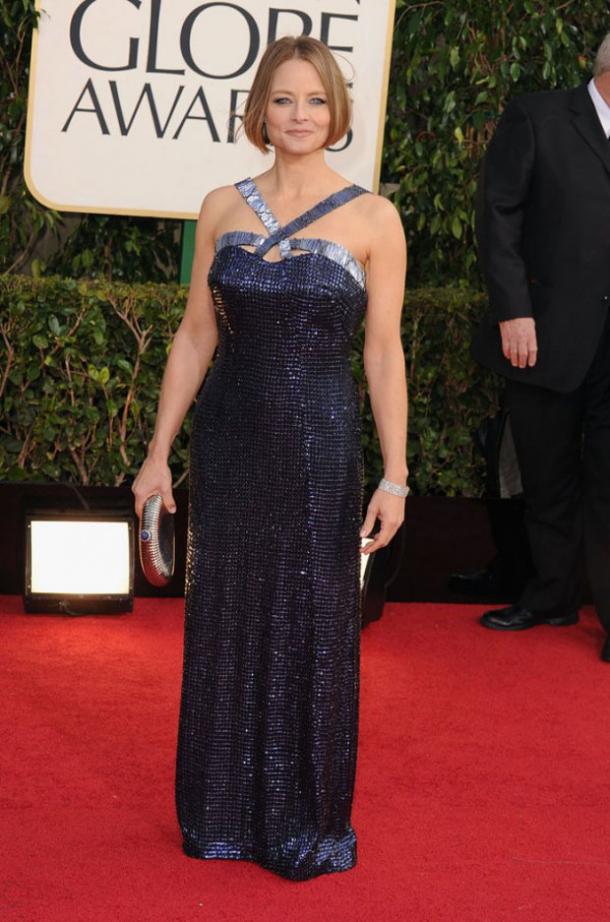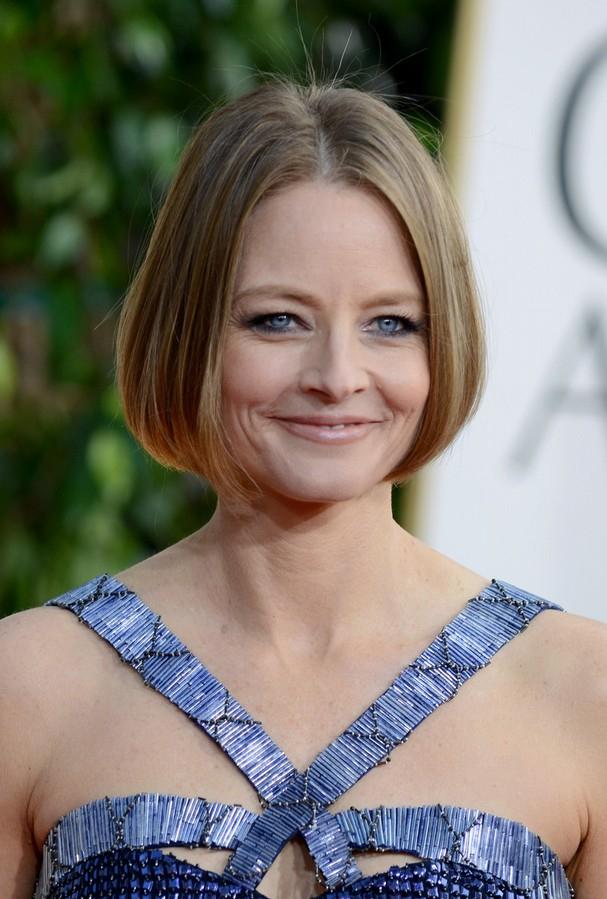 Black dress that wore on the red carpet Katharine McPhee, had a good chance to look cheap and tasteless, but competent styling brought all these chances do not. Stylists singer decided to confine the main color of the image, providing Katherine black dress sandals with transparent insert, garnished with black stones and black manicure same.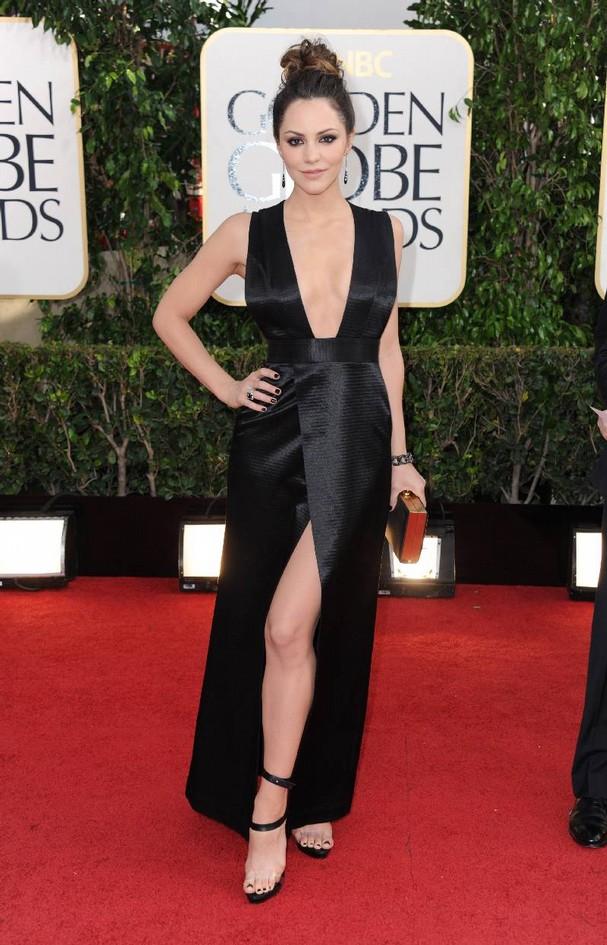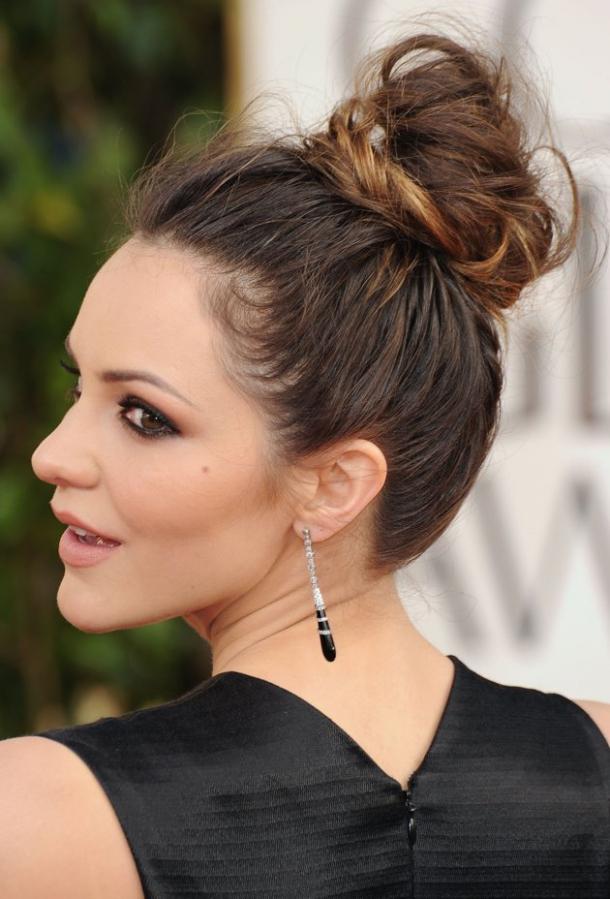 Image of Kristen Wiig, created a dress by Michael Kors, which proves once again that beauty - simplicity. A simple black dress (in our case - with an interesting neckline) can do wonders, as bequeathed to the legendary Mademoiselle Chanel.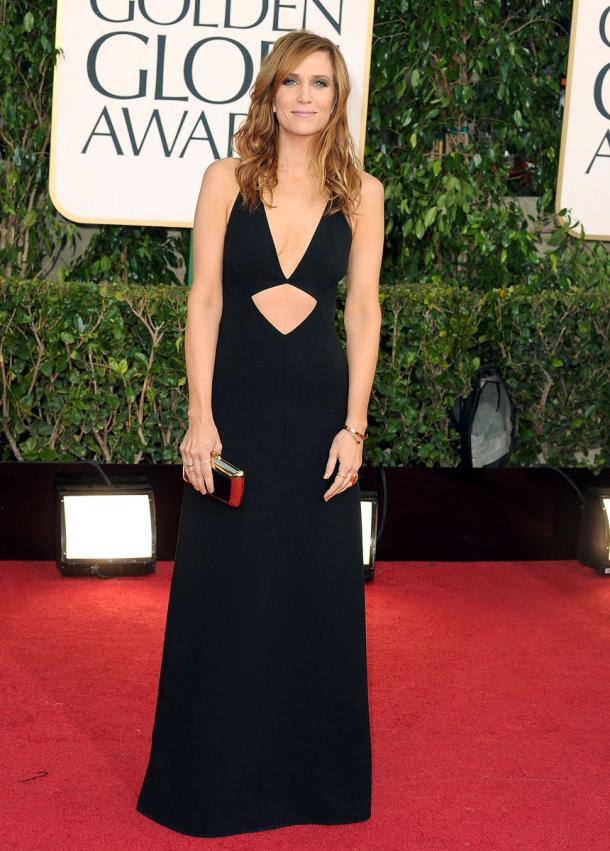 I was very surprised when I learned that this gentle airy dress, which appeared Hayden Panettiere, created by an amateur animal prints Roberto Cavalli, but it's true. In my opinion, this is the perfect evening dress for radiant Hayden - it looks very gentle, natural and perfectly underlines the small size of our heroine. Caramel-pink clutch perfectly complements the outfit, reminding us that, despite its apparent fragility, his mistress - the girl is very brave and active.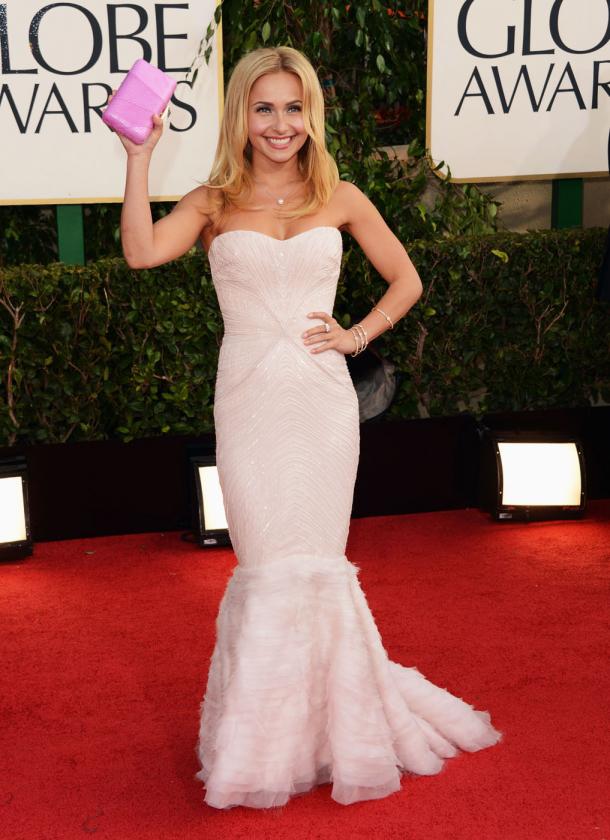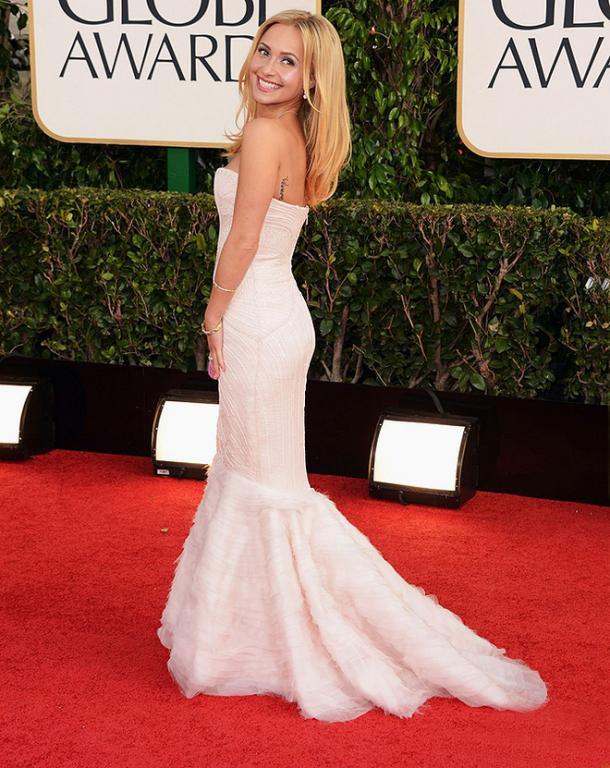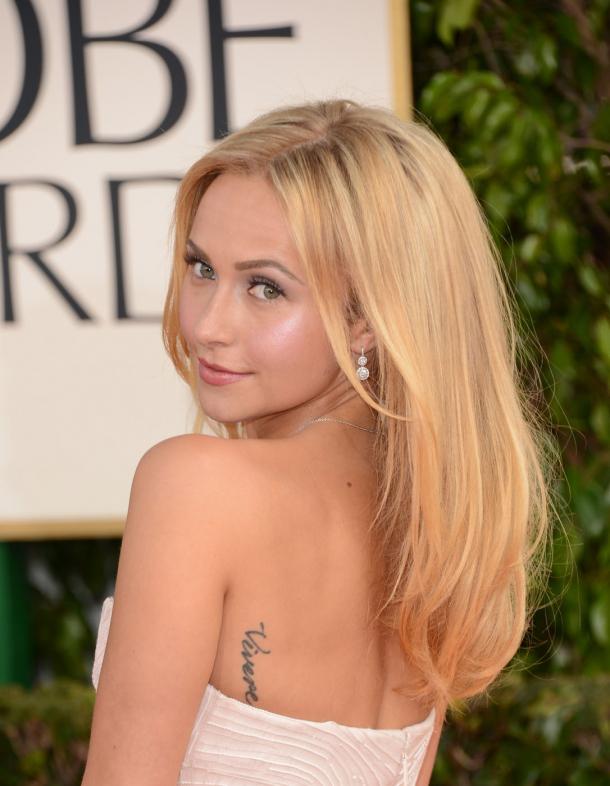 Of course, the appearance of actress Ariel Winter is not pulling on her 14 years, but she tried to look youthful and provocatively in this shortened Valentino dress with multicolored floral print. I like the variety of girls - dress really looks very funny and fresh, but I am convinced that in order to create a more harmonious way of Ariel followed to give up such a large number of jewelry. Massive ring and bracelet clearly redundant way 14-year-old girl, and that's a wonderful rim decorated with turquoise - just right.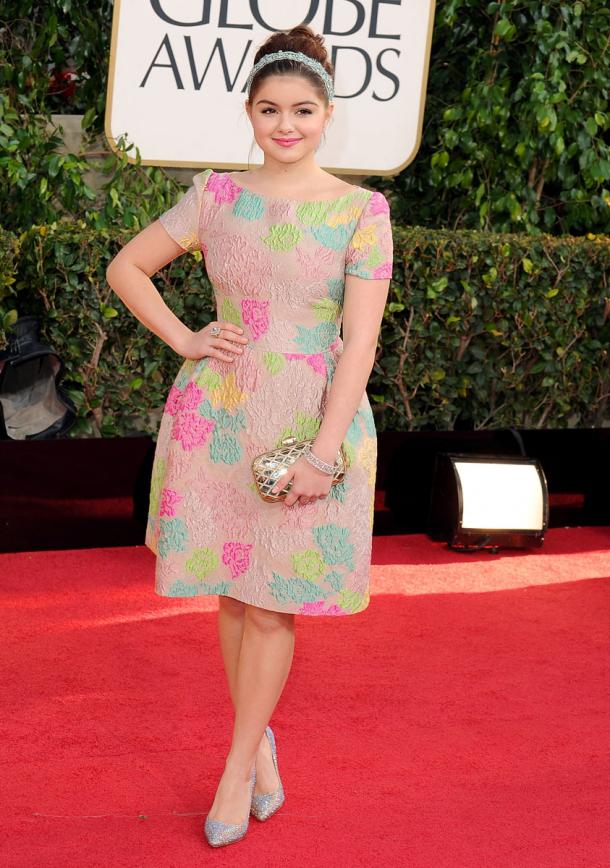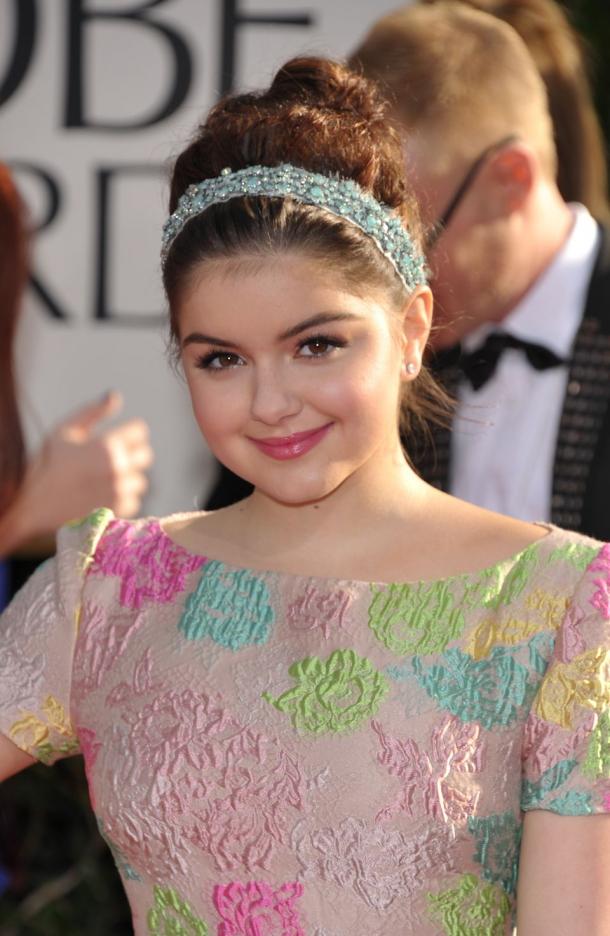 To be continued…