Well, boys and girls! Here and waited - 70th anniversary award ceremony "Golden Globe" has died down yesterday in Hollywood. It was an unforgettable sight with its inherent couture clothes, diamonds glitter and shining smiles a million dollars. I admit, I just breathless, I selected the photos for this post - dresses of famous fashionistas imagination! Hopefully, there is a feeling and you!
Amy Adams was the first who demonstrated the creation of a new Marchesa 2013 and managed it is 100%. The image of the actress was very gentle and fragile - is akin to beauty Amy: flesh-colored lace virtually merged with the porcelain skin of the actress, but thanks to the lush tulle skirt in a mermaid style dress looked very lively and mobile. Beautiful image!
Rosie Huntington-Whiteley appeared at a ceremony in evening dress from the spring collection of Saint Laurent, arm in arm with his pious Jason Stethema. Attire model has been decorated with large chiffon bow, cut from the hip and a leather corset belt, which gave the image of aggression and sexuality. In this rather unusual dress Rosie managed to look beautiful, but personally I would have expected from the British women, which is famous for its great style on the red carpet, more. Bow is successful, but it is unlikely to be remembered.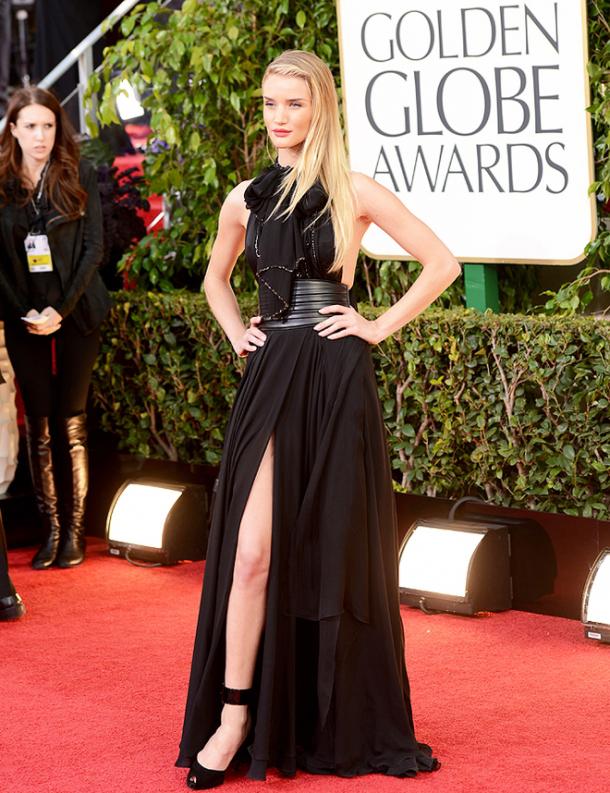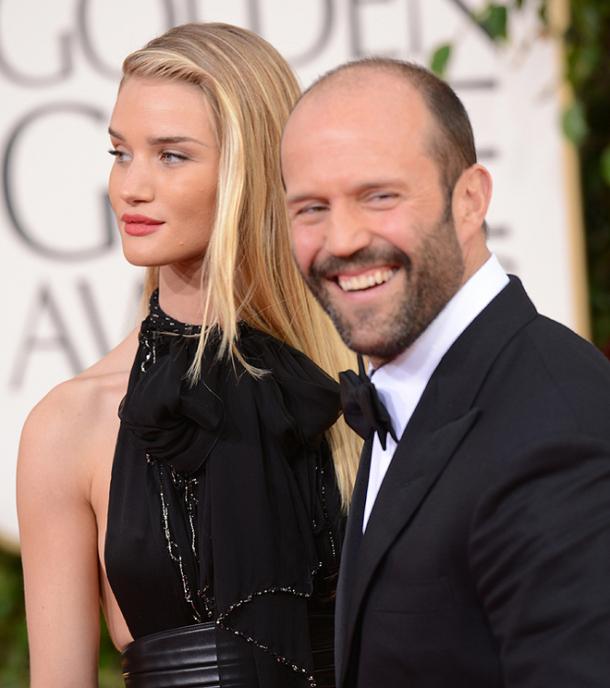 Here it is - the perfect dress for Nicole Kidman. Unusual creation of the fashion house Alexander McQueen, which combines status, originality and style. The simple silhouette and classic black color offset built-in corset with translucent inserts and appliqué volume of precious stones on the bodice. Simple hair with natural curls, neutral makeup and unusual bracelets with rich blue stones perfectly complement an interesting dress.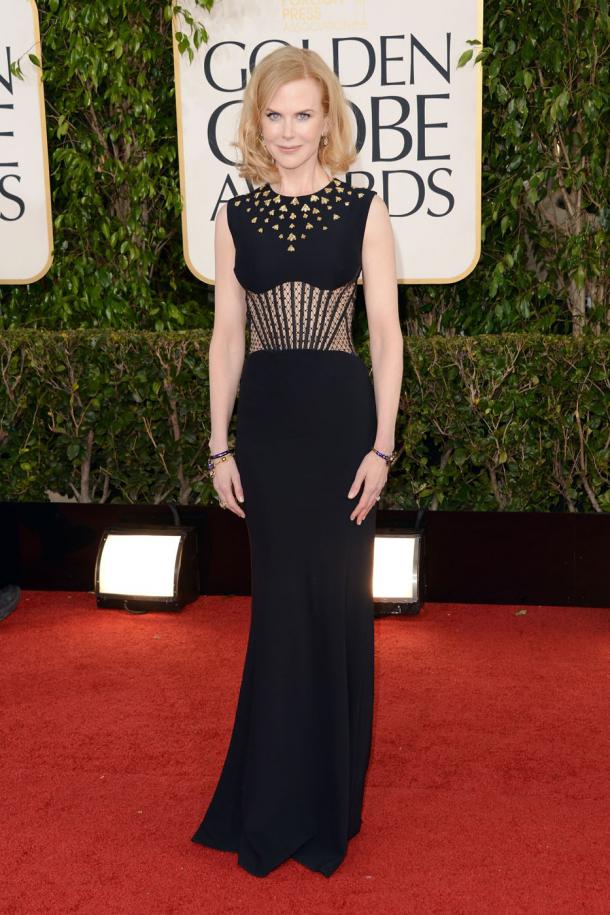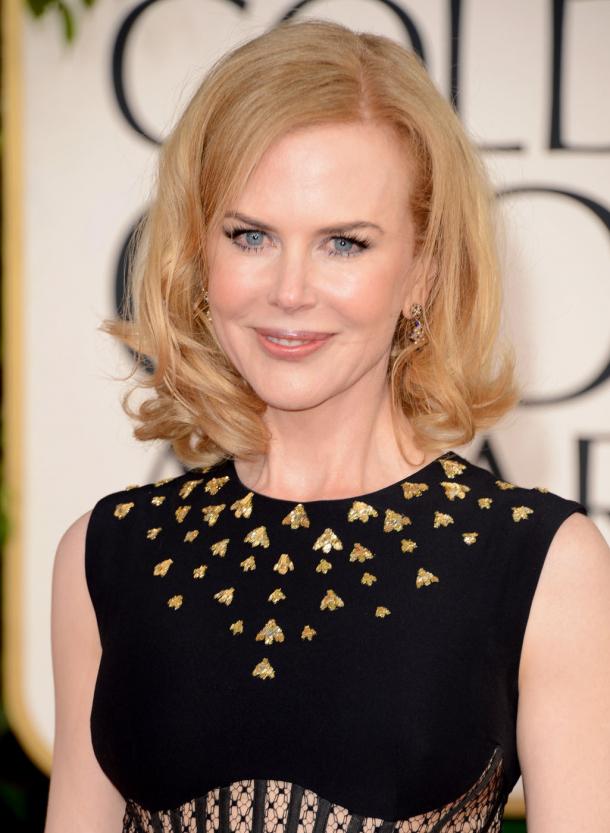 Zooey Deschanel in a dress Oscar de la Renta. Retro style has long been a hallmark of Zoe, so I'm not surprised to see her in a scarlet dress in the style of the 50s, supplemented by elegant string of pearls and a suitable bracelet. In the image of the actress looks very organic, but it's all we have seen - is boring.
Zoe - a girl with a sense of humor and with an appropriate nail polish. At this time, on her marigolds adorned with drawings on kinotematiku. Let me remind you that last year she chose a manicure with the image of a tuxedo with a butterfly.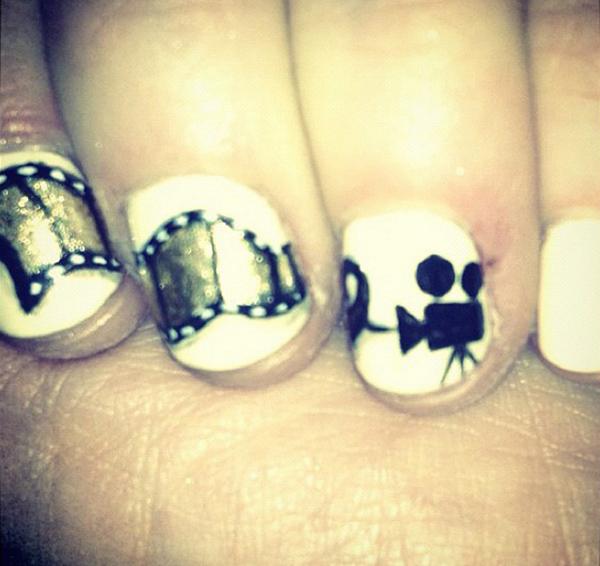 Julianne Hough opted for a red carpet dress in the style of a fairy princess from the collection of Monique Lhuillier. Rich finish gold crystals that though scattered across the lush multi-layered skirt, similar distance to the swan feathers - it all looks very impressive, and the outfit is certainly worthy of admiration. However, I am confused by the choice of hairstyles - I believe that the comb cook is not the best companion for so feminine and air attire. According to the most Julianna, this hairstyle was designed to make the image more aggressive. But is it needed?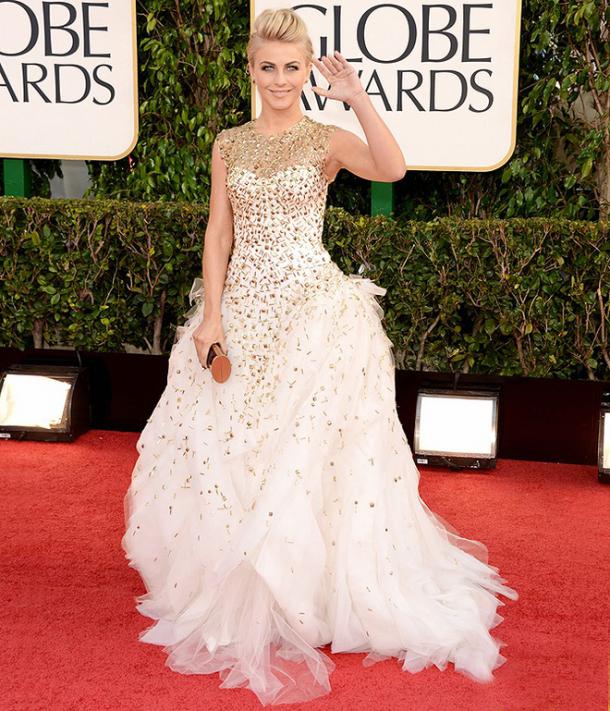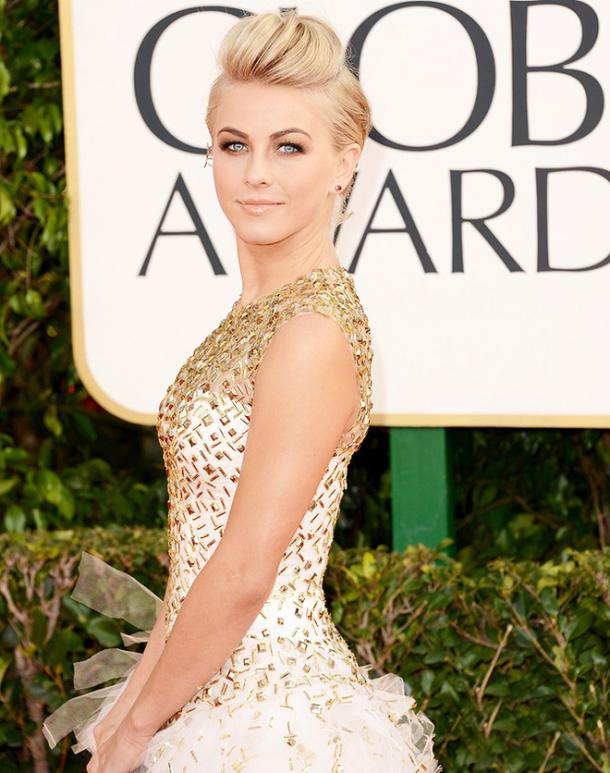 Taylor Swift continues to delight us with dramatic unusual way - to dress the singer Donna Karan Atelier. Luxury evening dress interesting (and very unusual for Taylor!) Decorated with plum-colored skirt with a train, on the back neckline and seductive flesh-colored inset on the sides, which create a sense of transparency. I'm really glad that Taylor walked away from his usual style - from her new image is simply breathtaking!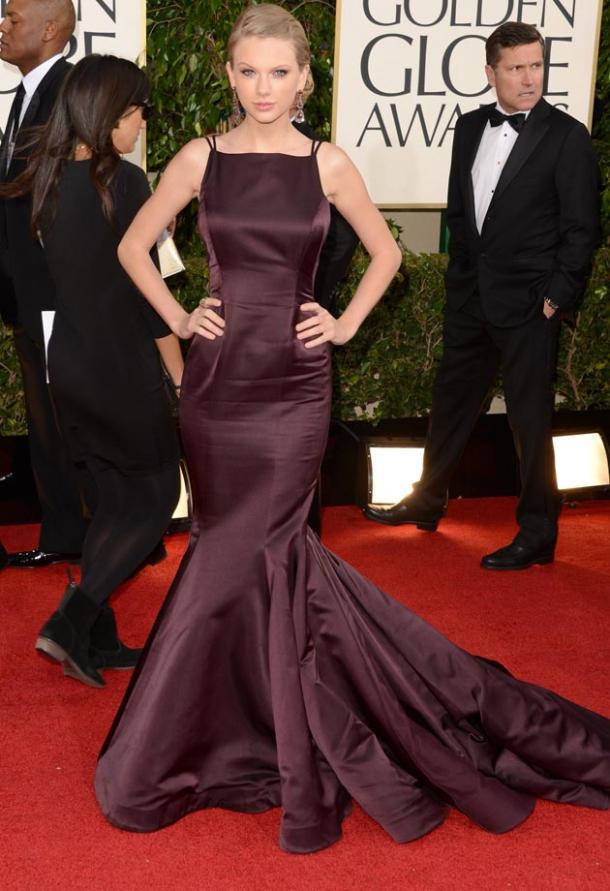 With the birth of the son style Megan Fox became more feminine and elegant - there is no deliberate sexuality, a softness, elegance and chic, without which it is difficult to imagine Megan Fox. "Golden Globe" for the actress became an occasion to reassert itself, and its corona release, she chose a dress of pale pink lace and chiffon by Dolce & Gabbana. Large earrings with bright pink glittering stones have become the perfect complement to the image, adding his sexuality. I enjoy this update Megan!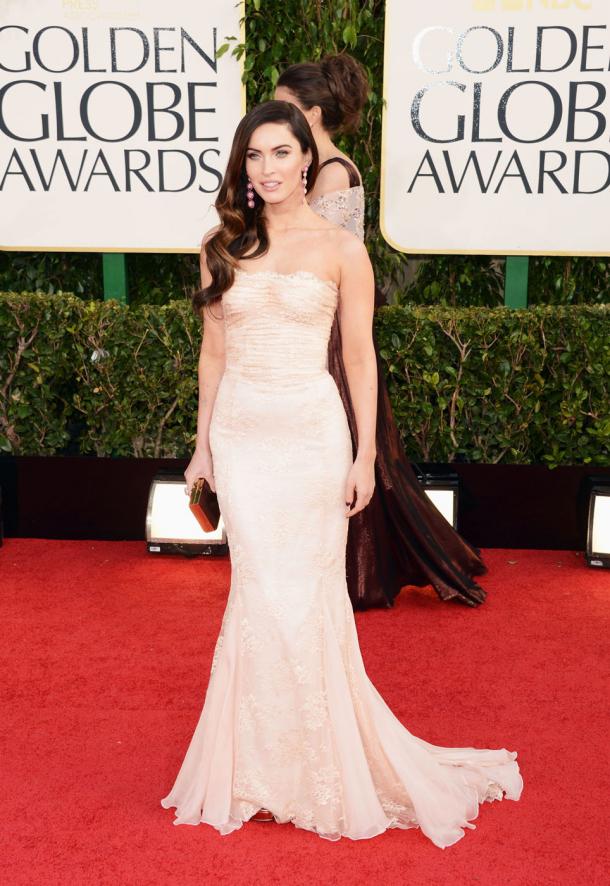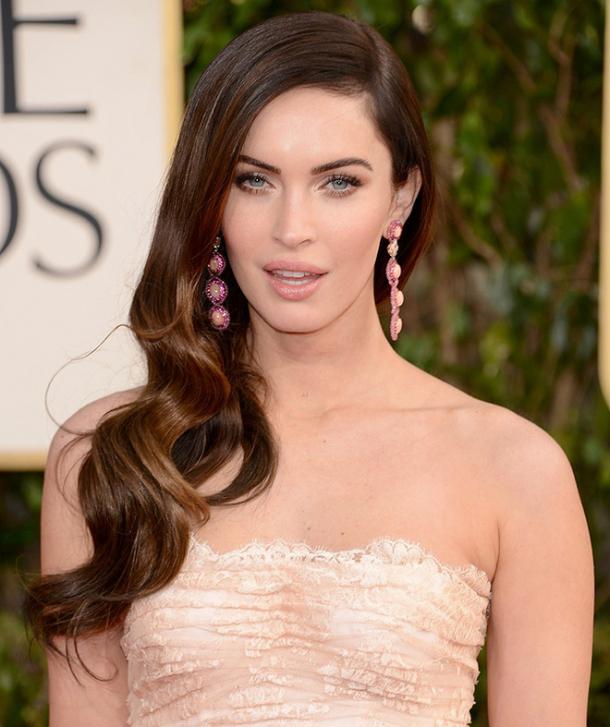 "Golden Globe" Jennifer Lawrence has given a great chance to rehabilitate himself in the eyes of the fashion critics, and she used this opportunity to the maximum. The actress went on the red carpet in a magnificent scarlet dress from couture collection Christian Dior. Stylists Jen prudently stocked dress metallic belt to accentuate the waist and gold accessories to add the image of solemnity and radiance. I enjoy this unusual dress - it magically combined company for Dior «New bow" of the late 40s and aggressively sexy style Madonna mid-90s (at least corset with triangle cups led me on these thoughts) .
Anne Hathaway at Chanel Couture. The dress consists of a small stamp Basques and straight, slightly flared skirts down, decorated with white shimmering sequins along the entire length dress. This outfit is not in the style of Anne, but it looks like it's just amazing - fresh, elegant and very elegant. And note, with long hair that image would have made less interesting. I'm thrilled!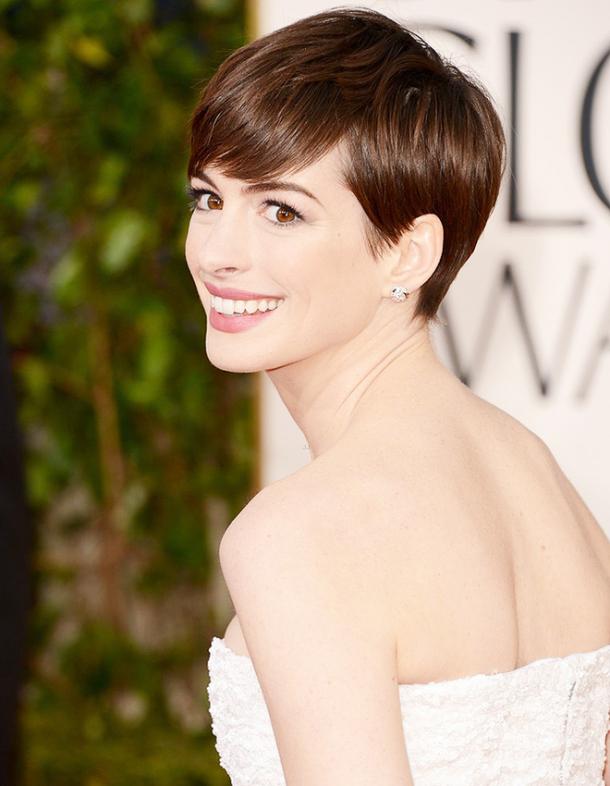 I did not expect to see Nicole Richie in a dress Naeem Khan cold blue. Agree, a girl with fair porcelain skin is the color would look ordinary, but in the case of Nicole, with her tanned skin and hair with warm shades, it looks very unusual and bright. Perhaps it is not the best way of Richie, but certainly one of the.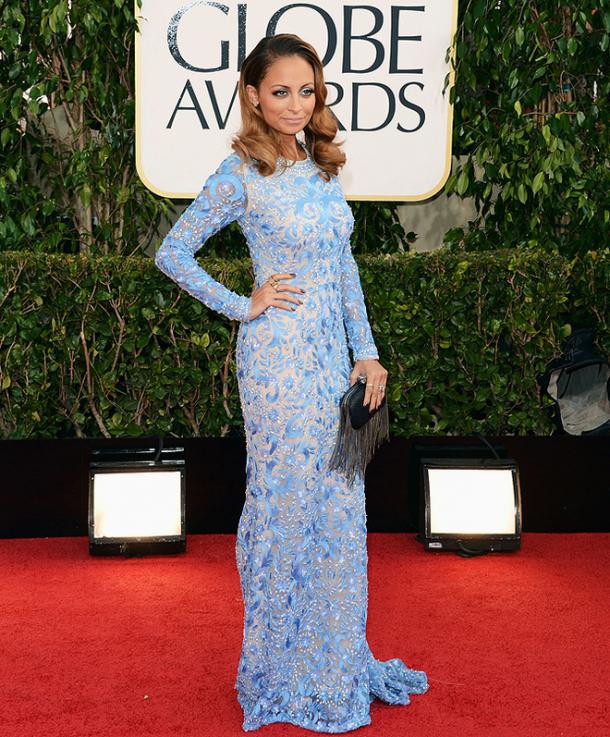 After a series of sad clothes for his age Amanda Seyfried appears before us in the air (custom-made!) Creation of couture line fashion house Givenchy. Is not it amazing? Yes, in this dress Amanda like an angel descended from heaven. The softness and romance is definitely best friends Miss Seyfried.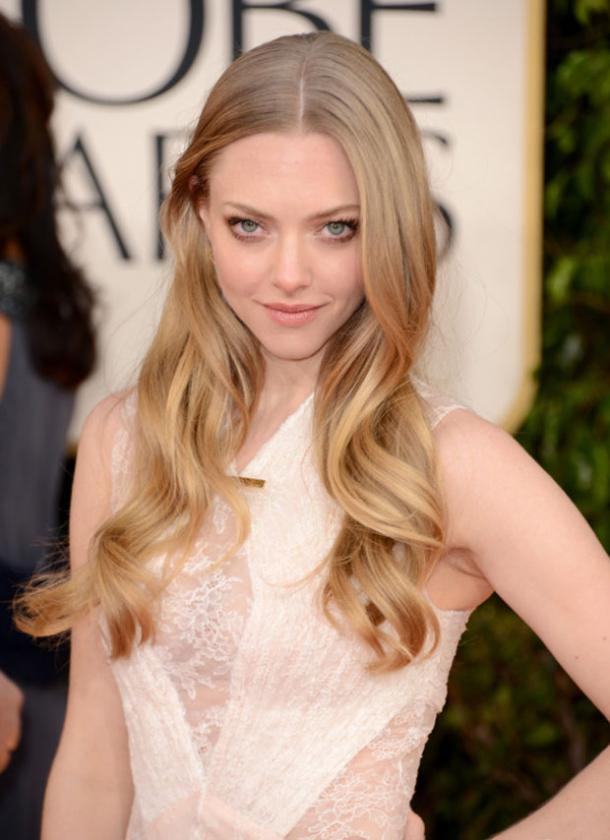 Jessica Chastain opted for the "Golden Globe" and his favorite time-tested designer - Calvin Klein. Dress Jess sat in the figure is not so perfect as we'd like, but overall style of dress was very interesting. I love the color scheme of the image - pale blue dress combined with red hair and berry lipstick - it's really strong.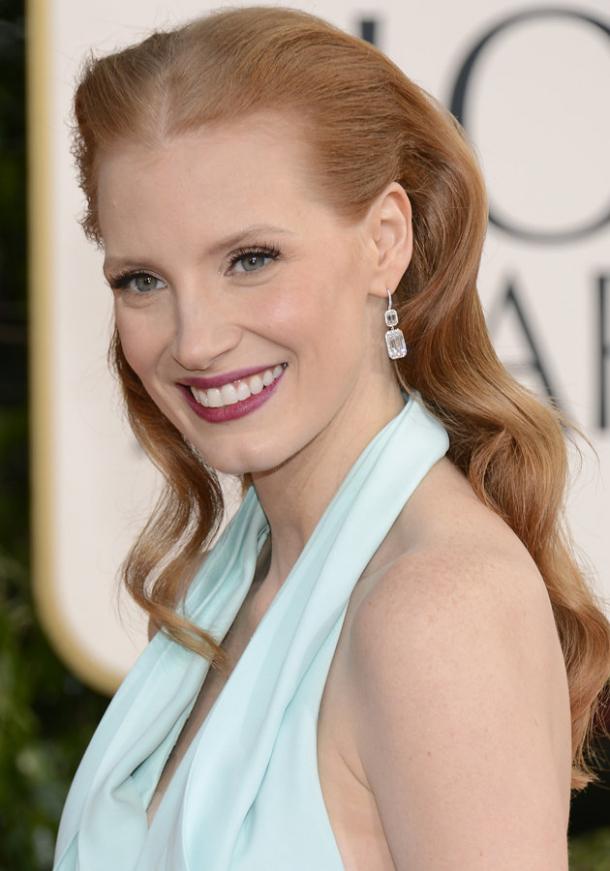 The stunning outfit hand Michael Kors showed us a charming Emily Blunt. The dress of gorgeous golden lace decorated with metal spikes and unexpected sexy cutouts at the waist, which gradually becomes a seductive cutout on the bottom of the back. Jewellery in pink colors become the perfect companion for this outfit, adding to it the brightness and originality.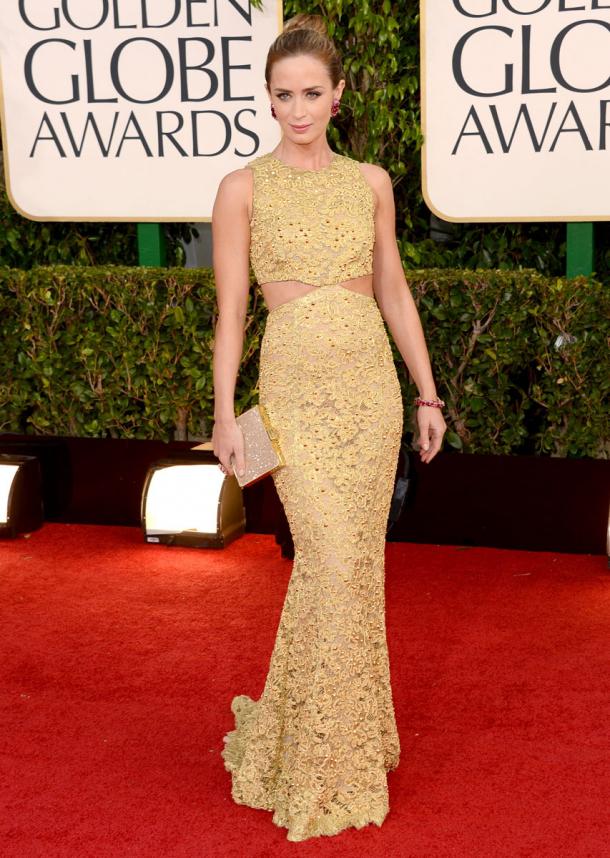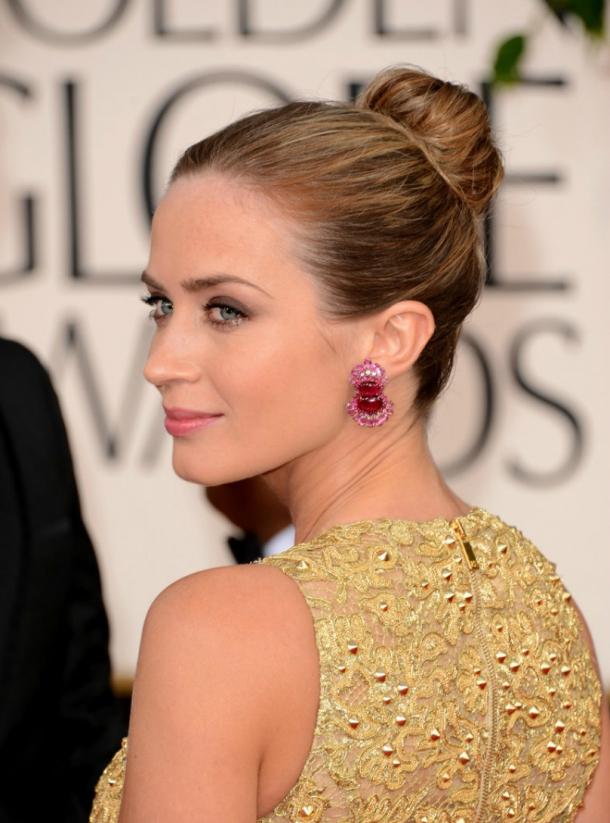 I thought we had lost her forever, but she's back! Heidi Klum once again turned to his favorite designer Alexandru Vautier, who has created a delightful asymmetrical dress with rich decoration of colored crystals. At the same time sexy and elegant, without a hint of cheapness and vulgarity, this dress - an ideal choice for Heidi.
I confess that I did not recognize the girl in the photo. Jennifer Garner, is in truth are you? We are so used to seeing Jen in jeans and wrinkled shirts, and thought that I could not admit that the beautiful woman in a beautiful dark red dress Vivienne Westwood is Mrs. Affleck. Bravo, Jennifer, keep up the good work!
She was 67, but it is also delicious! Helen Mirren once again demonstrated its excellent piece by the red carpet for "Golden Globe" black dress with gold accents from the original Badgley Mischka. Beautiful image - very stylish and at the same time elegant.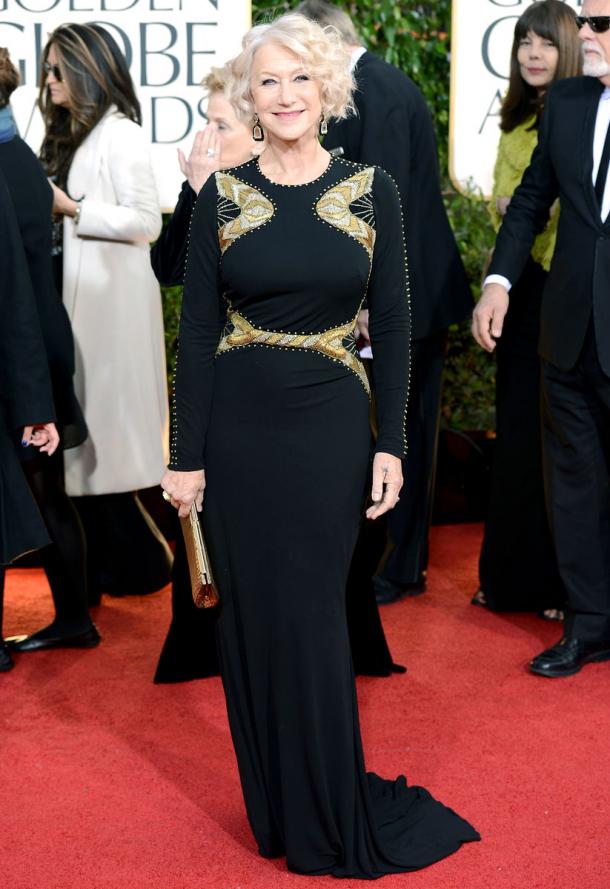 ​​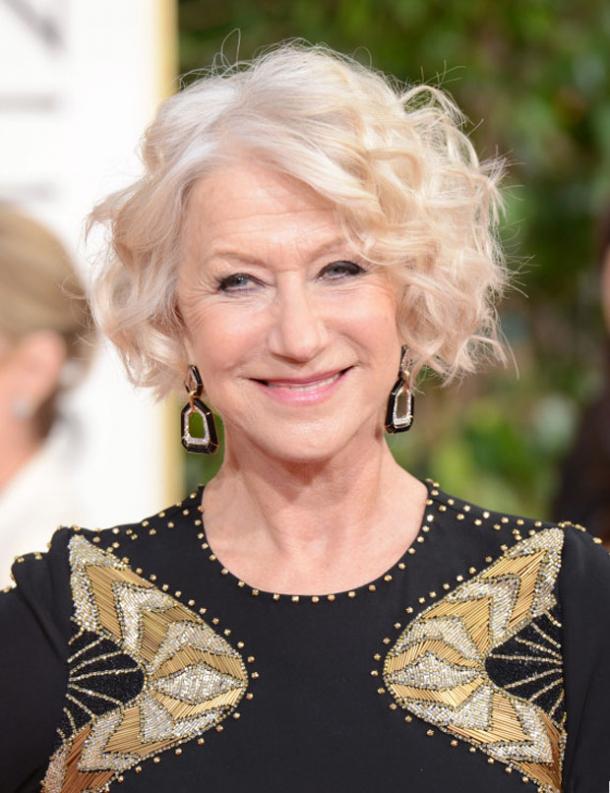 To be continued…