Celebrity life - continuous holiday. Just yesterday they do flaunted on the red carpet People's Choice Awards 2013 and today already receive awards from film critics at the annual Critic's Choice Movie Awards. 18th in a row CCMA ceremony was held in the exhibition hall of The Barker Hangar in Santa Monica (California), and became a kind of dress rehearsal for the "Golden Globe", which will take place on January 13 in Los Angeles. And as for the "Golden Globe" and followed by "night of nights" - "Oscar." Who knows, maybe in the list of winners of the 2013 CCMA there and future owners of the most prestigious film awards of the world?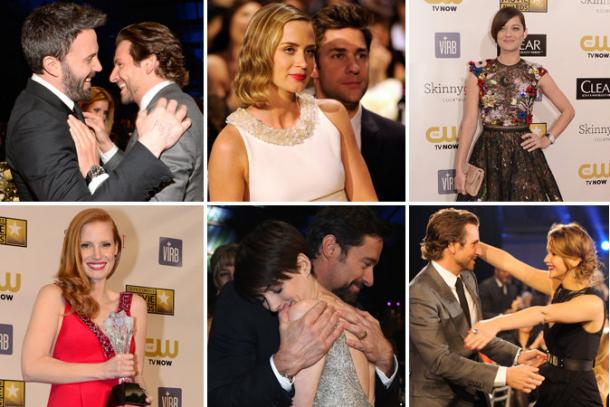 Winners of the 2013 CCMA main categories:
Best Film - "Operation" Argo »
Best Actor - Daniel Day-Lewis ("Lincoln»)
Best Actress - Jessica Chastain ("The number one goal»)
Best Director - Ben Affleck ("Operation" Argo »)
Best Supporting Actor - Philip Seymour Hoffman ("Master»)
Best Supporting Actress - Anne Hathaway ("Les Miserables»)
Best aspiring actor / actress - Quvenzhané Wallis ("Beasts of the Southern Wild»)
Best Ensemble - "My boyfriend - crazy»
Best cartoon - "Ralph»
Best Comedy - "My boyfriend - crazy»
Best Song - Adele, Skyfall
Best soundtrack - John Williams ("Lincoln»)
Best Special Effects - "Life of Pi»
Fashion review from the red carpet
I like the style of Jessica Chastain - its images are always gentle, elegant, they do not have screaming sexuality, only a hint of sensuality. This is how you can describe her outfit for the party CCMA, which was created by the fashion house Prada. Dress muted crimson color with rich decoration of crystals through the neckline and flirty bow at the back - a great option for an evening out Miss Chastain. Perhaps the cost to bring the silhouette of the dress to perfection and a little bit narrow skirt to dress looked a little older, but it's just my personal preference.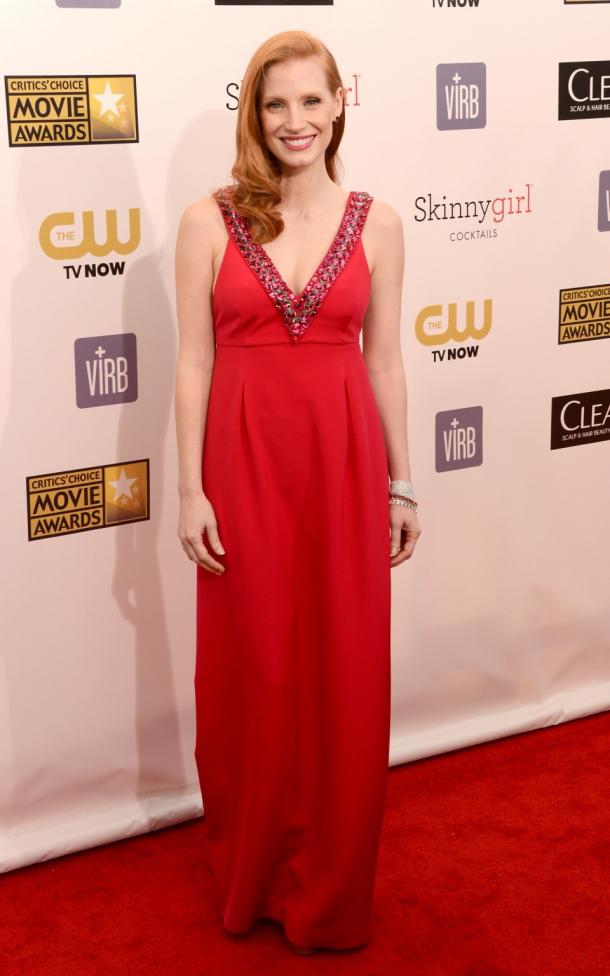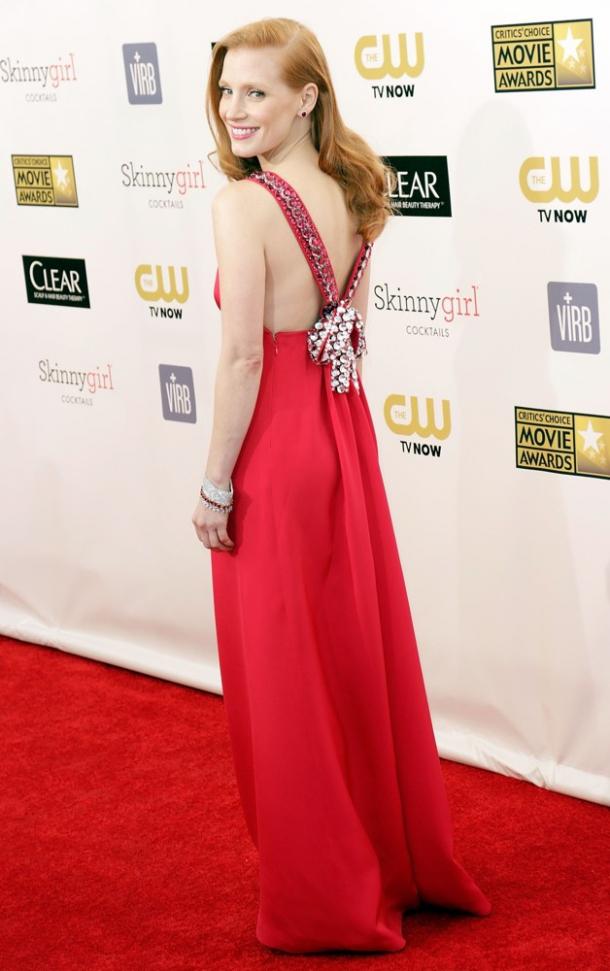 Perhaps this is the first time that I like the image of Amy Adams. I always thought that the actress chooses too heavy for her fragile exterior outfits, but this bow from Vionnet was no exception. Despite the muted colors and a fairly dense fabric, dress as if flying and flowing. In addition, the image of Amy looks carefully prepared and thoughtful, and so different from the outfits of her colleagues on the red carpet and looks very fresh.
As Jessica Chastain, Emily Blunt did not remain indifferent to the creations of Miuccia Prada and chose to pass on the red carpet dress from Miu Miu. Actress was cream dress-holder with a spectacular finish on the cut line, which is passed into the decoration on the back. This gentle dress hair was styled in a retro style and bright coral lipstick, thanks to which the image was interesting and complete. "Glamour old Hollywood with a modern twist" - this expression fully describes this bow Emily Blunt.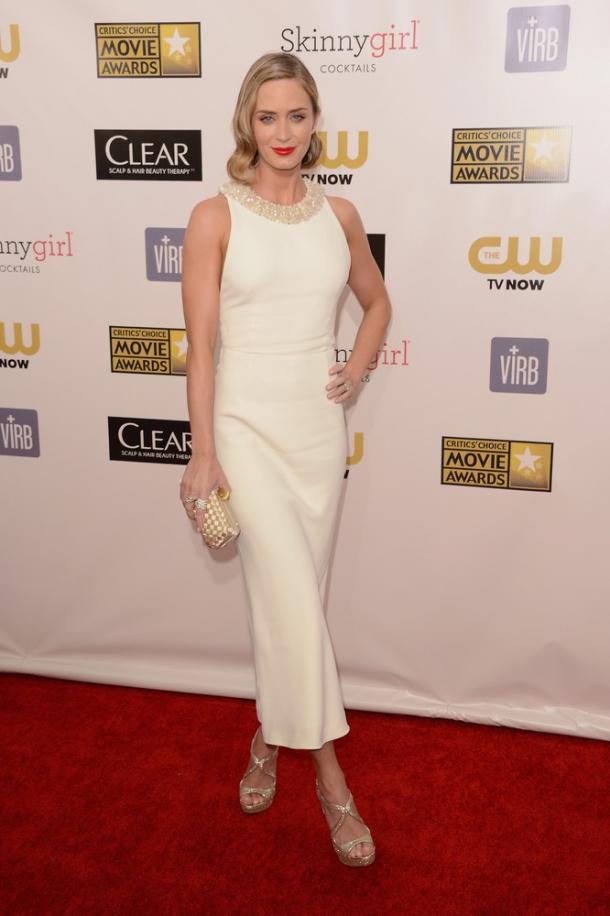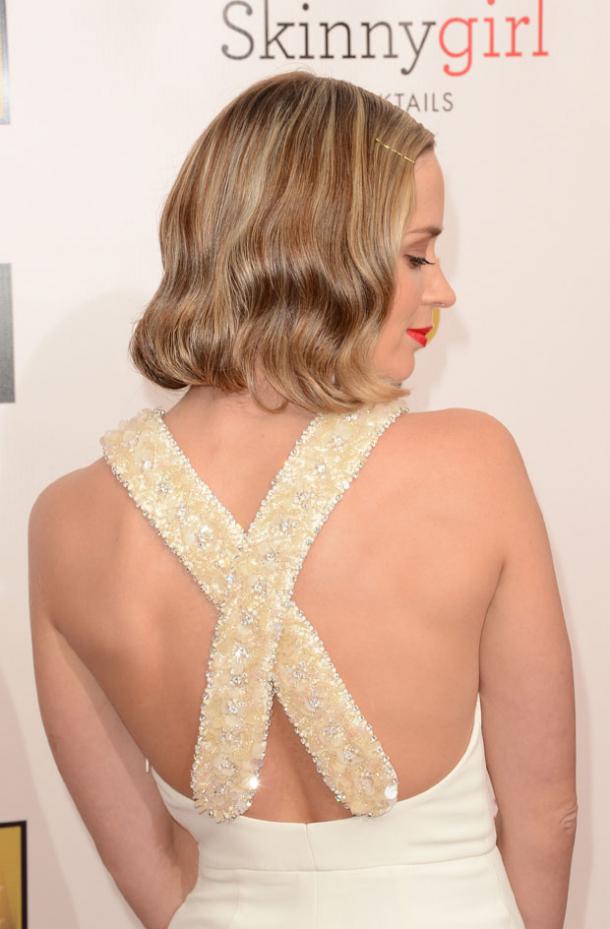 If Eva Longoria to be some kind of social event, in most cases, it will choose a sleeveless dress with an open back and meter train. It is in this dress by Monique Lhuillier, and she appeared at yesterday's ceremony. I like the choice of Eve, primarily because of the color, but I'm not quite sure what this style of dress suits her perfectly. Rear view impressive, but a front view of the lack of waist turns out not entirely successful. Of course, skilled posture can correct this flaw that Longoria successfully does.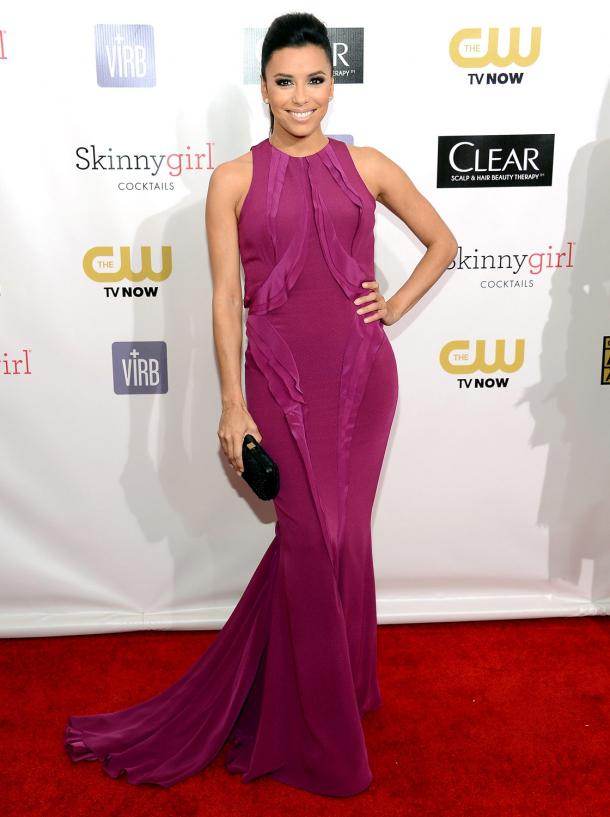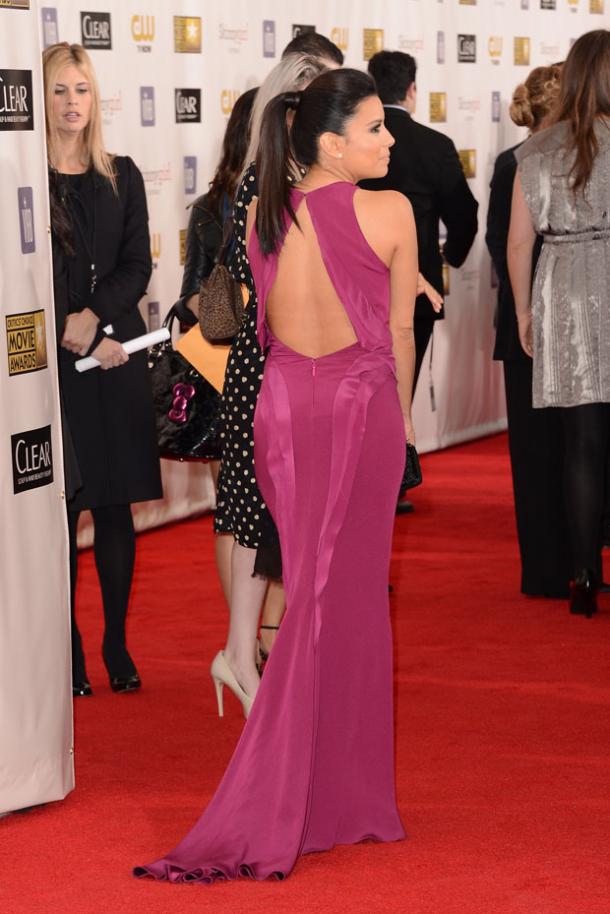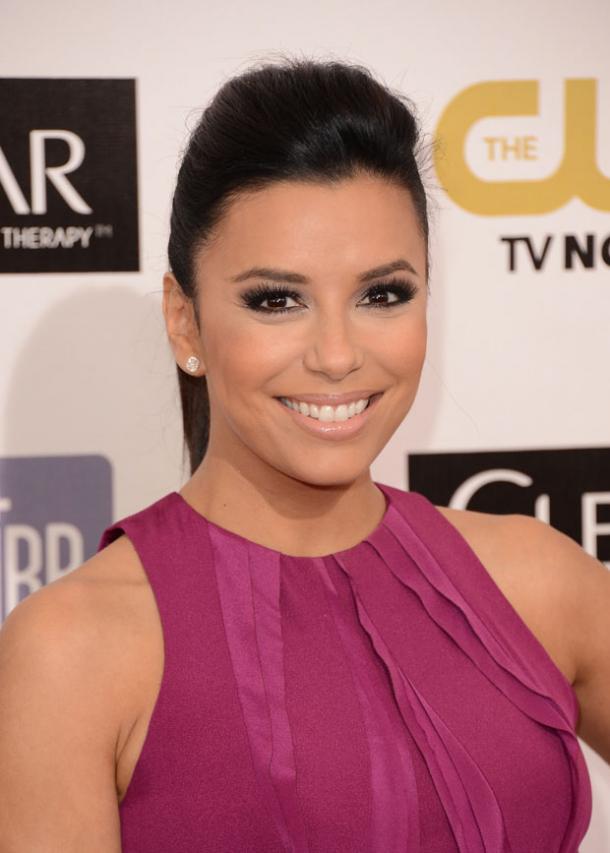 Amanda Seyfried at Marios Schwab. I have long tried to find advantages of this attire, but, unfortunately, limited only beautiful lace fabric on the bodice. For the rest, I do not see this dress any good. I did not like the dress sitting on his mistress, not like the diamond-shaped skirt and uninteresting color. For me, this outfit is failed, even though I really like Seyfried.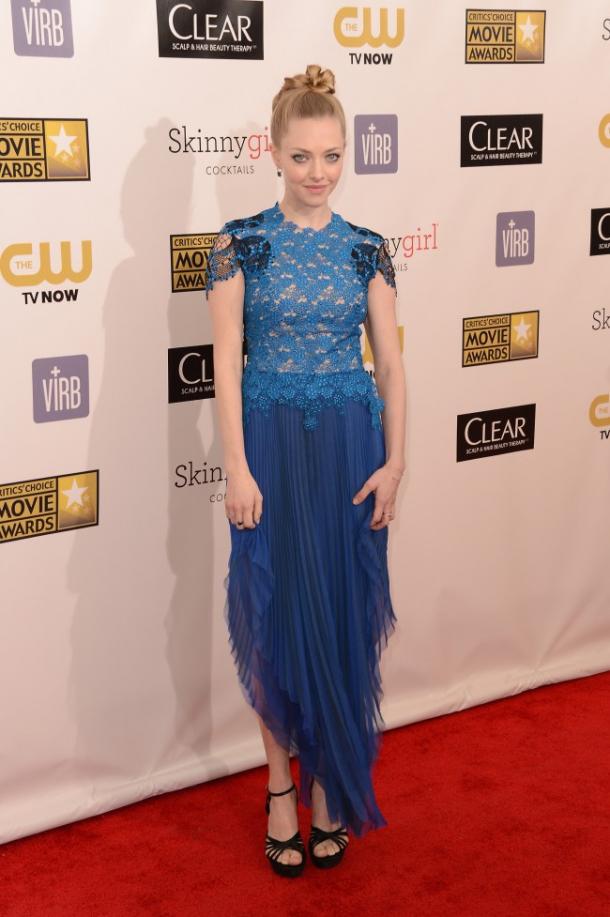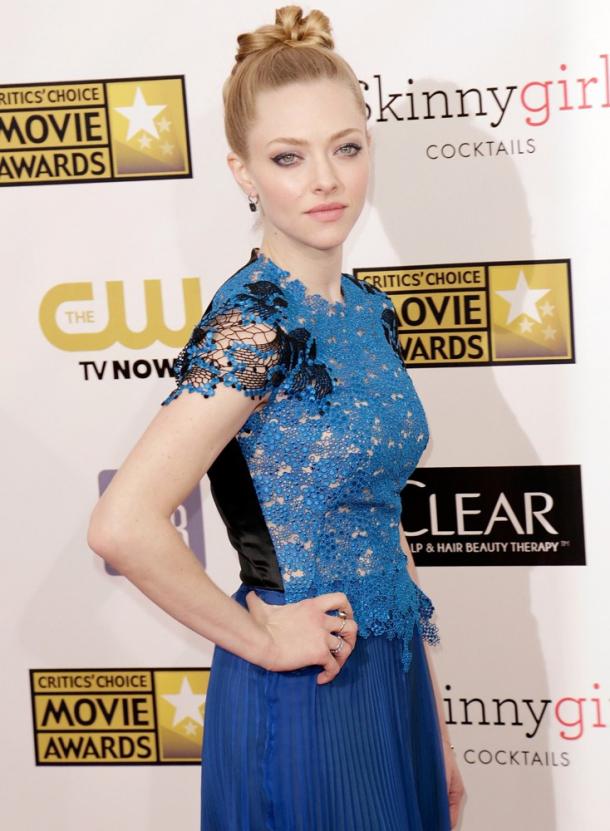 Caramel-pink-bow Total Leslie Mann showed us in a pretty dress from the brand Honor. The dress consists of a translucent lace bodice and skirt balloon with baroque prints, was complemented by a pink leather clutch and open sandals berry shade. In my opinion, these shoes are not the most ideal companion this dress (with the outfit I see the classic pointy pumps contrast, for example, a bright blue shade), but in general, the image was very interesting. It is also interesting in the sense that we have demonstrated its 40-year-old mature lady. I do not know how to react, but I like what I see.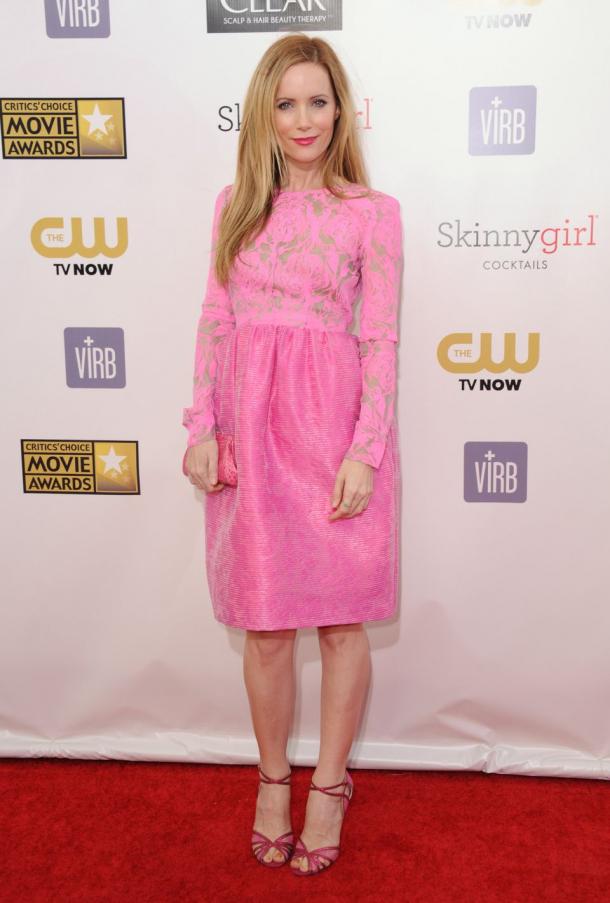 If you choose the sexiest woman in the evening, my voice will no doubt depart gorgeous Jamie King in a dress Jason Wu. The actress showed us a beautiful evening dress of shimmering black fabric, with an emphasis on the waist and sexy open back. Ornaments with Gold, hair in retro style and scarlet lipstick became the perfect complement to this dress.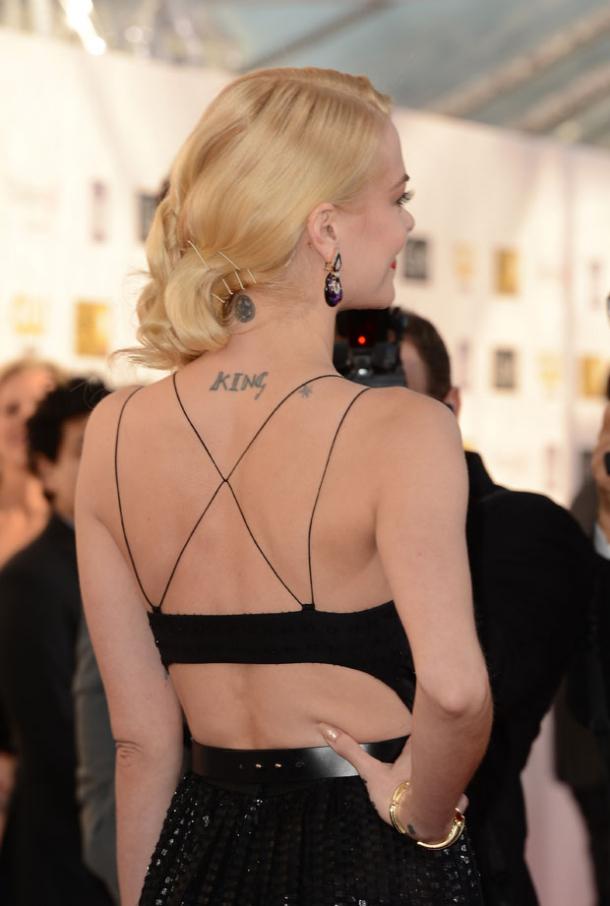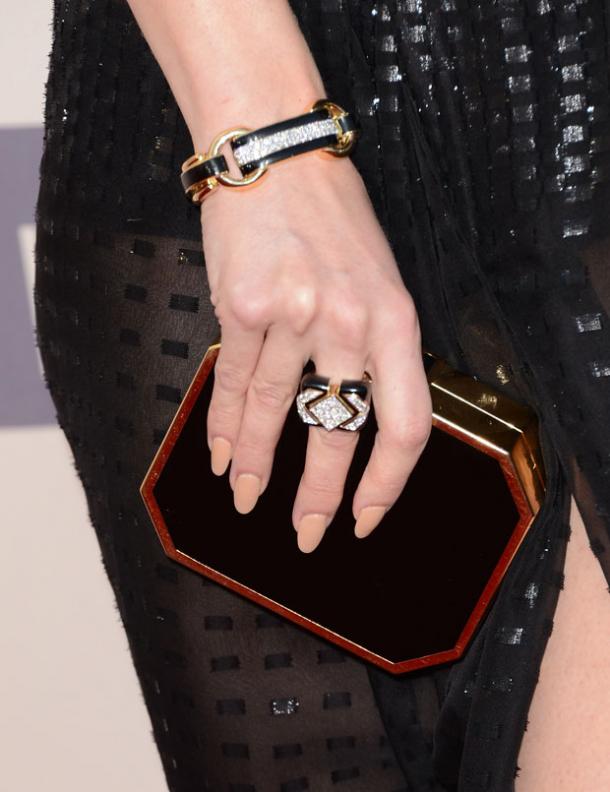 Image of a modern princess showed us Emmy Rossum. The actress posed for photographers in a dress from the fall collection Carolina Herrera, made of dark blue organza with a print on astronomical themes and decoration of the large ornaments in the form of a moon and stars at the waist and bodice. I'm not a big fan of fabulous outfits, because I believe in their children and antisexual, but to admit that it is in this dress Emmy looks like a million dollars.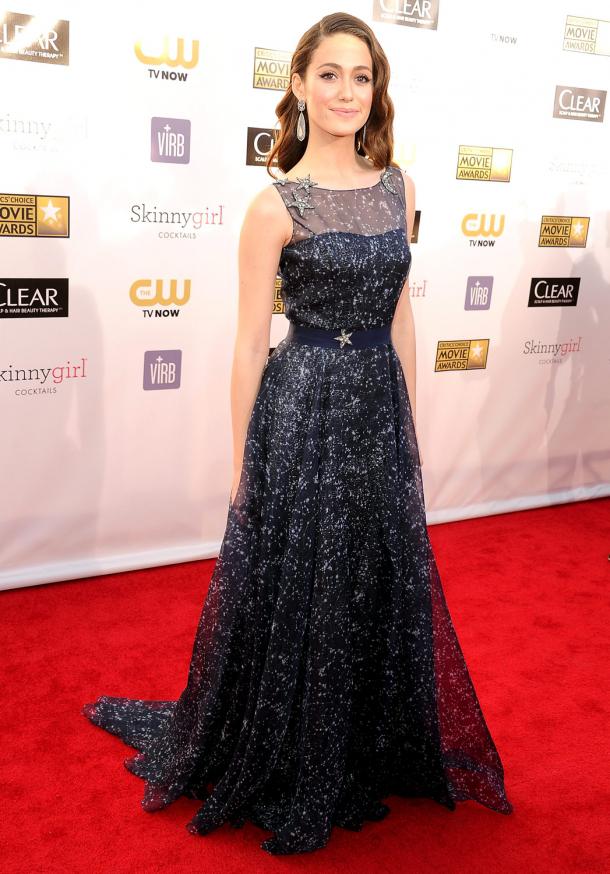 Nina Dobrev really are shades of blue and green, and it successfully uses it. This time the star of "The Vampire Diaries" appeared on the red carpet in a dress of navy blue Monique Lhuillier. But not only the beautiful color could capture the attention of the public as well as to Nina - you just look at the finish, it's a miracle! Hundreds of small pearl petals covered the dress from the bodice to the skirt, and it looks amazing. I am glad that the good did not complement her dress ornaments noticeable, but, nevertheless, I can not help feeling that the image of something missing. Maybe it's shoes, because an interesting dress often requires no less interesting pair of shoes.
Helen Hunt walked the red carpet in a bright-orange creature fashion brand Philip Armstrong. Silhouette dress is perfect (apparently, this is the merit of the Helen and her beautiful figure), and translucent lace inserts attached along sexuality and bubbly. I am glad that such a restrained woman, Helen, chose a dress of the active color - she really is.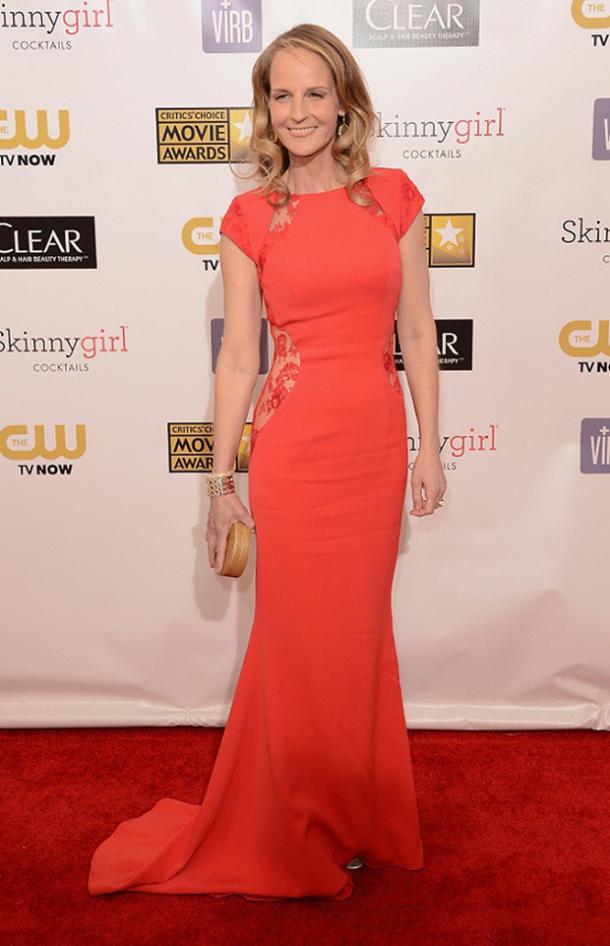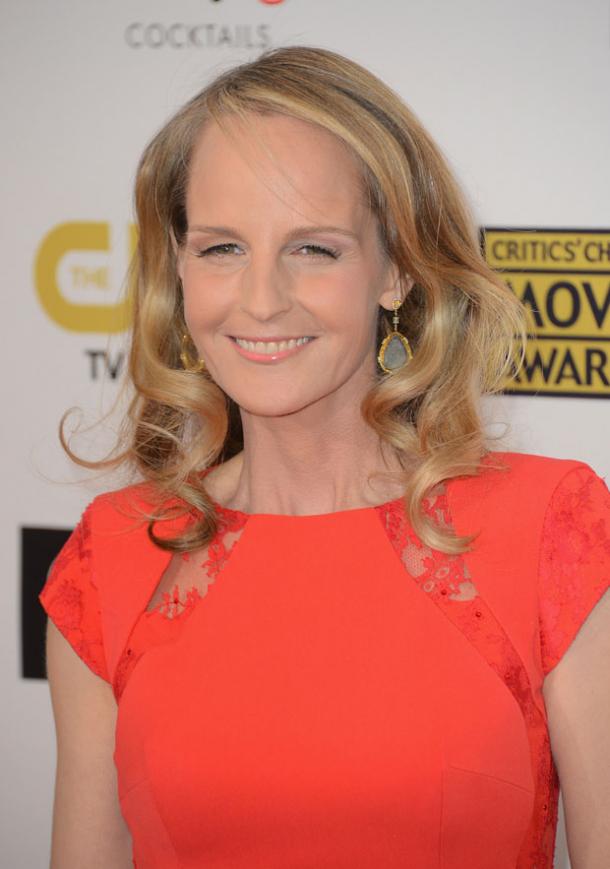 Anne Hathaway, without a doubt, a very brave girl, because not every dare to wear to a social event is a "naked" dress like a creation of Oscar de la Renta. Despite the apparent restraint, this dress combines contradictory qualities - it is simultaneously delicate and sexy, but in this case a restraint is out of the question. At first glance, this outfit seemed a bit boring (like some bright accent in a make-up), but the radiant smile Anne fully compensate for the absence of saturation in color. Marriage definitely suits her!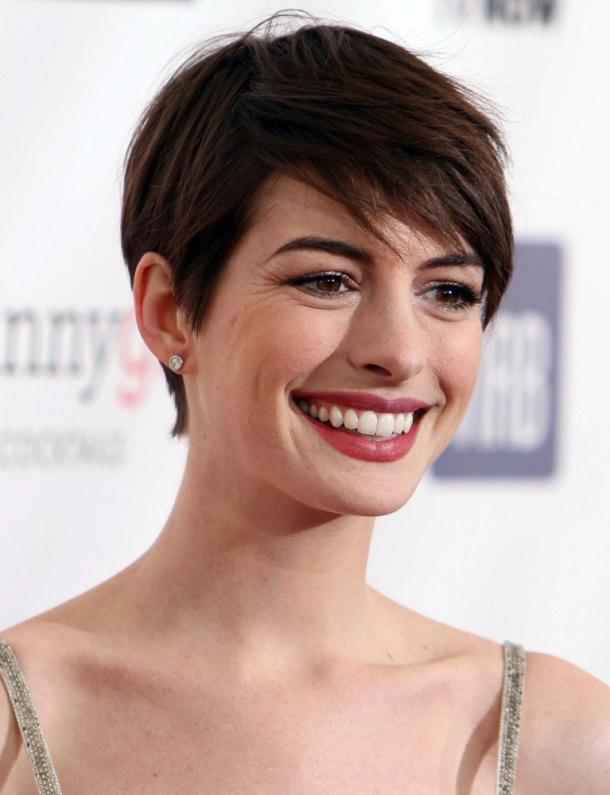 Famke Janssen John Galliano. The actress chosen for the event is very controversial and risky outfit, but it failed to properly present it to us. In itself, dress beautifully, but he needs more fragile hostess, with a thin waist, and 20 years younger. In addition, the stylized attire obviously unsuccessful - ornaments will not fit the dress is too simple hairstyle.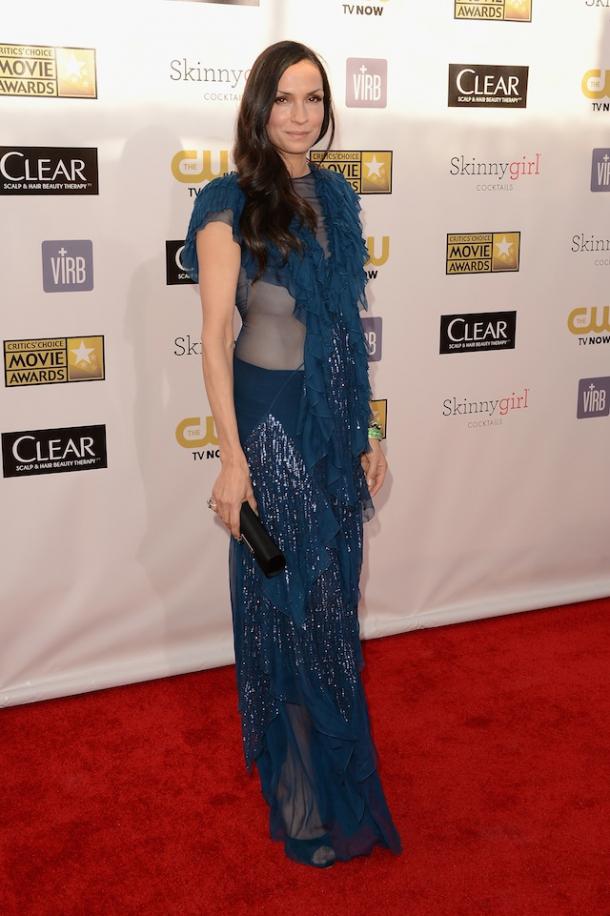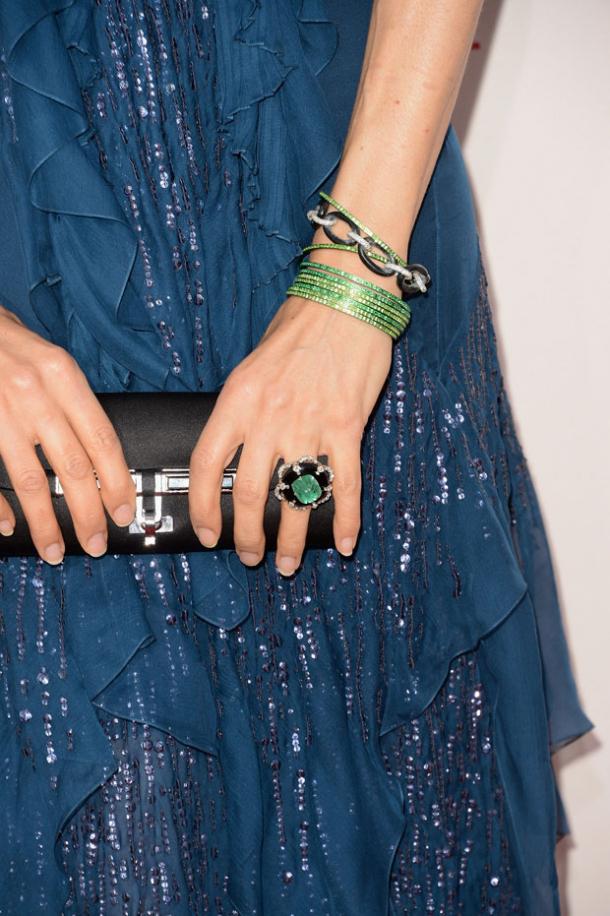 Another day, and another beautiful image of Naomi Watts. This time, the actress chose a black dress Emilio Pucci with a playful transparent insert in the upper chest and a small side slit. The dress sits beautifully and earrings from large colored stones perfectly complement a low-key outfit. I really like this Naomi!
Choose an evening dress woman with irregular shapes - is not easy, but stylists Octavia Spencer succeed. Custom-made dress by Japanese designer Tadashi Shoji with illusory effect is made of dark blue tulle and decorated with shiny lace applique. This is not the first collaboration of Octavia and the Japanese fashion house, and this outfit is definitely going actress, but it seems to me that in recent years her dress is very difficult to distinguish from each other.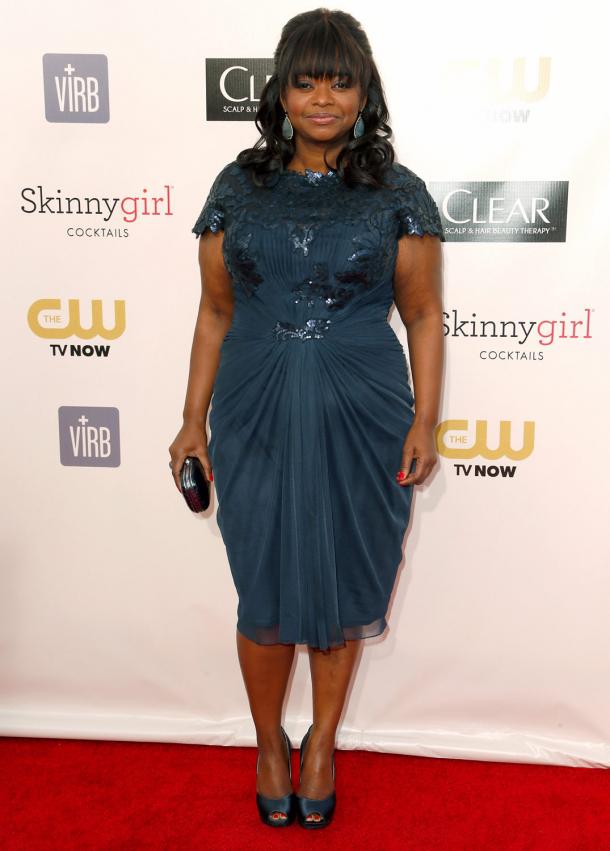 Trying Jennifer Lawrence rehabilitated after yesterday's dreadful output did not meet their expectations. I agree that a great dress and sits perfectly, but again, why black? She is not tired of it? I understand that the black - a timeless classic, and it is a woman of any age, but three black dress in a row - it's overkill.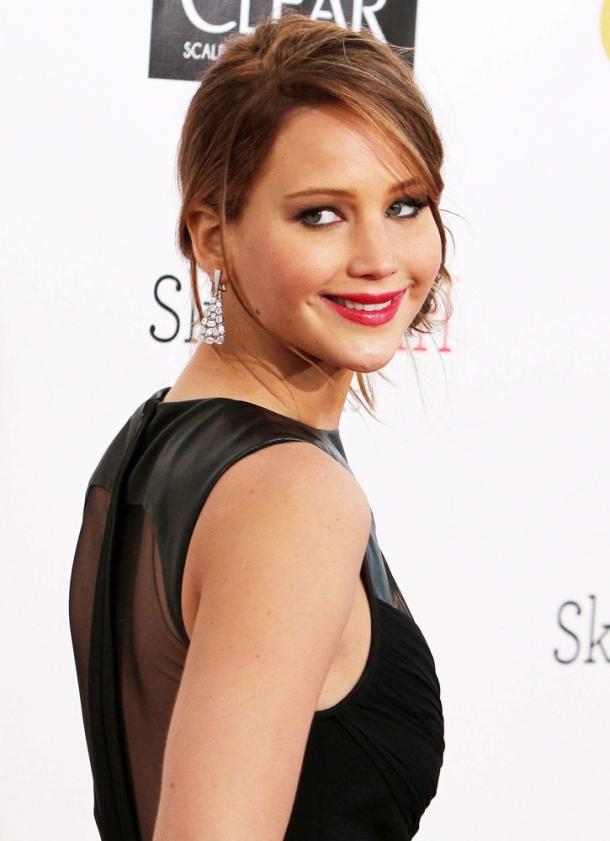 Marion Cotillard in Zuhair Murad? It is a pleasant surprise, especially after countless outlets in Dior. I love this dress, it looks magical, and the case is no exception with Marion - outfit she really is. Nevertheless, I am inclined to believe that accessories are chosen to dress badly - beige fits everything, but this dress - an exception to the rule. I would have voted for the clutch shoes and red or blue.
Elle Fanning at Chanel. Very strange dress, but it is fully in the spirit of Elle, and she goes crazy. The same goes for shoes, although these shoes a nightmare :) However, I would not blame a girl for such an unusual way - she's only 14, it's time to experiment.