The awards ceremony People's Choice Awards was one of the first of an endless series of new measures in 2013. Soon we will be able to admire the outfits of celebrities on the red carpet such important ceremonies as the "Oscar" and "Golden Globe", as long as I bring to your attention a fashion review with the People's Choice Awards 2013 winners who choose not severe criticism from the world of music and movies, and ordinary viewers. Under the cut list of names of the victors and stellar record with a red carpet event.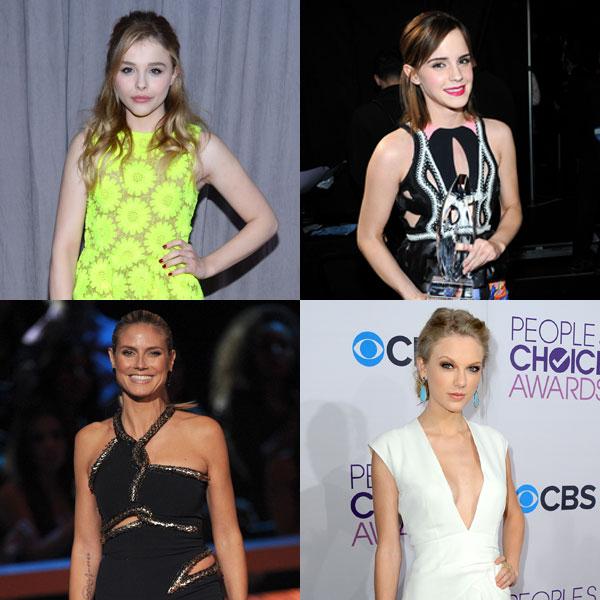 Winners:
"My favorite actor" - Robert Downey Jr.
"My favorite actress" - Jennifer Lawrence
"My favorite kinoikona" - Meryl Streep
"My favorite star of action movies" - Chris Hemsworth
"Favorite Movie" - "The Hunger Games»
"Favorite Movie Drama" - "Good to be meek»
"My favorite action movie" - "The Hunger Games»
"My favorite comedy movie" - "Odd Man»
"My favorite comedian" - Adam Sandler
"My favorite comedienne" - Jennifer Aniston
"My favorite drama series" - "Grey's Anatomy»
"My favorite actor in a serial drama" - Nathan Fillion
"My favorite actress in a drama series," - Ellen Pompeo
"My favorite comedy series" - "The Big Bang Theory»
"My favorite TV comedy actress" - Lea Michele
"My favorite singer" - Katy Perry
"My favorite artist» - Maroon 5
Dresses:
Julianne Hough walked the red carpet in a cocktail dress by Tony Ward Couture. The dress in the style of the 50s with a rich finish, evoke thoughts of the night starry sky, looking at the singer simply delicious. At first glance, it seemed to me that a couple of simple concise boats did not quite fit in quite romantic dress, but in the end I was convinced that these shoes balances active decor dress and silver metallic leather, from which the shoes continues Stars and space the theme of the entire image.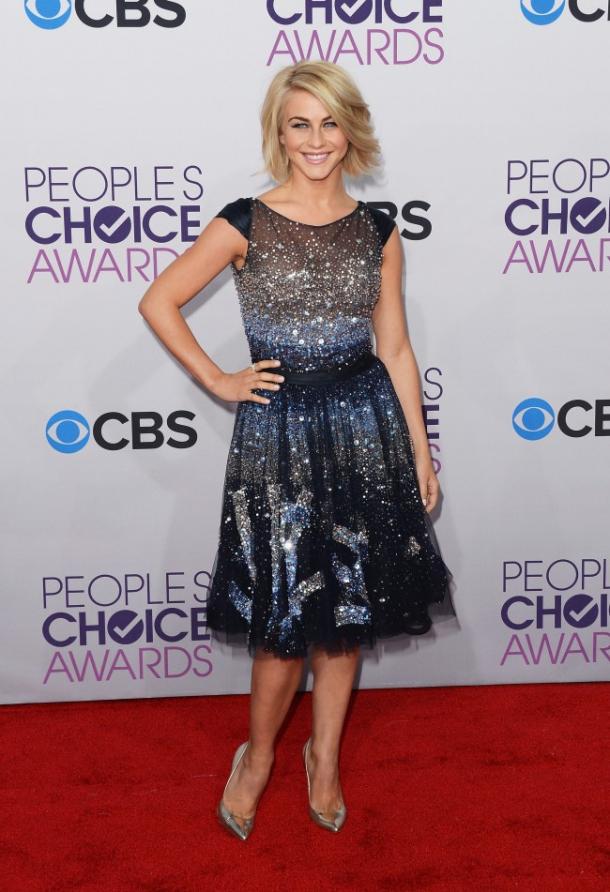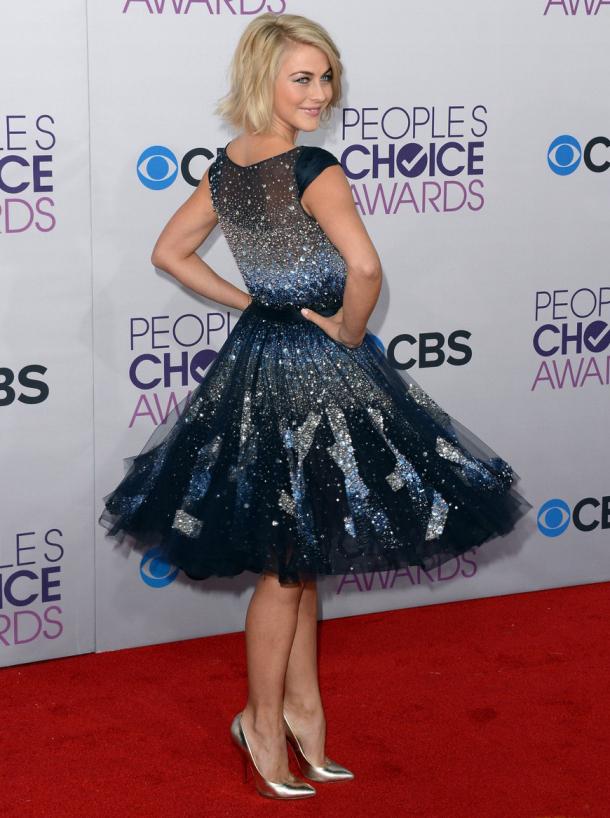 Chloe Moretz is very pleased with my choice of dress, especially because she chose a playful outfit on age, and not another dress from the category "for those over 30". The dress from the spring collection Simon Rocha made of guipure fabric, the main decoration of which were neutral neon daisies on beige background. Silhouette dress matched perfectly on a figure of Chloe - a free cut is an actress who because of their age can not yet boast a thin waist and beautiful line of hip, more than tight dresses, which we so often see it. The only pity is that the selection of accessories at this time is poor: in my opinion, black dress shoes and strict clutch heavier light spring dress.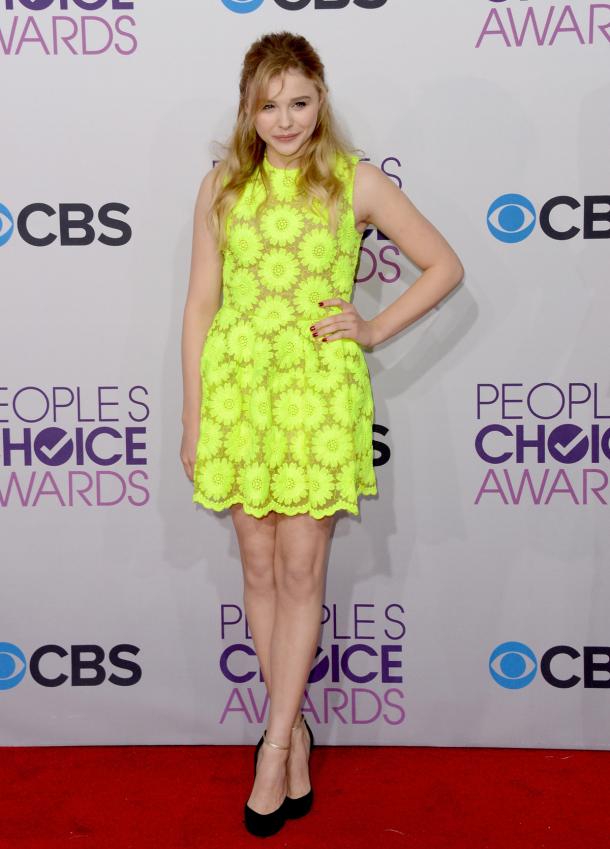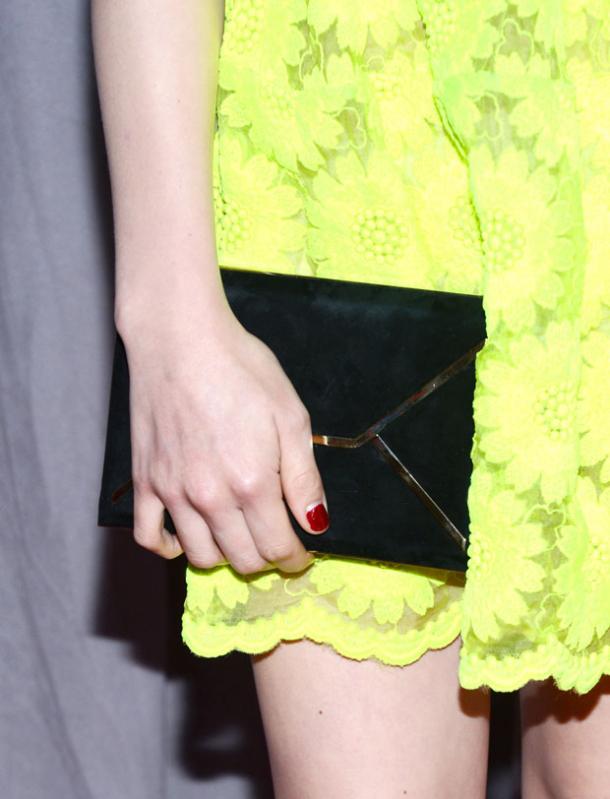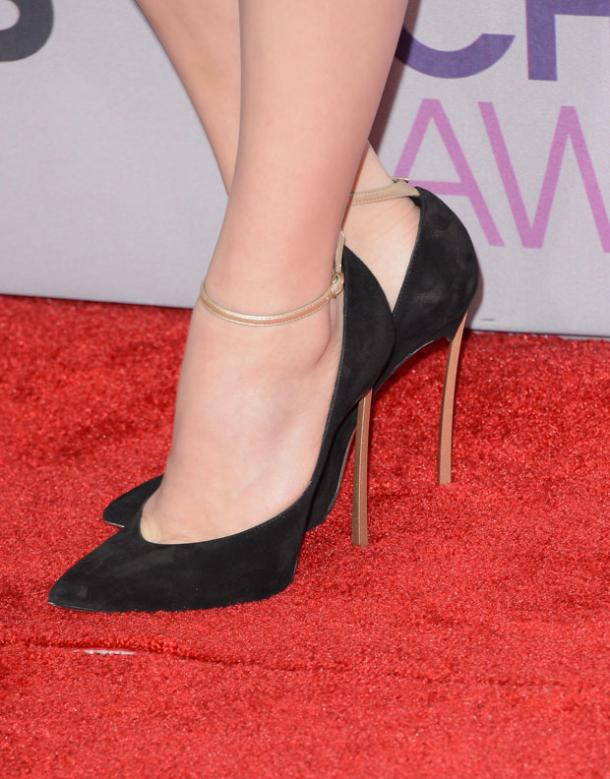 Heidi Klum continues to bend the line and picks along with the maximum number of notches and cuts. However, this time the supermodel appeared on the red carpet is not in the next Donatella Versace creation, and in the evening dress from Julien Macdonald. Of course, this time Heidi dress looks more decent than its previous outfits, but unfortunately, as cheap and antielegantno.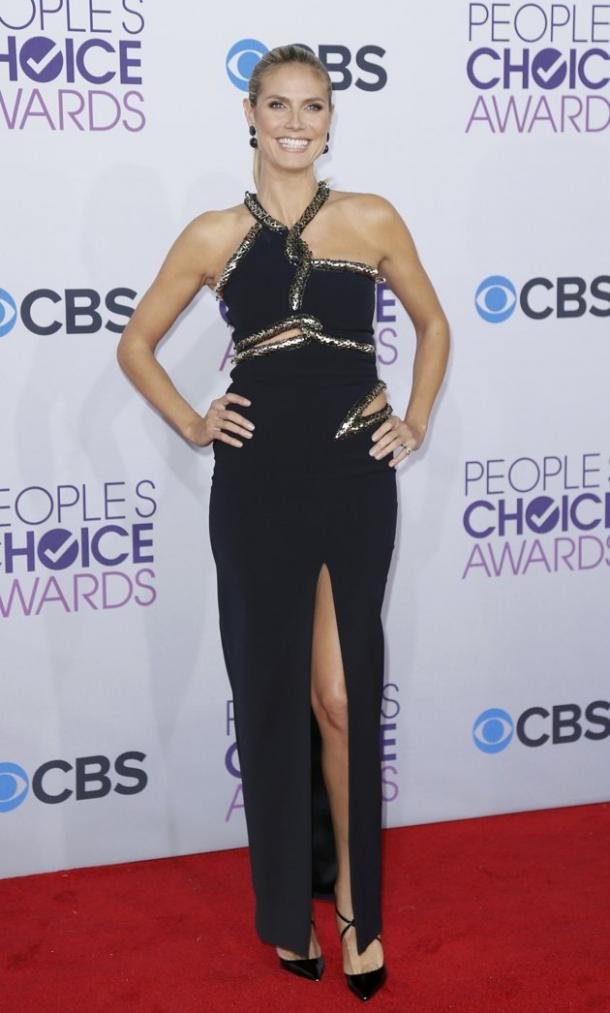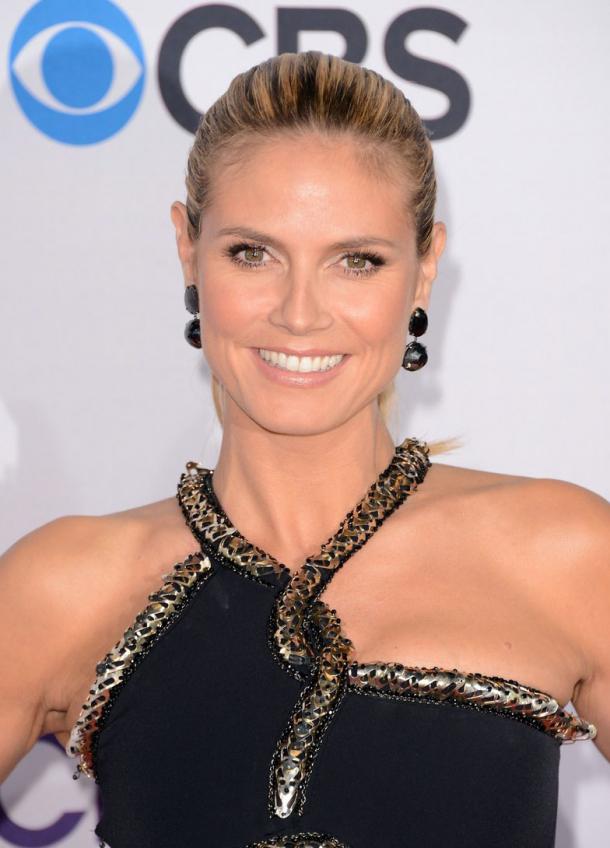 Another disappointing evening - dress Kristin Kreuk. The bag made of chiffon and sequins, no less !? Selection of accessories also leaves much to be desired. Tell me, what is common between the yellow bracelet a la the young hipster, massive earrings loose emeralds, clutch with a hint of futurism and office beige shoes? So I think anything. The only thing that pleases the eye, it is a pleasant combination of colors which, naturally, can not save such a disastrous way.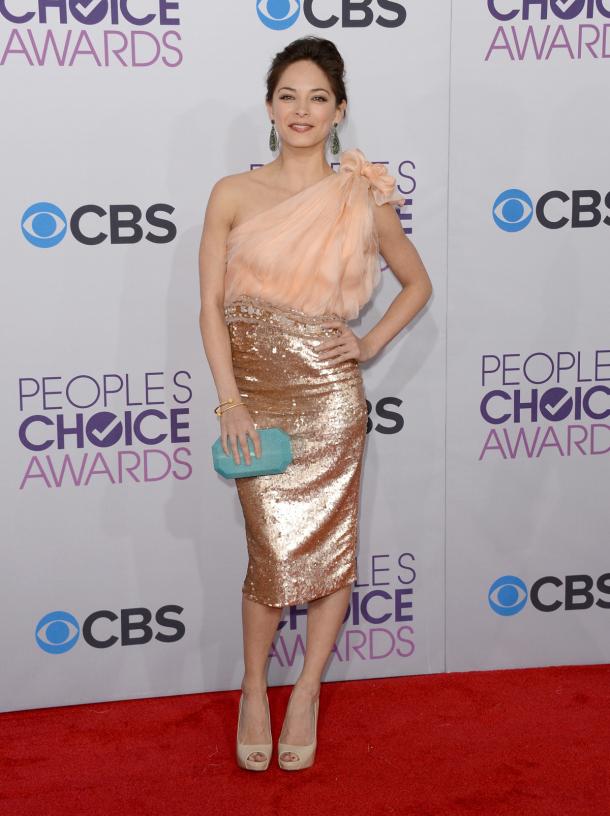 Naomi Watts does not always work out brilliant outs, but often it is so good that it is simply impossible to take your eyes. This is exactly the case. The actress appeared before the lenses of photographers in the creation of fashion house Alexander McQueen with iridescent bodice and mermaid skirt strict style. This outfit weight advantages, which include not only a beautiful decoration in the form of a necklace of colored stones, but the combination of gold and black, which in most cases looks very expensive and luxurious, and the open back - as the final element of sexy.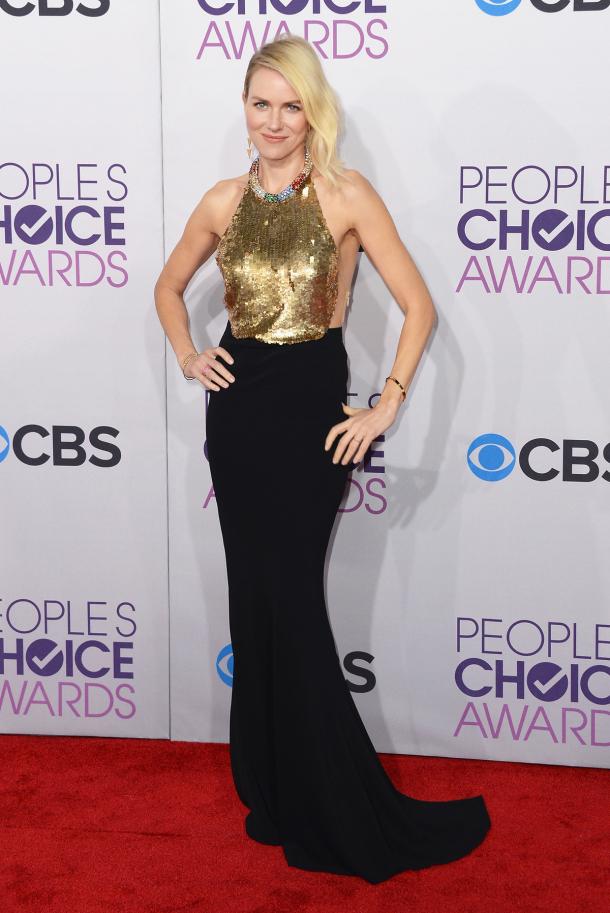 I really like the fact that the actress once tried to play with her hair, made of long hair flirty bob with a long fringe. I get something in the style of old Hollywood, but with a modern twist.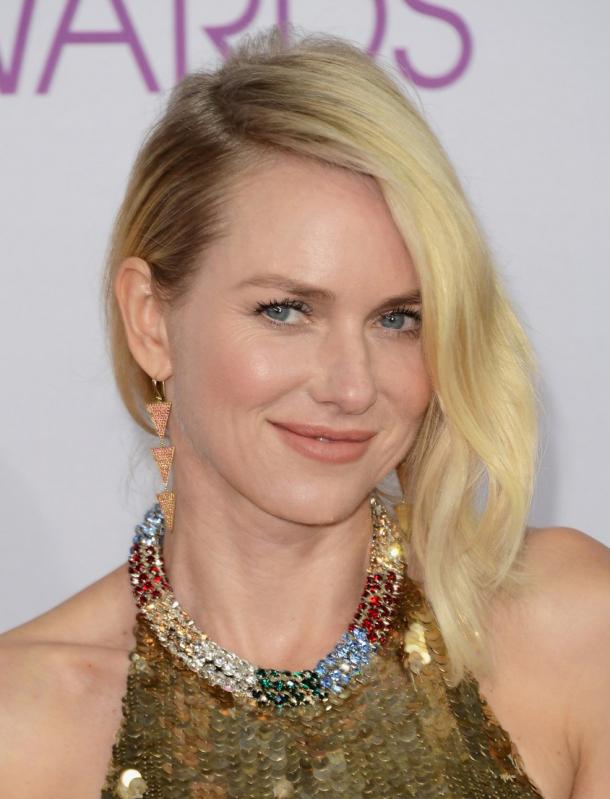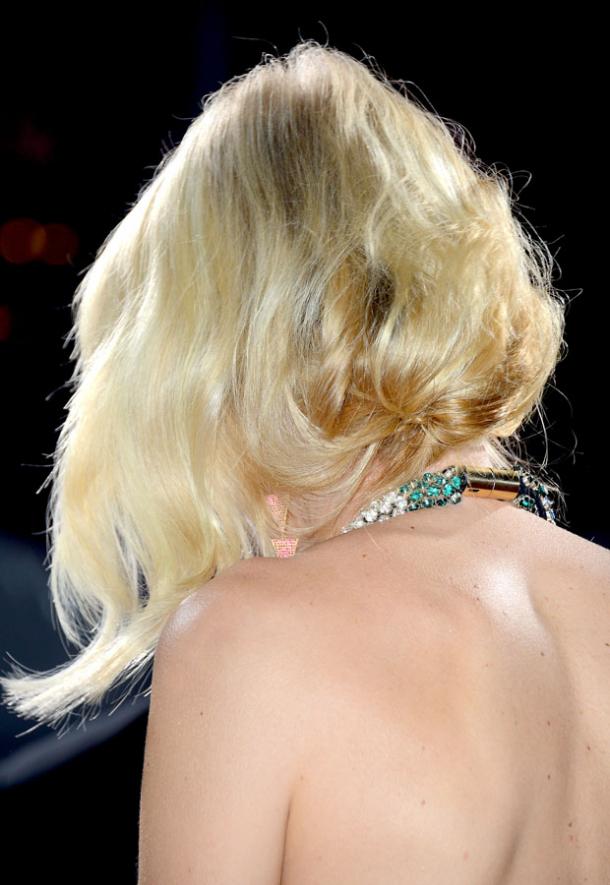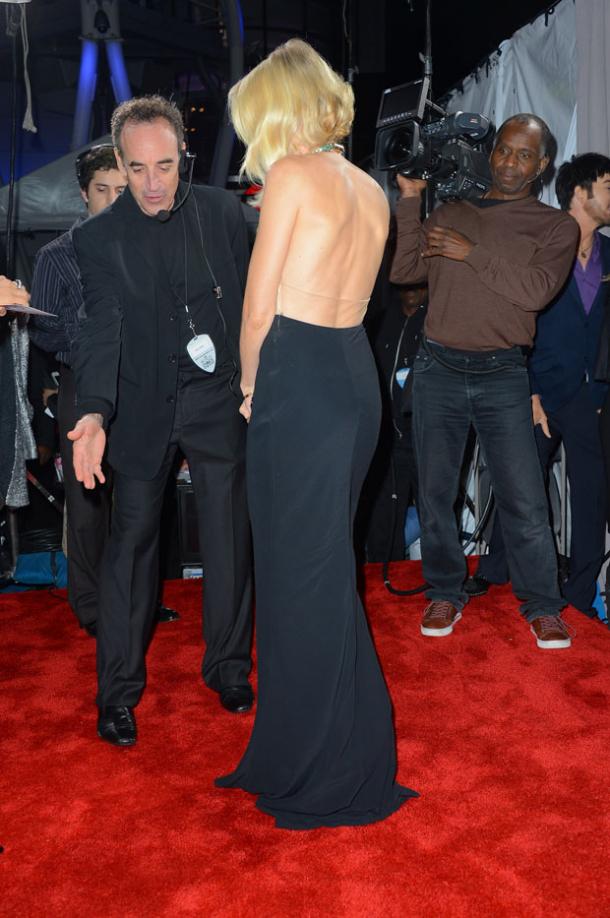 Olivia Munn in a dress from the collection rezortnoy Carolina Herrera. I have to say - I do not like the image of Olivia. And it was not in the dress (which is fine - black lace on a white background looks luxurious!) And in the image as a whole. Hairstyle yavna not refined, makeup, and even to face the actress, but to face together, but the boats on the platform do not want to even talk - skukota!
But the image of Kaley Cuoco, who spoke at the ceremony of the way as the lead, on the contrary delicious. Attire if breathing tenderness and femininity, the same applies to the hair and make-up actress - smooth lines, delicate color, softness and sensuality in all. I'm even willing to close their eyes to the heavy platform, because the whole onion Keighley great.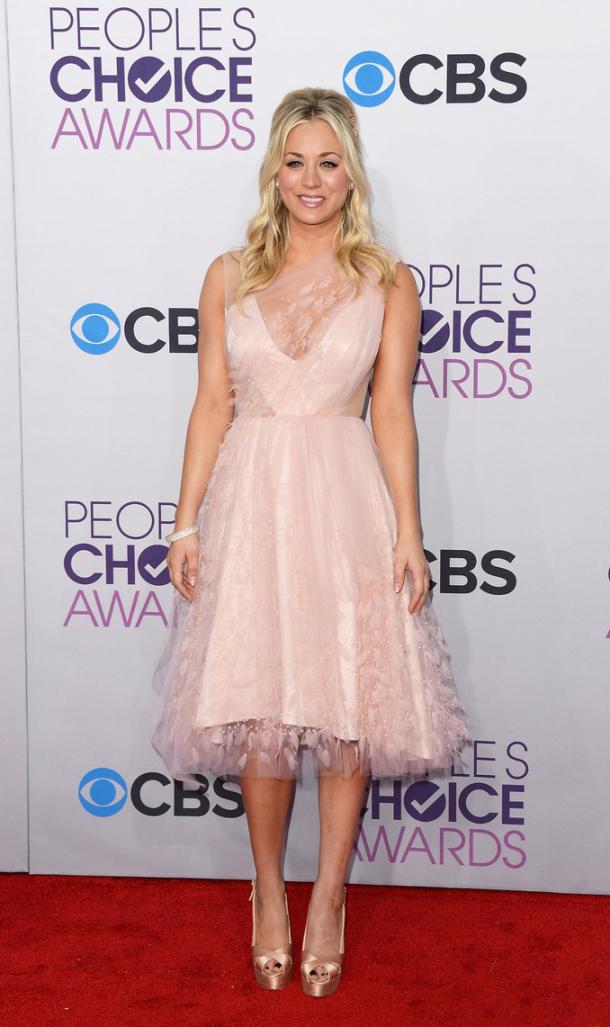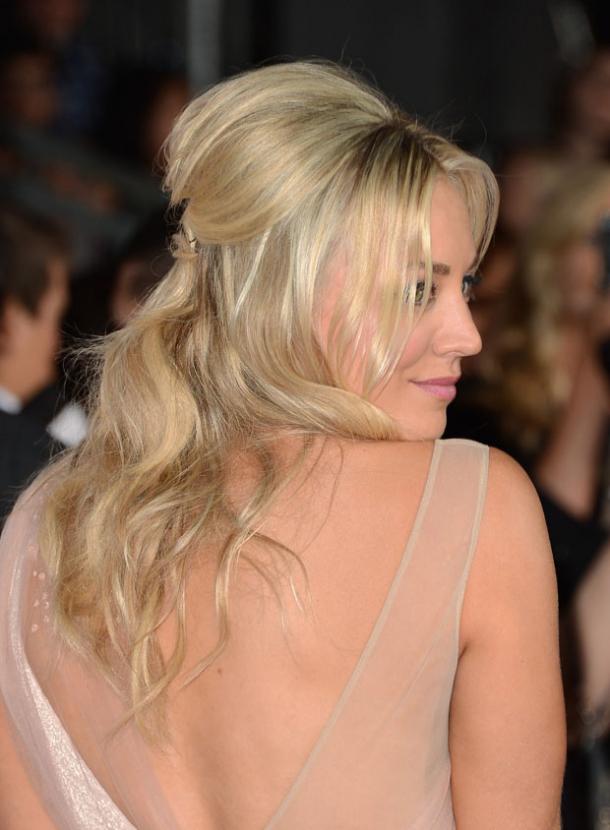 You can not imagine what was my surprise when I learned that Rachel Leigh Cook 33 years. In this photo, she did not give more than 20 - so sweet and blooming young girl. To pass the red carpet Rachel chose the classic version of the evening dress with a tight corset and flowing chiffon skirt. Option worn out and not very interesting, but due to some details of this image looks very unusual. First of all, it is worth noting the beautiful blue color - a deep clean and without prints and other items for which you want to watch and watch. And, of course, is the most interesting part - clutch with an ornament in the style of the 60s, without which the whole image would have made banal and insipid. Here's a small detail is able to breathe new life into a classic bow.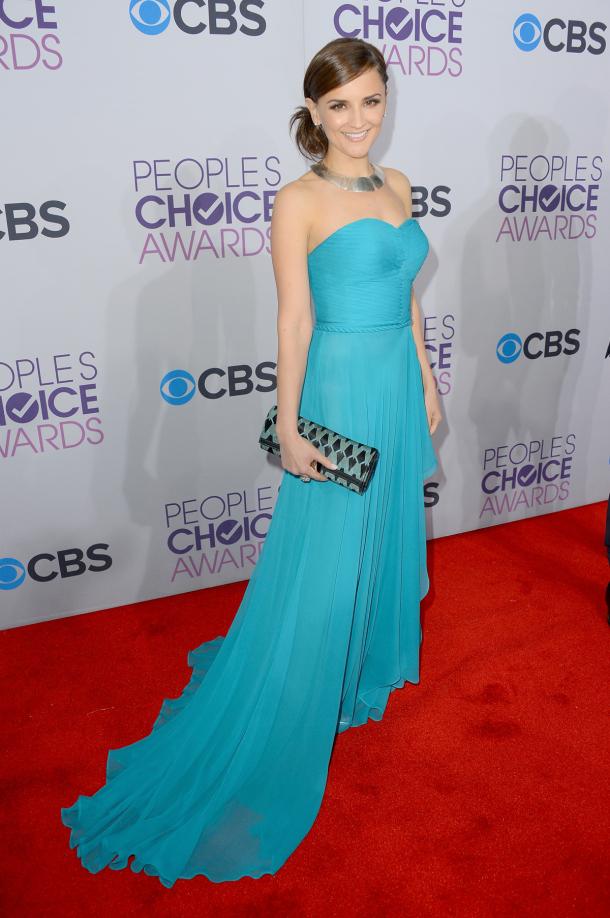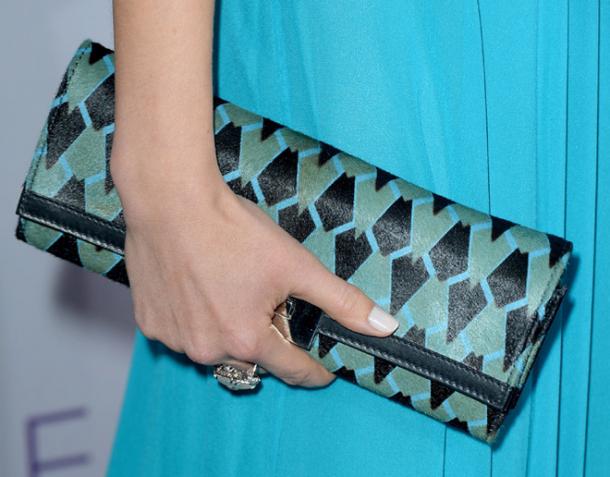 Brittany Snow in a pale yellow dress by Maria Lucia Hohan. I was in this manner like everything: colors (pastel yellow combined with pale pink lipstick - ah!), Chest on chest plus cutouts on the sides of the length to the ankle, which gives us a view of the silver shoes - very unexpected, but extremely interesting choice for this dress.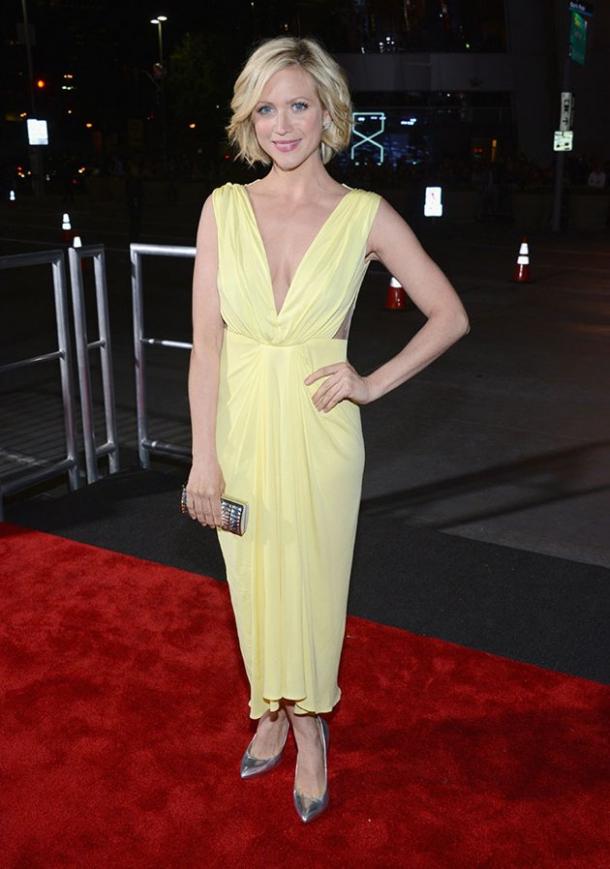 Taylor Swift in Ralph Lauren - my main favorite of the ceremony People's Choice Awards 2013. First of all, I like the fact that Taylor has opted for a minimalist, leaving embroidered with sequins and lace dress to the best of days. Secondly, she decided on a deep neckline - safely and looks very nice. And, of course, I can not help but note luxurious earrings with massive blue stones - the only accessory in the form of country music diva, which makes the entire image.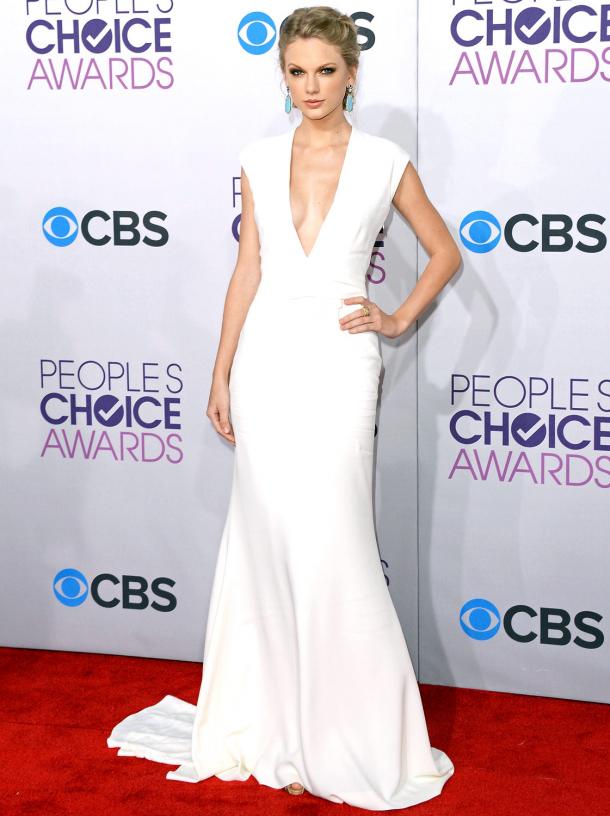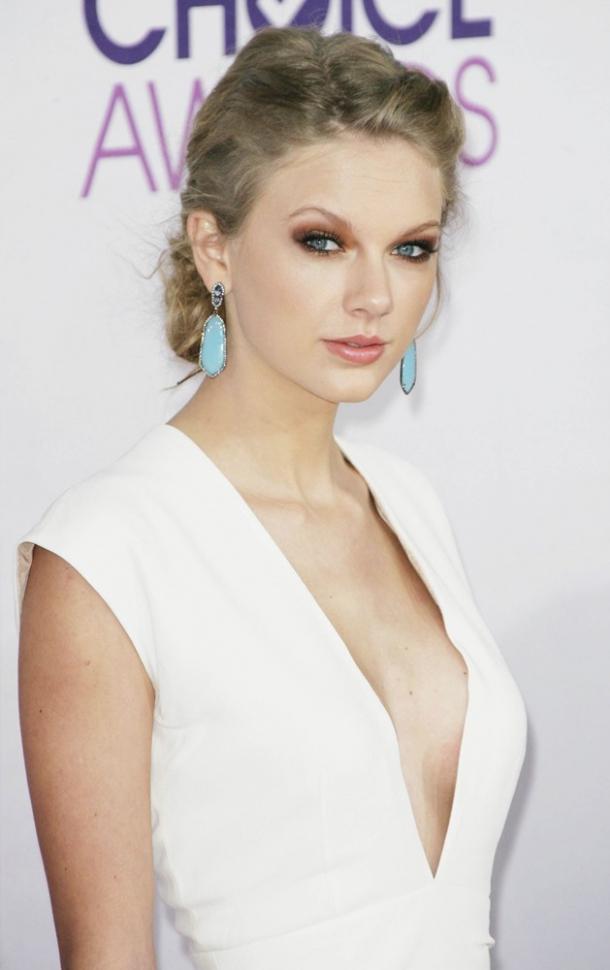 One of those rare occasions when I dress like Paris Hilton. Bright fitting dress looks very cute and funny, and rich colors to face the blonde Paris. Very fresh and unusual ... and not tasteless.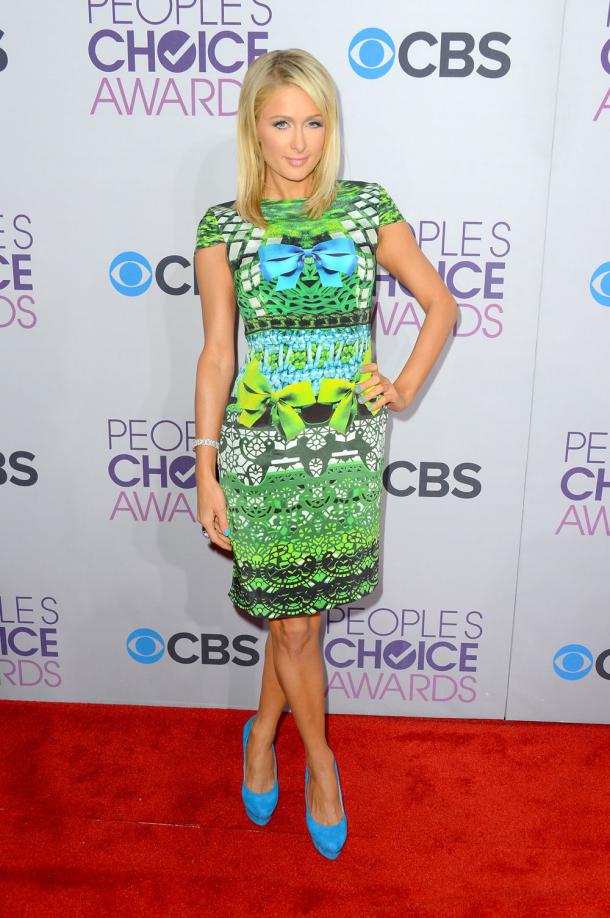 Jennifer Aniston continues to exploit the little black dress on the red carpet. This time the choice fell on the actress leather mini cocktail by Christian Dior is not quite familiar silhouette for Jen, who has played a cruel joke with the actress. Sitting too heavy and, dare I say it, is full. Yes, I am aware that the owner of an ideal figure, Jennifer and her name only one able to provide her a place in the ranking of the most stylish, but this dress is definitely its not the best choice.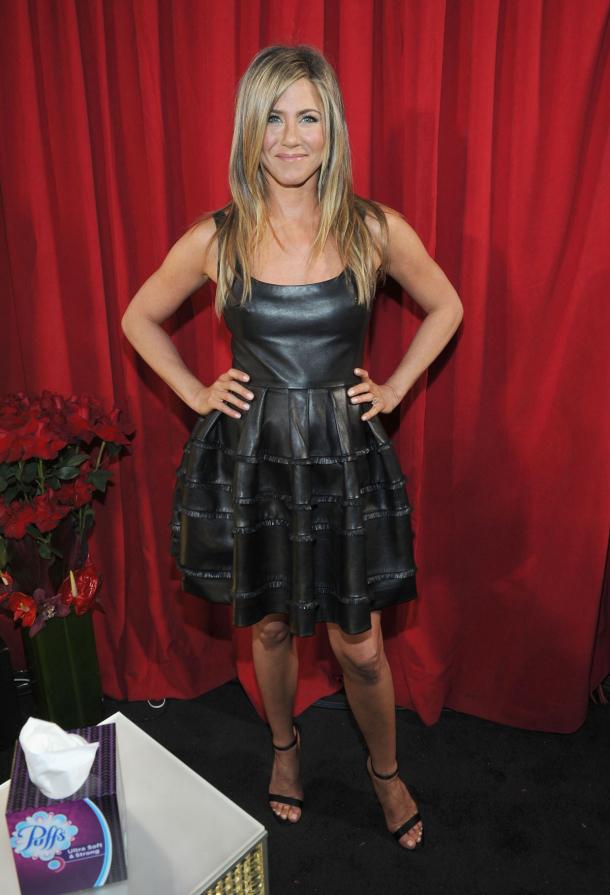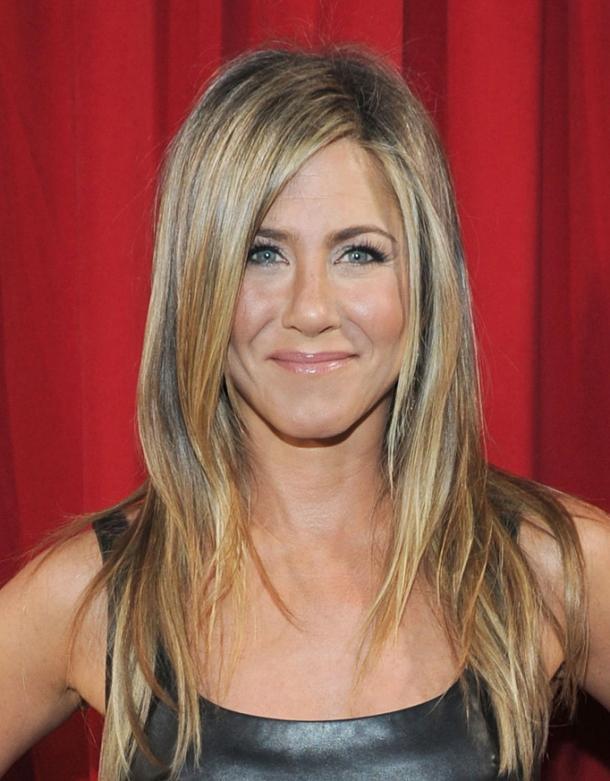 Overalls on the red carpet look very original and hypersexuality, but nothing could save overall, if it does not fit. Attire Katie Cassidy obviously not to her size - too much bulk to the various parts of the body, and I'm not sure exactly what was intended.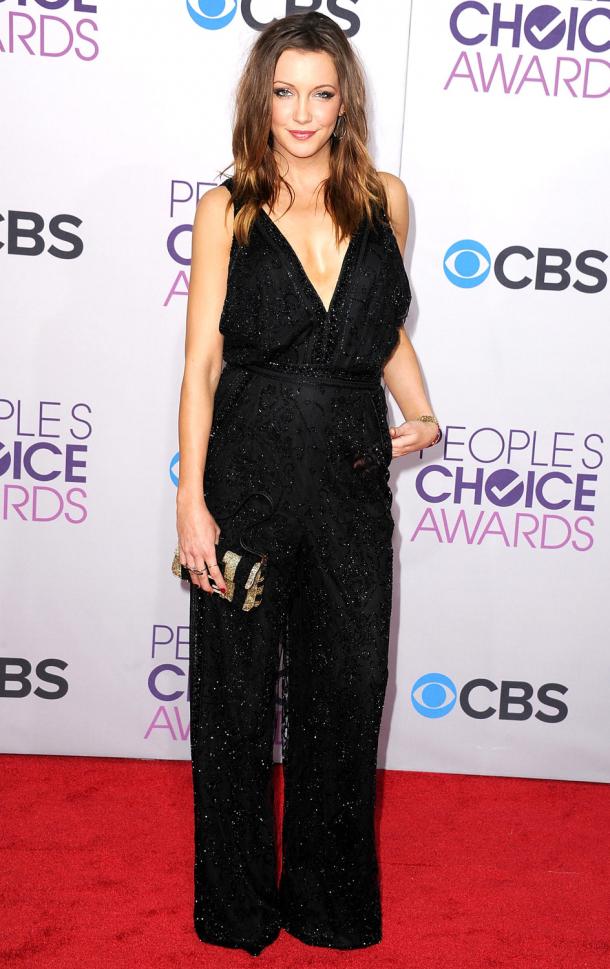 Lea Michele - another girl whose image is worth noting. Like Taylor Swift, Lea decided to try the new year with something new and the choice fell on her mini-dress bright fuchsia design Elie Saab. To say that I like this outfit, do not say anything - I love it! Finally, Miss Michelle looks as it should look like - bright, fresh and pert.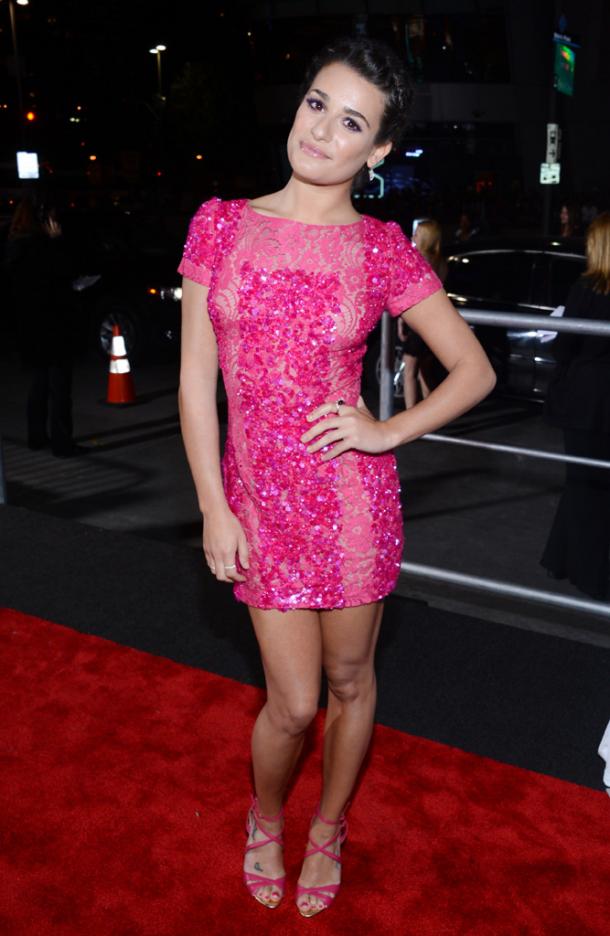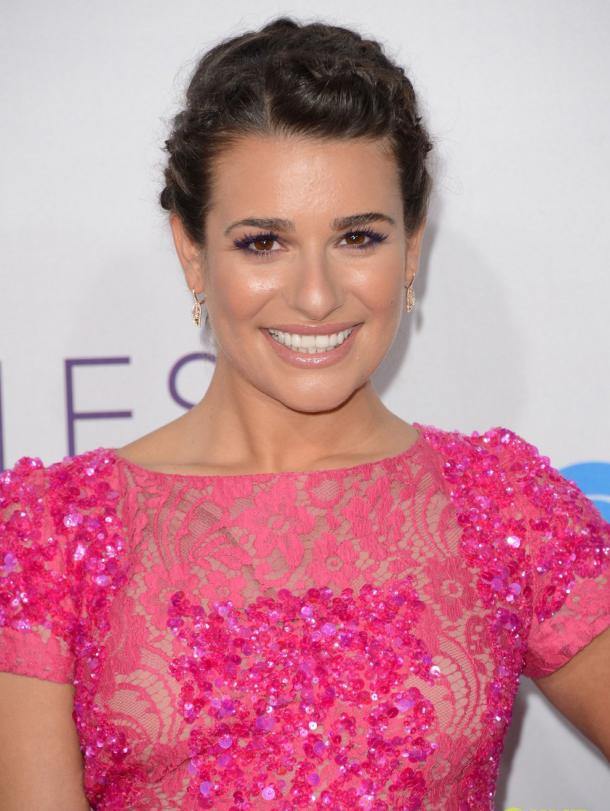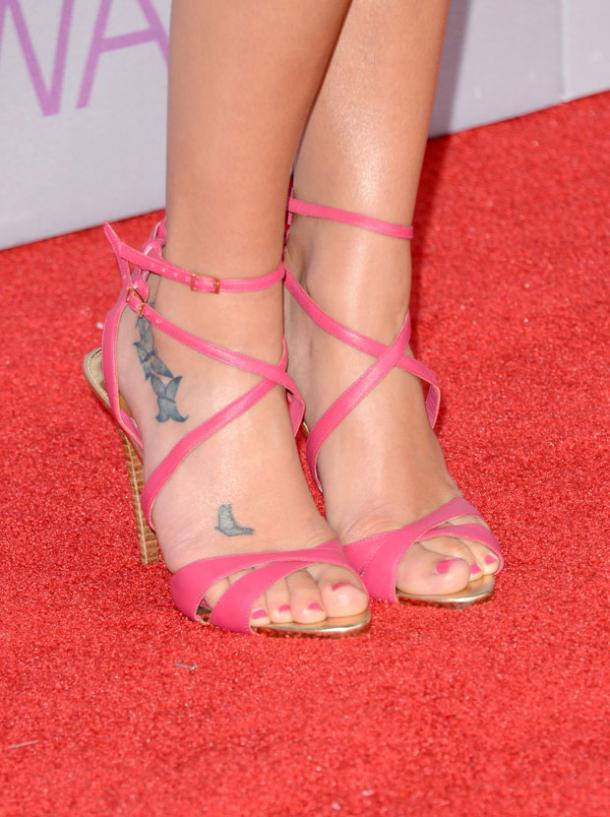 Katy Perry has also decided to move away from their traditional way of fireworks and the girls tried on the dress in the style of modern girls of Turgenev. Reasonable length of the foot, at least the naked body and no breasts fall out - all very elegant and sedate, and it is very, very stylish. Excellent choice!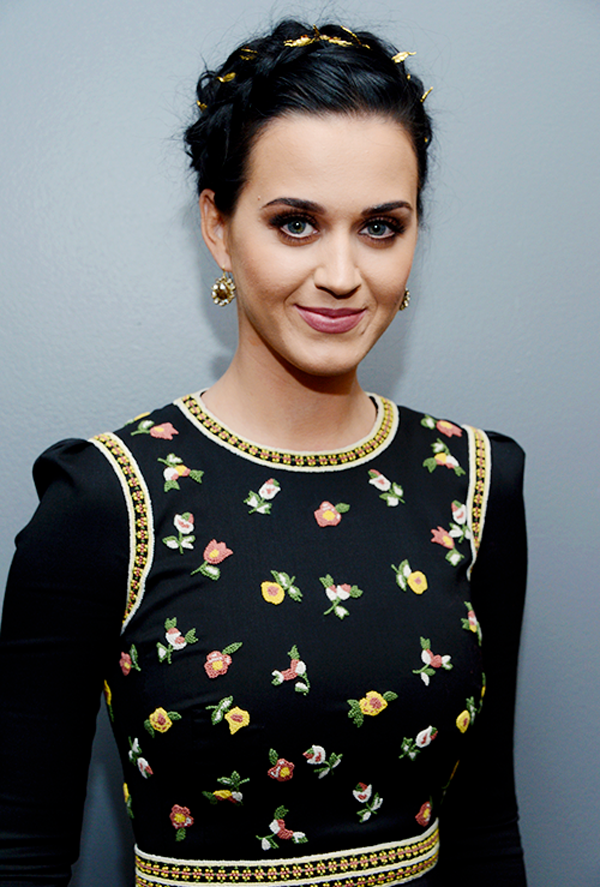 Emma Watson once again shows one of the outfits of the fashion house Peter Pilotto c inherent psychedelic prints and SuperDuper design with lots of parts and elements that, much to my surprise, very organic look, and not too much. The length, in my opinion, is a bit short, but with such beautiful legs, like Emma, ​​and her age can afford the most desperate mini.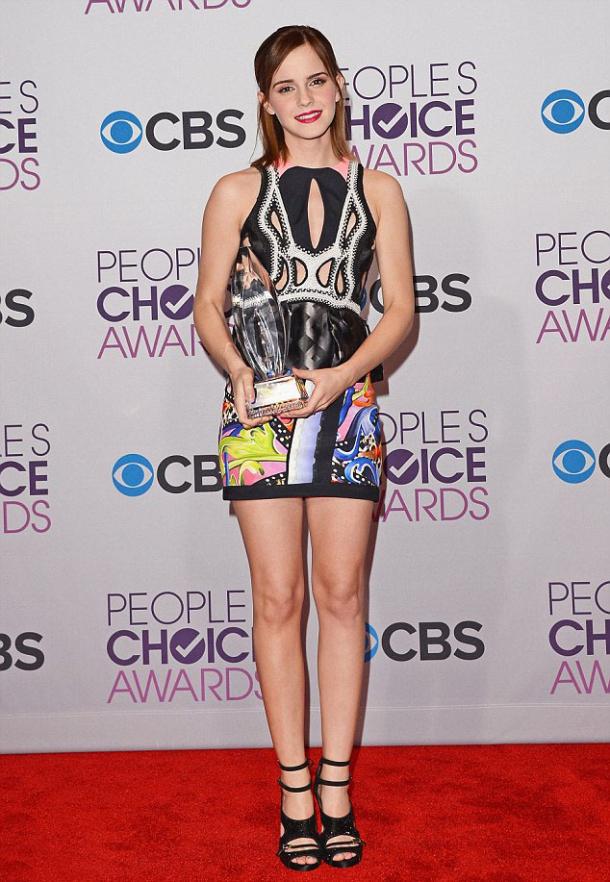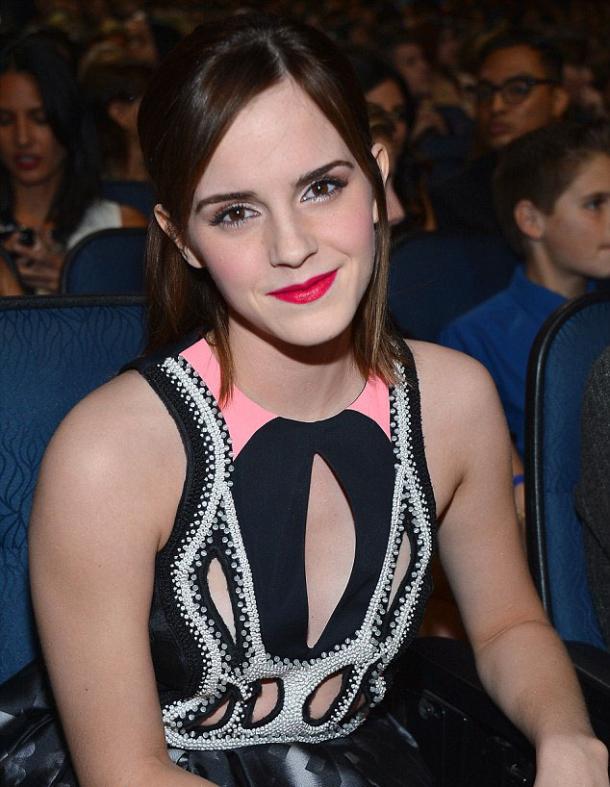 Jennifer Lawrence Valentino. Dress in the style of Art Deco has every right to exist, but not in tandem with the 22-year-old Lawrence - this outfit it is very old. Jennifer and so can not boast that looks its age, and with the dress she is forced to go into the category of "35 and over».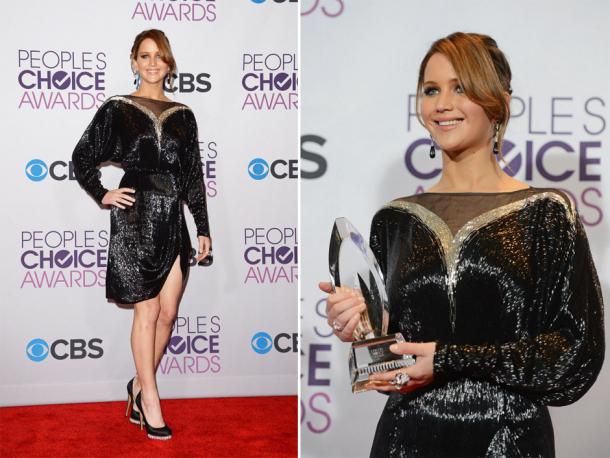 Sandra Bullock has chosen to pass on the red carpet dress by Vera Wang. Through a combination of elegant lace bodice and pencil skirt in the office-style outfit it looks very interesting and unusual. I can not say that I am delighted with the ensemble, but it is original, and it is already half the battle. And, of course, I can not help but notice the pink suede shoes, which miraculously blended with shades of makeup Sandra - unusual and very stylish.