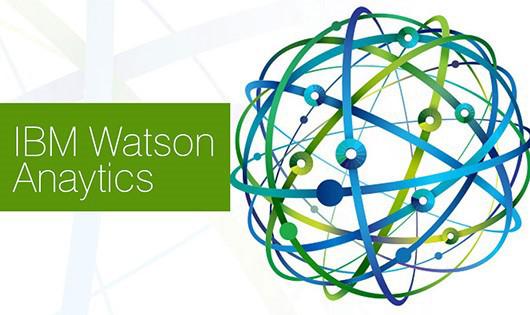 Service
Watson Analytics
becomes open to almost everyone, yet in beta. Previously, the intention to open access to Watson Analytics, IBM has stated, and now the promise is fulfilled. Watson Analytics is part of a project to create a division of the company based on IBM Watson. The total project cost is more than a billion dollars.
To test the service in beta mode, it was necessary to apply, since September of applications were filed more than 22 thousand. Immediately after the start of open access and the band appeared Watson Analytics Community, whose members are engaged in a discussion of the possibilities of service, as well as promotion opportunities IBM Watson.
That can offer services to its members?
Working with Big Data ​​b>

IBM Watson - it's really a very powerful system that copes with huge amounts of information, processing the data for a limited time. Typing in the primary data, the user receives an array of structured information with the identification of links between the individual elements.



Help Business

Using the power of the system, the company can quickly process the input data of the project, to get a result with an explanation of how the factors that affect the change in cash flow or production capacity of the client.
Thus, the wine producer may obtain information about which country is now the best selling product, and how the current weather conditions may affect the yield and quality of crops.

visualization

The most complex data and calculations are shown in an understandable for the user. Visualization, graphs, diagrams - always helps to understand the current situation. Watson Analytics quickly performs graphic processing of data of any complexity.

Identify links

Watson Analytics automatically carry out complex calculations, showing the user the most important for him and his business factors, patterns and connections between the individual elements.



The social component

Twitter and two months ago, IBM announced a partnership. Twitter has granted access to IBM in their databases. It is known that users' messages in Twitter can be a source of primary information to identify different trends and relationships (for example, using Twitter, you can quickly "detect" the beginning of a flu epidemic in a particular region).

Such cooperation can help IBM clients to identify patterns and trends desired, which are characteristic of the society of a particular region: locality, country, continent. On Twitter, you can find lots of information about the preferences of users, their relationship to the various brands and their products, as well as other information.

Same treatment and structuring of such data will be engaged IBM Watson Analytics.

For more information about the service, as well as the request for access to Watson Analythics can get here .

Source: habrahabr.ru/company/ibm/blog/246001/