Report on the 66th Cannes Film Festival, which ended yesterday on the Cote d'Azur, would not be complete without a review of Photo call. Each grand premiere on the red carpet is always preceded by a press conference with the creators of the films in which they not only can tell you about your project, but also show off their fashionable outfits that never left unattended. Moreover, sometimes everyday images in Cannes look much more interesting and beautiful than evening dresses with red carpet.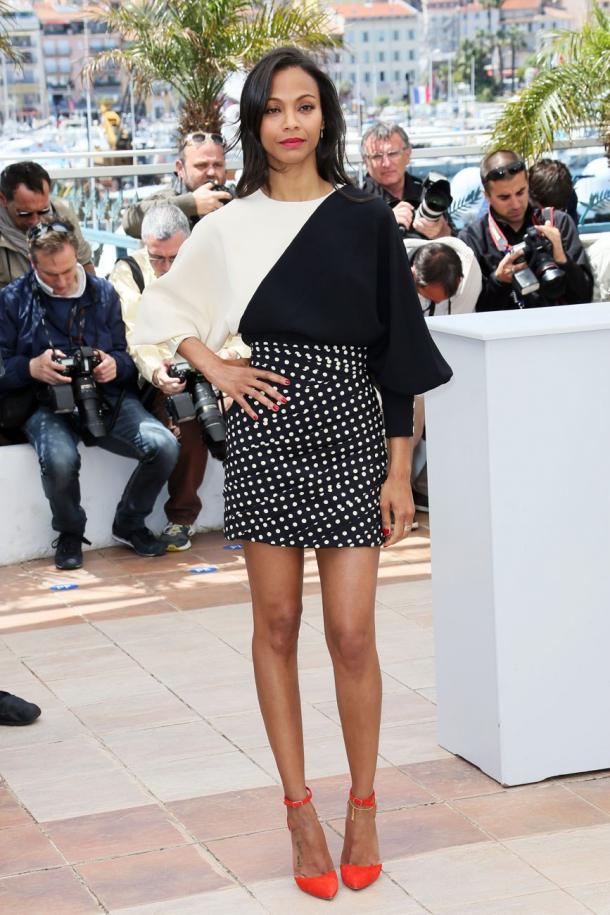 Photo call at on the occasion of the film "Blood Ties" Zoe Saldana appeared in a stylish ensemble Emanuel Ungaro, consisting of surround stamp and miniskirts in peas. By addition to black and white color scheme, the actress has added a bright accent in the form of shoes saturated coral color and berry lipstick. In my opinion, perfectly thought-out way.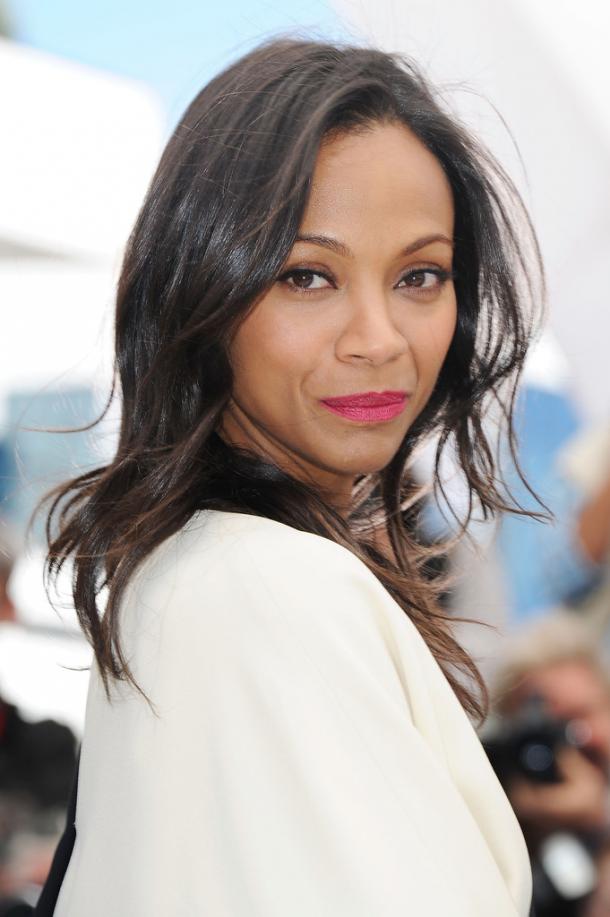 Zoe colleague, Marion Cotillard chose the same photoset mini dress Antonio Berardi. Front outfit looked very reserved and no frills, but the rear view opens our eyes interesting transparent insert on the back, decorated with beads and crystals. Lovely outfit, although trendy flair and Marion never and no one doubted.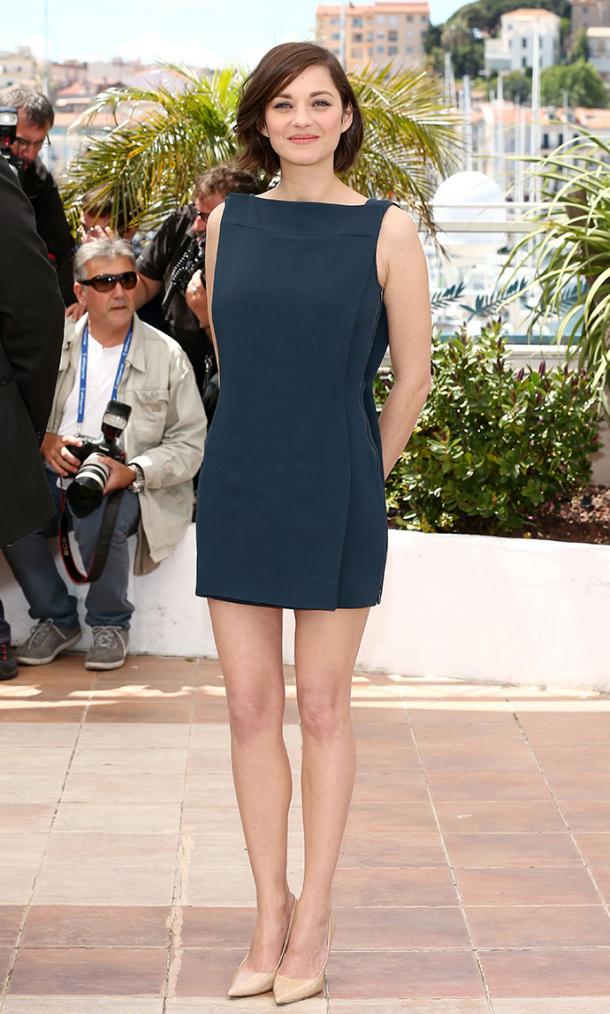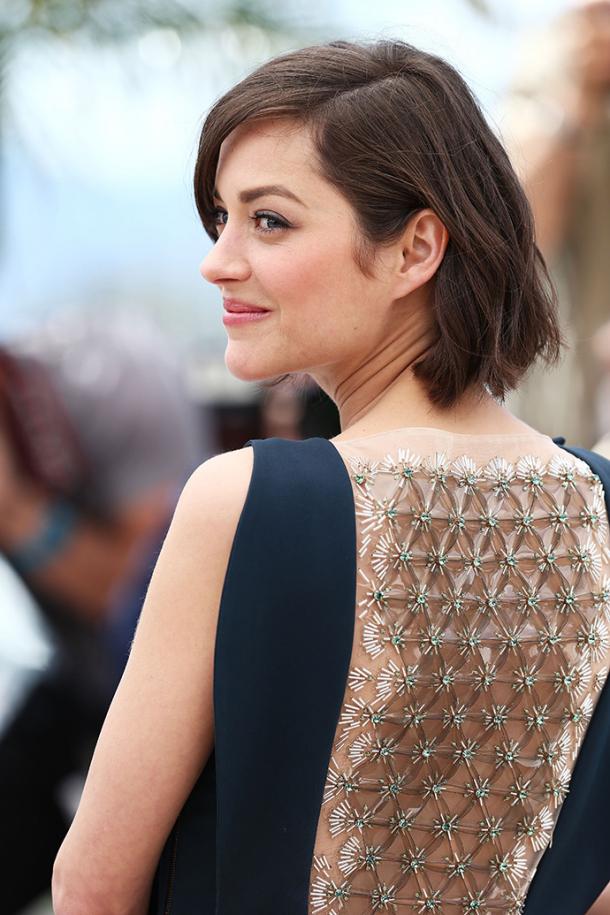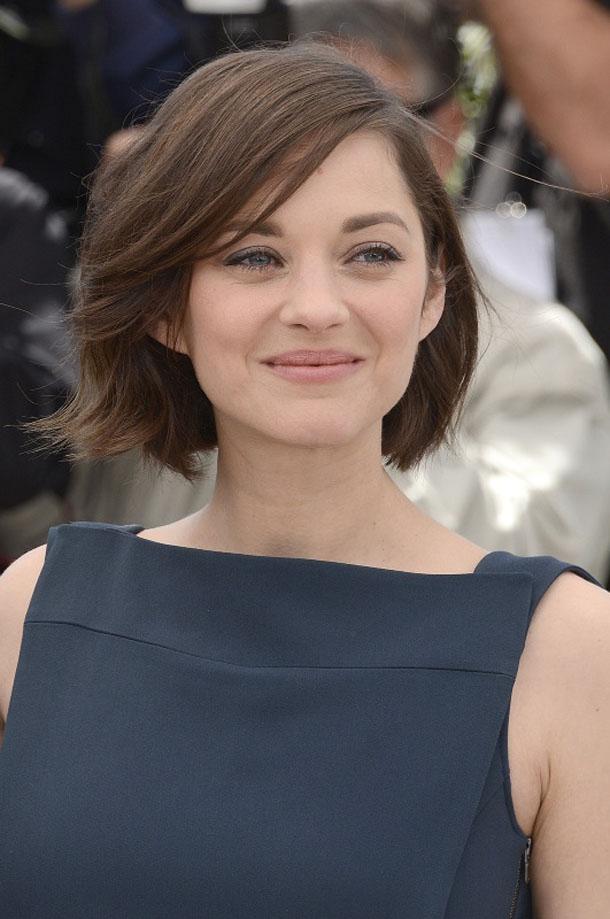 As we remember, in Cannes this year was presented two films with the participation of Marion, to which premieres were timed two red and two track Photo call. At a press conference the film "immigrant", where the actress starred Marion appeared in the fantasy white dress from the collection of Alexander McQueen. Finishing dress in the form of bulk flowers and macrame lace inserts simply amazing! In my opinion, the best outfit for the actress, who is known for its sophisticated and original taste, and can not come up with, but I do not particularly like the choice of shoes - gold pumps though suited to the dress, but they can be replaced by other shoes. I can see with this dress shoes pastel pink - they would make an image more delicate and fresh.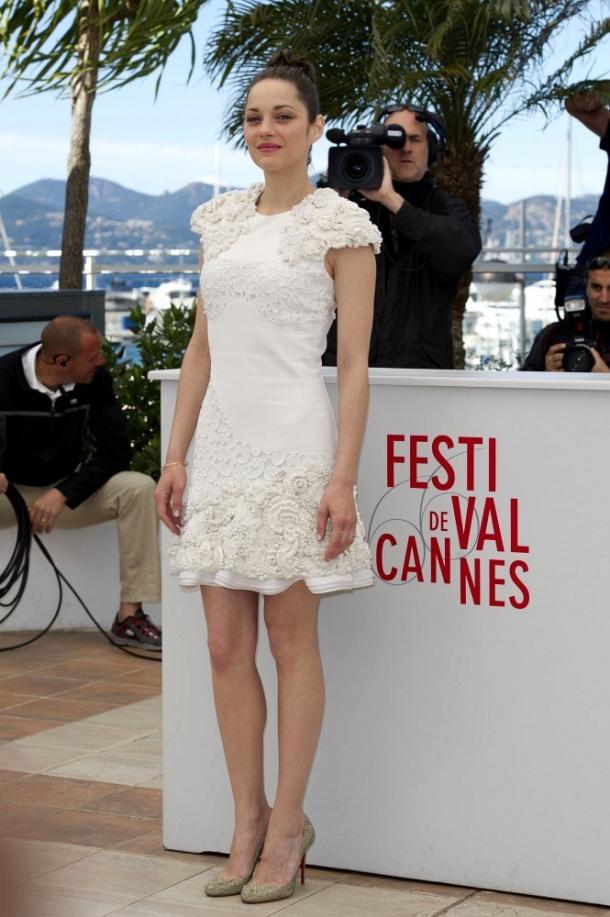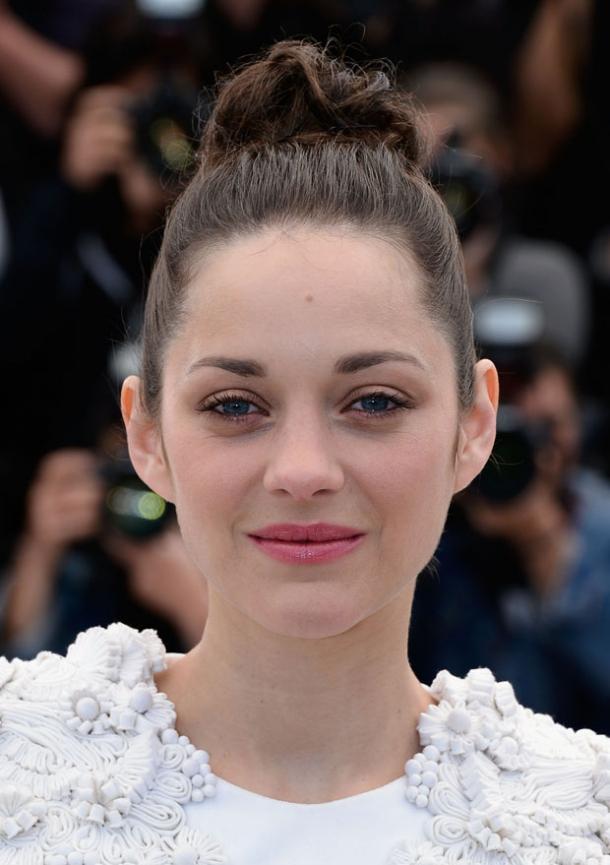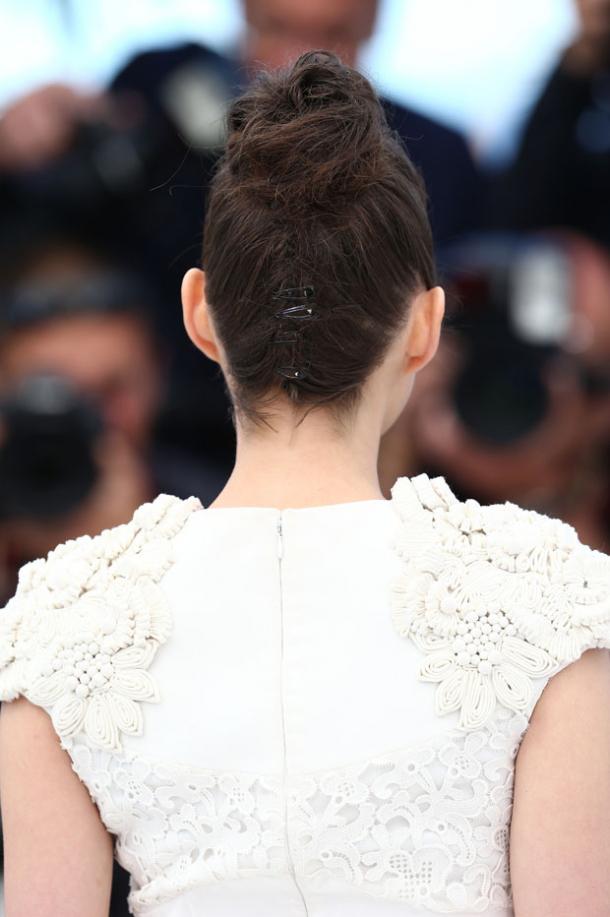 Fan Bingbing Chinese girl posed for Photo call with Jackie Chan, who became her partner in the movie "Finding Missing Persons." The actress took the opportunity to show the image of the brand's debut collection Chris by Christopher Bu, which was founded by her friend and stylist Chris Bu Keven. Thanks to Chris, Fan evolved from an unknown actress in fashion icon and last year joined the list of the most stylish people in the world according to Vanity Fair. Fan and Jackie posed for photographers on the beach, so the ensemble of light kilt and surround stamp came in handy. The only downside of this image became black patent leather platform shoes, without which the Fan just can not imagine their existence - they destroyed all the lightness and delicacy of the image.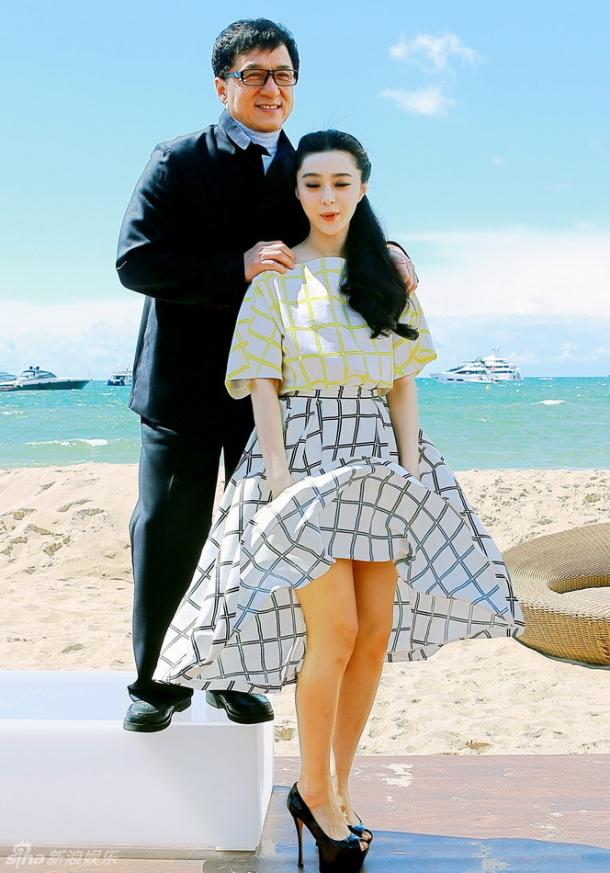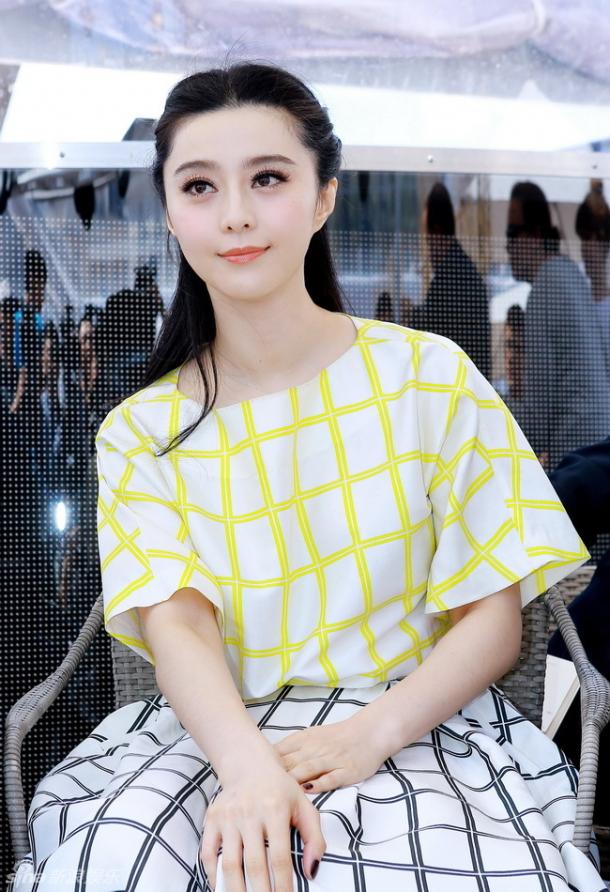 Best Actress at the Cannes Film Festival Bérénice Bejo appeared before reporters in blue ensemble of Louis Vuitton. I have mixed feelings about this dress - on the one hand, I really like the style of trousers with black stripes that look just fine in conjunction with interesting shoes, but, on the other hand, it is not like the design blouse with black ribbon and sewn shirt front. In combination with a pigtail top dress looks so very sickly. Some teacher from kindergarten.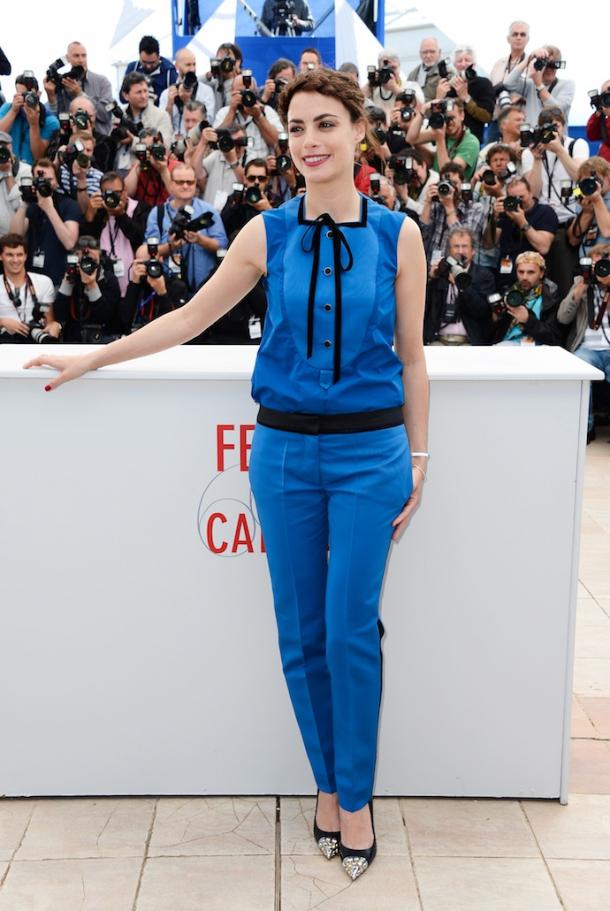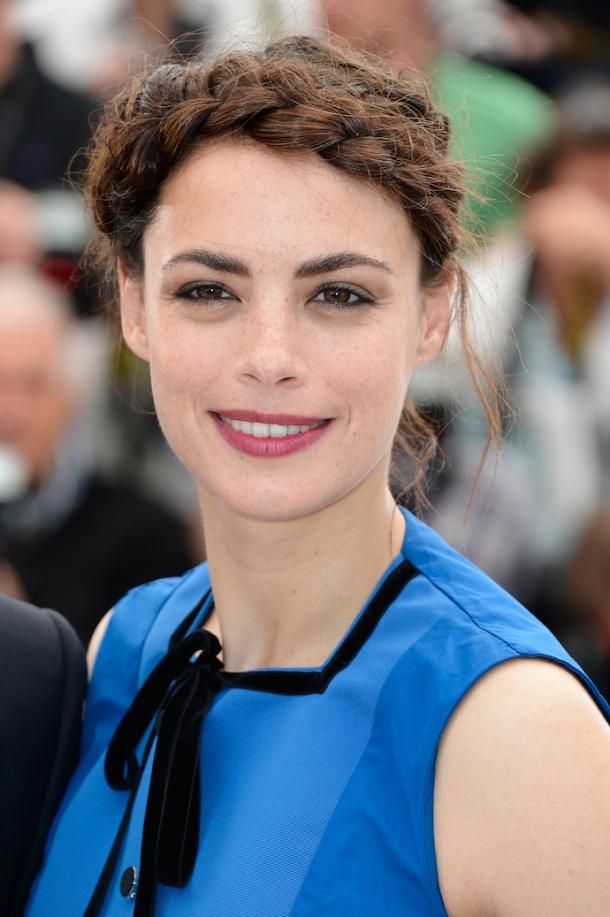 Jennifer Lawrence, unlike other muses Dior Marion Cotillard, remained true to the brand, that her dress and feed, and put the ensemble of the fall collection of French fashion house. Her outfit consisted of woolen knitted stamp and classic black trousers. I like that Jen diluted his black ensemble orange shoes, but otherwise her outfit did not impress. He does not look particularly attractive due to skewed frills, which creates not the most beautiful silhouette, and because of not the most successful long pants - ideally they should be shorter. For originality, of course, a plus, but in general - C grade.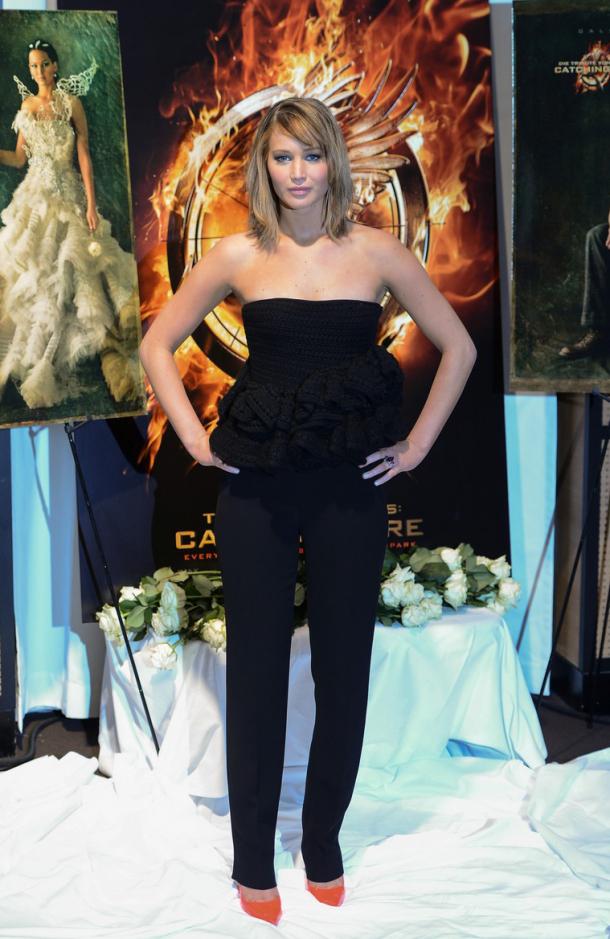 Léa Seydoux posed on Photo call on the occasion of the film "Blue - the warmest color," which, incidentally, was the best film of the festival, with his colleague Adèle Exarchopoulos. Girls chose to photoset completely different outfits: Leah went out to reporters in a pretty floral dress Dolce & Gabbana (by the way, this dress is very similar to Scarlett Johannson), and Adele wore beautiful from Alaia skirt with fringe and perforation at the waist. I like both the dress, but if you choose, I would prefer the image of Lea - summer ensemble uplifting.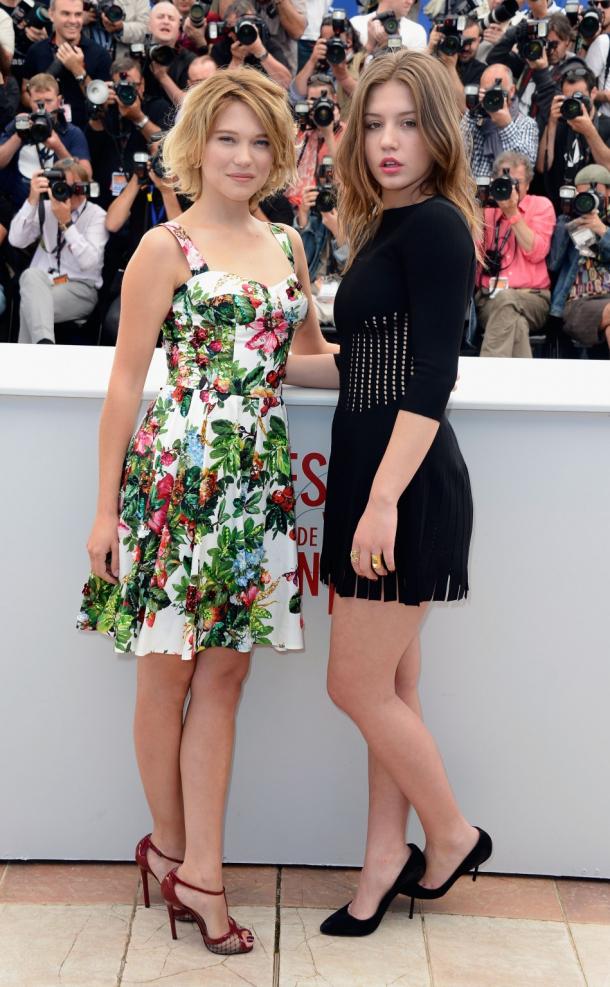 Photo call for his second, timed to coincide with the premiere of the film "Grand Central", Lea was wearing a Valentino dress with intricate print in gray-blue palette, which is a bit like from a distance Gzhel painted. In my opinion, a great outfit - sleek in cut and very interesting finishing.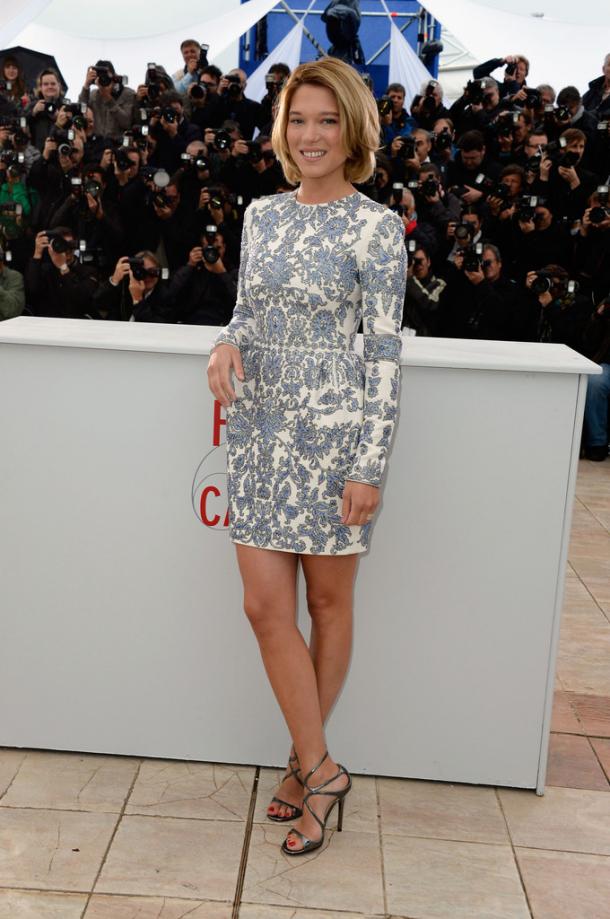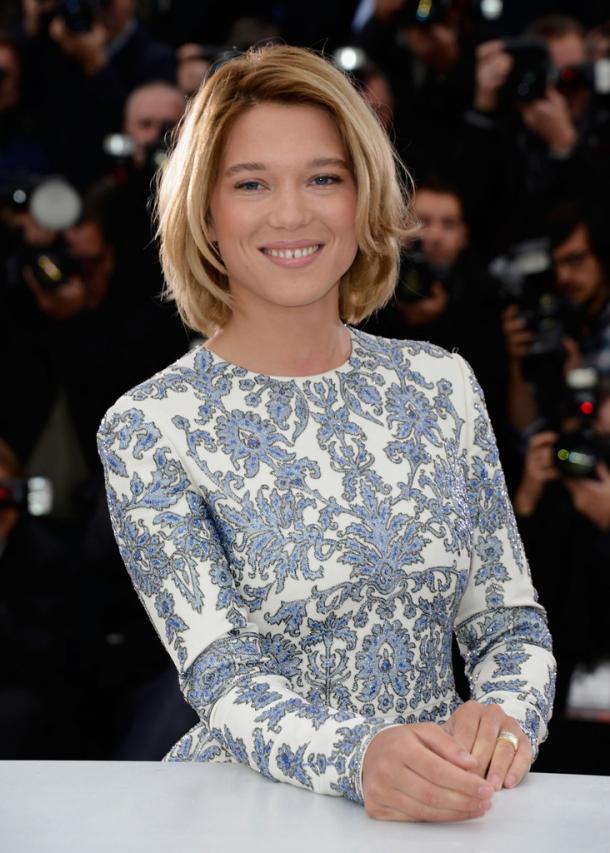 Tilda Swinton has not changed favorite style and the selected image, but changed favorite designer Haider Ackermann and traded at Chanel. Treason, in other matters, was justified - dress was very elegant and at the same time consistent with the weather (in Cannes during the festival almost all the time pouring rain).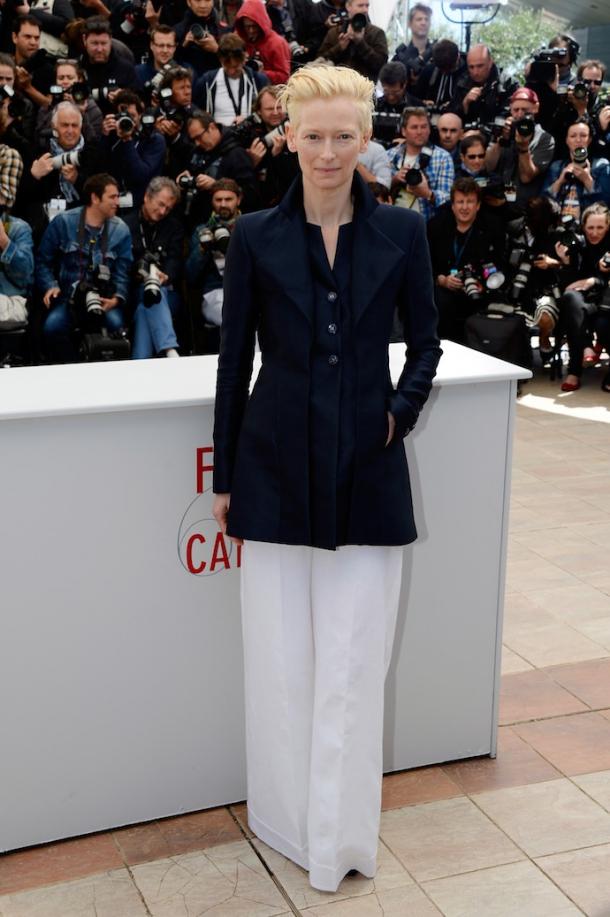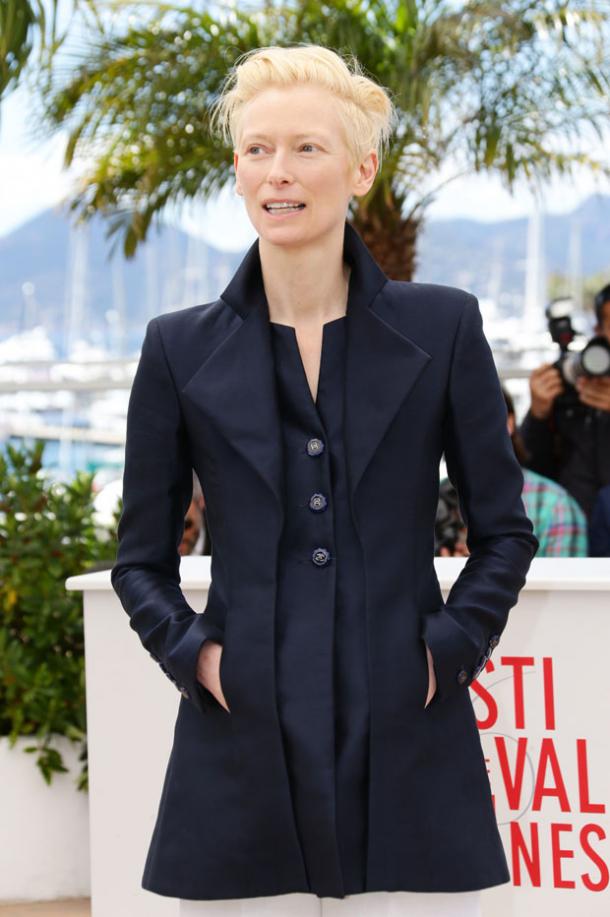 Tadashi Shoji again created a beautiful outfit for her favorite client Octavia Spencer. The actress was lace dress aqua that perfectly adjusted figure was very Her. Once I said that a little bit tired from the tandem Spencer Shoji, they say all the dresses are very similar to each other. I take it back - Japanese fashion designer outfits are ideal for Octavia, let continue in the same spirit.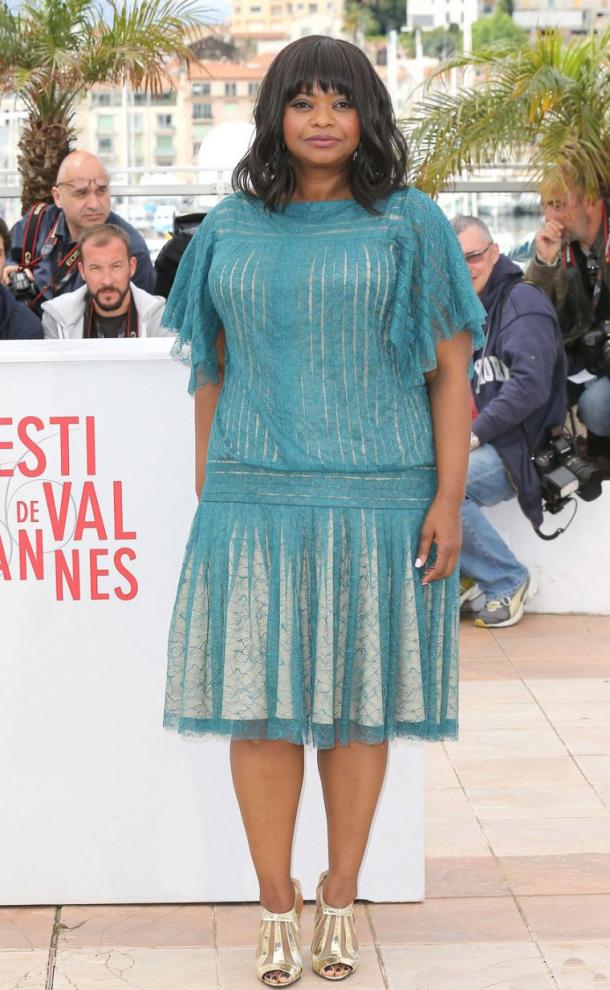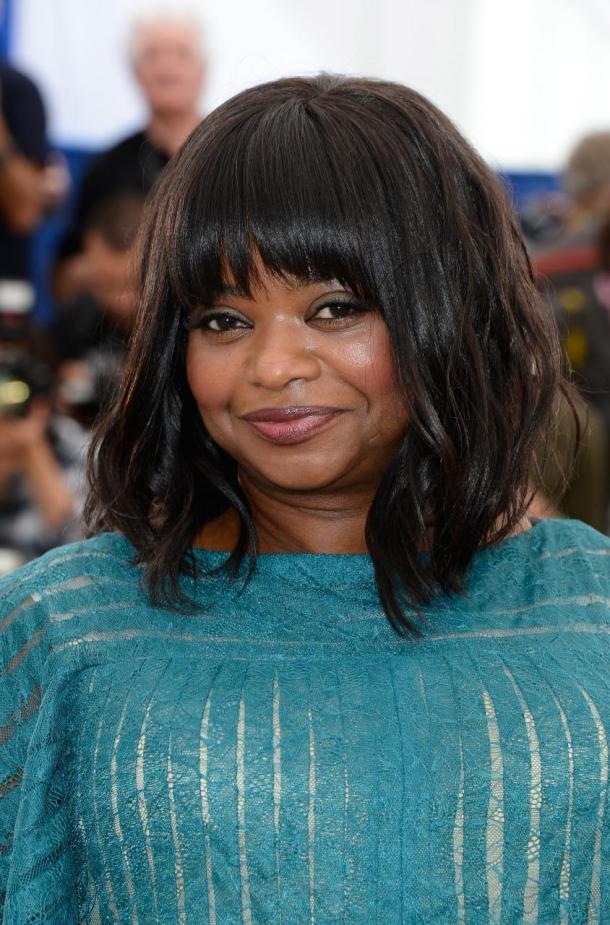 On the red carpet Audrey Tautou appeared in dramatic evening gowns, and Photo call for a simple sundress chosen in a daisy from RED Valentino. I think the choice is justified - Audrey looks so cute in this summer dress! Of course, the outfit looks less elegant than all those images in which we are accustomed to see her, but sometimes you can move away from the usual style and relax a bit.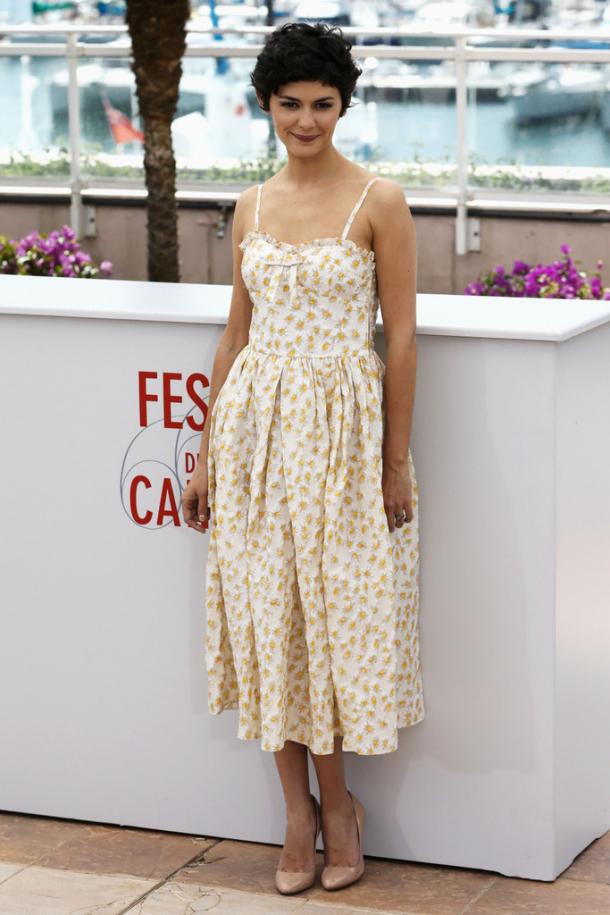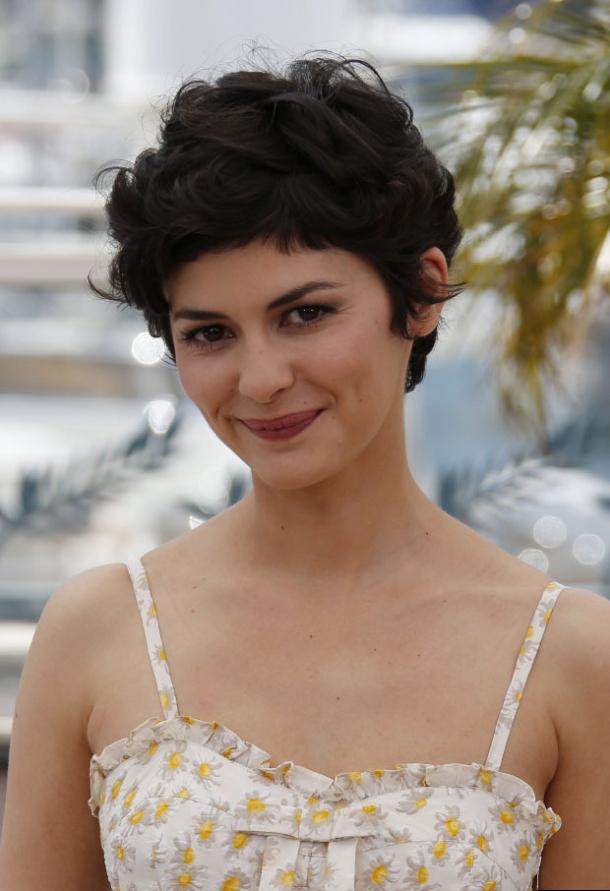 We have already seen this bow Emma Watson in the top ten most stylish outfits Marie Claire, and, in my opinion, he was worthy of his second place. Beautiful color, unusual and interesting finishing cut created a very fresh and youthful image. And should look like the girl in 23 years (note to Jennifer Lawrence).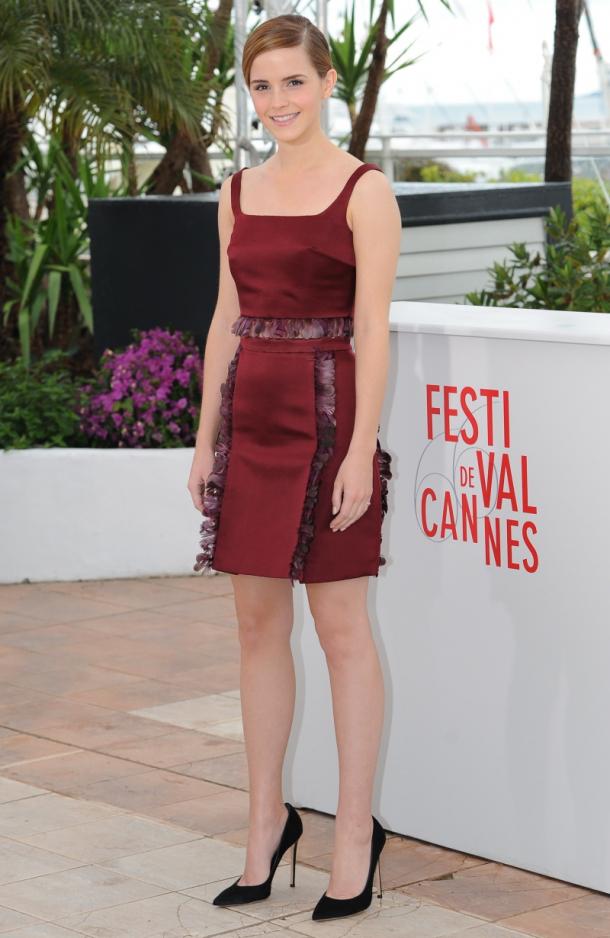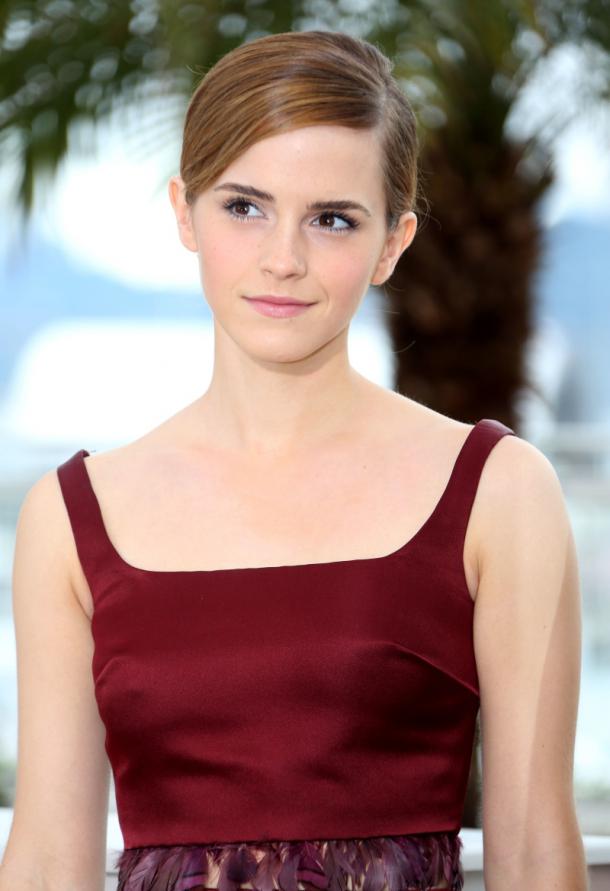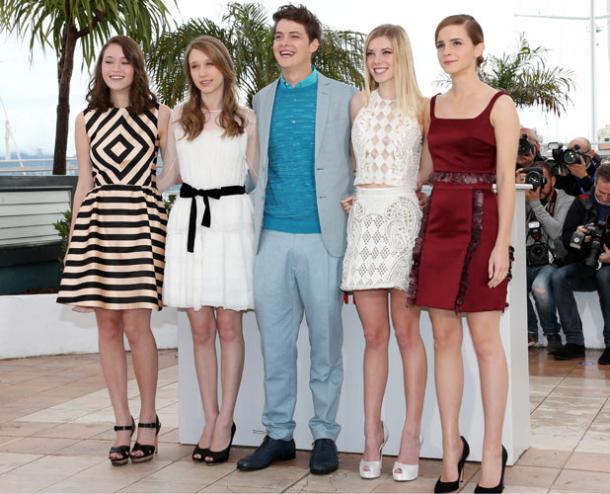 Chinese girl Carina Lau was one of the few who chose to Photo call couture. The actress posed for reporters in the creation of a lilac Elie Saab with a beautiful shiny finish and transparent inserts on the shoulders and sleeves. Very beautiful dress, and Karine managed to create with it feminine and elegant image.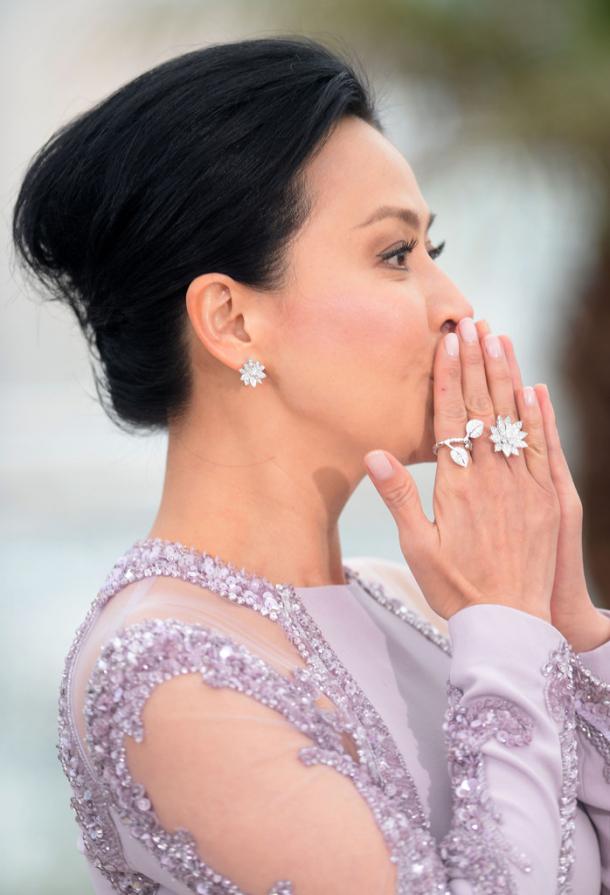 French Riviera - the perfect place to walk the white lace Dolce & Gabbana dress with a slight touch of retro. So did a red-haired beauty Isla Fisher Photo call for dedicated "The Great Gatsby." I really like the easy outfit, but the choice of footwear is poor. I do not understand that each time pushing stylists to choose from massive heavy evening shoes to complement the light summer dresses ?! Ayla image is good, but only from the ankles and up.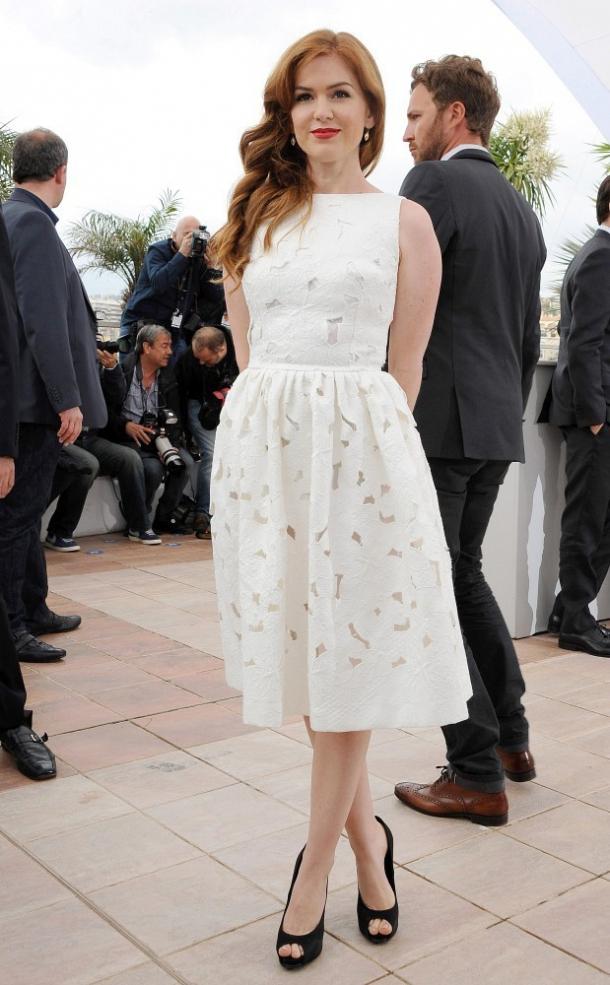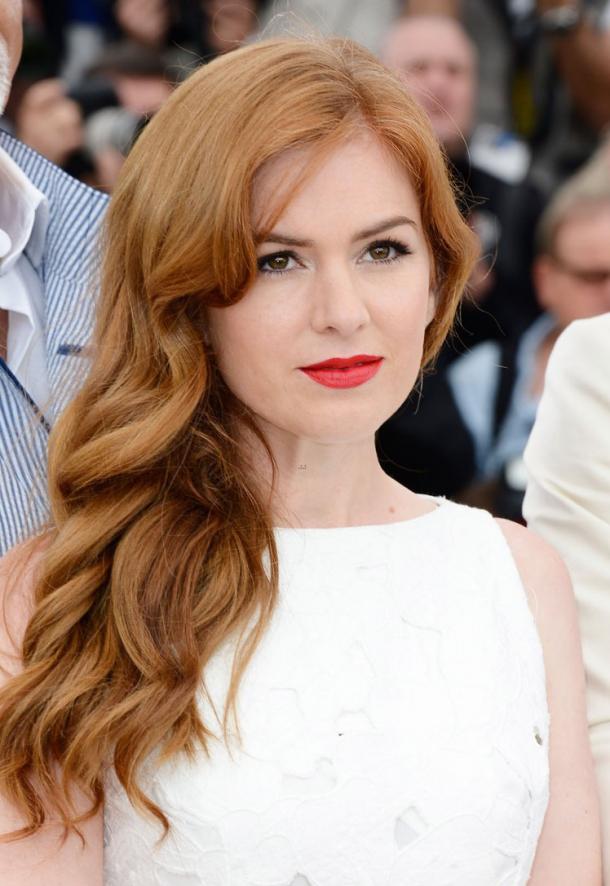 Carey Mulligan appeared in the ensemble Photo call in black Balenciaga, consisting of a top, decorated with beads and bow, and narrowed pants with tucks. In my opinion, the image is gorgeous - it is simple and elegant, all the love Carey.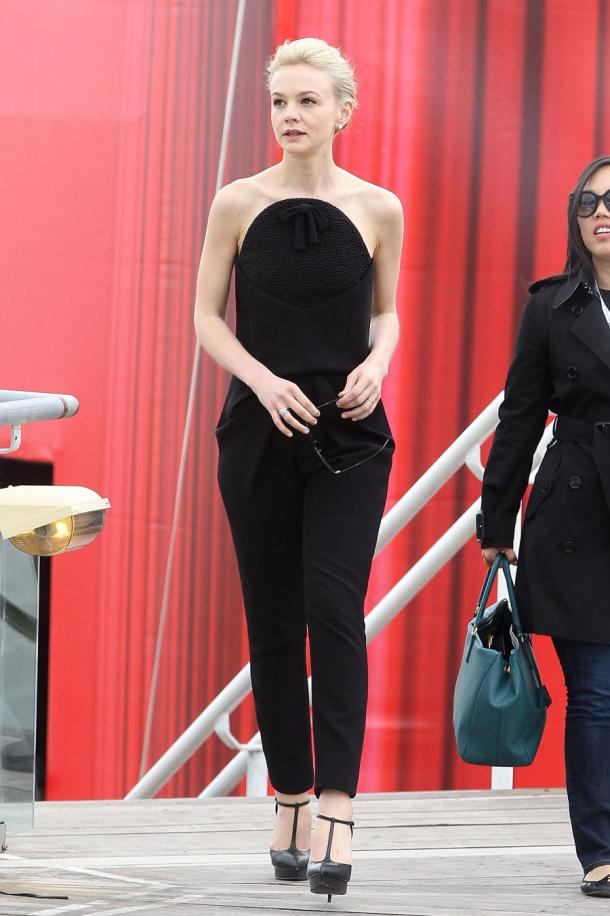 Throughout the Cannes Film Festival Carey chose outfits in black and white color scheme. Photo call for his second after the premiere of the movie "Inside Llewyn Davis" actress wore a little black dress for sale in the military spirit. The whole image of Cary was born in minimalist style, including a simple hairstyle, discreet makeup and black concise platform shoes ... my eyes used did not see them.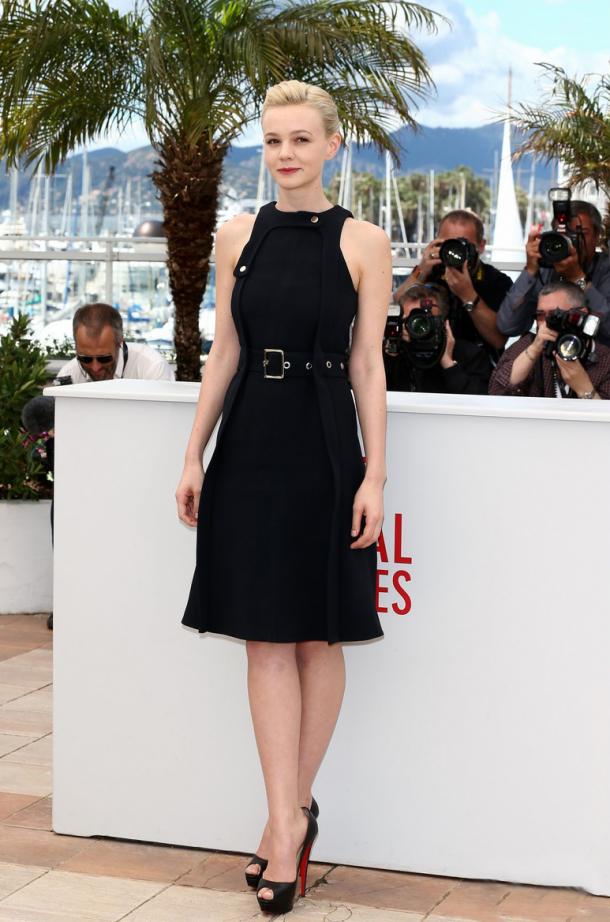 Kristin Scott Thomas opted for femininity and picked an outfit Giambattista Valli. The actress was a pale pink dress and jacket case with floral print in soothing tones. As they say, simply and tastefully.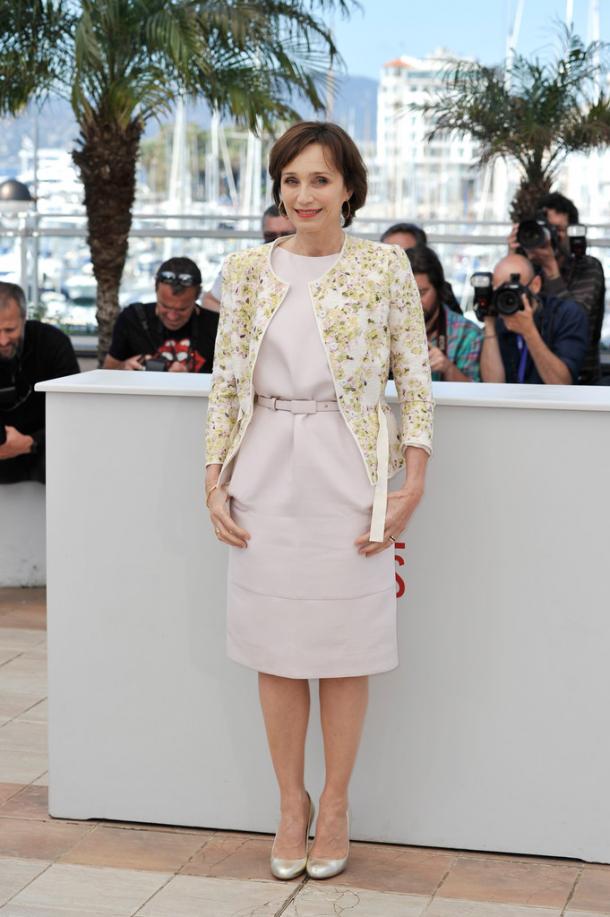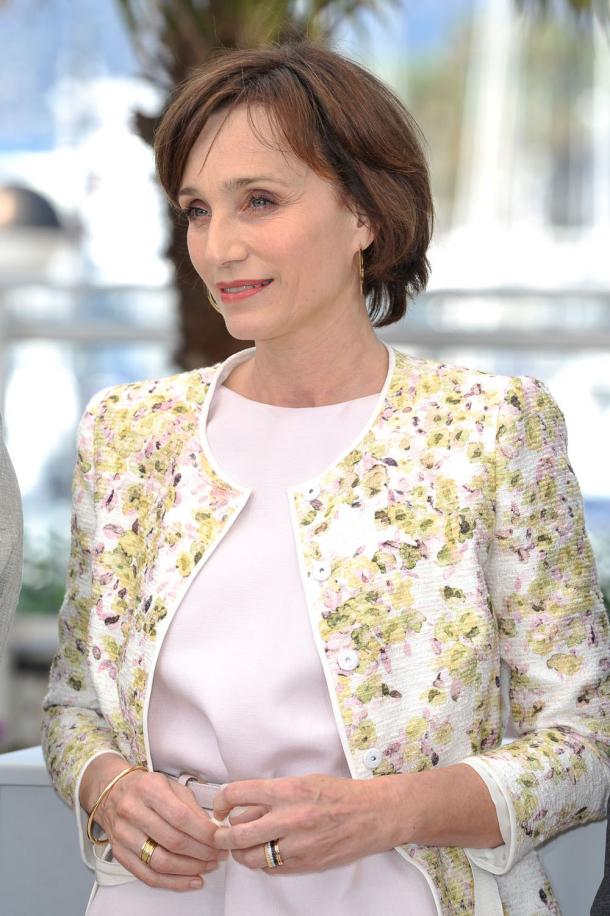 Nicole Kidman arrives at the Photo call for the jury, where she posed with Steven Spielberg, in a black dress Alexander McQueen with dramatic sculptural sleeves and neckline. Ideal complement to the addition of steel shoes suede grape color and nose crocodile from Jimmy Choo (not surprising that the actress has chosen this particular brand shoes - she recently became the face (or feet?) Jimmy Choo). Hairstyle Nicole was simple and concise - a simple ponytail, tied with a black ribbon - but went along perfectly.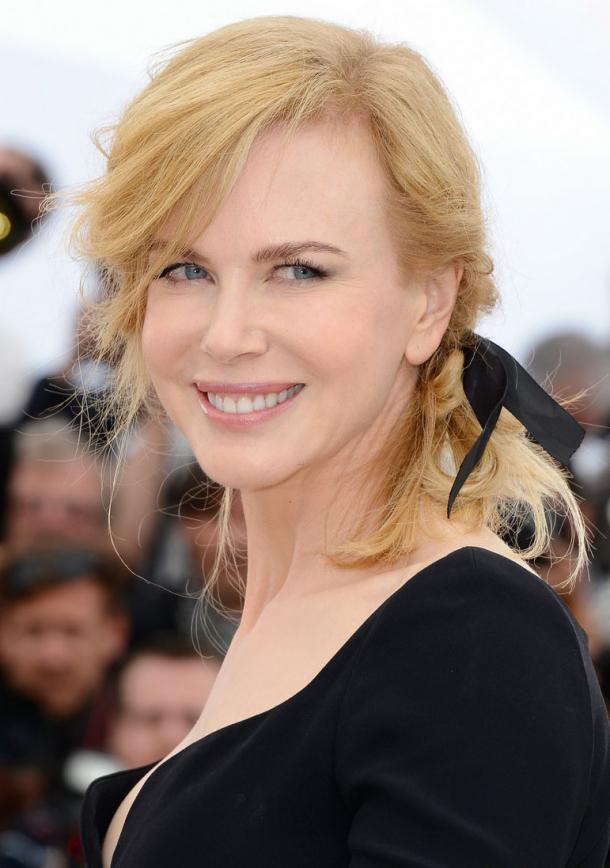 Rooney Mara in Dior. The ensemble, in which she appeared on the Photo call for the film "unholy", consisted of a pearl-gray skirt and asymmetrical stamp-midi with drapery. I like the idea of ​​an unusual outfit, but it seems that he is somehow too big for Rooney. And, of course, I am displeased with the choice of shoes - I see this ensemble pointy pumps, possibly even colored, not sandals platform.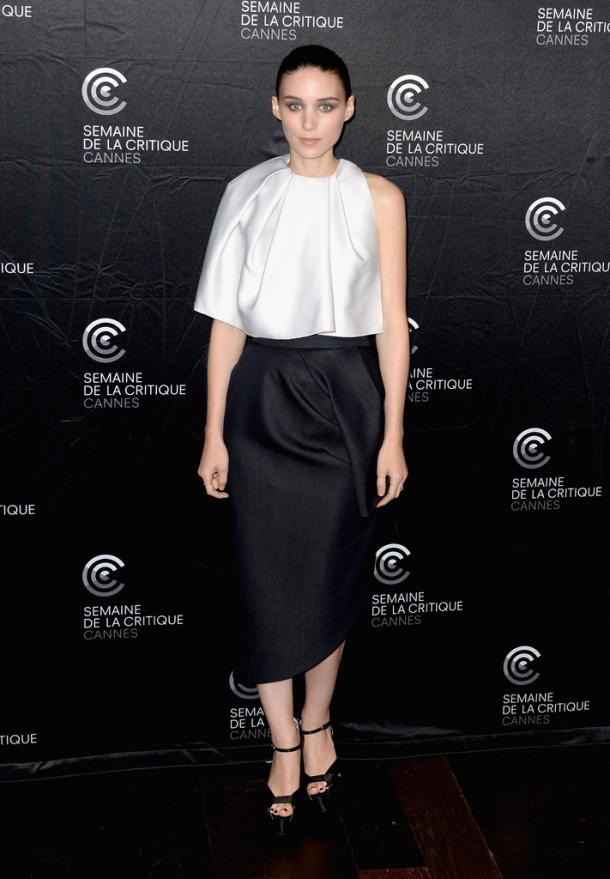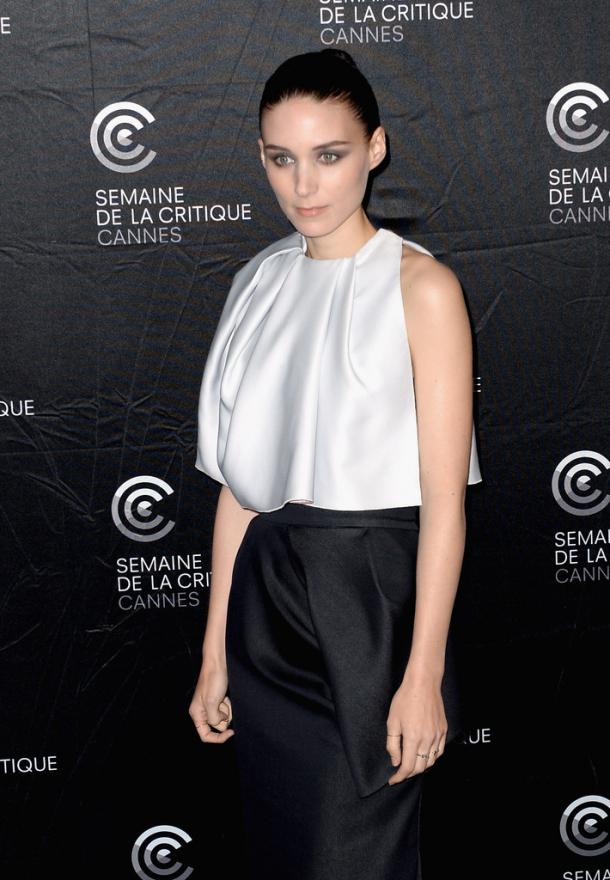 Zhang Tszyu, as always, was irresistible! The actress knows a lot of unusual outfits and skillfully use it. Photo call on Zhang appeared in cocktail dress from my favorite couture collection Giambattista Valli. Dress, embellished with applications in the form of leaves, was perfectly complemented by cheerful yellow shoes, bright manicure and flower decorations on the theme. In such a manner, Zhang was like a lovely forest nymph.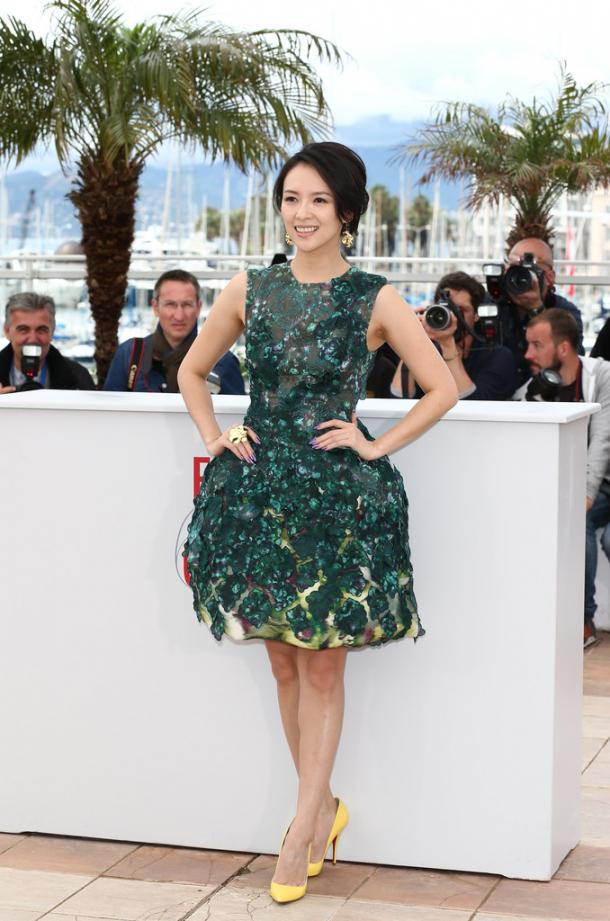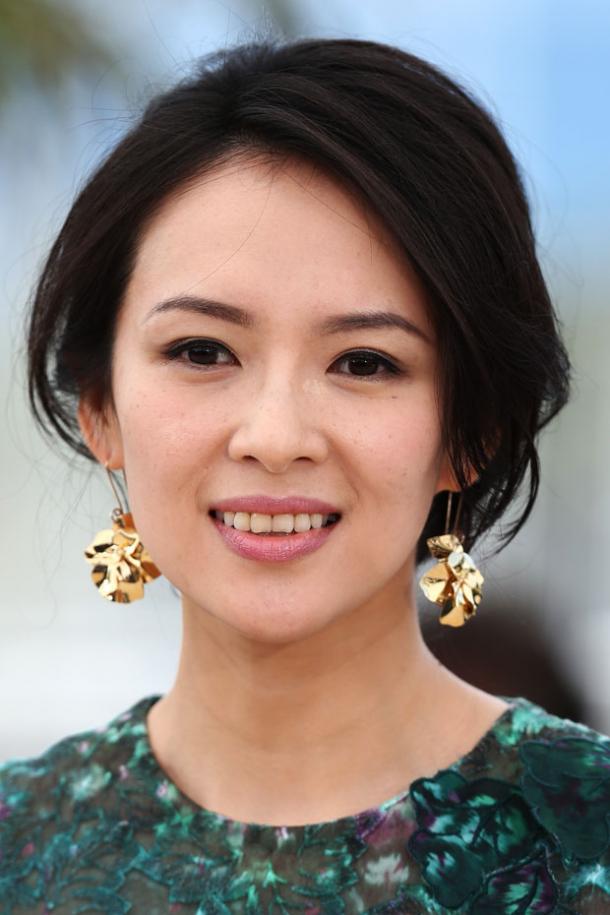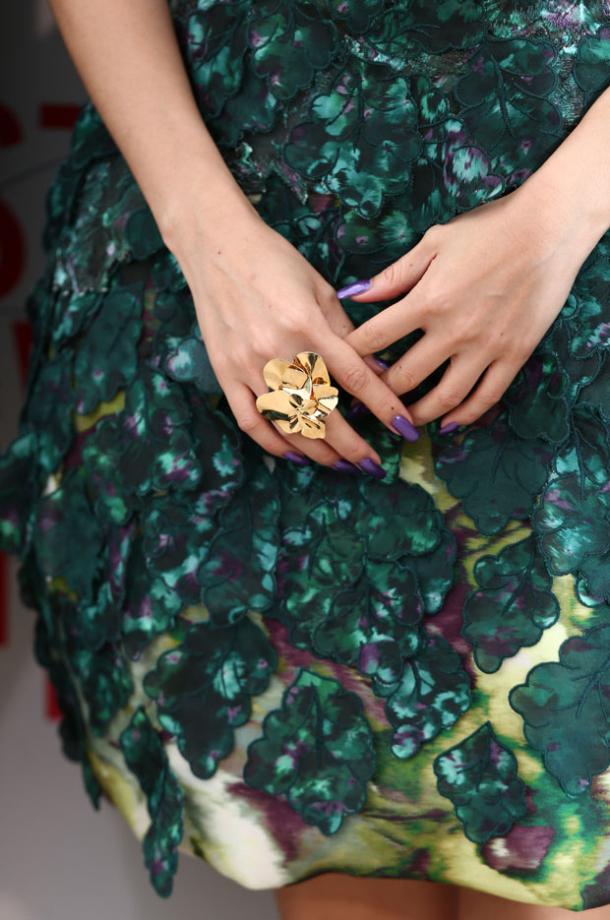 Ana O'Reilly has chosen for its Photo call playful dress with ruffles and unusual prints from Marni. The dress looked very cute and cheerful, and unbanal black and white sandals made an interesting outfit perfect pair.