That came at the end of the 65th Cannes Film Festival, leaving behind a series of movie premieres, red carpet, and the best season of stellar images. Film Forum ended with the French premiere of the drama "Teresa Deskeyru", which bestowed the most patient visitors of the festival and, of course, those for whom Cannes in 2012 was not only a pleasant stay, but also hard work. For example, Diane Kruger, who this year became a member of the jury and on the fragile shoulders of which lay down a difficult choice of the best films of the year. On this evening the actress was wearing a dress that not only eclipsed her previous outing, but also fashionable images of other young ladies.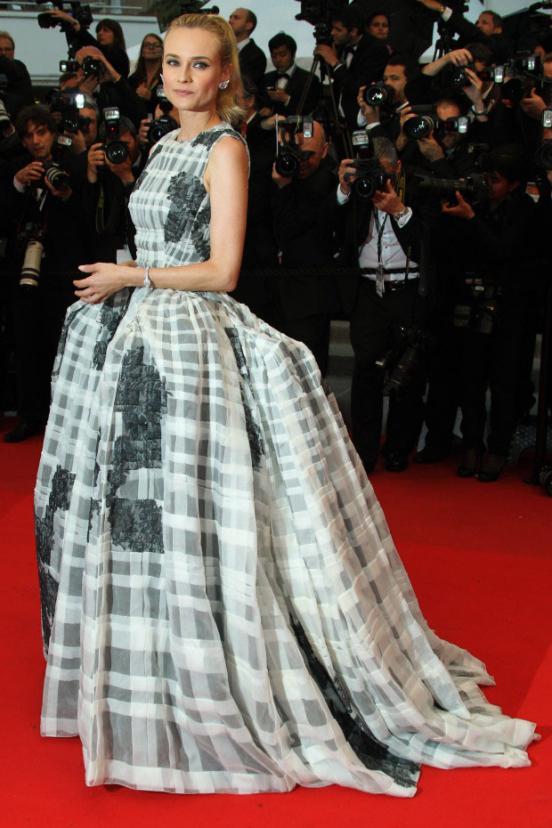 Diana came out on the red carpet in a mind-blowing evening dress by Christian Dior Couture. I confess that I can not remember anything like this on any of the social events, and this is the dress only wins. In design there are no frills inconceivable, except in the fluffy skirt petticoat, around which is built the whole image, and print - it's a different story. I am delighted with the Madras cells in gray and white and lace inserts on it looks great. Well, the image of Diana was a worthy conclusion of the Cannes Film Festival 2012.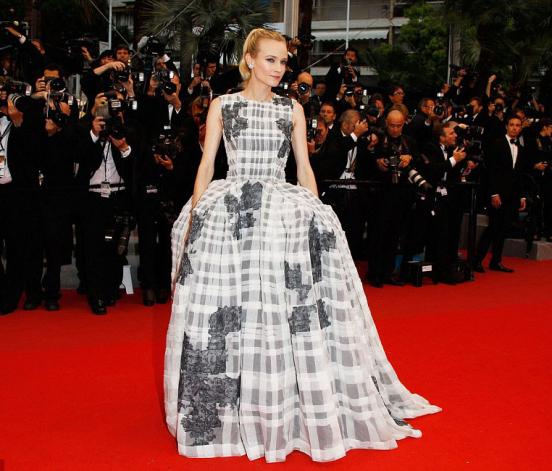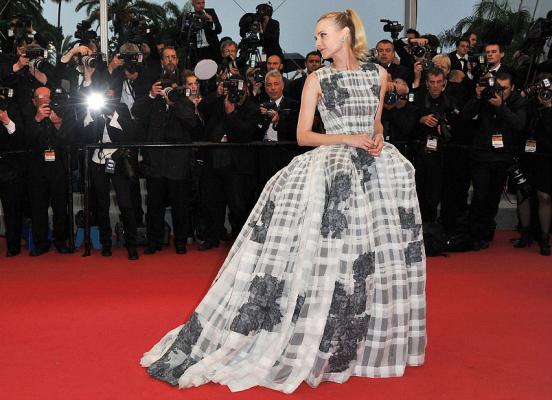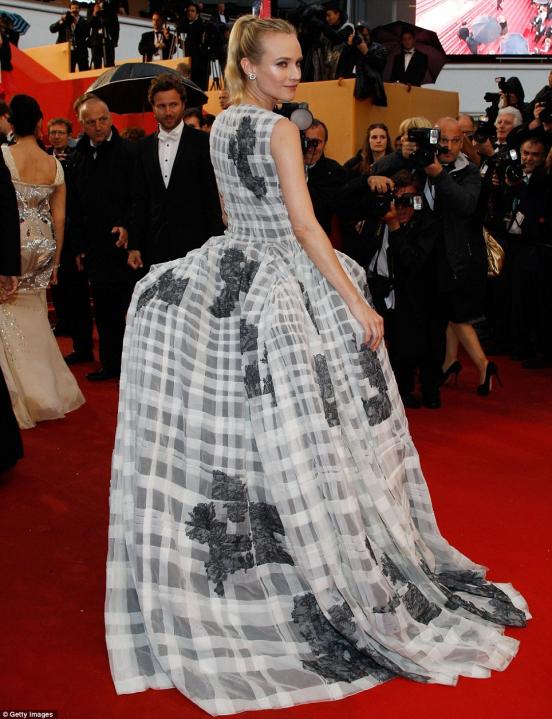 Makeup Diane was simple and classic - black arrows, pink lipstick on her lips and glowing skin. The same ease of view and in the hair - ponytail tied with a black ribbon attached to the image of lightness. Whether in his place slozhnosochinennogo hair bow would look outdated.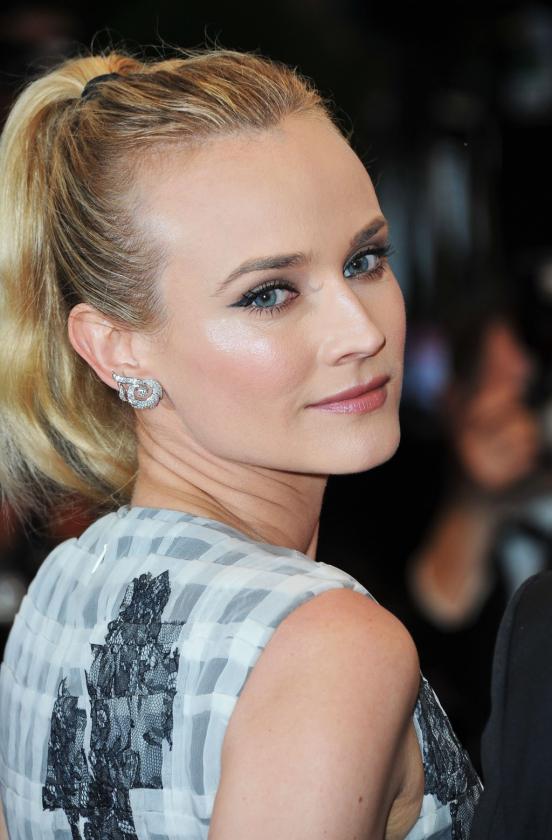 Anja Rubik continues to give preference to a black outfit with a plurality of perforations and cuts. At this time, the model appeared at the premiere in vintage creation and stunning Roberto Cavalli sandals, jewelry which mimic the body of a snake. Leather dress looks very original, but I, frankly, fed up with these images to Anya. I want to see it in color - is that possible?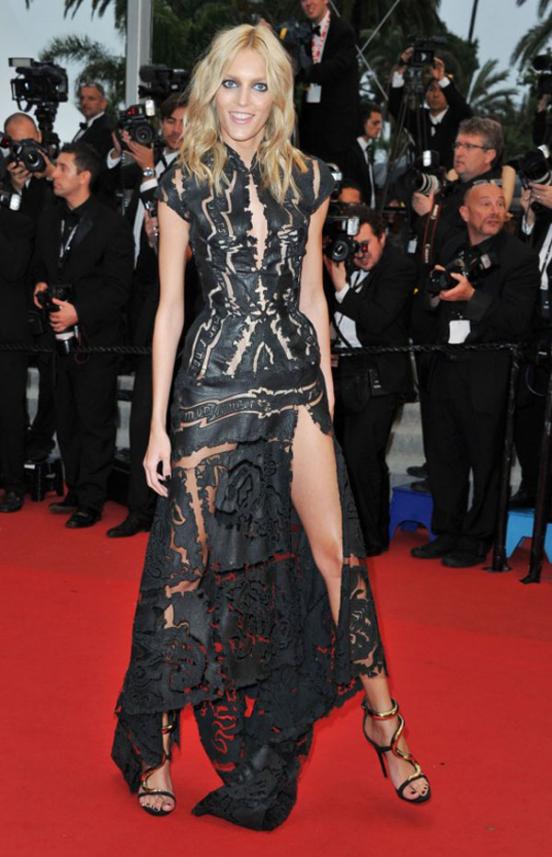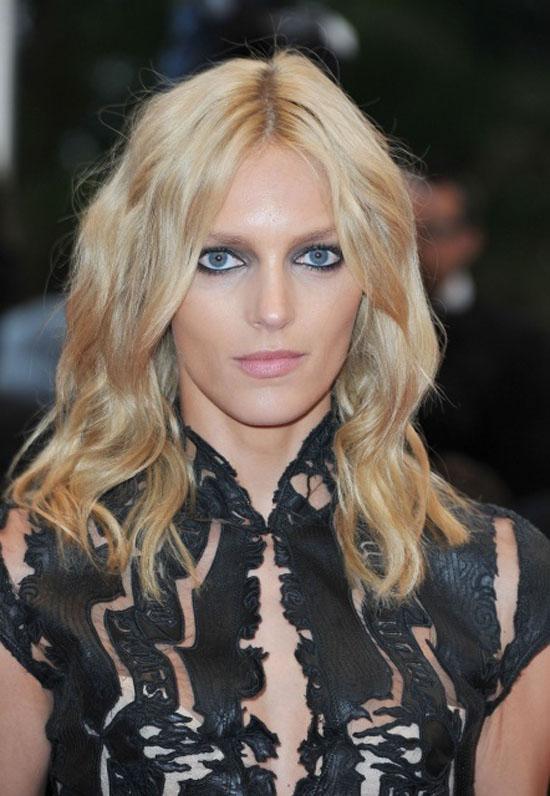 To be honest, I was a little disappointed today's image of Kylie Minogue - I expected something grand and get something ordinary. I do not insist on the fact that this dress from Roberto Cavalli ugly, quite the contrary - it is beautiful, but there is nothing interesting in it. Like a color - it is ideal for eye color Kylie.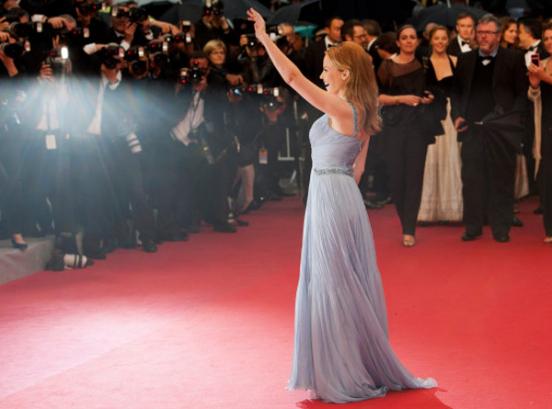 Ambassador of L'Oreal beauty Megan Gale are much more bright colors than black (remember, yesterday we saw her in that dress). The model is a beautiful fuchsia chiffon dress, which is very to face the brunette. Like plenty of ruffles on the skirt and the fact that the bottom layer is highlighted in purple - nice change.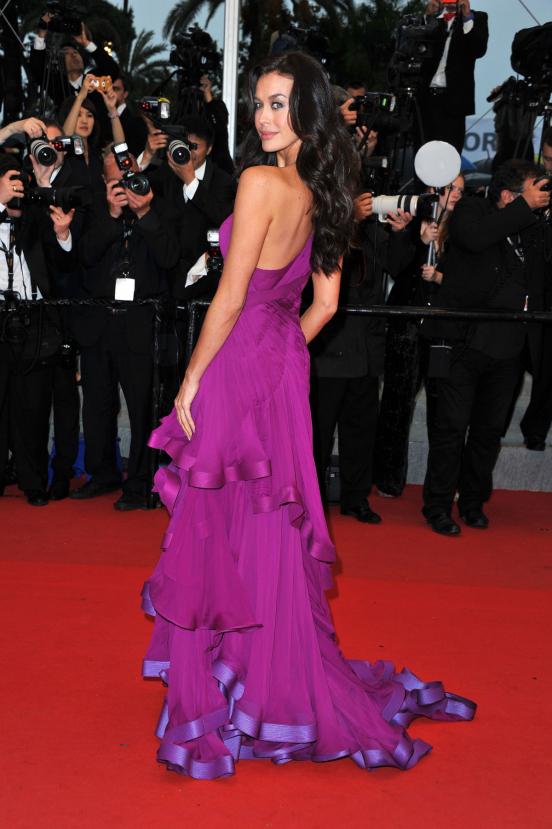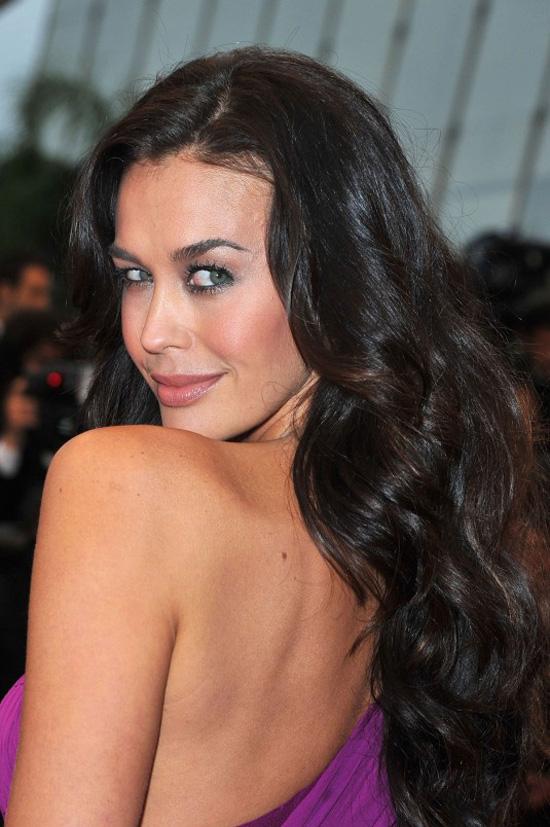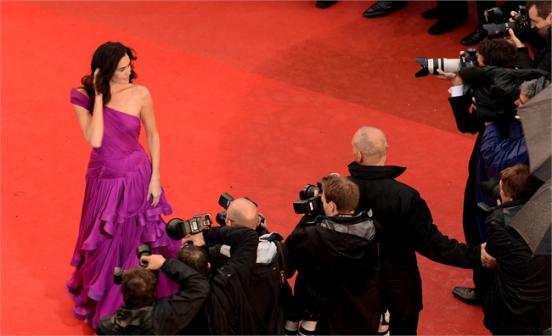 The heroine of the evening Audrey Tautou, and it was she starred in the premiere of the film, appeared on the red carpet in a vintage dress with a very beautiful decoration on the bodice and full skirt-midi. Her image is very different from anything we've seen in Cannes before, but it looks very easy and relaxed - perfect for a Frenchwoman Audrey.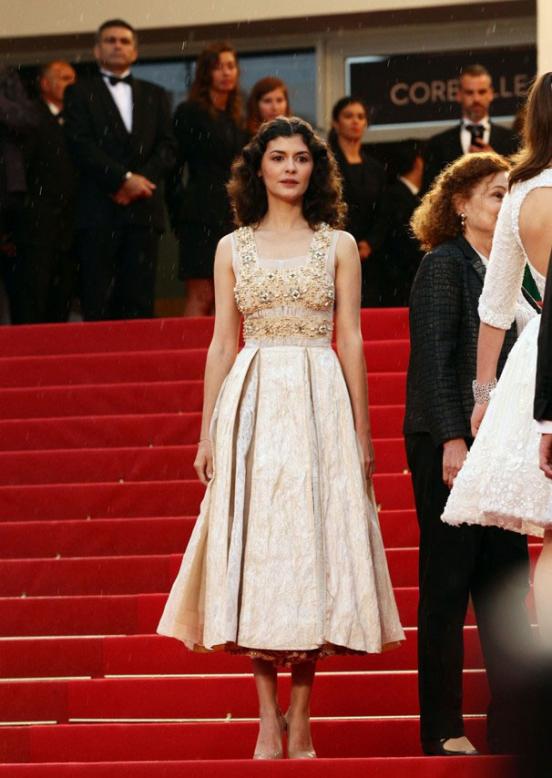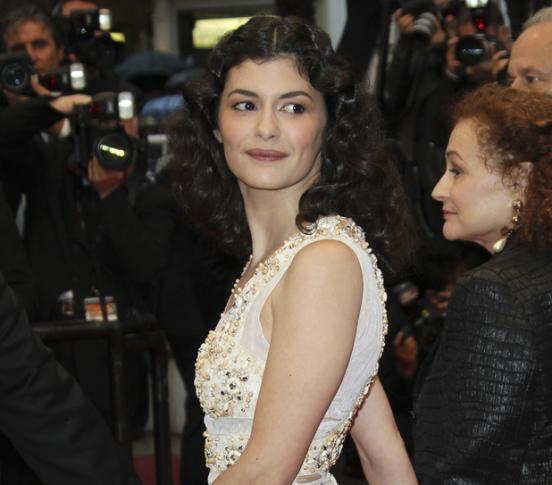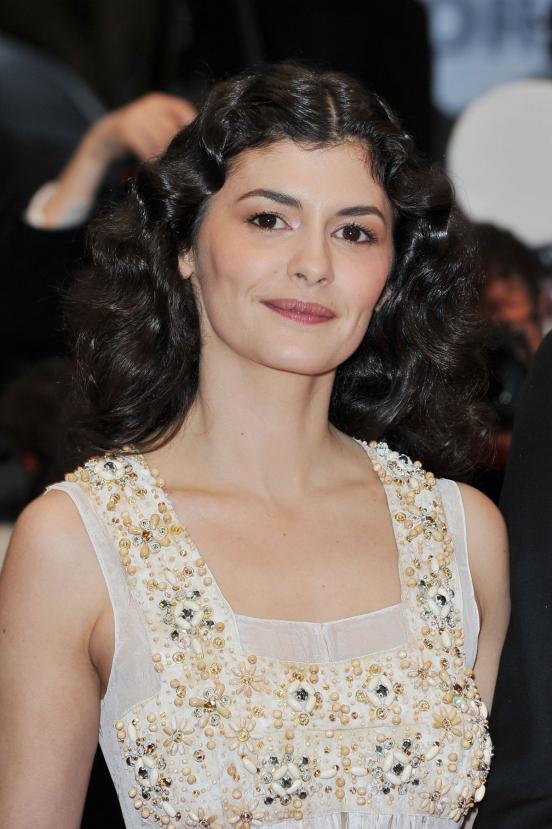 Andie MacDowell has appeared on the red carpet in the company of his daughter, Sarah Margaret aspiring model Quelle. Andy was wearing a white elegant dress straight cut Giorgio Armani, to whom she gives light using diamond earrings and bracelet, and Sarah appeared in the green Elie Saab - brilliant top with open back and long chiffon skirt. Mom and daughter looked expectedly great.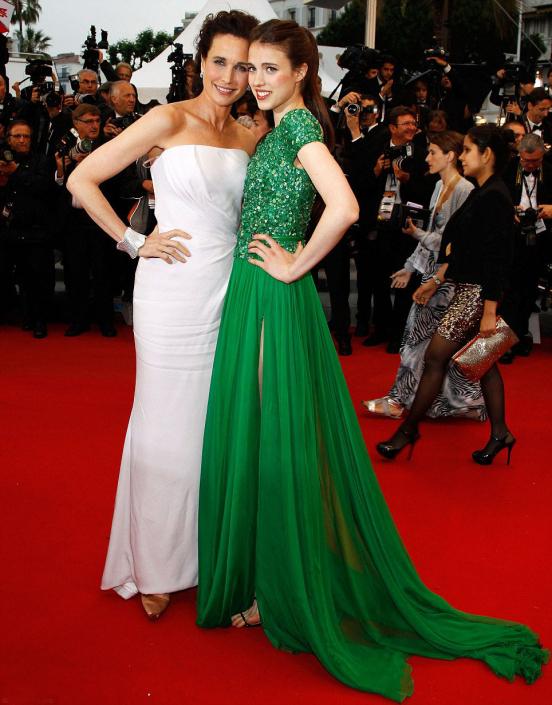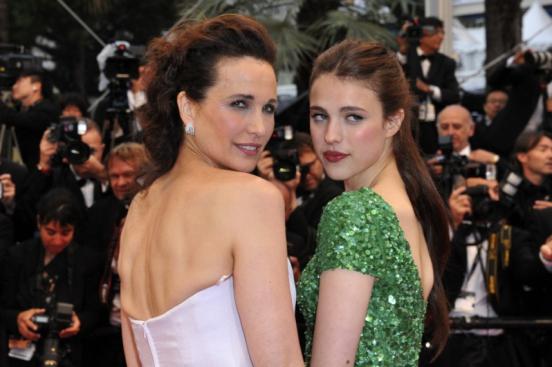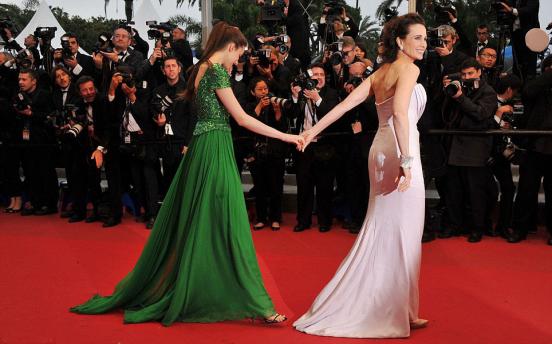 I post this photo Phoebe Price from the red carpet is not to comment on it (here and so everything is clear), and as an example, so that it is not necessary to dress. Danger to life.
Chinese actress Gong Li appeared in front of the paparazzi in a gentle dress, made of lace and chiffon. Intuition tells me that it is Dior, but I could be wrong. The dress looks nice, I like the black belt - he emphasizes the waist, but could be better. To make the image colors Gong Li complemented his jewelry with sapphires.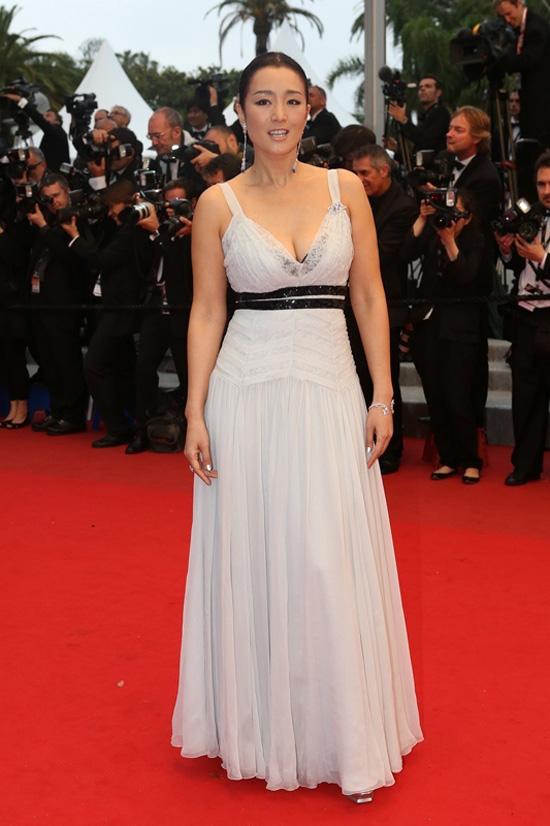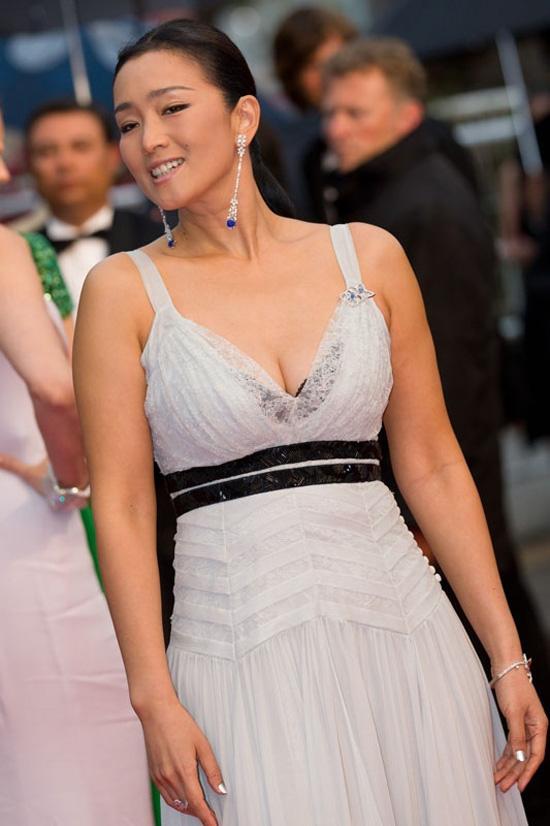 Followed by a Chinese woman on the red carpet there was Indian actress Sonam Kapoor for original creation of the fashion house Alexander McQueen. Probably, this is the first (and last) appearance creations Sarah Burton at the premiere of the film festival this year, but it turned out spectacular. In my opinion, puffed sleeves are extra, and could do without them, but it would have been a completely different way.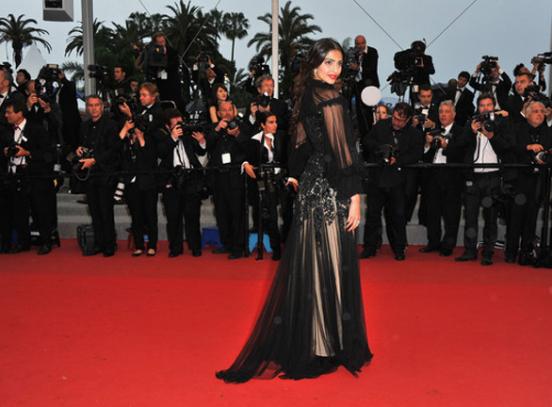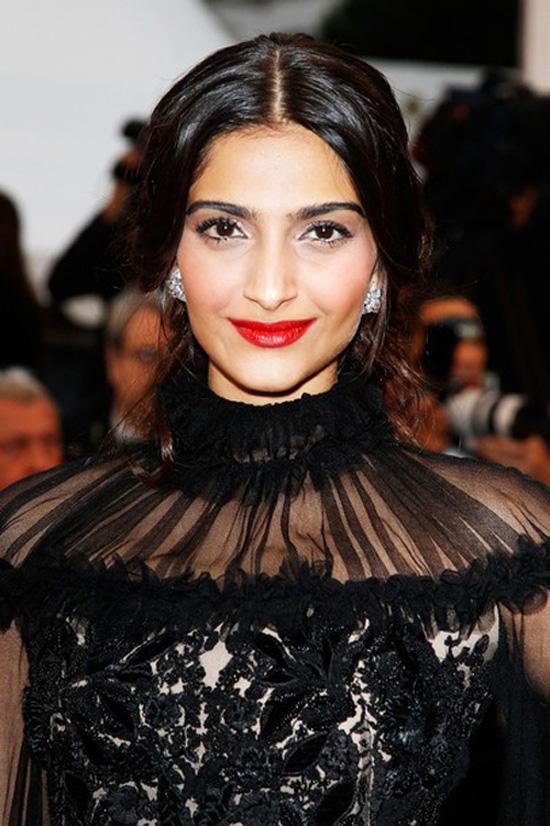 Nastassja Kinski really disappointed me with her dress this time. It is an incomprehensible jumble of white cloth in which it is impossible to make out anything. Blame cape, without which it would be quite possible to do, even though it would not have changed - dress with an eerie skirt is unlikely to look beautiful.