Today, August 14 marks its thirtieth anniversary with a Hollywood actress Mila Kunis Ukrainian roots. The world knows Mila for the films "Friends with Benefits", "Odd Man Out" and "Oz the Great and Powerful." All starring Mila proved to be a fun and immediate girl. Its ability to have fun - this is an unexpected bonus for good looks, perfect figure and charm. It seems to me to describe the suit Mila paraphrased quote from the movie "This foolish love": "The perfect combination of sexuality and cheerful mood" On the birthday of actress remember her most hilarious sayings and incidents when conducting interviews or participate in a talk show.
1. Interview with BBC1 radio about her role in "Oz the Great and Powerful»
This interview has long been on the YouTube homepage as the most popular, talked about it on the news, in the papers and on talk shows is itself becoming a topic of discussion. What is it such - you ask? Interviews were conducted of young people with little experience, and he was very nervous. Still, in an interview with Mila Kunis itself! She decided to cheer him up, and the conversation went to is not the mainstream ... They began to discuss the bars, alcoholic shots, football ... The guy decided to take everything from life and at first invited Mila to the bar, because "otherwise my friends do not believe that I took from you interview ", and then even invited Mila as his companion at his brother's wedding! In the background can be heard the hysterical laughter of the operator. You, too, can not keep from laughing when it will see! Even without knowledge of English guy nervousness and surprise and laughter help Mila appreciate the funny situations.
2. Mila on the evening TV show Conan
In one of the show a guy in the audience held up a poster where the Russian (!) Was written, "Can I have a hug" (probably meant, "Can I hug you," but the attempt is good). But then, and there was an incident. Mila admitted that
In Russian, I say, but read some do not know how! What is written there? Marry me? Leading played up to her and began to curse the guy for a mistake in an almost perfect plan, the whole situation has caused laughter and applause from the audience.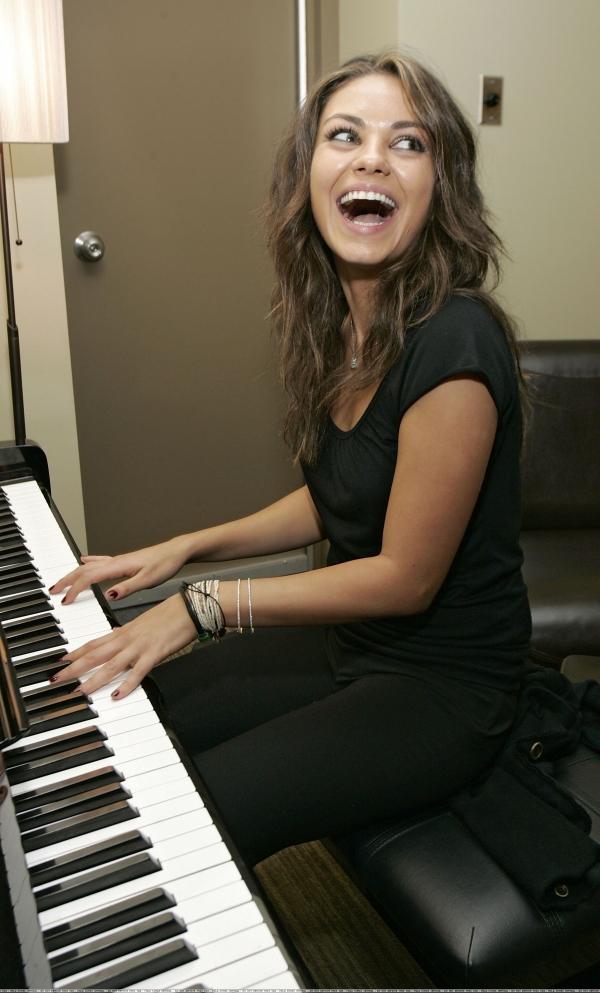 3. A press conference of the film "Friends with Benefits" in Moscow.
This video spread throughout the Runet. It was after the majority of people know that Mila is said in Russian! One of the journalists asked Justin why he appeared in films, if he is a singer. While interpreters denounced this to Justin, Mila in Russian journalist replied with a question, and given the fact that in Russian it communicates only with his family, the question was a bit familiarity. Special laughter in the audience called her the phrase "What Justin movie? What do you want him to do ?! And why are you here? "Do not forget that at this time Justin tried in vain to translate a question and answers journalist Mila both on his face was not that confusion and fear from what is happening!
4. Milan show "Evening Urgant»
After the incident in Moscow, Russian fans really loved the interview with Mila Russian. Therefore, episode of the show "Evening Urgant" with Mila and her colleagues in the film "Oz the Great and Powerful" James Franco has caused a big stir. Mila is torn between a conversation in both English and Russian, so getting frazochki in the spirit, "I will answer this question in English if that's okay», as a reaction to some phrases Urganta was just, "Oh." Not every day we see the Hollywood stars who speak Russian as a mother!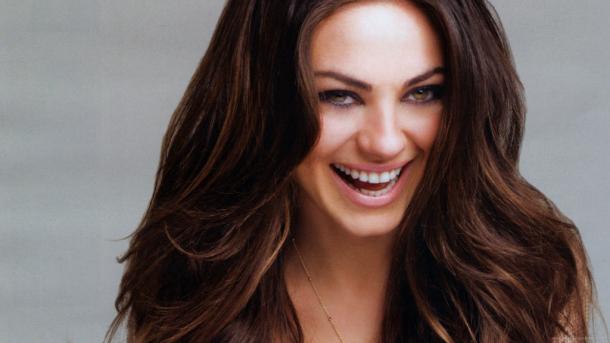 5. Graham Norton Show with Ollie Mersa
Finally, one more cheerful event with Mila was on the show Graham Norton, except where it was Ollie Mears, English singer. One of the fans asked Ollie tweeted "Who would the stars you like to have kids." What English singer replied, "Mila Kunis On !!!". No need to remind you that Mila was sitting on a nearby couch :) When the laughter among the participants of the show and the audience died down, Mila could only say that it is very nice to hear. But her reaction was incredibly funny! The shock, laughter and surprise at the same time, and even in such a situation, she continued to look your best!