August 18 the most mysterious and sophisticated French actress, winner of an amazing cold looks and extraordinary green eyes - Carole Bouquet is 56 years old. She was not trying to be an actress, did not run for casting, not played small roles in low-budget films. Everything seemed very suited her hands. In 19 years, Carol noticed a great Buñuel, and she became his "obscure object of desire", and in 1981 - she was offered to become a "Bond girl" for the film "For Your Eyes Only." In 1990, she won the "Cesar" role in the movie "Too Beautiful for You" and was named best actress in France. For 15 years she remained face the legendary House of Chanel.
Amazingly beautiful actress only once officially married - for the producer Jean-Pierre Rassam (Karol was widowed in 1985). She has two favorite sons, Dmitry and Louis. And also one of the brightest stories of love with one of the most desirable men in France - Gerard Depardieu. According to their romance was fit to stay exciting and dramatic film. It is quite possible that more will be removed. In the meantime, we remembered his eight main chapters.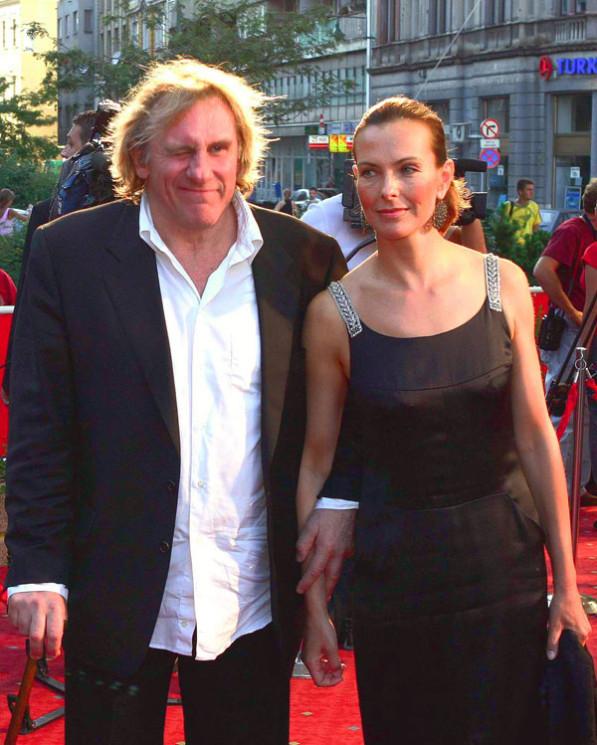 1. Introduction.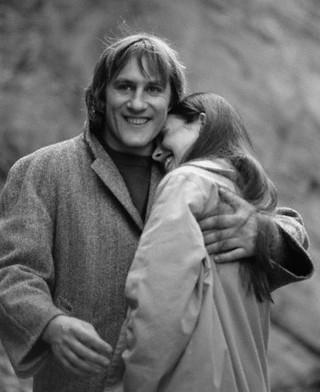 The young and the young Karol Gerard met in 1979 while filming the director Bertrand Blier "Appetizers". Karol was immensely charming. Naturally, passionate and temperamental Depardieu not resist such beauty and began to care for her. But Carole was a very serious girl and his courtship did not respond. Besides him it was impossible to expect anything serious - Depardieu was married and devoted to his family. As a result, they only raised their glasses of familiarity and friendship at a banquet on the occasion of the shooting.
2. Office romance.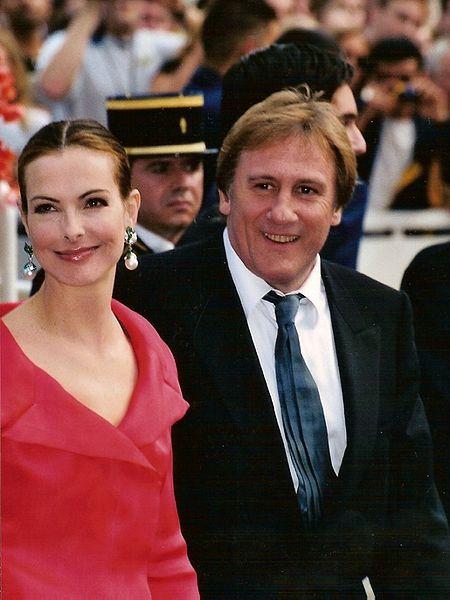 Already in 1984 Blier filmed "Right Bank, Left Bank." And the actors met again at a joint set. By the time Carol had time to get married, lost her husband and to be alone with her two children. Staying alone, but no less beautiful. Depardieu immediately felt her sadness and loneliness, despite the usual reticence and aloofness actress. Again, he was captured her charms, and with all the passion surrounded Karol attention, care and affection, so that the heart is cold beauty thawed, and she gave up. Happy days succeeded each other, but ... this novel, as he was, and was official. After shooting every once healed their lives. Carol did not want to destroy his family, and Gerard is still valued its preservation.
3. Too beautiful for him.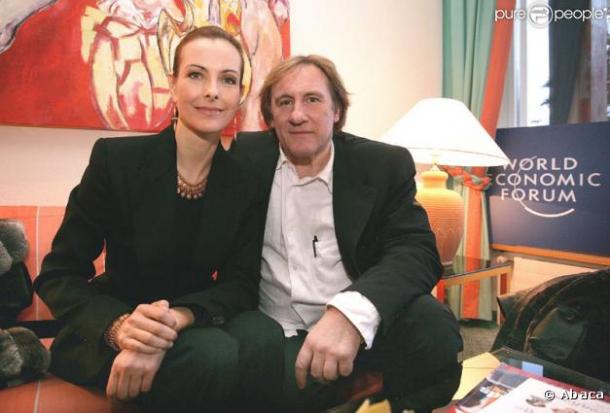 The next meeting of lovers happened in 1989, and again in the movie Blier - "Too Beautiful for You", where they played a couple. During the time that they had not seen, became the face of Chanel Carole. And Depardieu, looking at the huge posters hanging everywhere, could not believe that soft and gentle with him Karol appeared to them again so cold and inaccessible queen. In truth, he was very bored without it, and always waiting for the case to meet again. It is during this time also occurred in the life of a lot of interesting things, including a torrid romance with model sinegalskoy, who bore him a daughter ... And Carol, as the wife of Gerard, only suffer from it, but, of course, a secret. And feelings erupted again, they even began to build joint plans, but to live together and decided not to.
4. Passion in Hollywood.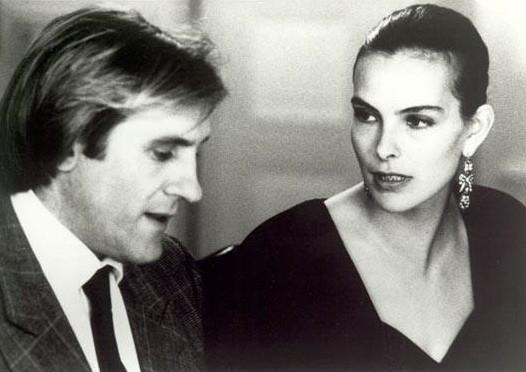 In 1994, Depardieu was invited to Hollywood. After the film "Cyrano de Bergerac" his fame has reached the New World. This famous film won the "Oscar" and "Cesar", the Palme d'Or at Cannes and the "Golden Globe". Hollywood actor worked very hard and often there called Karol. As a result, one day, not being able to stop talking, always calm and reasonable Bouquet, usually condemning the mad rush, suddenly fell and landed in Hollywood. She even had to agree that it is not too big role in a provincial film. For the European stars of its level is, in general, it is not permissible, but the actress did not think about it. Then she just lived feelings.
5. Love and marriage without consent ....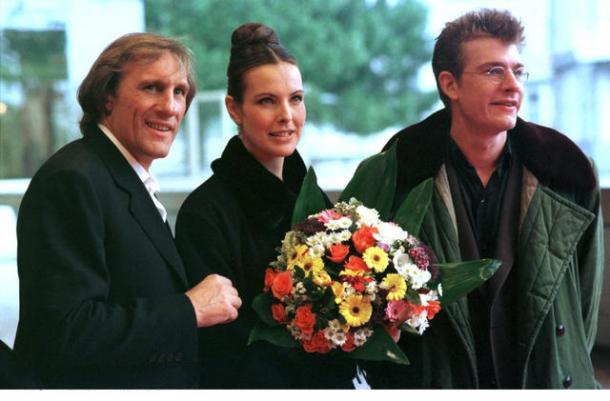 They did not make any statement at all and tried to get an interview with questions about their personal relationships. Gerard and Karol then just be together and just loved each other. Depardieu drew her wine, and they began to deal with them together, creating new wines, simultaneously filming the movie. Gerard wanted to marry Carol, and she was certainly agree. But the wedding all the time for whatever reason to delay ...
6. Break.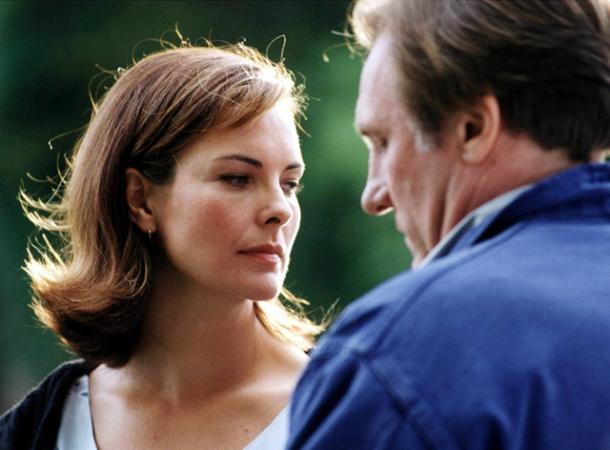 Some years they lived together in perfect harmony, and then something went wrong. Once Gerard suddenly interrupted joint vacation and one flew to Paris. And Carol was alone in pomeste.Ty Gerard chose to have someone to fight for life, how to choose a volcanic island on which to grow their grapes. - Once said to her friends. Well, nothing ventured, he will never know the taste of the best wine, nor experience real passion. After the departure of Carol Depardieu also flew to Paris and on the same day otstrigla his beautiful chestnut head of hair that was so fond of Gerard.
7. Just stay friends.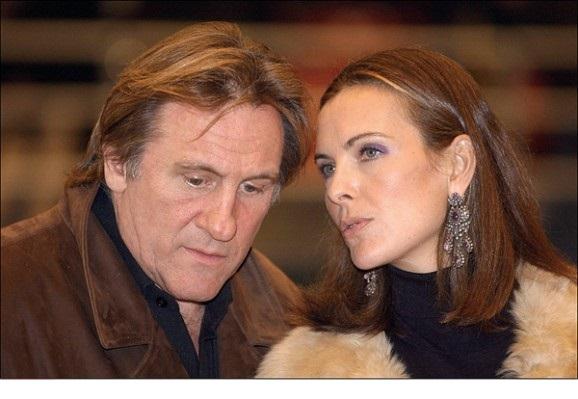 In 2005, Gerard Depardieu and Carole Bouquet officially announced their break: I loved him very much, but we broke up. - The only thing that said the actress. The reasons for the gap is not a word was said and only Gerard once said, Karol has only one drawback - it is jealousy. But do not be jealous, much love, is always impossible. As a result, a beautiful duo kept the friendship and business relationship. They jointly own two restaurants in the center of Paris.
8. Too complex flavor, but delicate flavor.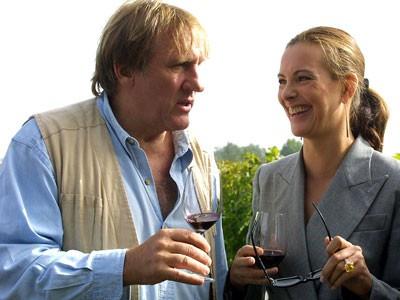 A year after their separation Gerard Depardieu presented its new wine, which called it by its name - "Carole Bouquet La Croix de Peirol." It's easy, slightly tart wine, complicated by a combination of flavors. He has a thin delicate flavor and soft long aftertaste. I do not regret: the engagement was fun, although the relationship was very difficult. Depardieu - still a big, clumsy bear. By nature, does not seem to go away - pulling me to the big rough-muzhchinam. time later told reporters Karol.