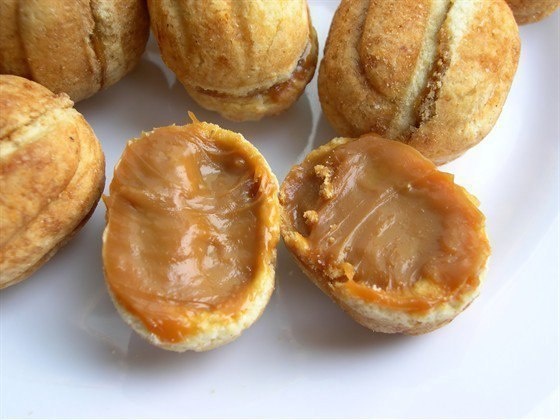 Ingpedienty:
For the dough:
egg - 1 pc.
butter - 50 g
sour cream - 2 tsp
flour - 1 cup
sugar - 50-70 g
Starch - 50 g
baking powder - 0, 5 tsp
vanilla sugar - 1 tsp
Form for baking nuts
Filling:
boiled condensed milk
Preparation:
Egg break in a deep bowl, add sugar, vanilla sugar, sour cream and stir with a fork or whisk.
Add softened butter and mix.
Flour connect with starch and baking powder, add the egg mass.
If the dough is molded, hold in the refrigerator for 20-30 minutes. OvensWaffle grease with butter or vegetable oil.
From test pinch off small balls and lay them in the holes ovensWaffle, pressing a finger to gain in-depth.
In deepening put a small amount of boiled condensed milk - the best culinary syringe. Condensed milk I take a ready cooked - we have in Kiev is TM "Aliska" - it is very thick. You can optionally condensed milk to mix in the melted chocolate.
Nick is already smaller balls, roll in cake and cover with nuts, carefully close up the edge. Nuts should not be too large - the dough in the baking process will rise. Oily dough - it should be fairly malleable. Thus only one fill of the mold.
Close ovensWaffle and put on the stove to bake until done. For electric cooker approximate cooking time of one party nut - 15 minutes. 3-5 minutes to hold nuts on each side of the average temperature of - 5-PKA (where the maximum - 9). The temperature was then increased to 7 RCT and keep nuts on each side for 2 minutes, periodically opening the ovensWaffle to check availability.