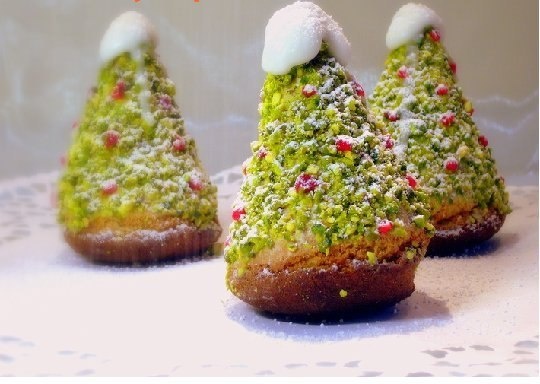 Ingredients for 6 cakes:
biscuit:
-3 Eggs
-schepotka salt
-75 C. sugar
-100 Gr. ground almonds
-25 C. flour
-25 C. starch
Decorating:
-100 Gr. white chocolate
-100 Gr. pistachios
for snow tops:
-3 Tablespoons powdered sugar
-1 Tsp lemon juice
-saharnaya powder snow
Preparation:
Baking these biscuits require baking paper: paper draw a circle with a diameter of 20 cm, cut them out, cut up the middle, fold kulechki and secure clips. Paper kulechki stand upright, well, for example, in a glass with a diameter less than the diameter of kulechkov.
Now you can do the test.
Proteins separated from the yolks, beaten with a pinch of salt until a stable foam, continuing to whisk gradually add sugar. Then add the egg yolks. Ground almonds mixed with flour and starch. Gently stir in the flour mixture into the egg mass.
Test to fill a pastry bag and fill it from the paper kulechki.
Bake in a preheated 180 ° C oven for 15-20 minutes. Remove from the oven and leave to cool.
ADVANCED pistachios. Melt white chocolate in a water bath.
Cooled biscuits gently release from the paper with a sharp knife, if necessary, evenly cut base.
Biscuits brush a thin layer of chocolate and coat with crushed pistachios roll in.
Red dots-balls (any jam) can be applied using conventional c medical syringe without a needle.
Powdered sugar mixed with lemon juice, a teaspoon of the resulting glaze degenerate to the top of each tree.
Christmas trees sprinkle top with powdered sugar.
Our biscuits are ready. They can be stored for about two weeks in a tightly sealed pot