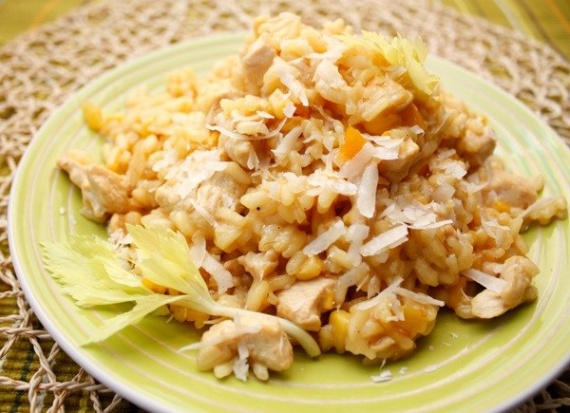 Ingredients:
Olive oil 30ml
Onions 100g
Chicken fillet 400g
Yellow bell pepper 1 pc.
1/8 tsp saffron
Arborio rice 350g
Sea salt 1 tsp
Semi-dry white wine 200ml
Canned corn 200g
Chicken broth 1200 ml
Ground black pepper ¼ tsp
Hard cheese 100g
In a little oil fry the minced onions first, then add small pieces of chicken.
When the chicken turns white, put the pan cubes of yellow sweet pepper.
Stir, cook a few minutes, then add the saffron.
Pour into the pan rice, salt, cook for 2-3 minutes. Add the wine in small portions, continuing to stir. When the wine is absorbed, begin in small portions to pour hot broth.
Add the corn.
Continue to stir and pour boiling broth in small portions.
When the rice is almost ready, try to have enough salt, pepper and at the same time.
Rub Parmesan or other hard cheese to sprinkle them at the end of the finished risotto.
Serve the risotto hot, sprinkled with parmesan cheese.