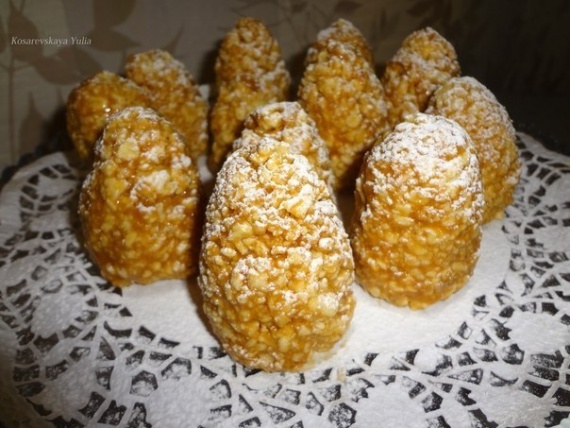 Butter - 120 gr.
Egg 1 unit.
Sugar -4 tablespoons
Sour -4 art. l.
Flour - 300 gr.
Boiled condensed milk -1 bank
Nuts optional -100 gr.
Sugar rub with egg, add the melted chilled butter, sour cream. Add the flour and knead the dough, divide into 3 parts and freeze. Dough grate on a coarse grater and place (to crumbs were not thick) on a baking paper laid by. Bake in several passes at 180 ° C for 10-12 minutes, the dough was golden. Grind the nuts. Baked chips were mixed with condensed milk, nuts. Form the bumps using glasses, wetting it with water so as not stuck. Spread on a dish and sprinkle with powdered sugar.
Bon Appetite!