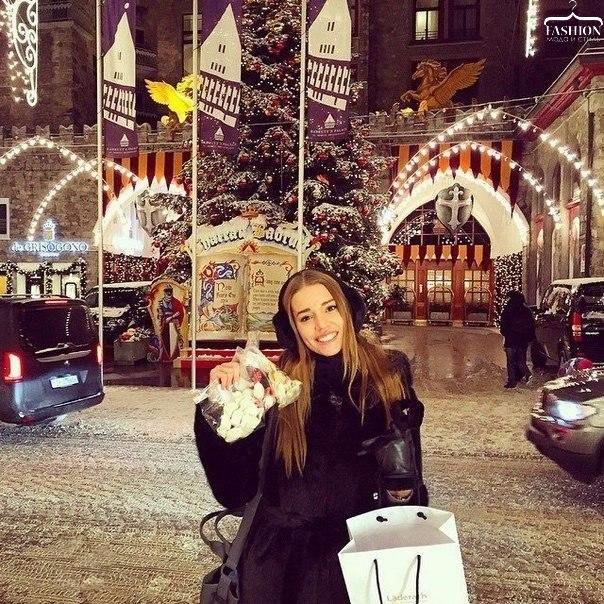 This year, our New Year celebrations will last almost two weeks. And many are concerned about how to find a fun activity at this time, which does not allow to miss? We have prepared for you 50 ideas that we hasten to share.
1. Start a personal diary
Many of us promise ourselves in the new year start life with a clean slate. So why not fulfill this promise? No matter what your blog - paper or electronic. The important thing: not throwing blog and regularly update its records.
And if you already have a personal blog, try something new: photo diary, journal or diary voice training.
2. Read a few books
We all say that we want, and we will read more, but our permanent excuse "I do not have time to read" reduces everything to naught. In the New Year holidays, we finally have the time, and long winter evenings are simply created to get into the chair with a blanket and tea and enjoy the reading.
Surely you have your list of must read, but if not, take a look here.
3. Collect the merry company and play snowballs
Of course, if you have kids, this is fun, and so you can not avoid. And if not, then it is not a reason to give up your favorite childhood Christmas lesson. Collect the company of friends and go play in the snow.
Optionally, even pre-plan it's fun, just throw a snowball at one of his friends, and go on like a chain reaction, and after 5 minutes, you and all your friends will take part in the battles of snow.
If the window is raging fierce winter weather, due to which you do not want to go out, then arrange a snowy fun at home - cook with the family shortbread "Snowballs».
4. Embark on a journey, which had long dreamed
Almost every person has the city or the country of dreams, where he had long wanted to visit. Stay yourself Grandfather Frost and fulfill his dream - to give yourself the journey.
Tip relevant not only for those who have saved money all year vacation, because today is very easy to find a travel companion or be for someone, and this, in turn, will help to significantly reduce travel expenses.
5. Help those who need
One of the best ways to give yourself a holiday - it is a celebration to someone else.
Yes, a few of us are able to donate large sums of money to those in need. But to collect the books and things that you will not use, buy a bag of candy and go to the nearest children's home - this is what the power of almost every one of us. And if you are a volunteer or an active student who has the company of like-minded, you can arrange for the children New Year's concert or presentation.
6. Spend the New Year holidays at the camp site
What to do at summer camp, all is clear: to swim, sunbathe, walk, gather mushrooms and berries - in short, active rest. But not everyone knows that in the winter time at the hostel you can spend just as flexibly and fun: skiing, sledding, ice skating, take a steam bath and a walk as much or even more than in summer.
7. Every morning put up a run in the New Year style
Let the holiday feeling will be with you always. During jogging create a Christmas mood is very simple: Run to the New Year's cap or Cool scarf with deer, upload to the player favorite Christmas songs or select itself a route through which you can reach at least until a few Christmas trees, which are abundant in the New Year's holidays in any city.
8. Stay tourist in his hometown
Surely there are hundreds of places where you have not visited in his home town: museums, galleries, and perhaps even theaters and cinemas. Make a list of these places and make up for the New Year holidays.
9. Treat yourself and loved ones Christmas treats
Yes, after the New Year's feast we all think that we are still at least a week can not eat anything - so we feel fed. But, in practice, already 3-4 in January, we again want something tasty. You should not deny yourself this pleasure, so experiment and cook, for example, chocolate snowflakes or bowls.
10. Roll the New Year's party
The first weekend of the new year (January 3-4) - this is a great time for a party. We have prepared for you a list of simple and funny game that will make your party the most cool and memorable. :)
11. Photograph
In the winter holidays just a sin not to take up the camera, because there is so much that is worth to capture: the beautiful winter landscapes, the smiling faces of family and friends, and just everything that catches your attention. But before you start to take pictures, to find the 10 secrets of good pictures of Christmas.
12. Arrange the spring cleaning and get rid of unnecessary things
New Year - new life and a new life is not necessary to drag the old stuff that many of us love to accumulate, even unwittingly. Arrange the spring cleaning the house, throw out unnecessary things and do not try to spare: you free up space for new things that certainly will gain in 2015.
13. Devote this time favorite hobby
Someone loves to cook, someone - to embroider, someone - to code, and some days on end disappears in the garage, improving favorite car. New Year's holidays - a great time, which can be spent exclusively on favorite activities, so do not deny yourself this.
14. Rejoice yourself and your friends with delicious cocktails
Since the New Year holidays can relax a little, it is an excellent opportunity to indulge in cocktails and good friends, say, apple juice with rum and caramel or "Martini Royale».
15. Stay Santa Claus in his house
Put neighbors in boxes or cards with wishes of nice little Christmas souvenirs - magnets, key chains and so on. If you wish, you can even put in the entrance of the tree or else give it a festive look. It will be fun and will bring positive emotions as you and all of your neighbors.
16. Make yourself a list of cases for the year and start to implement it
We all love to make lists, but very often these lists and remain only in our heads and on paper. In 2015, we suggest you make a list of cases a year, but in a way, to begin one of the cases could be today or tomorrow. So not only do you ensure yourself not dull vacation, but also learn how to be more organized.
17. Go on a picnic
Spring is not soon, as the summer and that further, but that does not mean that repealed songs around the campfire and eating outdoors. Dress warmly, take a guitar, grocery stores, a thermos of hot tea and go!
18. visit relatives
If you for some reason could not celebrate the New Year with their families, do not despair: you have the whole New Year's holiday on what to visit relatives.
19. Visit the Christmas fairs
Such fairs are held in many cities, and this is a great event that gives everyone a Christmas mood, vivid emotions and totally new experience. I remember the last Christmas holidays I spent in Moscow, there were about 20 fairs: Fair European cities on Manezh Square, Fair "Moscow" on Tverskaya Square ...
Find information about the fair in your city and do not forget to visit at least one of them.
20. Look in the past with their social accounts
"VKontakte», Facebook, Twitter ... We write daily posts, tweets, statuses, in which we share our thoughts, talk about favorite movies and books, mention important and interesting event for us.
Select a couple of evenings out to re-read his notes two-, three- and four-year-old even. This will allow you to remember their successes, pleasant events in your life. Or maybe you just smiles when he realized how much did your interest in a few years.
The easiest way to do such via social network Twitter, as there is a function "Demand archive tweets».
21. Spend a day at the water park
Another of the favorite summer fun, which we should not forget the winter.
22. Look at New Movies
If you enjoy watching films, then, of course, not be able to deny myself this pleasure. For those who do not want to sit at home, the best option - to visit the cinema that will delight Christmas novelties. And for the rest of the New Year holidays - it is an excellent time to review the favorite childhood films.
23. Search for the country for the winter
If you are tired of the winter cold and you do nothing to joy, find yourself a country where perezimuete. And we will help you to spend the remaining two months of winter in warmth and comfort, and prompt the five countries in which to wait out the winter.
24. Prepare coffee recipes from around the world
And if you drove off in a warm country it is not, then it does not matter - learn how to make coffee recipes from around the world, and you and no travel will be much warmer.
25. Take time for yourself
Go to the pool, gym, beauty salon, treat yourself to new things. In the whirlwind of daily activities and concerns us so often is not enough time for yourself, so try to fix it in the New Year holidays.
26. Do not forget about our little brothers
Make a bird feeder and do not forget to feed the puppies and kittens that freeze near your entrance.
27. Arrange Christmas flash mob
The New Year celebrations in the streets of most people, and therefore it is the right time for the flash mob. Gather friends, go to the town square and start to dance or reel around the Christmas tree - a couple of minutes you will join other people, and this fun and cheerful pastime you will remember for a long time.
28. Write letters by hand
Remember as a child we loved to write letters by hand and waited impatiently for an answer? Write such letters to their relatives, friends and acquaintances who live in another city. So you not only remember the carefree childhood, but also nice to surprise your loved ones.
29. Learn something new - go online courses
Learn a new language, to learn professional photography, to code, to solve problems creatively ... New Year holidays - the best time to begin to fully develop, and help you in the online courses.
30. Make boring interesting
Alas, even during the holiday season has not been canceled and traffic queues. But even in traffic jams and queues can spend time interesting and useful. For information on how to do this, tell here.
31. Arrange soiree
No matter with whom - with family, friends or loved one. Just arrange gatherings over a cup of tea and share with each other warm memories that are important to you. Similar gatherings really pull together and learn to appreciate everything, even minor points.
32. Play board games or collect a huge puzzle
These two classes will help you once again briefly return to childhood, and the resulting emotions - to remain cheerful throughout the day.
33. Start the new acquaintances
Go soon antikafe. The reigning atmosphere there always has to make new acquaintances, and within half an hour you'll be singing to a guitar or playing board games with new friends.
34. Make a collage
Certainly 2014 was rich in events that you want to keep in mind. Make a photo collage, which will remind you of the highlights of 2014, and hang it in her room. If possible, do it like this, and for their friends.
35. Go to a karaoke club
Your favorite entertainment is always important and which should be recalled in the New Year holidays.
36. Take a walk through the city with the player
We are confident that in the New Year holidays comply with the daily rate of 10 thousand steps? No? Then quickly go for a walk and grab a player with favorite tracks, it was fun to walk.
37. Meet the sunrise at least once during the New Year holidays
In winter weekdays we usually meet at the dawn of the way to work, thinking about what we have to get up before dawn. In the New Year holidays, we can meet the sunrise, enjoying it. To do this, do not even need to go out - you can observe this natural wonder from the balcony.
38. Work or study
Lesson for incorrigible workaholics: if you are a freelancer, you can continue to perform work tasks even in the holidays, and if the student - can begin to prepare for the exams, which are waiting for you in the middle of January.
39. Spend the New Year's holiday in the village
A similar version of that and the camp site, but the Budget. If you have relatives in the countryside, you will not only have a rest, but also to take useful work - will help them on the farm.
40. Do not forget about traditional winter fun - skating and skiing
Massive ice skating or ski trip with friends - what could be better in the winter day?
41. Take shopping
You do not have to go to the shopping centers in which you and it happens almost every weekend. If you have the opportunity to go to a nearby town, then walk to the shops and make purchases there.
42. Play the game "What do we do now»
If you are in the company of friends and can not choose what you do, then play a game of "What are we going to do today." The point is that each of the participants writes on a paper one activity, such as "go to the movies", "dine in the restaurant," "go to sculpt a snowman," and so on. Leaflets must be put in a hat, and then someone has to present not looking to pull out one of the leaflets - written on it will be up to date.
43. Do not forget about the free Christmas events in your city
Concerts, exhibitions ... In your town probably has something similar and that nice, completely free of charge.
44. Teach someone that know how
Friend, friend, classmate, child ... Share your experiences - teach them to play the guitar, to bake pies or even something that they themselves well know how.
45. Be improved
Make friends with the skateboard or skates? Okay, the New Year holidays - this is the time to learn a few new tricks that can amaze your friends.
46. ​​Remove your Christmas video
To do this, you do not need a professional camcorder - and the camcorder suitable phone. After all, you're not going to send their work to the prestigious competition, and just want to spend time with loved ones and share their own creations.
Although, who knows, maybe in you slumber capable videographer this simple and fun to help you identify hidden talent. ;)
47. Adjust your resume
This is especially significant for those who are going to change in the new year job. And we'll show you what the employer is looking to resume.
48. Start blogging
New Year's Day - it's time to start blogging and figure out if you can regularly update its content. If you have something to share with the world, then go for it! And before you start, look for a selection in which we collected useful materials for bloggers.
49. Take something unexpectedly
We are sure that did not know how to draw or cook? Or maybe you're just not trying? Take a walk through your "I do not know" and try again. Remember that patience and a little effort and you will have an extra reason to be proud.
50. Ride at random - employment for bored
If you have already done everything they wanted, but to sit at home bored, then take the first available bus, but before that will make come true any figure. Let's say I guessed the figure 8, and this means that I will go out on the eighth stop and go explore the surrounding area. Do not forget to stock up on camera and