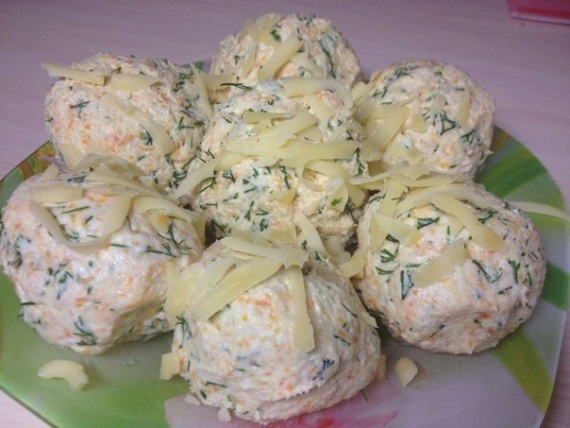 Ingredients:
chicken breast boiled
boiled carrots
dill
2 kinds of cheese (I use Maasdam and King Arthur)
mayonnaise
Preparation:
Chicken cut into small cubes, the smaller the better
Three carrots on a fine grater.
Dill finely shinkuem
I take the cheese 2 types. One for dusting, others add to the salad itself. One more spicy, the other gentle. Depending on what you want more, then add to the mixture itself. I always use the Maasdam for sprinkling. Three on a fine grater.
Mayonnaise.
From the resulting mixture make balls. Ideally, each ball you need to roll in the cheese, but I was very lazy, so I just sprinkled cheese on top (to the same and rubbed it on a coarse grater).
Salad is delicious and always ask effektnyy.Gosti recipe)