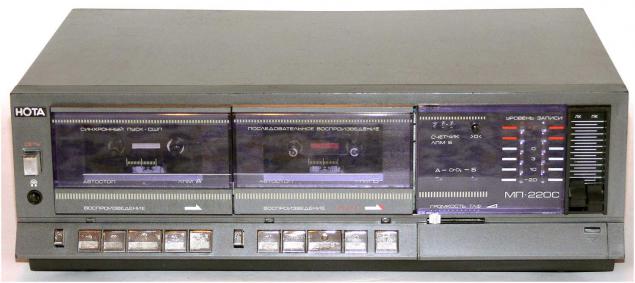 Produced in due time, at the Union tape prefix "Note". Rather cumbersome design itself, plus it had to be connected to external speakers through an amplifier, because she did not have her. But the sheer quality at the time was at.
And boy Sergei exploit their machine, they say, in the tail and mane. Graduating class, all friends audiophiles, the owner himself - by itself, too. Appearance suffering from consoles was the more - the body stripped, the button "on" - "off" and other letters and badges worn, and where some of them knew only the owner.
He decided to do the restoration or, as we would say now, easy tuning. Found his father paint, covered them their offspring. And since the nitro lacquer was not that dries fairly quickly, and the oil, a small problem. Wait a day until it dries all, there was no power, so Sergei tape stuck in the oven without removing the top panel. And, as usual in such cases, was distracted. Attracted again when the apartment became common suffocating odor.
Vyhtaschiv prefix from the oven, Sergei grabbed the cloth and dragged him away from sin to the balcony. Became somehow attach to the railing and, of course, dropped. Not skyscraper, of course, but the fifth floor, after all.
Went down, picked up a flower bed unit, brought home, cleaned from paint residues and lumps of earth. Again examined. Mdja, do not say anything, made light makeup ... Stuck in the socket. And it works!
In general, it should be noted that grobopodobnaya Soviet equipment for the most part withstood quite utter load. Anyway, on this indicator mark of quality for products not for nothing sculpted.