The most expensive hotel room in the Crimea in the high season, you can remove 55 thousand hryvnia (about 7000 dollars).
Prices are more or less decent apartment in Yalta will start from 2, 5 thousand dollars per square meter, and ends almost at infinity.
To be honest, I barely even know how and what here still live those poor people. There is no oil, sea, metal, there is a problem with fresh water here is completely barren land. Not even the fact that infertility, and aggressive - there are a lot of salt marshes and dried up salt lakes, from which the wind blows the salt crystals across the surrounding steppe. A feeling that the world would end here a little bit earlier than all the prophecies. By the way, many villages in these areas have disappeared after the war. Others will disappear without it. Themselves.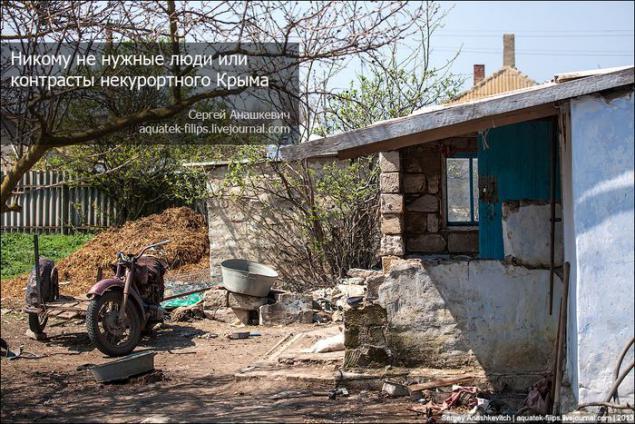 On the other hand - where do they go, times were born and live in these villages? Sell ​​the square footage and hundreds of unrealistic even for $ 100 (a quick search for ads homes and land in these villages did not bring any result), and all who have relatives in the more favorable areas, probably already long gone. Others simply live. Together with its rickety and crumbling houses.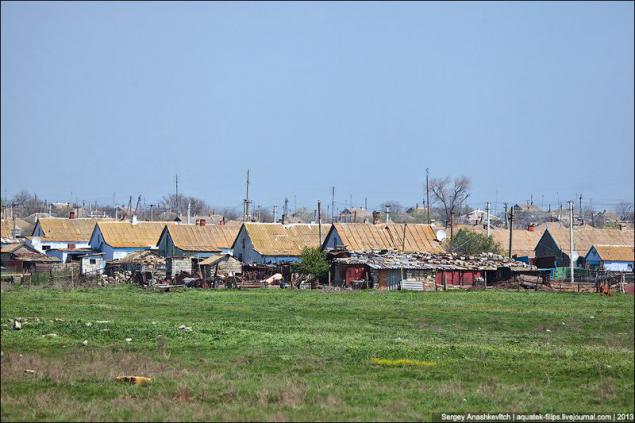 Poles without wires. They stole and handed over to scrap. Generally, most likely, many of these villages, and trade it - carry everything that you can in the next few paragraphs scrap metal.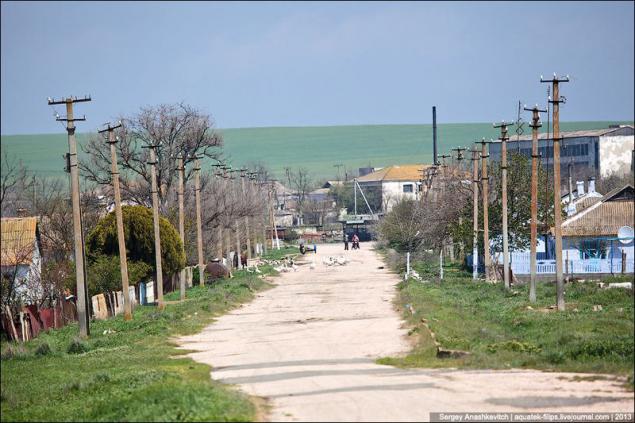 In these houses the electrical wires are not visible. Perhaps these people have it and do not have ...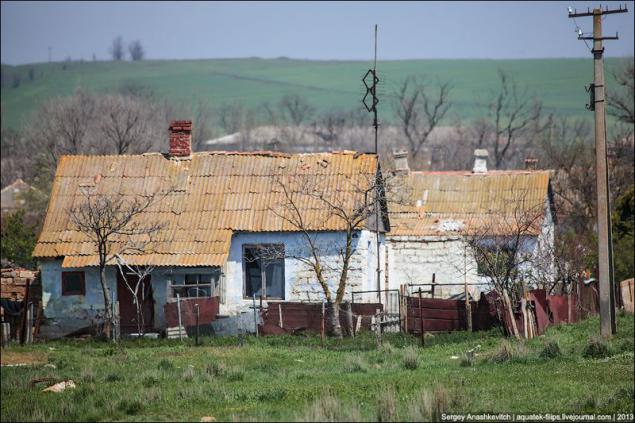 Another village. Here, thank God, still have wires, and the light in this rickety little house with polyethylene instead of glass in the windows at night still burns ...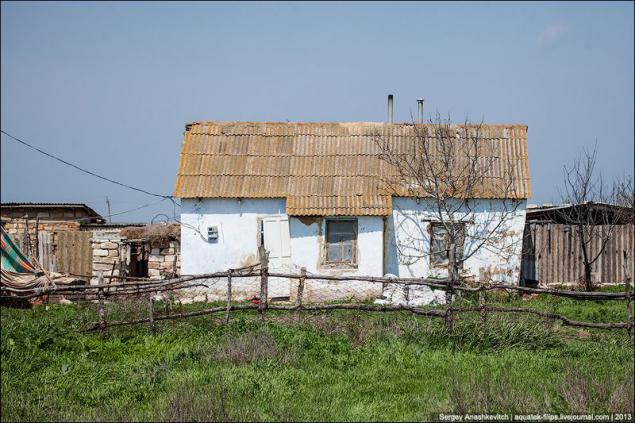 Yard of a house ... The owner's looking at us silently, watching the bad eye.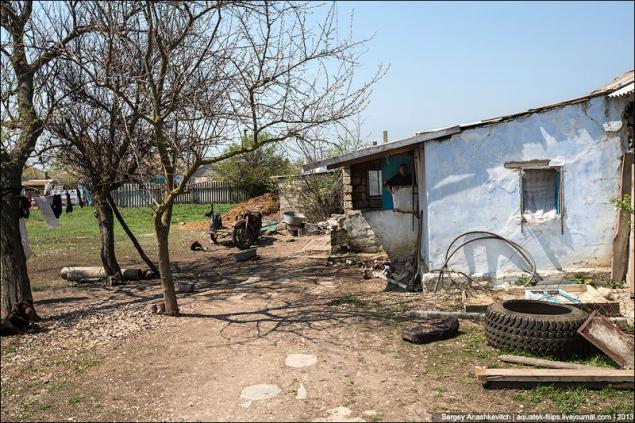 In general, it should be noted that in very many homes do not have some or all of the windows. Someone closes the window polyethylene, some boards, sometimes bleached papers.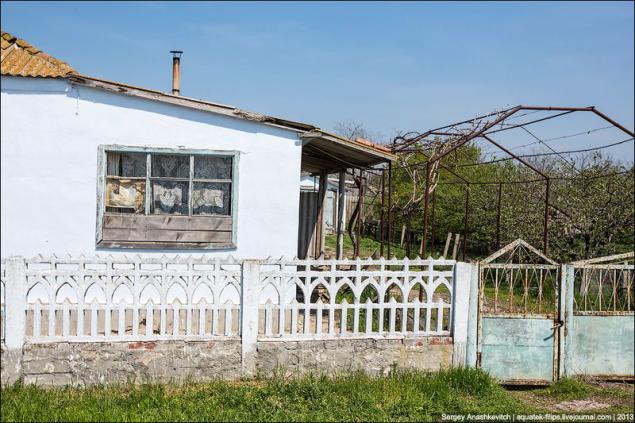 A lot of houses just falling apart before our eyes. Somewhere one, somewhere two, but somewhere, and all the walls are reinforced here such temporary props. Can you imagine living in a house, knowing that the wall may collapse at any moment. Will you sleep, cook simple lunch or ... I do not know what else people are doing here.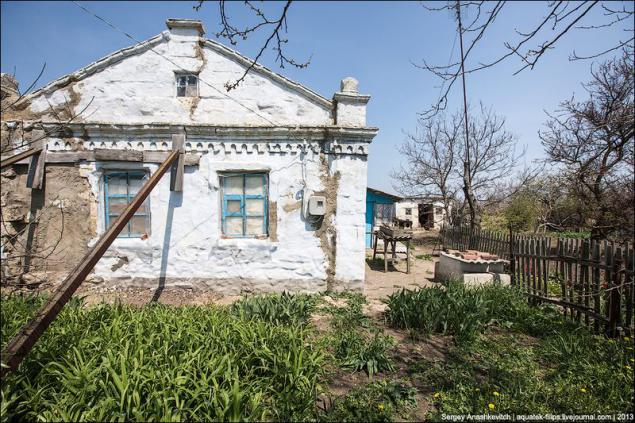 Neighboring wall also backed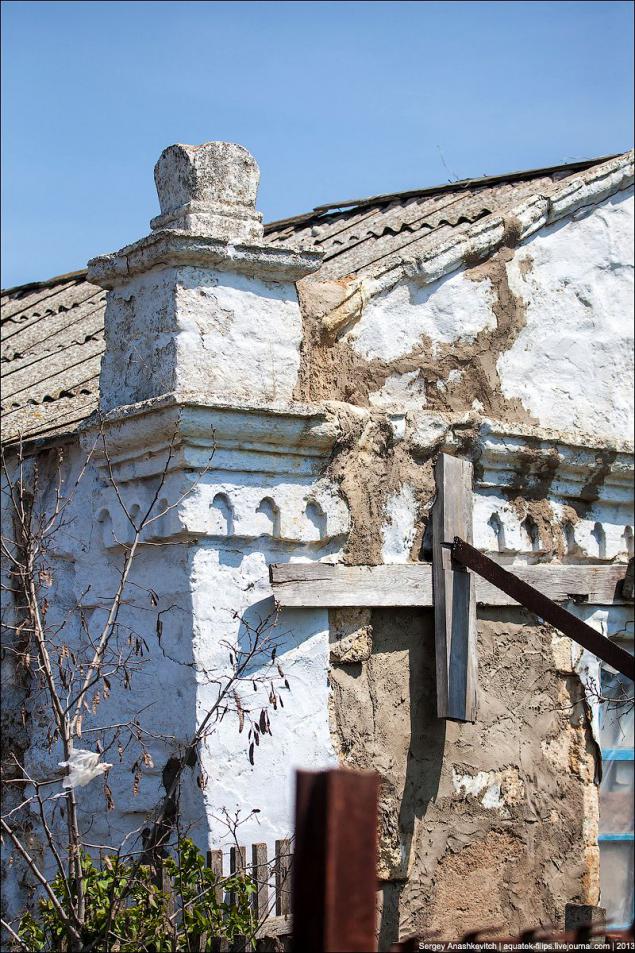 The house next door ... and shocks the conscience of bright red tulips. Living here people trying to somehow brighten their existence. At least planted near the front gate several flower bulbs.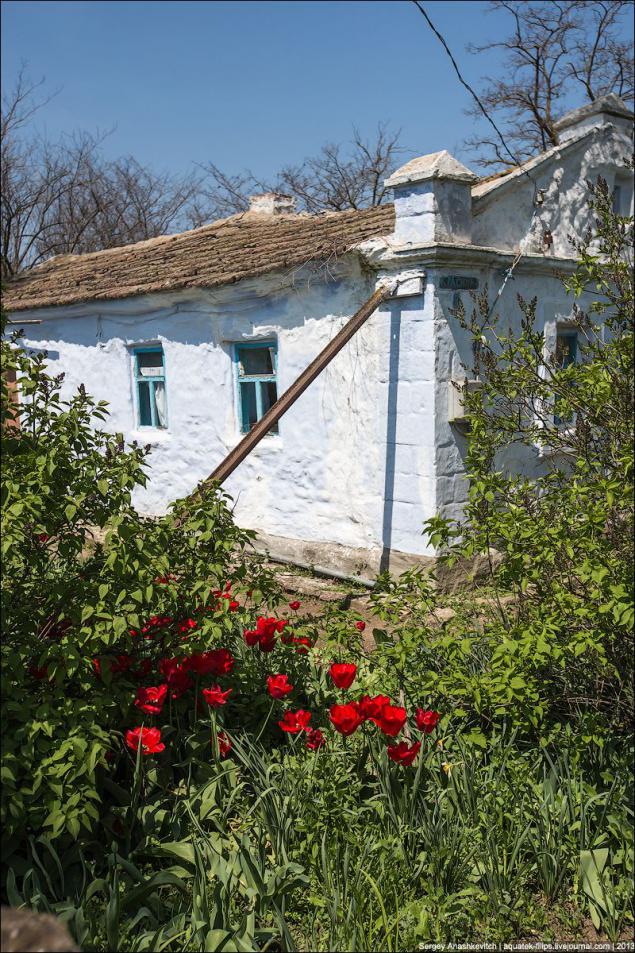 . Where not cast eyes, everywhere these backups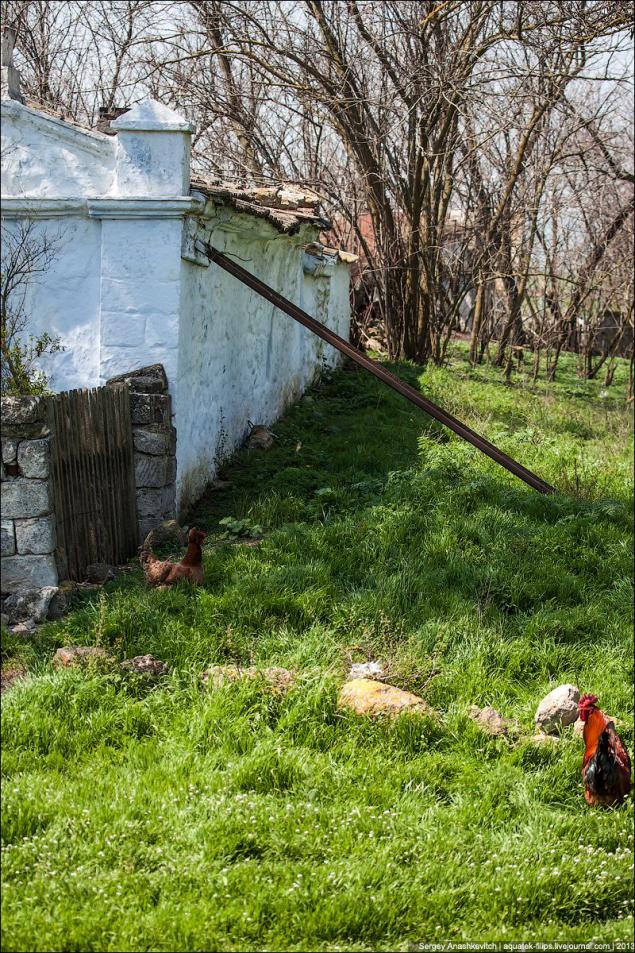 And not only the backup and windows testify about all the hopelessness of the inhabitants. These stones are pressed pieces of slate to the roof does not leak, and these pieces are not shifted the wind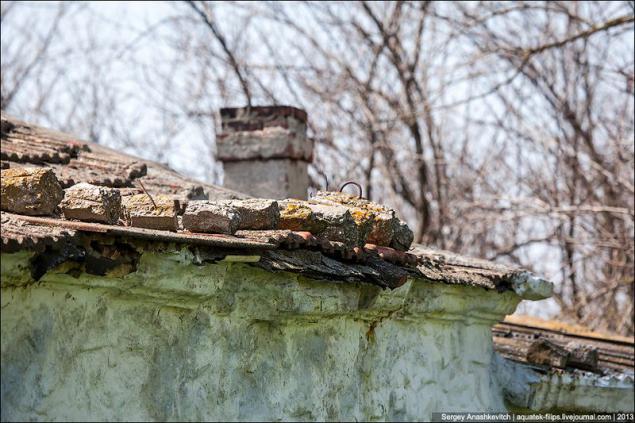 The main thing is a reliable shelter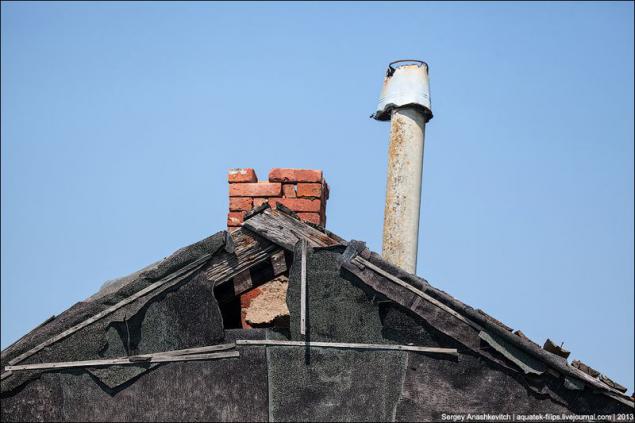 The antenna is still useless. No electric wires and the house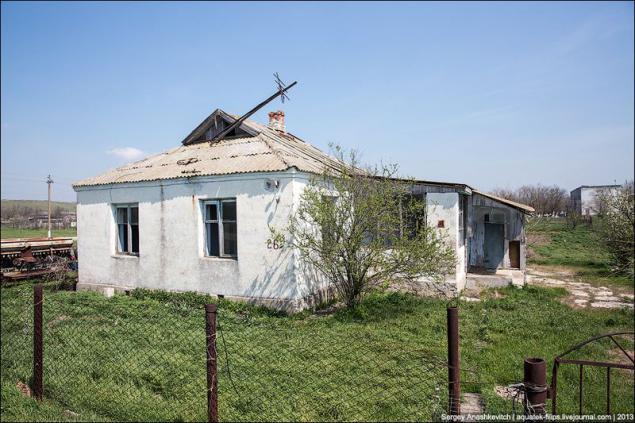 Again polyethylene on the windows and trying to make life a little brighter with the help of tulips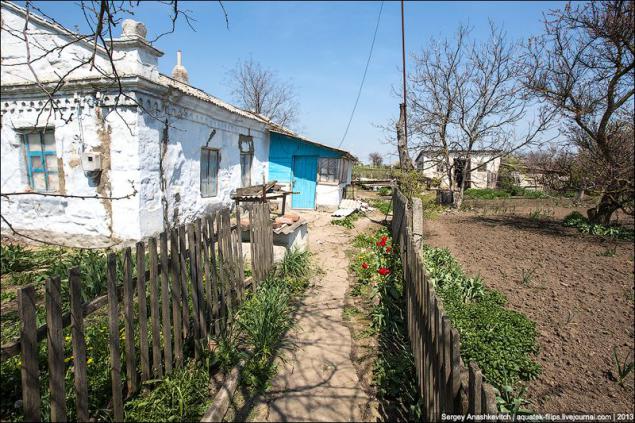 Faded rose rusty bench and definitely not for couples in love ...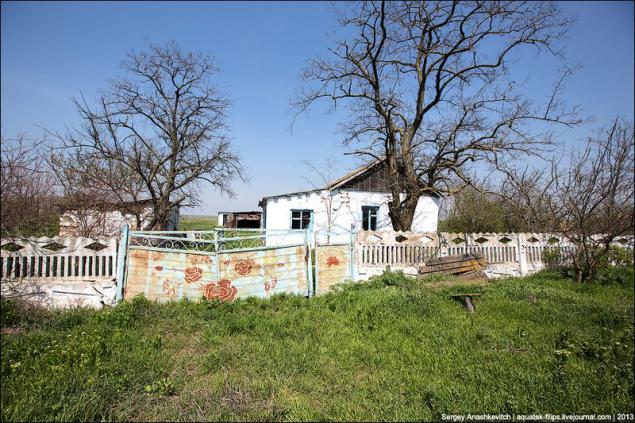 Reliable high fence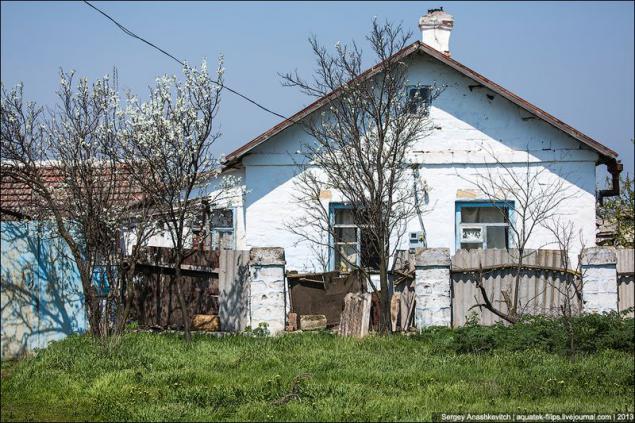 Shed poultry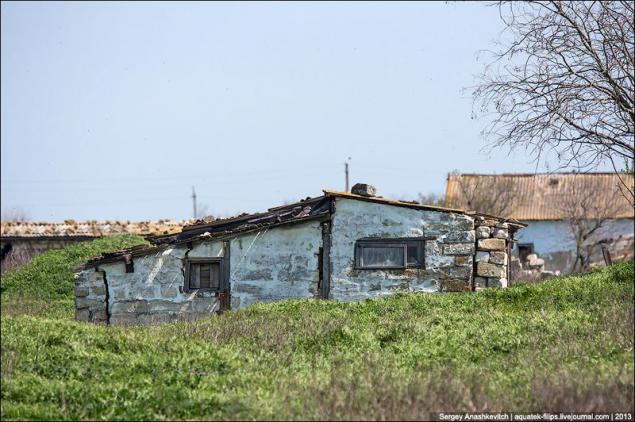 Pigsty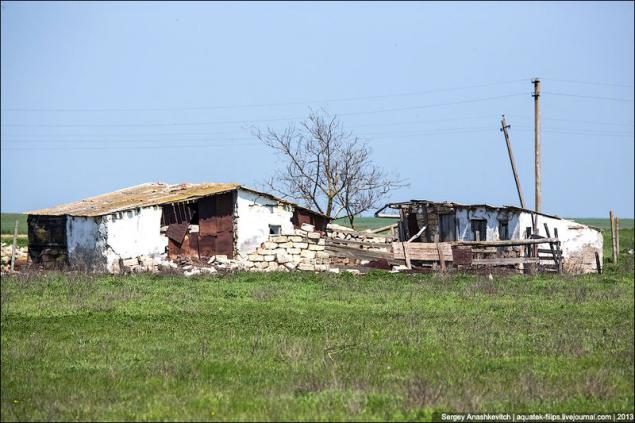 Life is good, or an oasis of wealth and success. There oligarch become much easier than in the other world. Enough to have a tractor and you are always at work, and money. Here are just a tractor for local residents is more expensive than the Bentley for a prosperous south coastal Hotelier.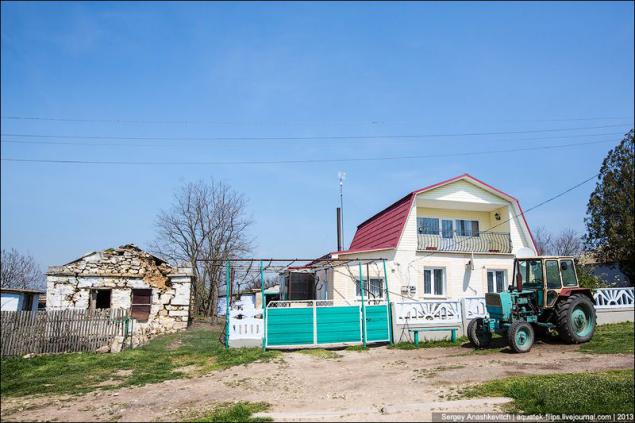 And, of course, are just incredible number of abandoned and ruined houses. They are interspersed with still inhabited, such as in the photo above.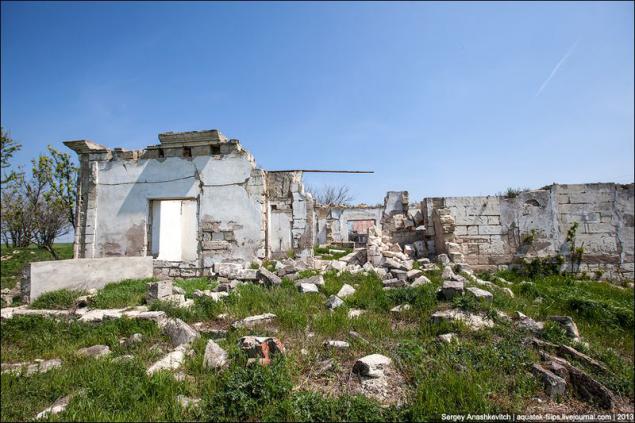 Two floors, the add ... Obviously it was, or some institution, or maybe even a church.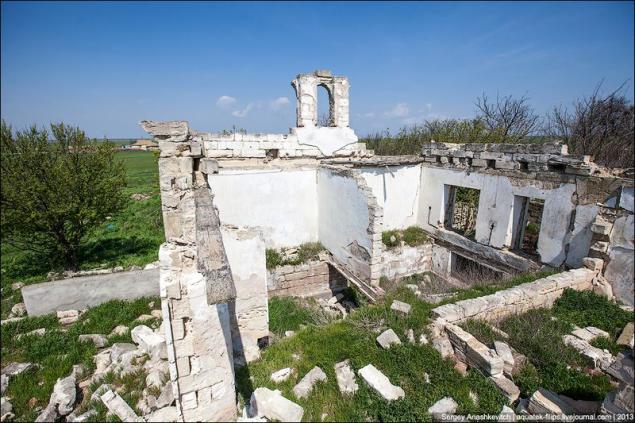 Surprisingly, in an abandoned house that has not pulled out all the whole glass, considering the real problem with this material
This house is still living ... In spite of its appearance.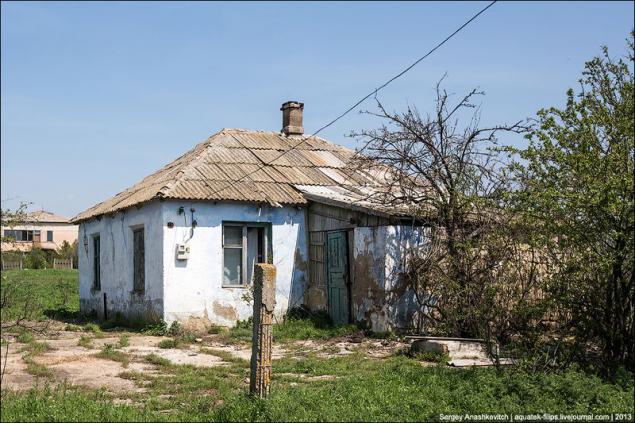 And this is no longer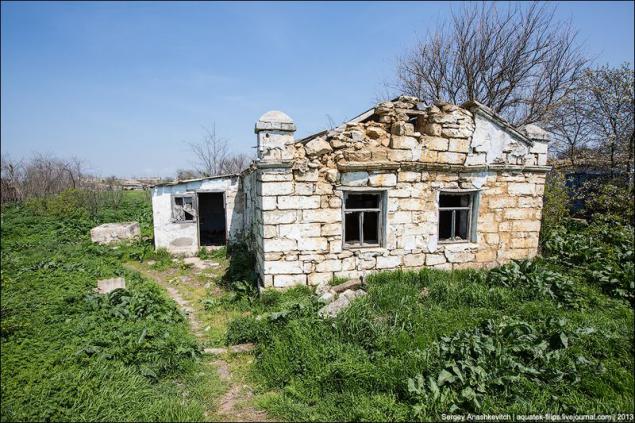 Love does not live here anymore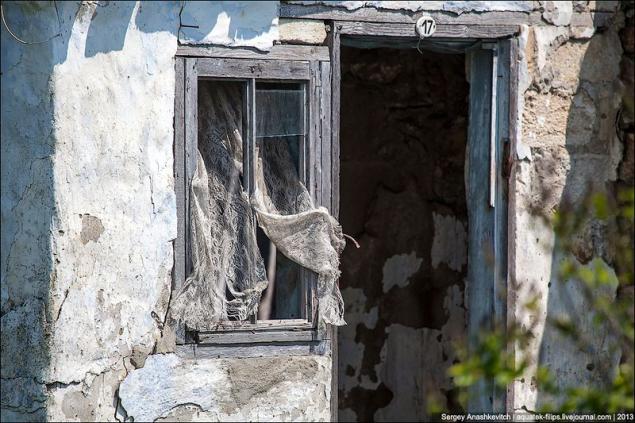 Hollow extinct life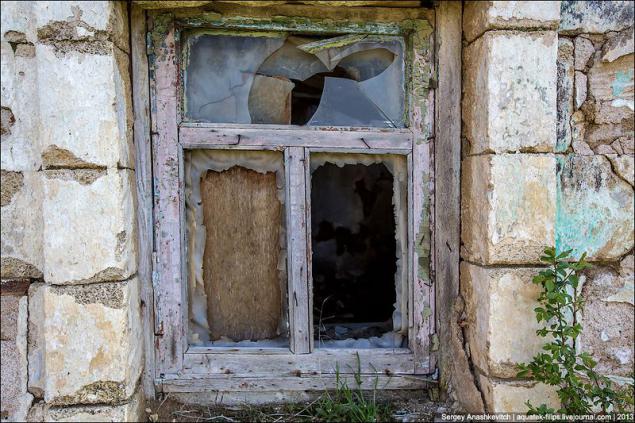 All that remains of the former owners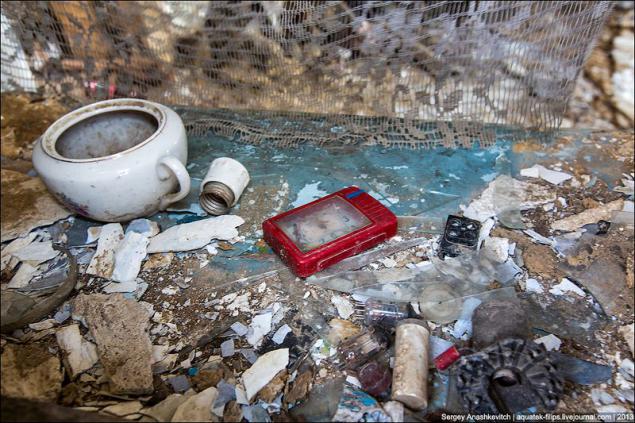 Another year or two and everything will collapse ...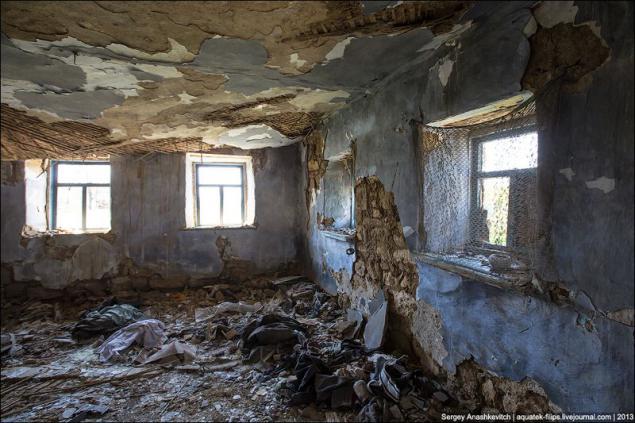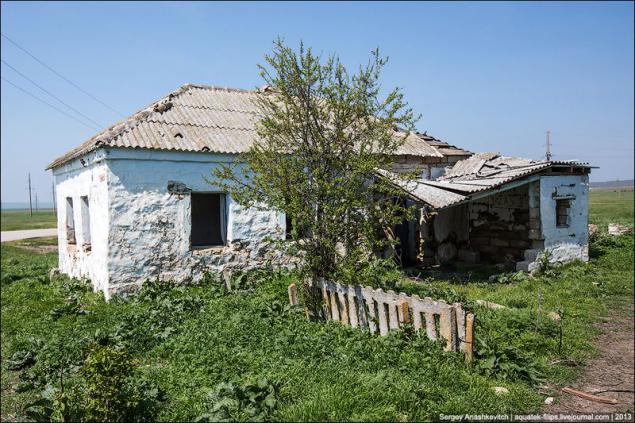 Another simple fence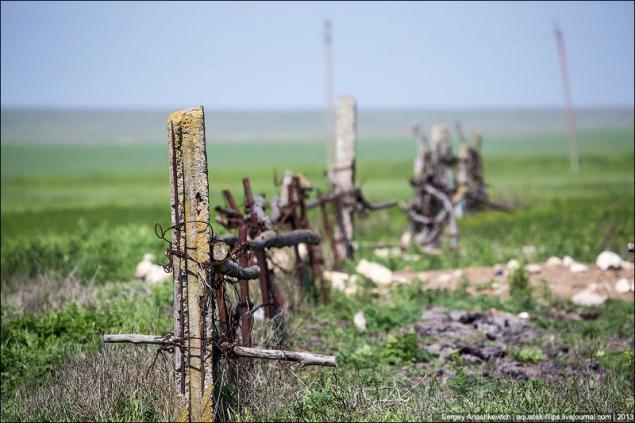 In one village a short time, we quietly walked, taking all of these things. During the shooting of one of the abandoned houses, to us almost attacked a local resident, he ran out of his house, standing somewhere far away in the suburbs. Although, I probably can not understand aggression of the people living here. I think it's just something from the category of despair. A little to debate, we each went on his way, but the guy started ringing on his mobile phone (by the way, take the mobile phones not all villages in these steppes). And at the other end of the village there was a feeling that the locals, looking askance at us, grouped in small companies. We decided not to tempt fate and went to the next village. Along the way, they were all the same die.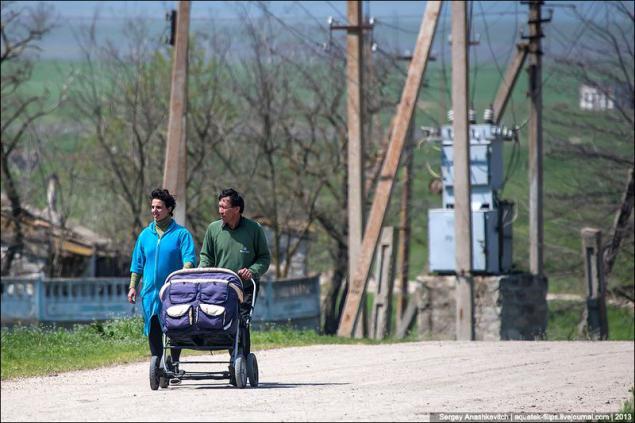 And so, in one of them, Marino, we saw just such a picture. Twins. Two small krymchanin likely to be doomed to exist in these conditions. Although it may be in their lives will still be a white stripe.
A very busy street. It's not banter. It was really the most bustling of all seen. For five creatures and three vehicles.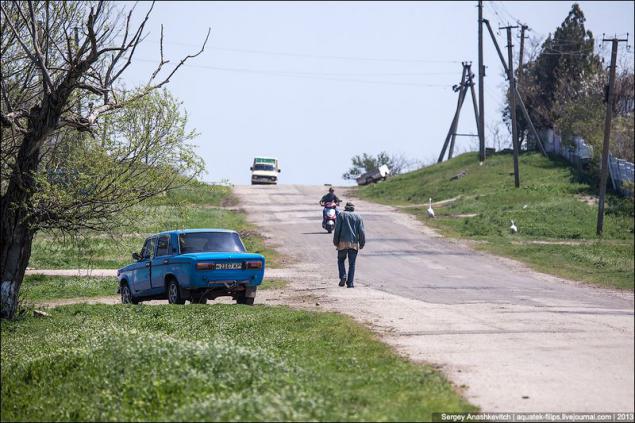 The simple life of the locals. Woman tearing the grass for livestock or poultry.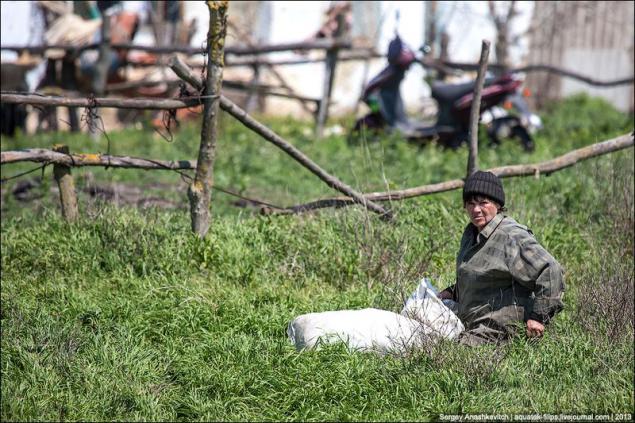 Pasture near the former farm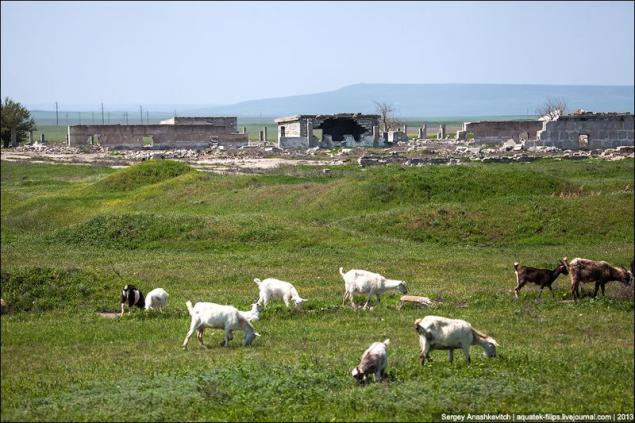 Those most "fertile" land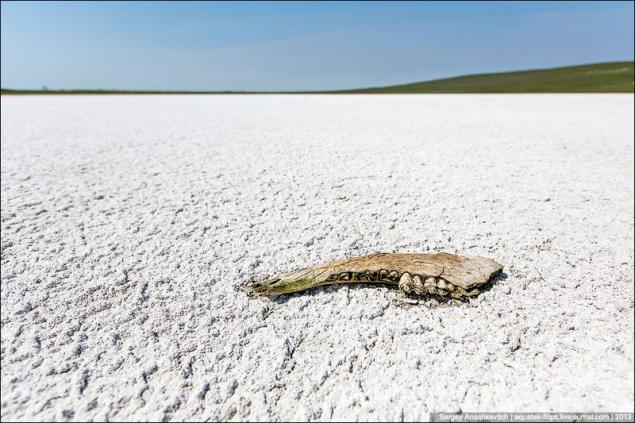 The dried salt lake, salt with which the wind carries for many kilometers in the surrounding steppes and fields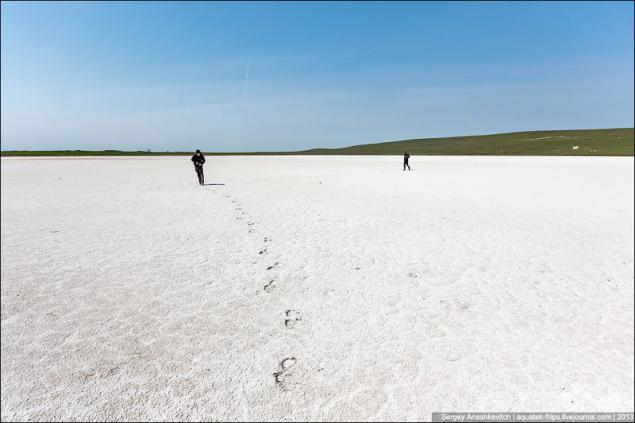 Thoughts about life behind the wall of indifference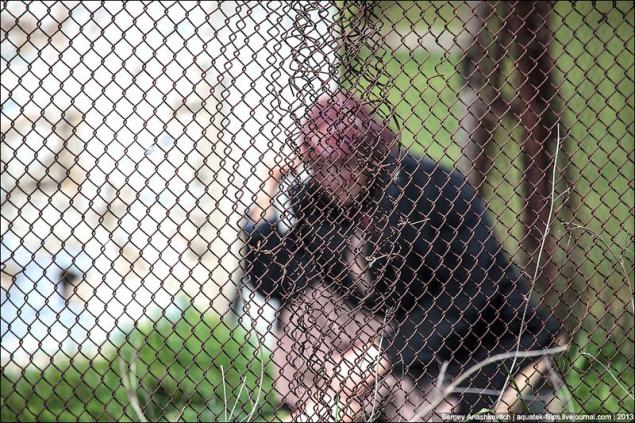 No fate. Marevka. Place, which is not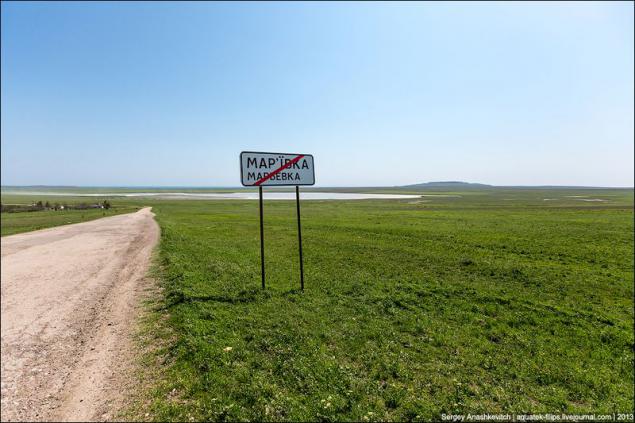 Source: aquatek-filips.livejournal.com