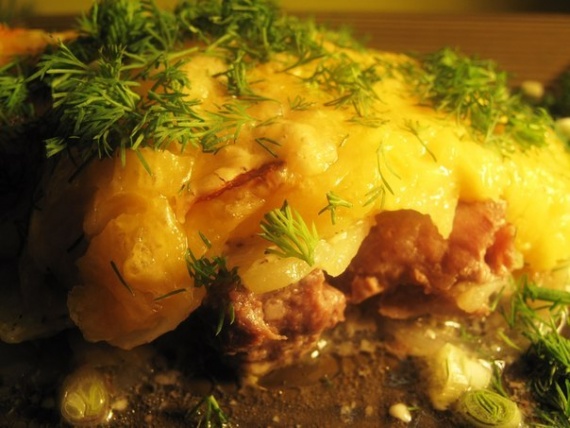 Preparation:
1. Potatoes clean, cut into slices and boil in salted water until half cooked, strain. Onion peel and cut into rings. Garlic clean.
2. Preheat the oven to 180? C.
3. The meat cut into small pieces, spread out on the bottom of heat-resistant glassware. Salt, pepper, garlic and squeeze half top with onions. Lubricate the mayonnaise 1/3. You can just squeeze a trickle, and he then distributed during baking.
4. Put a layer of hot potato onion. Squeeze out the rest of the garlic and squeeze another 1/3 mayonnaise. Put the rest of the potatoes up to the top and lubricate the remaining mayonnaise.
5. Put in the oven for 25 minutes. Sprinkle with cheese and bake for another 15 minutes.
6. Remove from oven and allow to cool a little as it is. Arrange on a plate and sprinkle generously with dill.
Enjoy your meal!