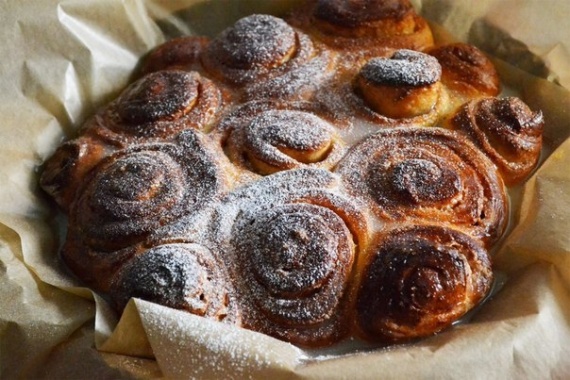 Preparation:
1. Make brew. Yeast, a little warm milk, a teaspoon of sugar and a tablespoon of flour mix and leave in a warm place for 20 minutes.
2. Meanwhile, cut the desired us a piece of butter. And beat it with sugar.
3. Add the egg and beat until smooth.
4. There also add milk, flour, salt and leaven. Knead the dough.
5. Put it in a warm place for 1-2 hours, covered with a towel so that it has doubled.
6. We get our dough, roll out. Mix sugar and cinnamon and sprinkle.
7. Minimize to roll and cut into pieces.
8. lined paper form and lay out future rolls. Leave for 20 minutes to a little rose. Lubricates the egg.
9. And send in the oven for 25-30 minutes at 180 C.
10. We obtain and sprinkle with powdered sugar. Yet they can be filled with syrup or icing.