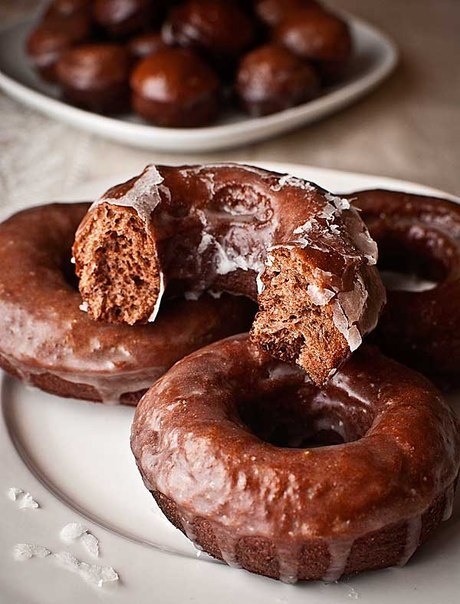 Preparation:
1. All ingredients except butter Put in a bowl and knead the dough. First, add less flour, the dough will be sticky at first, but then because of the cocoa starts to take shape. So take your time with the flour. Start adding the butter pieces and shape into a ball of dough. Put it in a bowl, cover with a towel and leave at room temperature for 1-2 hours to climb.
2. Knead the dough and roll into 1 cm thick. The form of donut or a glass, cut blanks, and a small glass to make an internal hole. Put donuts on a baking sheet, then close with a towel and leave for some time to rise.
3. At this time, prepare the glaze, by mixing the powder and water. Close the bowl with cling film until donuts are fried.
4. Heat the oil in a pan and fry the donuts on both sides (about one minute per side). Put on a plate a paper towel and pat each donut to remove excess fat.
Give the donuts to cool slightly, then dip each in a bowl of glaze and place on the grill so that it is slightly frozen.