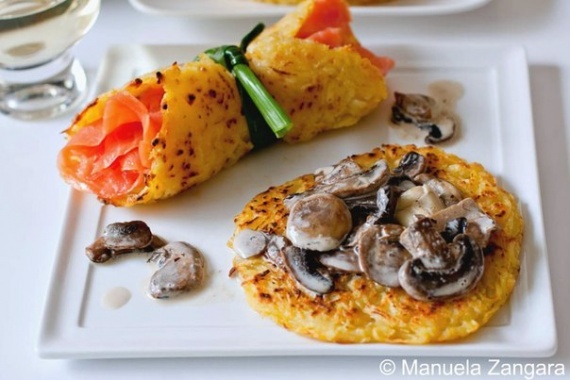 Preparation:
1. Wash, peel and grate the potatoes.
2. Heat a frying pan with oil, season with salt. Put the grated potatoes and mix it with oil. A couple of minutes stir potatoes to warm it up, and then the whole mixture of large potato pancake shape.
3. Close the lid and cook on both sides for 10 minutes over medium heat, then remove the lid, increase the heat and cook for another 3 minutes on each side until golden crisp.
Mushroom ragout:
1. Fry the garlic in olive oil for about a minute. Arrange the sliced ​​mushrooms, salt and pepper and cook until the mushrooms are soft. Pour in the cream and simmer for a few minutes.
2. Turn off the heat, add the chopped parsley (optional) and serve with warm Rösti.
P.S. To make rolls of Rösti, spread them with cream cheese, smoked salmon lay and twist. Tie arrow green onions.