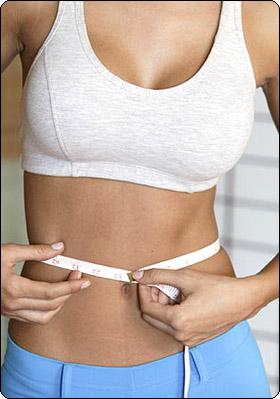 How to make the most problematic area of ​​the female body - the stomach - the most attractive? It is easy - if you choose effective exercises and out of them a good program. For you - super program with which only 1 to 5 months of simple activities to be flat belly and fit.
Week 1
Exercise 1. For the rectus abdominis.
Starting position - lying on your back, knees bent, hands behind head. At the expense of 1-2-3 lift the trunk, at the expense of lower 4. Do 10 sets of 30 repetitions.
IMPORTANT! Do not hook hands behind his head (otherwise trained muscles of the neck, not the press).
Exercise 2. For the obliques.
I. n. - Too. At the expense of 1-2-3 trunk, directing it to the left leg on the 4 - lower. Repeat the same to the other side. Do 10 sets of 30 repetitions.
IMPORTANT! Follow the lower spine - it should not sag, as if he should stick to the floor.
Exercise 3. For the lower abdominal muscles.
I. n. - The same. Raise your torso and legs. Within 5 minutes ago "scissors" or "steps».
IMPORTANT! Lift the torso and legs to a level that will ensure the maximum voltage of the abdominal muscles.
Week 2
All the same, only the 1st and the 2nd leg exercises not on the floor and on the chair, bent at right angles.
Week 3
In the main package adds an important detail - the highest point on each repetition needed for 2 seconds greatly strain your abdominal muscles.
Week 4
The main complex remains the same, only the exercises are done in the most rapid pace. Ideally - without rest.
Week 5
Add weighting. Weight dumbbells (they should be kept behind the head) the individual: for beginners - 0, 5-1 kg each, for the "middle class" - 1-2 kg, for advanced - from 3 to 5 kg.
Week 6
Fix the result, combining the nuances of the 3rd and 5th weeks