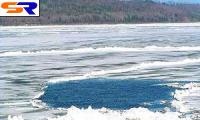 Stumbled last night for a robbery with a double murder in Mariupol. There, she was still alive, because late for work. When it came - and the second guard saleswoman were killed.
Recall the parable "I do not know whether this is good or bad," and the case of life.
The family of my friend got an apartment on Troyeschina (then they "received") of the first. I do not remember exactly, it seems in 1979. At that time there was inhabited 2-3 at home.
And here is going in the morning her father to work. What did he do does not matter. Some mid-level official. Anyway, he does not own transport and relied he went public. By nature he was a typical "I said!" So when mom is not just familiar with breakfast and freshly ironed shirt, began skandalets. Because Dad had no time for the bus that it was necessary, and should be sent only after half an hour. With the head of the family and went to work, leaving my mother at home expect the second part marlezonskogo ballet. Mom went to night is not herself, knowing the nature of the pope and waiting for the evening distribution gingerbread. Phone in the house was not, therefore, call to repent was not possible.
When Dad came home in the evening with a huge bouquet of roses, mom just blow was not enough. (Outside the beginning of March, a bouquet at the time cost is very, very well, and it is not in the nature of the pope it was)
But it turned out that my mother late filing breakfast dad saved lives. The bus, which he left, fell into the Dnieper. Went under the ice. Killing all.
Taek that, do not rush, if late. Maybe I need.