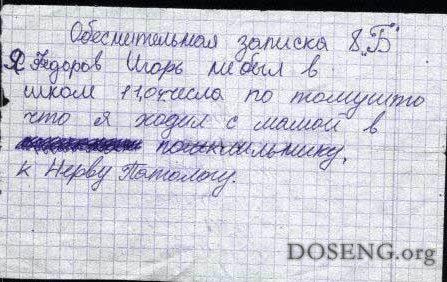 Chatsky went through the anus and podpёrnul door with a stick.
Tractor raced across the field, slightly smelling ...
Kabaniha groped Katerina soft spot every day and pressured him.
Slavs were freedom-loving people. They often drove into slavery, but even there they were not working ...
In the summer we boys went camping overnight, and took with them only what is necessary: ​​potatoes, tent and Maria Ivanovna.
Plyushkin piled in a corner at a whole bunch and every day to enclose.
Peter jumped off the podium and ran for Eugene loudly tsokaya hooves.
Pechorin Bela stole in a rush of feelings and wanted by her love closer to the people. But he did not succeed. Could not he is with Maksim Maksimych.
Pugachev granted a fur coat and a horse from his shoulder.
Bazarov died young man and his dream sbycha not occurred.
Pugachev helped Grinyov not only work, but also his love for Masha.
Silky blond curls were beaten out from under her lace apron.
Chairman milkmaids so took a nerve that increased milk production immediately.
On the field, we heard the groans of the wounded and the dead.
Fly on crutches is not easy, but he has learned.
Raskolnikov awoke and reached for a sweet ax.
The Countess was riding in a carriage with a raised, folded in an accordion backwards.
Frogs rode in pairs in the direction of the swamp, where committed suicide.
From the works of Nekrasov farmers have learned how to live badly ...
One foot he stood in the past, the other foot in the future, and between his legs was a terrible reality.
Pushkin
Lena went to a duel in the trousers. They parted, and a shot rang out.
Onegin was hard inside, and he came to relieve Tatiana.
Onegin was a rich man: in the morning he was sitting in the dressing room and then went to the circus.
These girls, Olga, have long been fed up with Onegin, and Pushkin, too.
Here he first learned Russian colloquial speech of the nurse Arina.
Turgenev
Gherasim put a saucer on the floor, and began poking him muzzle.
Gerasim Mume poured boiling.
Gerasim ate at four, and worked alone.
Gerasim regretted moo-moo, so he decided to feed her, and then drown.
Gerasim threw Tatiana and contacted Mumu.
Leo Tolstoy.
Anna Karenina has not found any of this man, and therefore fell under the train.
Of all the female beauty Maria Bolkonskaya were only the eyes.
Pierre Pierre wore pants with high bibs.
The first successes of Pierre Bezukhov in love was bad - he just got married.
In the Rostov had three daughters: Natasha, Sonya and Nicholas.
Natasha was a true Russian nature, very fond of nature and often went into the yard.
Natasha Rostova wanted to say something, but opened the door shut her mouth.