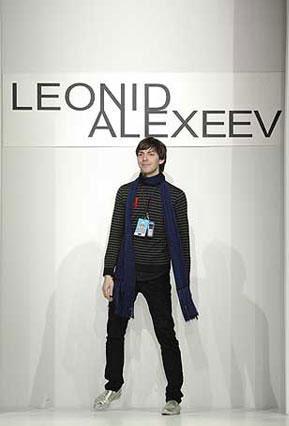 In the upcoming season of spring-summer 2008 the most fashionable and stylish become unusual way - a man in a rumpled suit, shirt and stretched in the Indian turban on his head. It is this modern man sees St. Petersburg designer Leonid Alexeev, presented in Moscow as part of a collection of Russian Fashion Week.
The creation of this collection of designer inspired indie rock and traditional
suit India. As told in an interview with Itar-Tass designer: "The music calls for independence and indian costume made of natural fabrics gives freedom of movement».
Colours wildest and allow any man to stand out against the gray city. The collection includes jackets lemon yellow, light green pants, sky-blue shirt, chocolate jersey and purple coat. Not without black, which for several consecutive season rests on the height of fashion.
Prints on costumes Alekseev in the form of cassette tapes. In addition, the designer offered in suits its special effects - particularly bruising fabrics: from her smooth fabric fold different patterns.
Exquisite drawings on fabric struck the capital dandies and designer Olga Brovkina. She dedicated her new collection of women's ready-to-wear 300th anniversary of the birth of the famous scientist Carl Linnaeus. The inspiration for the designer was the chief scientific work of Linnaeus - "System of Nature».
Drawings, including images of flowers, butterflies, people. Crepe silk, cotton lawn and finest drawings - this combination on the Russian podium for the first time encountered.
Source