After the procession of models on catwalks of the world, I decided to arrange an audit in his summer wardrobe. Thank God, completely change it explicitly is not necessary - the designers have taken care of the budget fashionistas and left the fashion trends of last season - pleat skirts, shirts and t-shirts with large prints ... However, to get a few little things, responsible trendy trends, still stands. So, what should you consider going on a shopping promenade? Among the main fashion trends of summer 2013 turned out to be a checkered coloring materials and metallic colors as well as all the accessories with metallic reflections. In the camp of fresh fashion trends can be distinguished style dresses that came to us from the '60s. All the benefits of the trapezoidal dress at the famous Twiggy, to be assessed this summer.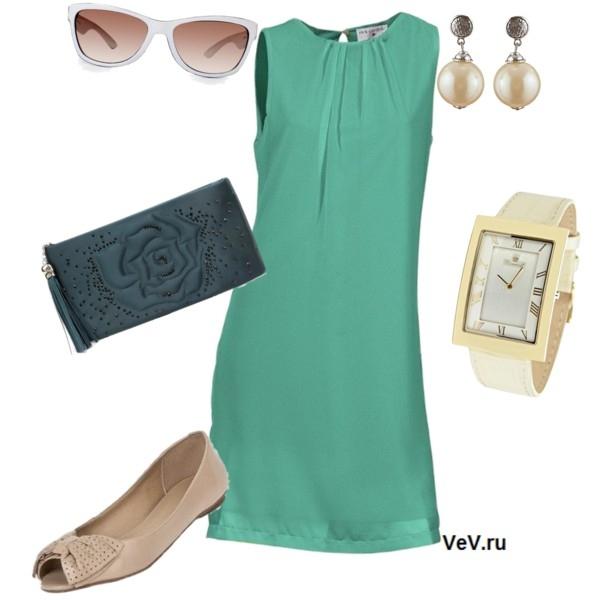 BUY PRODUCTS FROM SETH

Dress
2 299 rubles.

Ballerinas Via Uno
3199 rubles.

Clutch Sabellino
3150 rubles.

Romanoff watch
4200 rubles.

Fashion Earrings stories
320 rubles.

Benetton Sunglasses
2070 rubles.
1. Summer clothes 2013: giving the "sun" to the masses!
Yellow, which has successfully taken its place in the images of fashionistas last summer, will continue to be relevant. His rich shades successfully underlined retro image that clearly demonstrated in their collections Moschino and Louis Vuitton. The modeling of light summer blouses and sundresses designers successfully used more muted shades of yellow. However, it is muted bright colors can be safely called a further distinction of the summer of 2013. Of all the violence of intense colors of last season only remained trend fuchsia accent. Orange and red shifted towards chromatic shades. And that successive season remain relevant blue in all its variations. I assume that the popularity he did not lose for a long time, since the summer and the sea - almost unbreakable association with this color.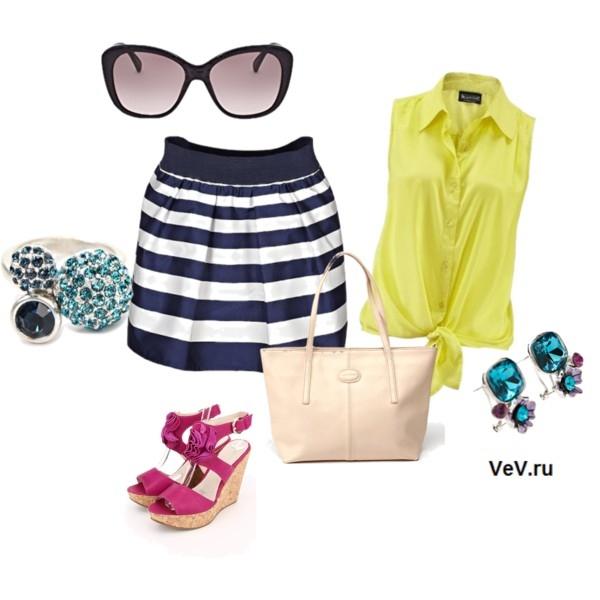 BUY PRODUCTS FROM SETH

Satin blouse
899 rubles.

Skirt
699 rubles.

Shoes Amazonga
1650 rubles.

Bag ladies Agape
4890 rubles.

Earrings Art-Silver
760 rubles.

Ring Pilgrim
2080 rubles.

Sunglasses Alexander McQueen
13 750 rubles.
2. Summer of 2013 and prints, engravings, prints ...
Prints knowingly upomiayutsya in fashion blogs so many times. This year, there were plenty of podiums, and in a variety of variations. The ethnic interpretation is all the same Asia, but is now shifting towards China and Japan. Not only patterns, but the fabric and style of dress are the elements of these Asian countries. Want to be a mysterious and unique, and it does not go out of trend? The image of a Geisha - what you should try in the summer of 2013! Or maybe you no longer taste of Hawaii, summer, the sun and the feeling of eternal holiday? Please! This mood gave women of fashion designers from Issa London. But those who will not bask in the summer on the beach, and puff in offices, also got its own part of the "Hawaiian Paradise" in the form of separate elements Printed in business suits. Given the fact that the clothing is still working, it is important not to overdo it and choose not saturated in color prints.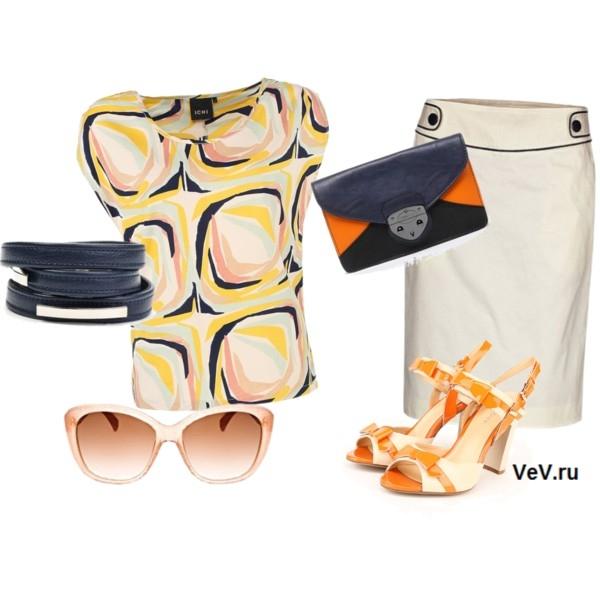 BUY PRODUCTS FROM SETH

Top ICHI
1350 rubles.

Skirt
1399 rubles.

Sandals Anre Tani
2250 rubles.

Clutch Fiorelli
1290 rubles.

Dukova Design Bracelet
1300 rubles.

Sunglasses Alexander McQueen
13 750 rubles.
3. Graphics ruled a ball
The number of traditional horizontal and vertical strips, pressing in summer clothes in 2013, bravely stood psychedelic patterns demonstrated by Tommy Hilfiger. From summer to winter collections migrated cell. Will be relevant and retro interpretation of this pattern, and more familiar for us Scottish cage. You can pick up like a garment of tartan fabrics and accessories to stay in a checkered style. Generally, it is graphic prints many of the leading designers put in charge of their collections. It can be clearly defined squares, like Louis Vuitton, or rectangles with rounded corners, as dresses Stella McCartney.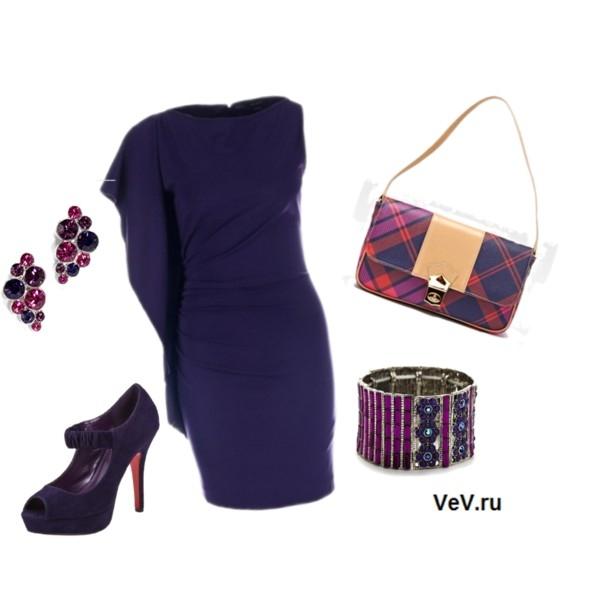 BUY PRODUCTS FROM SETH

Dress Miss Sixty
5 990 rubles.

Shoes SVETSKi
1999 rubles.

Bag Vivienne Westwood
18 450 rubles.

Bracelet Lady Collection
690 rubles.

Earrings Crocus
3570 rubles.
4. Summer clothes 2013: pleating and flounces
If you have in the closet since last summer overlooked lightweight pleated skirt-midi, do not rush to send it to the mezzanine. She is still in fashion and still comply with the trends - if it is made in pastel and muted colors. Wearing a skirt is offered with a shoe at a low move, only in special cases in pereobuvayas heeled sandals. And here is another variation of the game with the shape of the tissue will be this summer skirt with flounces. Ideally, designers can see them up to mid-knee, but for the brave girls are relevant and short skirts.
Dresses also grows flounces - mainly in the shoulders, making them visually is much broader. This dress itself looks absolutely right. This style is a must have for girls who want to attract attention and look at the same time elegant.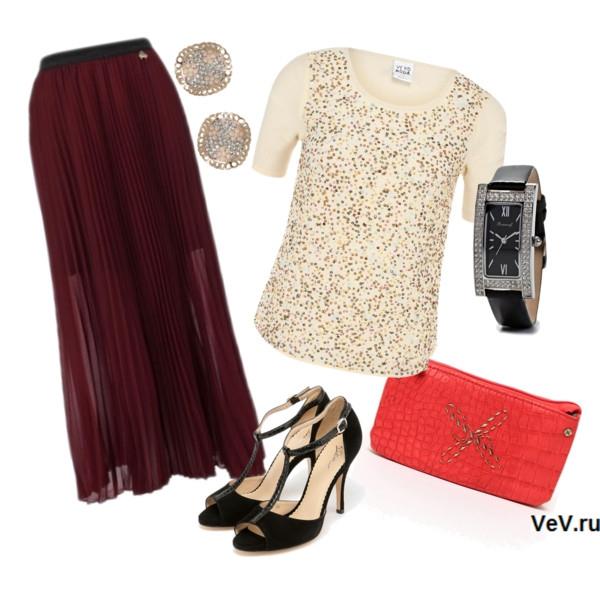 BUY PRODUCTS FROM SETH

Blouse Vero Moda
1000 rubles.

Skirt Liu Jo Jeans
3890 rubles.

Shoes Liska
3 350 rubles.

Clutch Fiorelli
1650 rubles.

Earrings Selena
590 rubles.

Watch Romanoff
3200 rubles.
5. The trend of summer 2013: a stylized safari
Once again became topical last summer safari style reached its apogee in the hottest time of 2013. Choosing a suitable set, pay attention to the classic model in this style. Sand and brown tones, along with leopard print on the accessories and parts of the image still appropriate.
Of course, that only limited to classic designers did not, suggesting more recent versions of dresses, trousers and other things in this style. So, Max Mara offers in addition to traditional shades for original safari style fabric: silk and chiffon. Successfully beat this outfit will help women of fashion scarves tied on his head as a turban.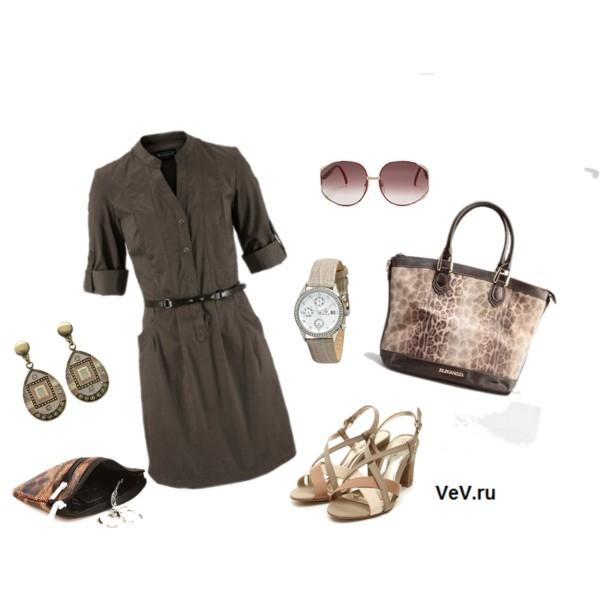 BUY PRODUCTS FROM SETH

Dress
2 199 rubles.

Sandals women Calipso
1 190 rubles.

Bag Eleganzza
10 600 rubles.

Klyuchnik Valeri
850 rubles.

Sunglasses Very Vintage
22 000 rubles.

Watch Romanoff
5100 rubles.

Earrings Clara Bijoux
1500 rubles.
6. Fashionable metallic notes of summer 2013
Reflections of metal on the podium this year were a clear continuation of last season. By succinct silver and golden hues Burberry, John Paul Gaultier and Christian Dior added a rich red, yellow and green colors. Now, the girls decided to poblistat at a party, in the truest sense of the word, what will clothe themselves. Trendy solution for avid fashionistas will be bright chiffon dress with a short jacket futuristic cool metallic shades.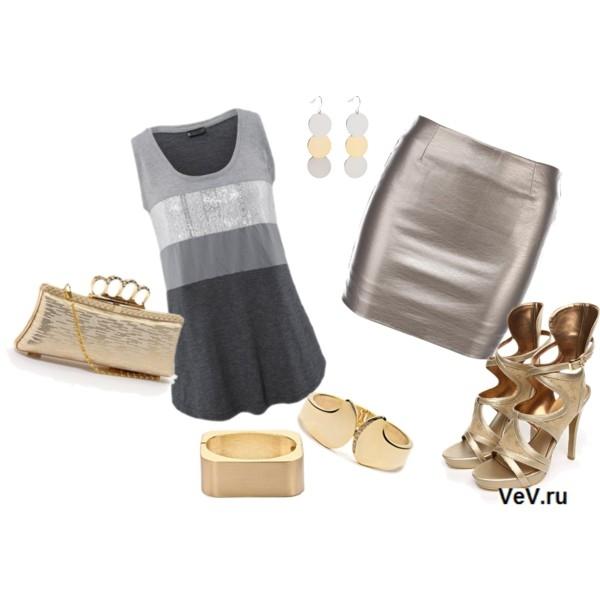 BUY PRODUCTS FROM SETH

Top
1199 rubles.

Skirt TOM TAILOR
2 120 rubles.

Women's shoes Rocawear
1390 rubles.

Clutch Milana
2200 rubles.

Bracelet Courtney G
790 rubles.

Bracelet To Be Queen
449 rubles.

Earrings To Be Queen
449 rubles.
7. Androgyny shifts focus
Costumes men's style that the designers of the year to try on fragile female shoulders, will please the fairer sex in the future. Moving away from the proposed back in the 2011 season jackets, aviator, designer transferred their attention to tuxedos. It suits of this type have become the first violin in the whole image of "a la unisex". Still, things moved from the male wardrobe this summer take on femininity. Despite the awkwardness of certain elements of the image, Lanvin and Celine its variants tuxedos were able to emphasize female sexuality. Instead of rough shoes this summer in tandem to such a suit to be shod ladies shoes with high heels.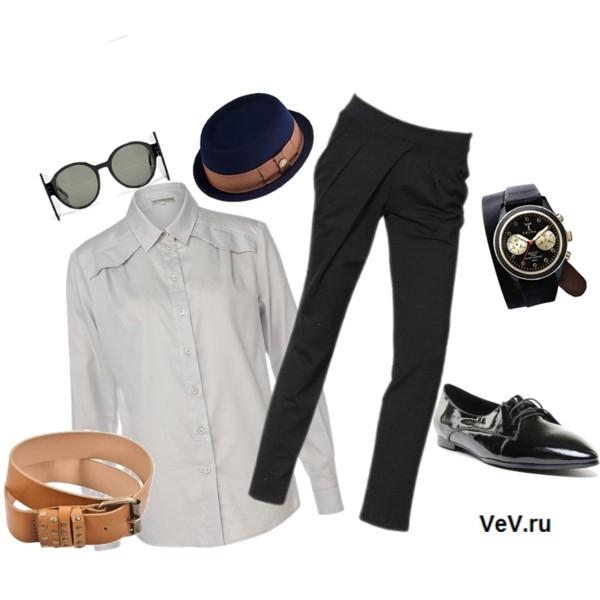 BUY PRODUCTS FROM SETH
Shirt Yetonado
3980 rubles.

Trousers
1999 rubles.

Shoes Laura Cesari
1750 rubles.

Belt
499 rubles.

Hours Triwa
9900 rubles.

Hat Goorin Brothers
6400 rubles.

Sunglasses Steffie Christiaens
8600 rubles.