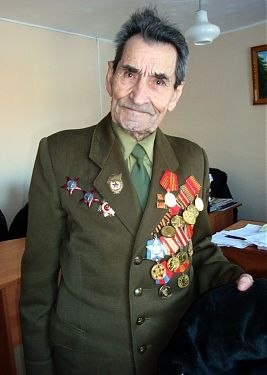 WWII veteran Mikhail S. Stepanov from top-Chebuly put their savings to children. Rehabilitation center "Change", he gave 100 thousand rubles, and the local school physics classroom - 30 thousand.
The idea of ​​charitable assistance came from Mikhail Stepanovich no rhyme or reason, soldier approached the matter seriously and thoroughly. "At first he wanted to make a gift to the children's home and came up with these intentions to our head of the Department of Social Protection. Said: "Irina V., want to help the orphanage." She said that her department orphanage, but there are a rehabilitation center. Then we invited Mikhail Stepanovich in "Change", told what you need. He invited us to choose what is necessary. Raised questions about the amount and then Mikhail Stepanovich said about 100 thousand rubles. Of course, we were in shock, and then pulling back a long time. Now he is our great friend, we go to visit him, to communicate. I thank him a lot "- shared with" Gazeta Kemerovo "head of the center" Change "Valentina Kuznetsova.
Donated money to the children's center bought Pretend Play, projector screen, sports wall and dry pool. That's not counting designers, dolls, roller skates and scooters. All these children had time to get to fly.
And the new school year veteran made another gift, this time to a local school - namely, the study of physics. "This year marks 20 years since my class took patronage of Mikhail Stepanovich. Since then the children have changed, and friendship with him continued. Guys help him on the farm, are invited to class hours, covered tables for the holidays. In the classroom there is a corner dedicated front biography Mikhail Stepanovich - said physics teacher Irina Pestretzoff. - He makes us gifts for the second time. Last year, he presented the equipment for 10 thousand rubles, this year - at 30. With it now appeared in the office of 10 laboratory kits "Electricity", a computer measuring unit "L-micro", magnetic field sensors, temperature and conductivity solutions. We ordered the equipment in August, now it is on the way from Moscow. Said that in two weeks will come. "
Stepanov soldier himself with warmth recalls how he helped students like children brush their winter snow and hauled wood, and the summer was purified from Colorado beetles potatoes. Mikhail Stepanovich explains his charity simply: "I love children." "And yet - added veteran - I'm very sorry abandoned children, it is a pity that so many of them. In his native I have wronged no one, I help them as much as possible, and the money allocated specifically to support those in need. "
Rest on our laurels grandfather did not intend. "I also have to turn the orphanage, there are about fifty people. I few years it happen, but the opportunity to help until it was, and this year I think reach up to them, "- he said.