Paris Hilton is clearly tired of the busy schedule of concert tour her boyfriend Benji Madden, in Prague .... On Sunday, during the exit from one of the local restaurants, socialite literally brought weakened legs ...
During a walk through Prague surprisingly astonished audience Paris, supposedly collapsed in the street ...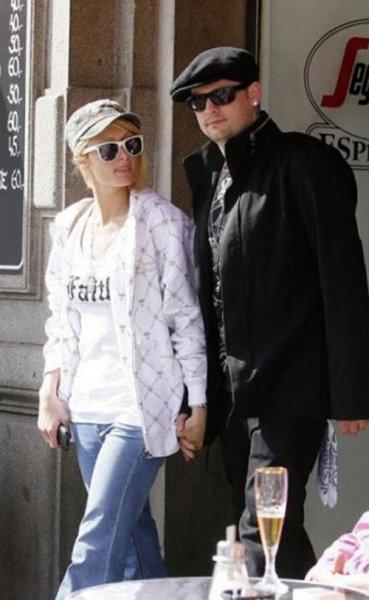 According to the story of one witness, after dinner, the couple came out of the institution was surrounded by a crowd of fans and photographers, that was the reason for the sudden fall of Paris.
Benji, allegedly helped the rise of Paris and the one covering the face with his hand, came to his aid to mashiny.Takov story of one of the sources, who became a "witness", "scene" in the square Staromestka Square.Mezhdu by one of the paparazzi, watching a couple the restaurant has fixed what has happened at the dele.Potoropivshis get out of the restaurant, Paris Hilton really stumbled or slipped and fell on pol.V this time, hurried after her Benji, unwittingly, I suppose, hotel empire heiress slammed shoe chin. But rather than play the role of a gentleman - to help Paris rise and fall at her feet, begging for forgiveness - Benji Madden stepped over and hurried dalshe.Ochevidno beloved, only the presence of an outsider musician forced to turn around and help podruge.Veroyatno, this visit will be the Hilton her last trip to Prague - after a visit to the Czech capital she were not the most pleasant experience ... and a bruise on the chin.