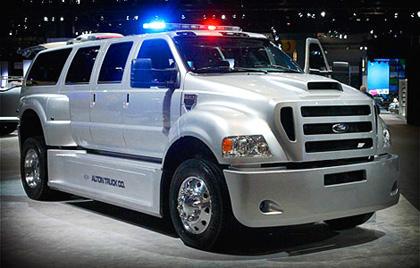 To feel yourself hyper-protected, you ought to sit here in this nice crumb, which can save you safe and sound, even if any zombies rise from their graves and will kill everyone and everything. The machine is called the Ford F-650 and established on the basis of the car. Ottyuningovat her company Alton Truck.
This semidvernoe being more like a steel whale has an engine Caterpillar 7.2L C7 ACERT with an output of 230 hp
Inside, everything is simple and no frills. For example, the floor is made of solid wood, each passenger seat is equipped with a wireless computer, and still there is one common to all 42-inch plasma TV.
You can sit, pass the time until every kind of evil monsters and destroy the city. Just as you sit in the tank, and more correctly in the hopper. The main thing - do not forget canned, suddenly have a long sit.