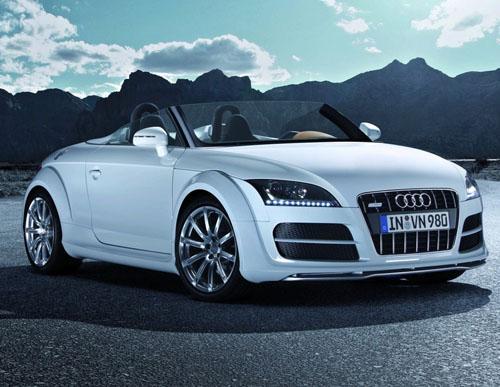 It is still a concept ... but as close as possible to the production car - recently it became known that the Germans were still going to put in a series of Audi TT Clubsport Quattro, that's just it will be a limited edition or not - are not reported. The debut of the concept took place at the annual Worthersee, passing in Austria.
What has changed compared to the car a year ago? Firstly, grille - it has moved from the hood firm emblem and the place came under the license plate. Secondly, the windshield - it was above 2 times, so that all kinds of insects, rushing forward, hit on the forehead should not. Third, the mirrors have become larger, and in those that were previously could hardly see anything. And finally - moved higher rollover protection for riders and chrome elements between the exhaust pipe appeared thin strip of a stoplight. So most likely, we will see the car off the assembly line.
A detailed technical description there, but something is still shared. Turbocharged four-cylinder engine working volume of 2 liters, which is able to "squeeze" around 300 hp, and the S tronic transmission with two clutches. TT Clubsport Quattro is equipped with all-wheel drive and the brand, and brake discs have already production model TTS (front diameter 340 mm).
We look forward to exit the car in the series.