The company Audi, the inventor of the engine TDI, and still shines in the production of power units of various types. At the 27th annual show Lake Worther Tour, which will be held in late May in the Austrian province of Carinthia (Carinthia), the famous German brand with the four rings will present technological capabilities and its striking characteristics of the new development.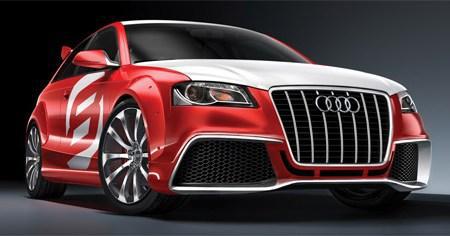 She was then 2, 0-liter diesel engine TDI, which under the hood of the model Audi A3 TDI Clubsport Quattro delivers power 224 hp at 331, 90 lb / ft of torque - these values ​​are typical for sports cars. Announced show car can accelerate from 0 to 100 km / h in only 6, 6 seconds, and its top speed of 240 km / h.
As the developers say, this prototype - a true high-tech sports car. The torque is applied to the 20-inch wheels via a six-speed transmission and all-wheel drive system Quattro. In order to pacify the "raging" at high speed car, the front wheels are provided six-piston brake calipers and ceramic discs. Audi special system settings allow the driver to alter the throttle response characteristics of the system, the volume of the muffler, the level of assistance during taxiing, adjust the threshold for the inclusion of the stabilization system ESP, and set the operating mode for the shock absorbers. Shock absorbers use a special magnetic technology, giving them an opportunity to respond with lightning speed to change a variety of road conditions.