At the stand of "four rings" — the premiere of the conceptual crossover e-tron quattro, clearly informing commodity "train" in 2018. Tesla Model X it is not overtaking, but leave the outlet for more than 500 km.
Tekhnoestetika Audi has found a second wind with the arrival of the new chief designer Mark Lichte. Whatever the concept, it is a masterpiece! A crossover e-tron quattro is also a look at commodity Q6 electric car that will appear in 2018. Parquet handsome built using components of the modular MLB chassis. The size of it, as expected, occupies a niche between the Q5 and Q7: length — 4,88 m, width — 1,93 m, height 1,54 m. three electric Motors – one on the front axle and two on the back that control the thrust vector. Collectively they give out 435 HP, and when activated, briefly afterburner SUV brings down 503 HP and over 800 Nm.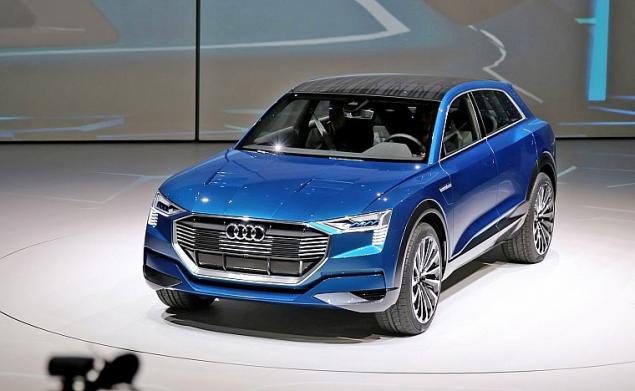 Not bad, but slightly disappointing on the background of the Tesla Model X 772 "mares" and a sprint to 100 km/h within 4 seconds. And the ceiling rate of the American crossover of the above – 250 vs 210 km/h But its range — about 385 km, while the Audi on a single charge nurses over five hundred miles! Not the last role in the "range" is the flow like the deep sea dweller: the drag coefficient is 0.25, although it is usually the SUV it exceeds of 0.30. The traction battery is recharged from the energy source as a variable and with a constant current. In the latter case, for gas from the 150-kilowatt "column" takes 50 min. also Provides wireless charging. In the interior, like the concepts of the series prologue, solid "figure" and a space. Namely, the front panel is beautiful! – organic light-emitting diode.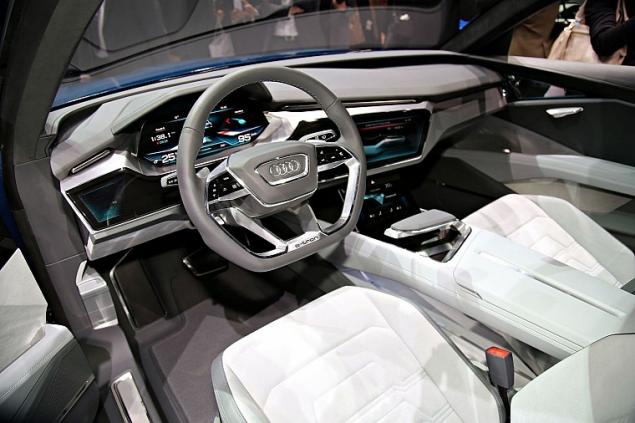 Looks like Audi shows us the vector of development of the concept of "virtual" cockpit, or, more simply, a fully digital tidy, which first appeared on the new TT sports car, then got into the crossover Q7, and then on a fresh A4. Places for four. The trunk had a volume of 615 L. I Wonder how much will change spectacular car show on the way to the pipeline? We suspect that not too noticeable. The future is already here! published
Author: Asatur bisembin, Konstantin Vasilyev Photo: Audi, Maxim Kadako P. S. And remember, only by changing their consumption — together we change the world! ©
Join us in Facebook , Vkontakte, Odnoklassniki
Source: www.zr.ru/content/news/812347-audi-e-tron-quattro-delaet-shag-k-serijnomu-elektrokaru/