Gigabyte company is preparing to release for sale Ultra Laptop (UMPC) M700, capable of performing the functions of a portable media center.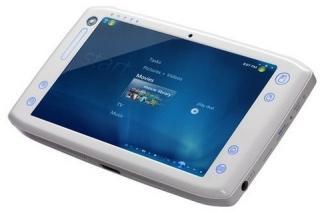 UMPC M700 is based on the processor VIA C7-M, clocked at 1 GHz 2. There are 2 GB of RAM, 1, 8-inch hard drive with a capacity of 40 or 60 GB and a 7-inch touch screen with a resolution of 1024h798 pixels. Traditional keyboard from the machine is not available, data entry is carried out using the screen, the virtual keyboard.
Predusmorteny 1 GB of RAM (up to 2GB), modules WiFi b / g and Bluetooth 2.0, optical mouse, scroll, GPS-module, front and rear video camera to direct a conference call.
The device comes with a docking station that transforms into a real media center UMPC. Dock contains a digital TV tuner, IPTV-streamer, a variety of TV inputs, IR-port, an optical drive and a slot for SD. To work with your device Gigabyte has developed its own software.
As expected, sales Gigabyte M700 appears in the third quarter of this year. The price model has not yet announced.