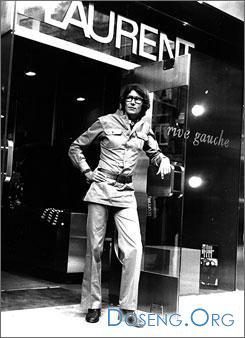 Yves Saint Laurent, the French fashion icon who made a real revolution, disguised as women in trousers, but without denying their femininity, died last Sunday. He was in '71. According to preliminary findings, the death occurred due to progressive brain cancer.
Besspopno, Yves Saint Laurent was the greatest designers of the XX century, and the competition it might create a refined Coco Chanel. In 1999, the brand Yves Saint Laurent was acquired by Gucci, a designer in 2002, retired. According to people close to him, fashion for a long time suffered from severe depression, and tried in vain to fight alcohol dependence.
Art has become the primary means for the designer service woman. Yves Saint Laurent struggled for freedom and equality, throwing a daring and often too provocative challenges face the public. According to the great artist, fashion is not only to emphasize the natural beauty of the fair sex, but to instill in women confidence and make them believe in themselves and their irresistible.
The funeral ceremony will take place on Tuesday, June 3, at the church of Saint-Roch in the heart of Paris. Later, the ashes of Yves Saint Laurent will be delivered in the city of Marrakech (Morocco), where the designer villa that served him all these years, a source of peace and inspiration.