Romantic comedy, filmed on the basis of religious
show, after the rental in the United States has collected 55, 7 million
dollars. Meanwhile, the filmmakers hoped
a much smaller amount - about $ 30 million.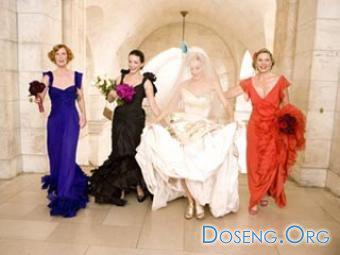 The film "Sex and the City", which premiered in the US on Friday, for the first weekend box office has collected nearly 2 times more than expected filmmakers. The main income fell on Friday - $ 26 million. Manhattan queues observed even in cinemas. The vast majority of visitors (85%) - it is the fairer sex.
"This is something incredible. That shows the public, delights and shyness "- shared his impressions actress Sarah Jessica Parker, played the leading role - journalist Carrie Bradshaw.
Meanwhile, after watching movies spectators opinions are divided. On Web sites, forums and chat rooms New Yorker placed opposite responses - from "poorly written, bad history, bad characters, bad film" to "go back tomorrow - is my mother».
Some fans found the story of four friends "surprisingly true," while others have called the film "Escape from reality».
"Neither I nor my friends have no apartment for half a million dollars, or $ 500 for shoes or climbing around the hot guys," - wrote a reader of "The New York Times."
The basis of the TV series "Sex and the City" went to the book of the same name by Candace Bushnell - the author of a column in the New York Observer, in which she ironically describes the relationship between men and women - inhabitants of present-day New York. The sixth season of the cult series broadcast on TV from 1998 to 2004.