August 1 marks the 77 anniversary of the classics and rebel haute couture, human brand and a legend, whose ideas continue to influence the fashion industry. Yves Saint Laurent - Fashion Designer, defining the image of women of the twentieth century, giving us an opportunity to wear dinner jackets and motorcycle jackets, suits, safari and geometric prints, luxurious evening dress in oriental style and transparent blouses.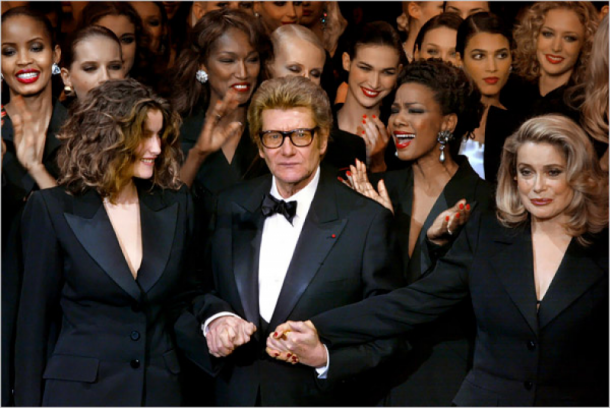 Yves Saint Laurent is better than most men, fashion designers, understand the desires and needs of women and appreciated female beauty. It was he who first realized that the freedom of expression through clothes is no less important for women 60s than the right to work and to participate in elections. "I found my style through women. That there is the whole strength and vitality of my style - I draw them out of a woman's body "- says the maestro in an interview. In 2002, retires, Yves Saint Laurent said: "I feel like I created a modern woman's wardrobe and took part in the transformation of his era. I did this with the help of clothes and very proud of the fact that women around the world are now pantsuits, tuxedos, double-breasted jackets, trench coats. " Paying tribute to this man, broke down the wall between the prim luxury haute couture and street fashion convenience, we remember the 5 women with maximum influence on his life and work - 5 muses great Yves Saint Laurent.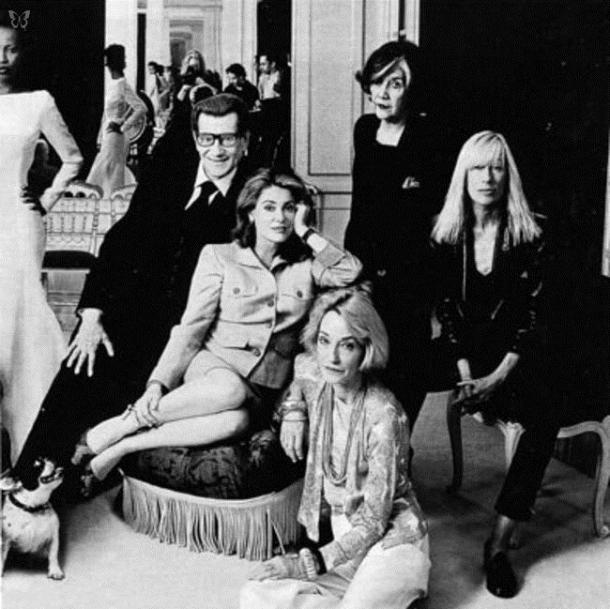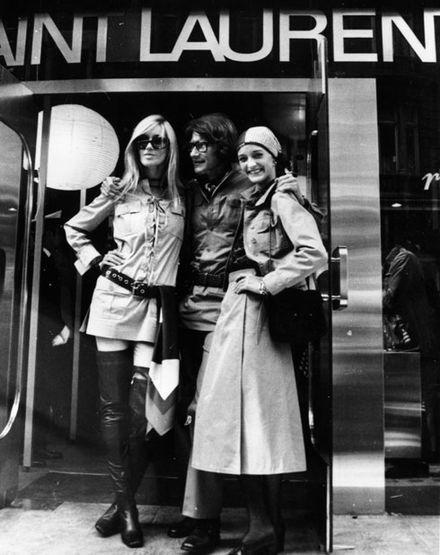 Betty Catroux
Betty Catroux met Yves Saint Laurent at a nightclub in 1967. The tall girl nordic facial features attracted the attention of the fashion designer for its unique style. Saint Laurent offered Catroux to participate in his show, but she refused, what pleased him even more - the designer appreciate rebellion in all its manifestations. Since then, they did not leave - Betty was not only a muse, but also a good friend, and even the treatment of alcohol and drug dependence in the clinic, he went along. Catroux alleged that does not love fashion, but she had her own style, thanks to which it has become one of the most stylish women of her time. Betty emphasized androgynous features of their appearance with the help of men's clothing - she wore pants, shirts, jeans, shirts, sweaters and jackets for men. That it was inspired by Yves Saint Laurent in the creation of a collection Le Smoking, connecting the male and female.
After the death of Saint Laurent Catroux he gave a candid interview: "At the very beginning of our relationship with Yves were just tea parties, however, no one did not drink tea. On Sundays, Paloma Picasso, Loulou de la Falaise, Fernando Sanchez, Pierre Berge and I were going on at the Willow Place Vauban. Eve wanted to have fun, and we frequented night clubs like the Palace or Set. All this was madness. I do not know how we get to go home alive. It's what we were doing in those days ».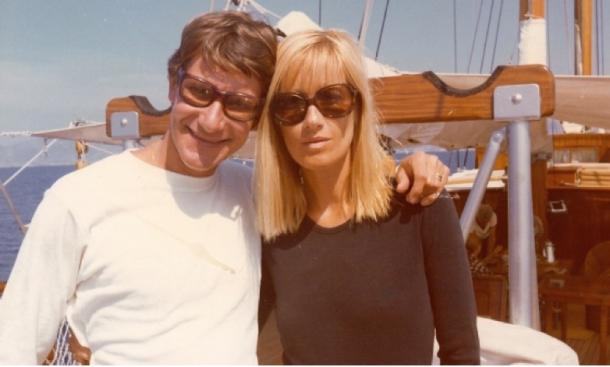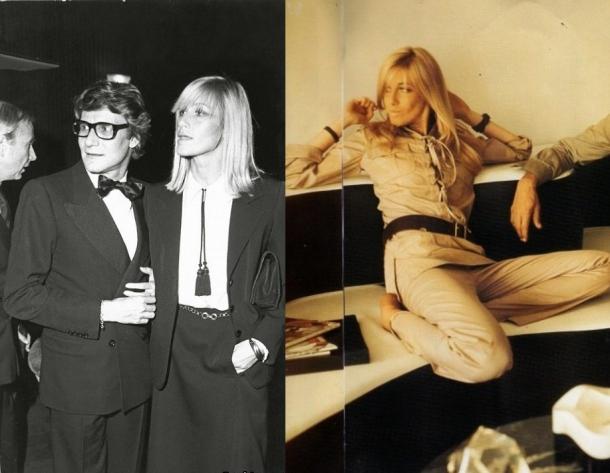 Loulou de la Falaise
Way Lulu de la Falaise was predetermined before birth - her mother worked as a model for Elsa Schiaparelli. According to the most Lulu's mother "was born in the world of art and fashion. It was her own world that she shared with me. " Loulou de la Falaise and Yves Saint Laurent met in 1968 when she worked as a junior editor at the English magazine about high life «Queen». But after 4 years of Lula and Yves began to work together. Despite the fact that the society pages de la Falaise often signed "muse", she herself with this definition does not agree. According to Lula, the muse - a woman who admires, but at the same time she creates nothing. Himself she considered a workaholic, "I worked from 9 am to 9 pm, and sometimes until 2 AM. I definitely was not an idle. " The fashion house Yves Saint Laurent Lulu was responsible for the design of jewelry and accessories - and continue to do so for more than 30 years. Thanks to her in vogue massive jewelry, oriental turbans and oriental ornaments.
Veruschka
Anna Vera Gottlieb von Lendorff or just Veruschka - an iconic model of the mid-twentieth century. Her biography is unique - there is a count of the family, it is his whole life trying to hide their origins, while others tried to pass himself off as ladies of aristocratic blood. Veruschka was one of the favorite models of Saint Laurent, and her photo shoot in the safari suit, created by fashion designer - one of the most iconic in the fashion world. Now shooting in Veruschka blouse safari stored in the Metropolitan Museum as a work of photographic art.
For a collection 1969 St. Laurent ordered his friend the sculptor Claude Lallana cast of the bust and waist Veruschka. A copy was cast in bronze, and then plated with gold. Yves Saint Laurent dress created from it, attach the wide pieces of bright silk. On the show dresses prozveli furor - the audience standing ovation. According to the memoirs Lallana they were all enchanted by this collection. The most famous of these dresses color "Moroccan Blue" was shown in a retrospective to celebrate the release of Saint Laurent retired in 2002.
(legendary dresses from casts of the bust and waist Veruschka in retrospect 2002)
Catherine Deneuve
In 1966, Saint Laurent created the costumes for the cult film Buñuel "Belle de Jour", in which the main role played by Catherine Deneuve. The actress was a fan of the designer since his debut in 1958, but in person they met when Catherine decided to buy a dress by Saint Laurent for his visit to the Queen of England in 1965. "It was 1965, and I cut of ELLE magazine photo dress from the collection of last season. Everyone then amused that such a young and almost unknown girl is going to buy a dress «haute couture» ... At the time we met. And I began to visit the house of Saint Laurent. "
The actress was not only a muse, but a true friend of the designer, highly appreciating the nature of his genius. "Eve was incredible - the Frenchwoman said in an interview, - He constantly performed fantastically daring things that can only very timid man».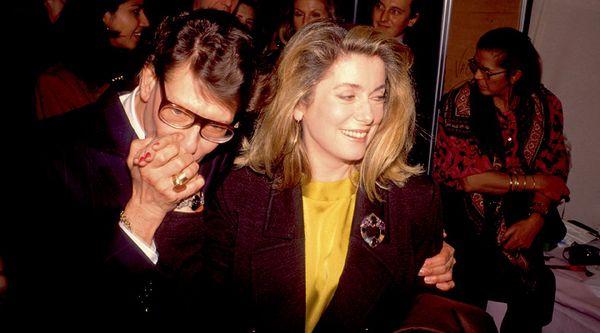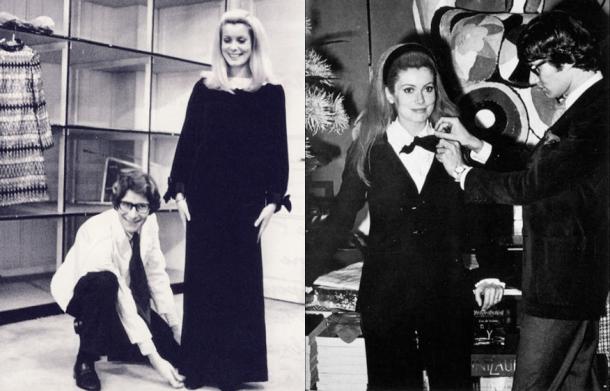 Paloma Picasso
The socialite, designer, businesswoman and daughter of legendary artist Pablo Picasso was so struck Saint Laurent when meeting that he not only made her the muse of the collection, but also suggested to develop a line for this collection of jewelry. At the time, Paloma was just beginning its secular path, so cooperation with the famous designer was a major step in her career jewelry designer.
It all began with the fact that my friend and Paloma hit to a party at the house of Yves Saint Laurent. She was dressed in black shiny vintage dress 40s with broad shoulders, bought at a flea market, and her head was decorated with a big pink hat, turban, formerly owned by the mother of Paloma. Laurent was so fascinated by her style, I wrote her portrait in the style of the 40s, which gave birth to the whole collection, which the couturier presented in 1971. Critics of this work did not like - they accused the designer to be reminded of the war years. But the collection has remained forever in the history of fashion, as well as the friendship of Saint Laurent with Paloma Picasso.