The next morning, after the defeat of the Russian team in
the semi-finals of the European Championship awarded the Spanish press our team
a minimum of comments. The main topic of discussion of the Spanish
Journalists had faded game of Andrei Arshavin.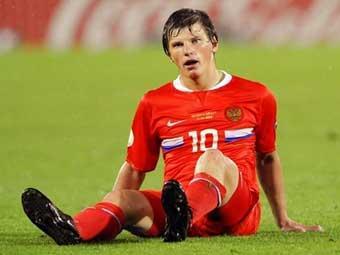 The newspaper ABC has released an article titled "Gone with the king," in which he writes: "He was not in the game, and no one in Spain it has not regretted: the little king from St. Petersburg - the danger that threatened the Spanish national team - and not He appeared. Forward "Zenith" crashed at the beginning of the match, handing the initiative to Roman Pavlyuchenko, who only a few minutes caused concern of the Spaniards. " "The first goal completely destroyed Russian Andrei Arshavin: he turned into a ghost that hovered around the stadium is meaningless to the delight of the Spanish fans. In the second half he was chasing his own shadow, and for 15 minutes he could not hit the ball ».
Another Spanish newspaper - Vanguardia - writes that "for the Russian team in general have nothing to say, her star Arshavin just was not present at the meeting».
This opinion is shared by the newspaper Periodico. She notes that "Arshavin had the opportunity to show their talent, but his game so no one noticed. Yesterday European clubs were ready to fight for the acquisition of this player, mesmerized by his speed and quick wit, but today he bets, I think, have fallen. View Arshavin at the end of the match - with bowed head, dejected, sodden - reflect what happened on the field, because the day before he was the personification of a new style of play in the championship. Everyone was waiting for a good game and the Russians did not wait, so now everyone is asking where disappeared during a match Arshavin "- sums up edition.
In the semifinal match of the Russian team lost with the score 0: 3 Spain and won bronze medals of Euro 2008. The final meeting of the European championship Germany and Spain will be held next Sunday, June 29th, at the stadium "Ernst Happel" in Vienna.