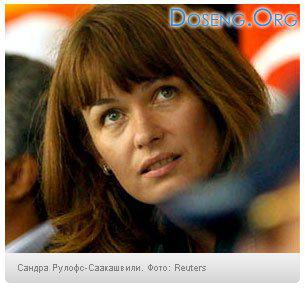 Mikheil Saakashvili's wife Sandra Roelofs-Saakashvili directly from Beijing where she watched the Olympic Games, to go for treatment in the United States. There, in his homeland, the first lady of Georgia will be a course of psychotherapy.
Roelofs-Saakashvili explained that she intends to undergo psychological treatment after the shock she felt when "Russia treacherously invaded Georgia," the news agency "Rosbalt". It was attached to her husband, she is also experiencing in recent years a significant mental stress, not reported.
Recall that the aggravation of the Georgian-South Ossetian conflict took place on Friday night. Georgian artillery bombardment of heavy artillery and installations "Grad" the capital of the breakaway republic - the city of Tskhinvali. As a result, multi-day bombardment of the city virtually razed to the ground.
According to the South Ossetian authorities, about two thousand civilians were killed, more than 30 thousand refugees, and ran to seek refuge in Russia.
Georgian troops also concentrated fire from tanks and artillery on the positions of the Russian peacekeepers, under international agreements shared the warring parties. According to the latest information, 12 people were killed.
On Sunday it was announced that Georgia used foreign mercenaries to attack South Ossetia. Among the captured Georgian military - black US citizen and an airline pilot, does not understand a word in Georgian.
In addition, half of the Georgian military contingent in Iraq next Monday will be sent home, said the commander of the Georgian battalion in Iraq, Colonel Bondo Maisuradze.