The Georgians, who live all over the world must express protest against the actions of Saakashvili. Such treatment through personal blog circulated a popular TV presenter Tina Kandelaki Georgian origin after the horrific events in South Ossetia.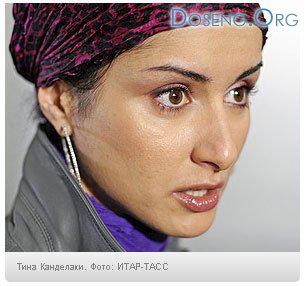 "I think patience is full and Georgians, who live all over the world, we must express protest against Saakashvili's actions and the fact that this creates a tyrant! - She writes. - "My people have always been against aggression, war and bloodshed. And my people for a long time against Saakashvili ".
Kandelaki stressed that the President of Georgia started the war, not only in South Ossetia, but also to its own people. At the same time Georgians themselves against aggression and bloodshed. "Hypertrophied vanity, combined with the exaggerated pride and really, to put it mildly, unstable nervous system - not the best advisers for the president," - concludes presenter.
As already mentioned Dni.Ru, on Friday night at the Georgian military forces, with the support of heavy armored vehicles and aircraft attempted assault on the republic's capital Tskhinvali. As a result, only preliminary data, killed more than a thousand inhabitants. Suffered losses and Russian peacekeepers, which are located in the area. Only the introduction to the suburbs of Tskhinvali units of the 58th Army of the Defense Ministry made the move Georgian units.
As a result, thousands of people became refugees - a city almost completely destroyed by Georgian artillery. Spontaneous protests against the actions of President Saakashvili took place in many regions of Russia. Including in Moscow, where representatives of the youth movement "Young Russia" and "Our" and Ossetian Diaspora chanted "Russia, save Ossetia".
Political analyst Alexei Zharich in an interview Dnyam.Ru drew attention to the "specific" attitude of Western countries, primarily the United States. American "experts" say that after the cease-fire, it is necessary to enter the international peacekeeping force in the region, as Russia is no longer a neutral party in the conflict and can not continue peacekeeping mission. Reported only that Russia has entered the territory of Georgia, CNN continually shows our tanks and not a word about the shelling of Tskhinvali, the day before, the expert said. "The goal is to squeeze Russia out of the region. Then clean up the territory in Yugoslavia, Kokoity and Bagapsh send Karadzic to The Hague and put another in Tskhinvali US missile defense position area. Very convenient location "- concludes Zharich.