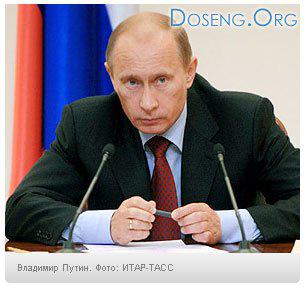 Russia will bring to its logical conclusion peacekeeping mission in South Ossetia, despite interference from the US, from Iraq to throw troops into Georgia Georgian contingent.
"Russia, of course, bring to fruition its peacekeeping mission," - said at a meeting of the Government Presidium Prime Minister Vladimir Putin, stressing that Russia will strive to building a working relationship with all parties to the conflict, including Georgia. < br />
"We have repeatedly warned our partners Western partners that Georgia is preparing for aggression, getting ready to solve the age-old conflict armed way. No one is listening. Here is the result - wait! "- Said Putin.
He said that transferring from Iraq to Georgia by military aircraft, military transport aircraft of the Georgian contingent, United States interfere with the peacekeeping operation in the Georgian-Ossetian conflict.
According to the Russian prime minister, such action by the United States and Georgia will not change anything, noting that he was surprised the scale of political cynicism United States, "the ability to issue white for black, black as white, the ability to deftly put the aggressor as the victim of aggression and impose consequences on themselves victims ».
Putin said that the United States policy is twofold, and recalled that "Saddam Hussein because he cut several Shiite villages, it was necessary, of course, hang up, and the current Georgian rulers who suddenly wiped ten Ossetian villages, the elderly, people were burned alive in their homes - these figures need to take protection! »
Meanwhile, Russian troops in South Ossetia and taken prisoner disarm surrounded by Georgian military units. According to the deputy chief of the General Staff of the Russian Armed Forces, Colonel-General Anatoly Nogovitsyna, Air Force Russia finally gained supremacy in the skies over South Ossetia. The general also categorically denied reports that the missile and bomb strikes are on the civilian population. "The blow is applied exclusively on military targets, we did not bomb any Tbilisi nor international airport or other towns in Georgia" - quoted by RIA "Novosti" his words.