All Democrats, liberals dedicated:
Outside the window the rain and hail. Putin is to blame!
Cat threw kittens - Putin is to blame,
Bunny threw hostess - who is guilty, guessing!
Here ends the board have the unfortunate bull,
Our Tanya crying out loud - next to Putin, not otherwise!
The lights went out, the fence fell, cars have stalled the engine,
Healthy tooth removed Ile thief climbed into the apartment,
Did not like the movie, Came you g ... but
Any cataclysm one explanation ...
He knows every democracy - is to blame for Putin!
Who yesterday in my porch Elevator zassal to ceiling?
I, comrades, believe me - is Putin's hand!
I caught drunk "protein" - This is Putin's antics!
Pile under the table ... Mr. Putin this wine!
Clogged toilet - is Putin's order,
I distribute to steers, water leaked - and was gone!
At night, stealing clothes, glass in our house beats.
Drunk dancing in the yard. This is Putin - bonehead!
There is no escape from the villain! He wrote obscenities on the walls,
Broken bushes in the alley. This is Putin - ooh and ah!
Liberal rain wets - Putin cheerfully laughs.
Flooded your cottage? - This is Putin, not otherwise!
Storm in a way you found? - It took a hand in the Kremlin.
Cold, wind, snow - again, Putin is to blame.
Hurricane blows the roof? - This is Putin revenge sheep.
The storm, tsunami, floods? - This is Putin without a doubt!
Heavy rain, landslide, cyclone - of course, he is guilty.
Mudflow, avalanches, rockfall? - It is clear that Putin is guilty!
The tornado, typhoon, earthquake - No salvation from Putin!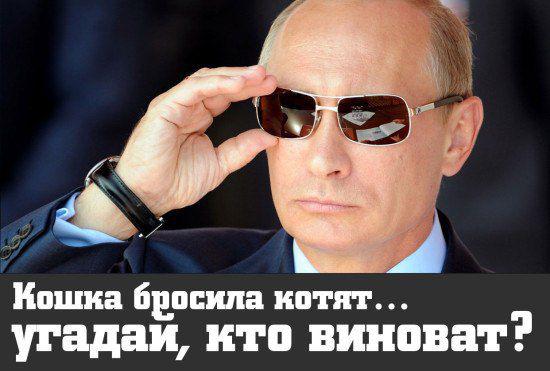 Source: