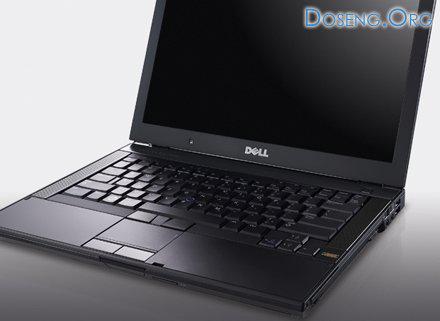 Dell has developed a laptop that can run up to 10 hours from a standard 9-cell battery and up to 19 hours with an additional battery to be attached to the computer. Thus, the user is able to notebook full operation throughout the working day, without the help of the charger.
Dell Latitude E6400 laptop features a 14-inch screen and runs on the platform Intel Montevina. Model in different configurations can be equipped with one of the chips Intel Core 2 Duo. This includes processors under the code P8400, P8600, T9400 and T9600. The new Latitude E6400 can include up to 8 GB of RAM and hard disk capacity of up to 250 GB or SSD-drive to 64 GB. In various configurations as a graphics accelerator are the built-in video card chipset Intel UMA or discrete nVidia adapter with 256 MB of video memory.
According to the vice-president of Dell Jeff Clark (Jeff Clarke), to increase the battery life has developed a special technology that controls the operation of the various parts of the laptop. For example, at a certain time reduces the refresh rate that reduces the amount of the charge. The technology was developed in cooperation with the manufacturers of components and includes a special software written by the company Dell.
The technology has been used in other models of mobile computers Latitude, but what exactly is not reported. Battery life on the Latitude E6400 tested using standard tests.
Latitude E6400 is sold with pre-installed Windows Vista (with the ability to downgrade to XP) at a price of $ 1140. Weight of the notebook with the most capacious battery - 1, 95 kg. Dell has also developed a special version of the Latitude E6400 with an index of ATG, which can be used in hard "field" conditions due to the magnesium alloy body and other protective features.