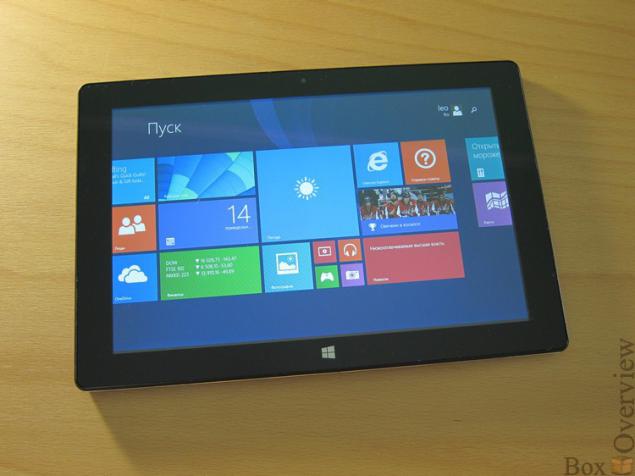 Platform Intel Bay Trail is gaining popularity in China - the market massively plates appear on this chip from almost all more or less well-known manufacturers. If the tablet from Lenovo can be attributed to a single class, the different pieces of the Cube, Ramos, Colorfly, Hyundai, Pipo are very close to each other.
In this review, we consider Pipo W1 tablet running Windows 8.1, complete with a carrying case that comes immediately keyboard.
► Specifications h4>
Display: 10.1 & quot ;, 1280x800px, IPS
Chip: Intel Bay trail-T Z3740D
Operating System: Windows 8.1
Memory: 2 GB
Permanent memory: 64 GB
Camera: 2-megapixel front, rear - 5 megapixel
Optional: Wi-Fi, Bluetooth
Battery: 8000 mAh
Size Weight
The tablet can be carried to class budget - the screen resolution is only 1280x800. Pixels are distinguishable, but it does not cause much discomfort. Chip Intel Bay trail Z4740D clocked at up to 1.83GGts. You can highlight the presence of whole 64GB of internal memory, which for Windows is very timely.

The market is now a lot of tablets with Windows 8, which I have tried to gather in a small summary table:

Pipo W1 th> Cube iWork th> ViewSonic ViewPad10i th> Vido W10 th> Livefan F3C th > Ramos i10 Pro th> CPU Intel Bay trail-T Z3740D Intel Bay trail-T Z3740D Intel BayTrail-M N2910 Intel Z3770 2.4GHz Intel Baytrail-T Z3740D Intel Bay trail-T Z3740D OS Windows 8.1 Windows 8.1 Android 4.2, support for Windows 8.1 Windows 8.1 Windows 8.1 Android 4.2, Windows 8.1, Dual Boot RAM 2GB 2GB 2GB 2GB 2GB 2GB < ROM 64GB 32GB 64GB 32GB 32GB 32GB Price ~ $ 419 ~ $ 415 ~ $ 515 ~ $ 570 ~ $ 315 ~ $ 500 Cube iWork and Pipo W1 are almost identical in their price includes a cover-keyboard. Vido W10 boasts a built-in 3G, and Ramos i10 Pro - built-in GPS and the ability to work in Windows, and the Android OS (Dual Boot).

Pipo W1 tablet comes in a pretty big box: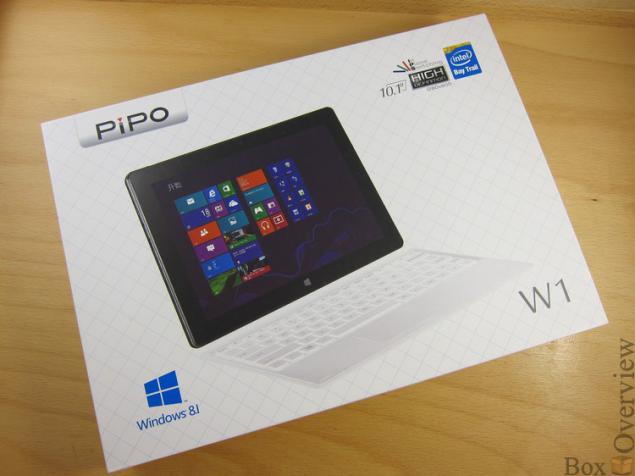 Behind brief specifications listed in several languages, including Russian: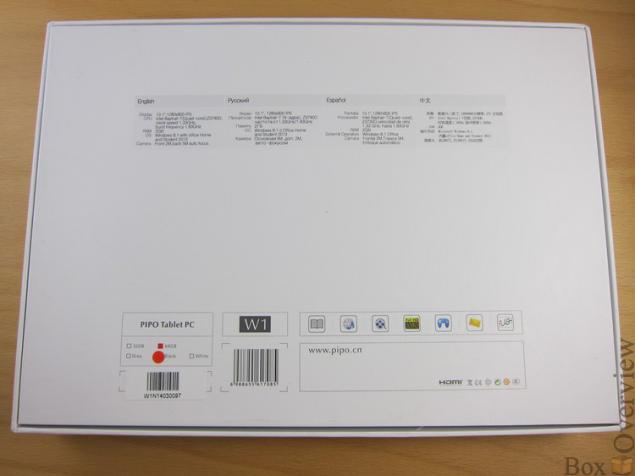 On the ground level there is a tablet, and under it - Case Keyboard.

Accessories come in a separate box: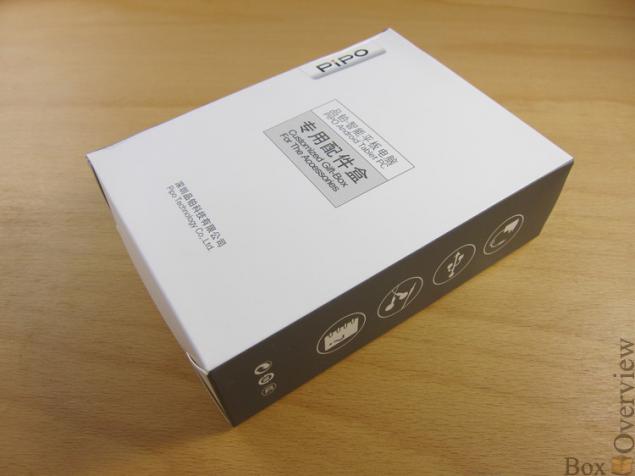 Inside are unit charger and OTG-cable and instruction in Chinese: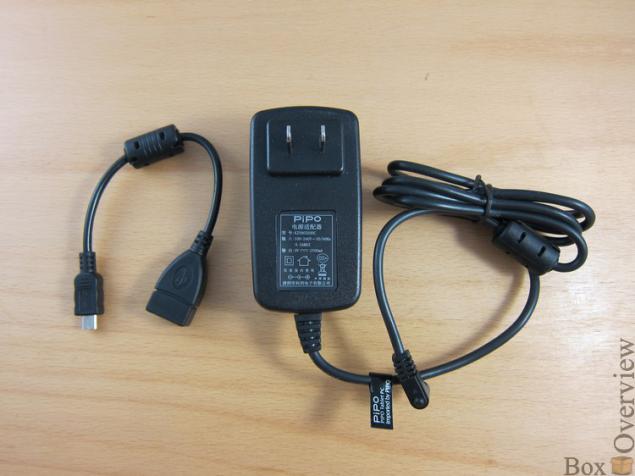 Where is the USB-cable to connect to PC - is unclear.

Front plate does not stand out particularly: top is 2MP front camera, bottom - touch button "Home". Rather broad framework that allows to hold the tablet well as horizontally and vertically.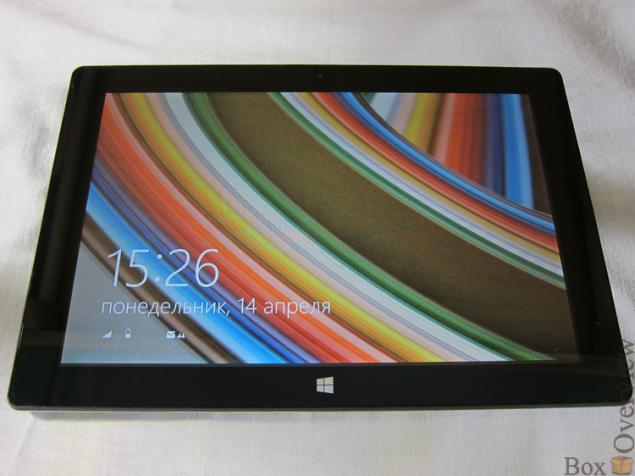 Back of the tablet is completely made of metal: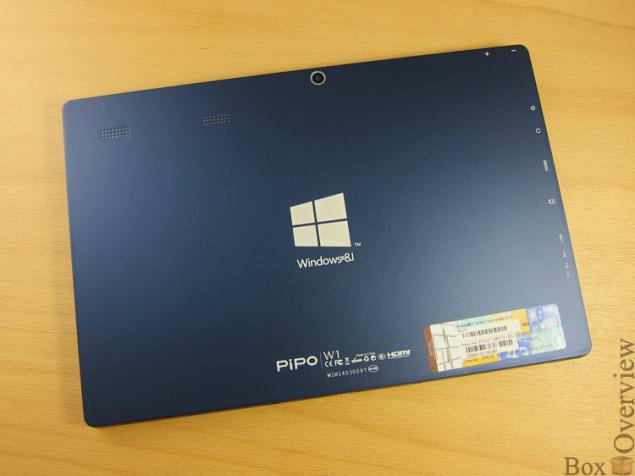 In the lower right corner there is a sticker with a license of Windows and Office: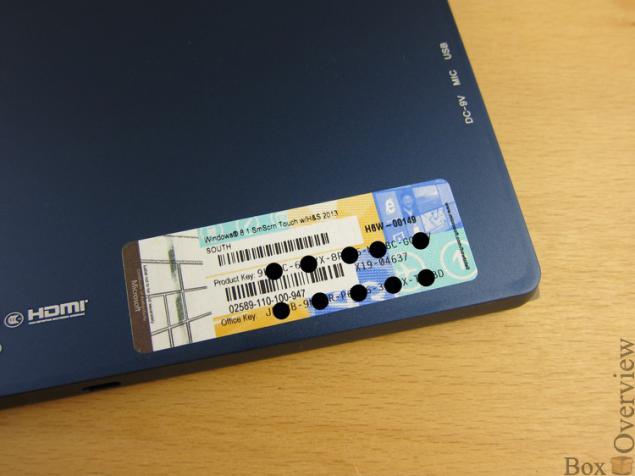 Pipo and Windows logo are centered: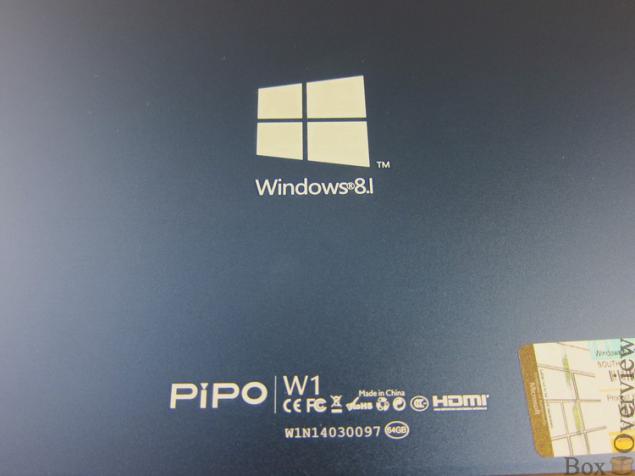 2 small speakers are located in the left side of the rear panel: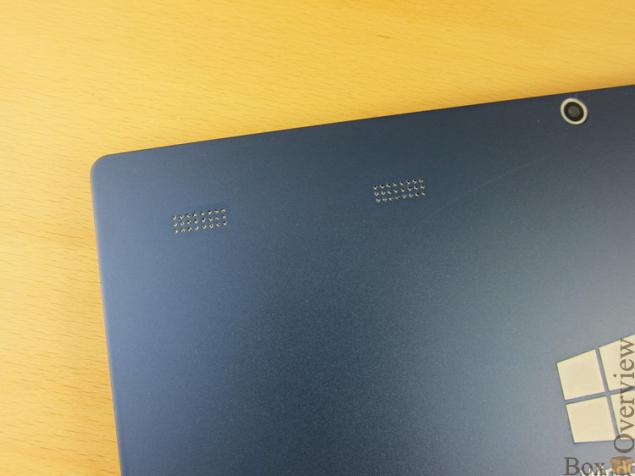 The sound is quite loud while holding a tablet speakers do not close your palms.

Rear 5MP camera with a resolution: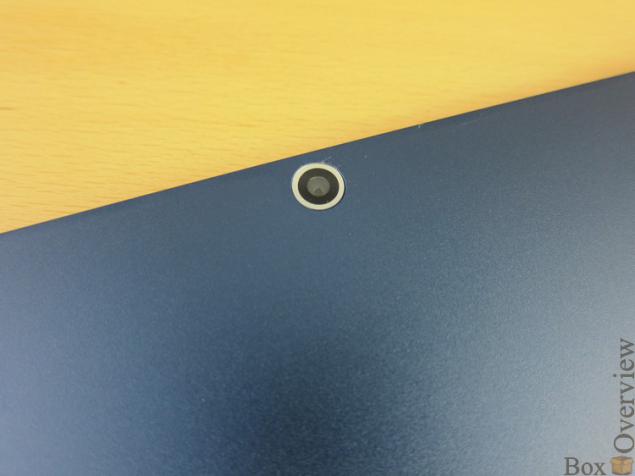 The volume rocker is on the left side: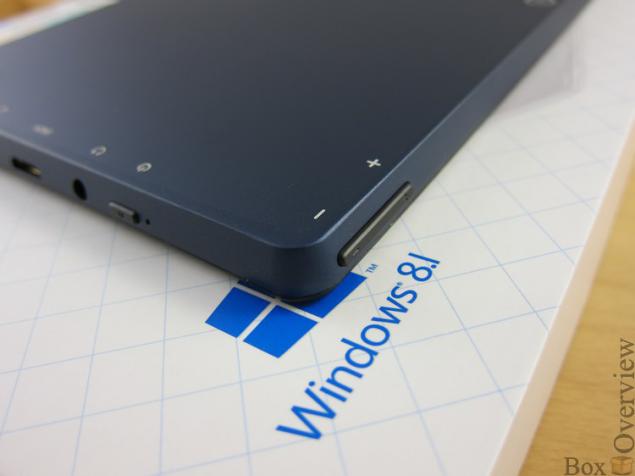 All ports are concentrated on the left:
-Log charger
-Microphone
-microUSB
-slot memory cards microSD
-miniHDMI
-Log headphone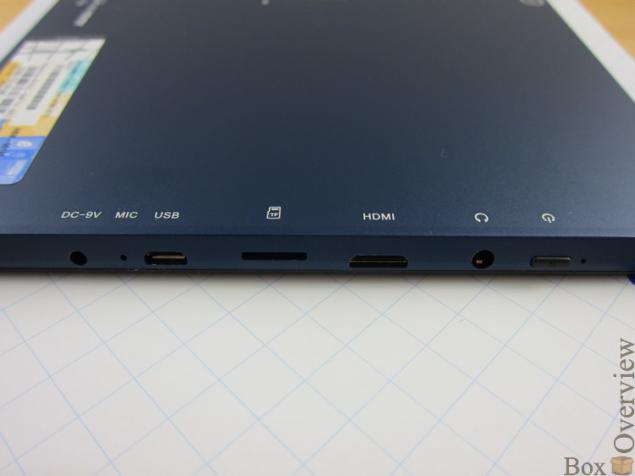 Bottom plate is pad for keyboard: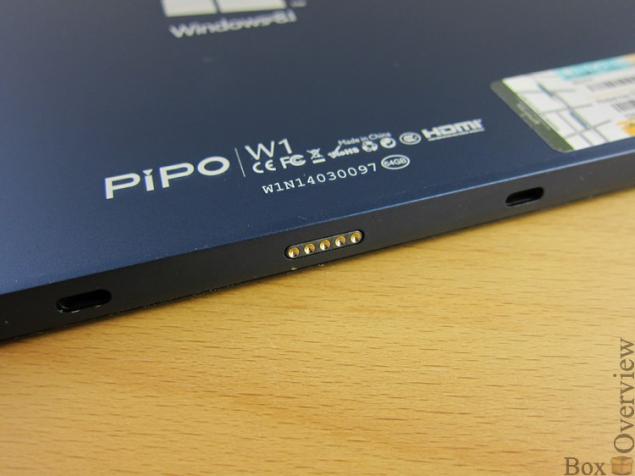 Tablet itself weighs about 600 grams: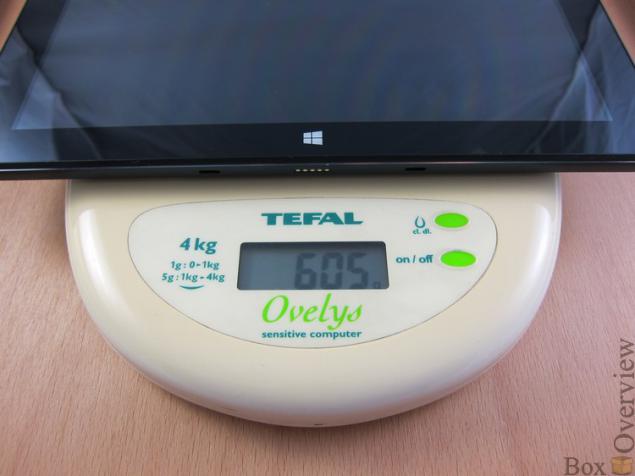 Build quality is at a decent level, the location of the controls and ports expansion does not cause problems.


►Klaviatura
H4> Together with the tablet the kit includes a keyboard cover.
The upper part of the cover-keyboard is made of PU-leather:


The base of a metal plate


Qwerty-keyboard without additional number pad:


Fixed plate in cover with magnets, which are located at the edges of the contact strip.

In the center is the contact pad to connect the tablet and 2 small ledge for more reliable fixation:


Small touchpad at the usual place:


At all corners of the keyboard are small rubber protrusions that prevent contact with the screen of the tablet buttons on the keyboard when the cover is in the closed sostyanii:


The cover can be converted into a stand holding structure with the help of 2 magnetic strips on the edge of the top of the cover:


The magnets in the cover are strong, tablet securely fastened in a case and the likelihood of unexpected disconnection is extremely small.


Along with cover plate weighs about 950 grams:



►Ekran
H4>
In the tablet mounted 10.1-inch IPS display with a resolution of 1280x800 pixels. Pixels are distinguishable:


Maximum brightness is good, uniform backlight.


►Proizvoditelnost and runtime
H4>
In Pipo W1 chip set Intel Bay trail-T Z3740D with the frequency of work to 1.83GGts




Amount of RAM is 2GB, constant - 64GB.

Performance and operation time was tested in the benchmark PCMark 8.
Utility PCMark 8 offers several scenarios for assessing the performance and battery life:

Home Creative Work Test Home is designed to evaluate the performance of systems on which to run the task, the typical home user:
Work on the Internet (Web Browsing)
Working with a text editor (Writing)
Casual game (Casual Gaming)
Image Editing (Photo Editing)
Video Chat (Video Chat)
Results Pipo W1 Home scenario using the technology OpenCL 1.1: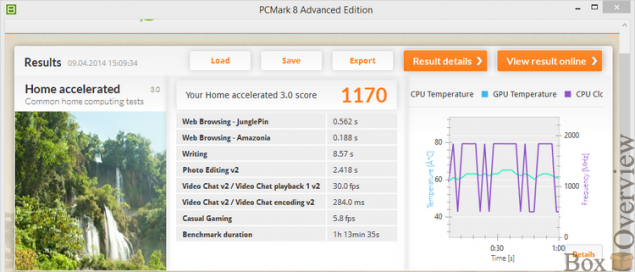 Test Creative has focused on midrange systems, a list of tests which includes the following tasks:
Work on the Internet (Web Browsing)
Image Editing (Photo Editing)
Batch editing images (Batch Photo Editing)
Video Editing (Video Editing)
Convert audio and video files (Media To Go)
Mainstream Games (Mainstream Gaming)
Group Video Chat (Video Group Chat)
Results Pipo W1 scenario Creative technology with OpenCL 1.1:



Test Work is focused on the evaluation of the performance of office PCs and laptops, which will not require high performance.
In the test, the following tasks Work:
Work on the Internet (Web Browsing)
Working with a text editor (Writing)
Results Pipo W1 scenario Work: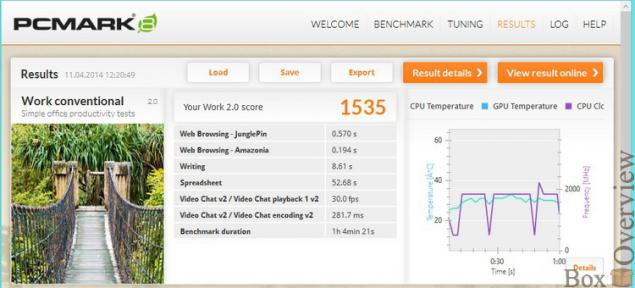 The battery life was conducted in all scenarios enabled OpenCL 1.1

Hours Home 3:00 56 minutes Creative 3:00 51 minutes Work 4 hours, 33 minutes table >

►Vnutrennosti
H4> must expose yourself tablet I did not dare, but here found detailed pictures. Here are a few of them.
Rear panel:


2 batteries installed on each 3950mAch:


The chip is fully closed, for better heat dissipation:


Note that when using the back panel plate is heated uniformly, and not a specific point.


►Programming support
H4> Preinstalled with a licensed version of the operating system Windows 8.1:




In the OS immediately included package Office Home and Student 2013:


In Windows 8.1 have the opportunity to go to the classic mode with the desktop:


Despite the small controls operate in this mode, you can and use touch-screen without connecting a keyboard or mouse.


►Igry
H4> Pipo W1 - this is not the best tablet for gaming, but while away a couple of evenings still possible.
For example, playing online games:


Platform Intel Bay Trail may surprise - 3D-Action Scourge: Outbreak works great on minimum graphics settings:



►Vyvody
H4> 64GB permanent memory
Keyboard Cover Included
Licensing Windows 8.1 and Office Home & Student 2013
Low resolution screen

Pipo W1 is perfect if you need Microsoft Windows, but the laptop is for you to think very hard. Performance Intel Bay Trail enough to perform any routine tasks.

Buy tablet Pipo W1 possible to store Geekbuying.com for $ 395 using coupon code BSPNBXHC
I remind you that subscribe to not miss new reviews and articles can page of ("Subscribe" button), or your favorite Social network: Vkontakte , in Google + , in Twitter

Source: habrahabr.ru/company/boxowerview/blog/217919/