2015?
Skylake
14 nm
-
«So» first from brodvellov were several models of Core M last year. These microprocessors have the letter 'Y' in the title, and this is not the flagship Intel, weaker than them unless the "atoms". Announced yesterday microprocessors - is a powerful U-series.

Most of the new products is the heat 15 watts, although there are versions of the productive capacity of 28 watts. Haswell has a similar performance. Intel notes that the producers at the unwillingness to create a new system from scratch will be able to use microprocessors in systems for Broadwell Haswell.

The most common chips are 15-watt i3, i5 and i7, which will most often appear in Ultrabooks, and even desktop computers, where size and weight are important. Pentium and Celeron processors will be used in a more cost solutions. One such Celeron already lit a ThinkPad from Lenovo.

But the new microprocessors for desktop systems - those with more than 45 watts of heat - will be shown until mid-2015.

The crystal size is reduced by 37%, while at the same time it umeshaetsya 35% more transistors. Intel promises that the new items microarchitecture Broadwell can increase the battery life of one and a half hours (from 45 minutes to 2 hours) with respect to its predecessor Haswell. However, for the consumer, this may mean a new round of the race for the thick, not longer working electronics.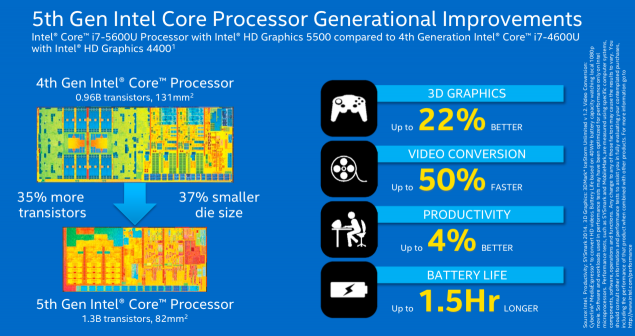 Several performance improvements. For example, the frequency of i7-5600U is 2, 4 GHz at i7-4600U this parameter is 1, 8 GHz and 2 GHz i7-4610U.

Below for effect compares Intel i5-520UM processor with novelty four years ago. This, in general, is correct - a typical consumer notebook changes every few years, and not with the advent of new microarchitecture.

Such a step is necessary to go, because the performance of a relatively Haswell grew by only 4%, as shown on the slide above. And there is nothing strange - computing power mainly improves the "wrong" and not "tick».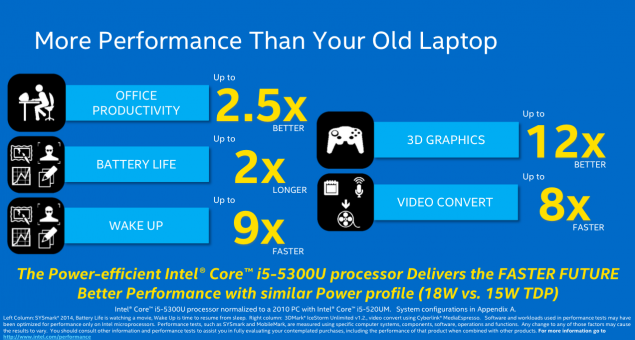 Much more interesting to improving the graphics. As can be seen from the illustration below, it takes almost two-thirds of the chip. The situation gradually changed with respect to the four or five years ago, when the gamer was foolish to rely on integrated graphics.


Graphics Haswell th>
execution unit th>
Peak frequency th>
Replacement Broadwell th>
execution unit th>
Peak frequency th>
Intel Iris 5100 (28W GT3)
40
1100-1200 MHz td >
Intel Iris 6100 (28W GT3)
48
1000-1100 MHz
Intel HD 5000 (GT3)
40
1000-1100 MHz
Intel HD 6000 (GT3)
48
950-1000 MHz
Intel HD 4400 (GT2)
20
950-1100 MHz
Intel HD 5500 (GT2)
24
850-950 MHz
Intel HD 4200 (GT2)
20
850 MHz
Intel HD 5300 (GT2)
24
800-850 MHz <
Intel HD Graphics (GT1)
10
1000 MHz
Intel HD Graphics (GT1)
12 < /
800 MHz As you can see from the table above, only been presented four new graphics processor. eDRAM-L4 cache remains the same. We all have the same architecture, but different levels of performance. The most powerful are the Iris 6100 and HD 6000, which replace the Iris 5100 and HD 5000. Both solutions Intel calls GT3, the only difference in frequency. Iris 6100 stands in 28-watt processors.

Intel HD 5500 replaces the HD 4400. It has 24 execution units and support LPDDR3 and DDR3L RAM 1600 MHz, while the HD6000 supports 1866 MHz and 1600 MHz LPDDR3 DDR3L. Integrated graphics is often limited by memory speed, so this difference may play an important role in video games.

The bottom line is the weakest GT1 or Intel HD Graphics with 12 execution units. It uses the same architecture as the older counterparts, this means similarity API. Unlike Haswell, now even the cheapest models Pentium, and Celeron have Wireless Display and Quick Sync.



Fotorender processor GT3 Broadwell. Rectangle to the left - it's processor and graphics chipset is located on the right. Em>

Improvements concern not only to reduce the size of the elements, and with it - and energy consumption. Microprocessors Broadwell support DirectX 11.2 (Intel promises DirectX 12 later), OpenGL 4.3 and OpenCL 2.0.

GT3 and GT2 supports display resolution of 3840 × 2160 at 60 Hz for DisplayPort 1.2. Haswell could give only 30 Hz. All processors are able to encode and decode H.265 4K-image at 30 frames per second. Added support dekodinga VP8, JPEG and MJPEG.













Were presented four models Core i7 and Core i5 four models rated 15 watts. Options are available for HD 6000 and HD 5500. First Energy consumption can drop to 9, 5 watts, the second - 7 5 watts. Model i3, Pentium and Celeron are not supporting technology vPro. Pentium and Celeron are using quite basic graphics Intel HD Graphics and little cache, but have the same options as heat. 28-watt different processors frequency cache size, but have the same plan. None of them do not support vPro.

In addition to its own processor and chipset has been updated. It appeared the native support for drives that are connected via bus PCI Express. Most often it is tverdotelniki for which standard SATA too narrow.

Cherry Trail
January 5 Intel shared information not only about new processors microarchitecture Broadwell, but also about the chip Cherry Trail. This SoC for tablets running Windows and Android.





Cherry Trail, as well as the new Intel Core microprocessors fifth generation uses 14-nm process technology. Initially, были the problem with marriage in production, because of this release had to be postponed for several months.

Innovations are not limited nanometers process. First, use a new processor architecture Airmont, which is an improvement of architecture Silvermont chips Bay Trail.

Second, improved graphics system: now it is not something like a stripped-down Ivy Bridge, the graph uses the same microarchitecture as Broadwell, it only less execution units - 16. Due to this, can the same level of support at API.

Intel is silent about the new chip. Was provided almost no performance statistics, no additional data. It's strange, if we recall attention paid Bay Trail in the company's strategy for 2014.

Cherry Trail can be used in tandem with Intel's LTE-modem XMM 726x. At the time of the announcement, Intel has already started shipping, so the products with the new chip will appear in the first half of 2015.

According to the materials ArsTechnica (1, 2, 3) and HotHardware (1, 2, 3).

Source: geektimes.ru/post/243905/