The American company
представила
his first eight-processor for desktop computers. Chip was named Intel® Core ™ i7-5960XExtremeEdition.
Intel has stated that the new processor will be in demand by amateurs iron, gamers and developers of content - in general, those users who require maximum performance. The new chip supports 16 computing threads, and can also work with the new X99 chipset and support memory DDR4.
Masthead chip new line Core i7-5960X, besides 16 threads, 20MB cache has, has a frequency of 3.0 GHz and 3.5 GHz, accelerates to a special turbo mode. This processor will cost $ 999.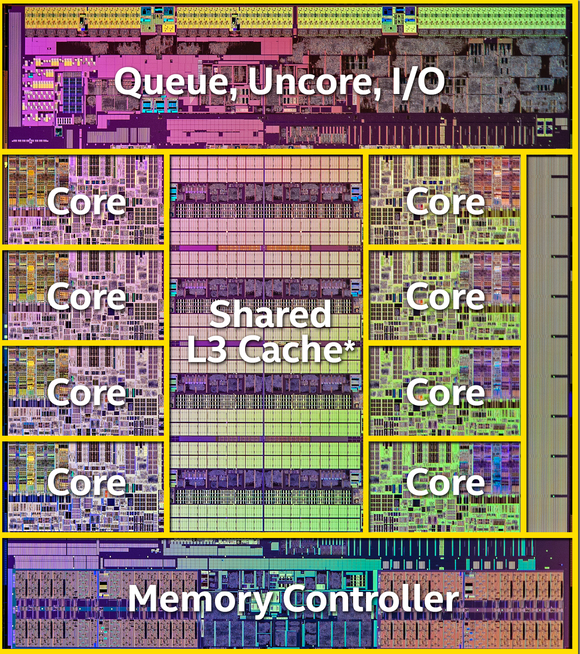 In addition, Intel has introduced 6-core processor models with the possibility of increasing the clock frequency - Core i7-5930K chip has 6 cores (12 computing threads), 15MB cache, and 40 channels of PCIe 3.0. The base clock speed of 3.5 GHz will be (in turbo mode up to 3.7 GHz), and the cost will be around $ 583. Another chip also i7-5820K six-core (12 threads), 15 MB cache, but only 28 channels PCle 3.0 - its frequency is 3, 3 GHz (3, 6 GHz in turbo mode) - the price of $ 389.
In addition, the chips are able to dynamically change its own clock speed to save power, and when required by the situation, turns on the same turbo mode. All of these processors are "unlocked", which means users can overclock their own: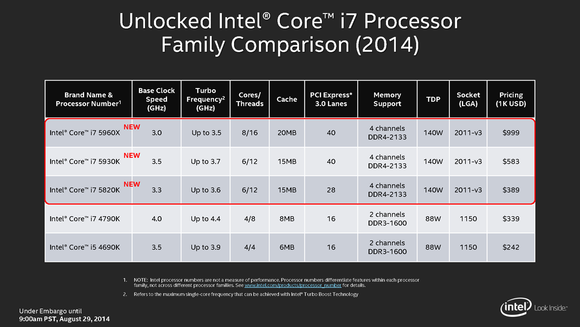 Intel representatives stated that the use of the Core i7-5960X chip allows editing of professional
4К-видео
20% faster than with other processors, moreover, a new chip 3D-graphics rendering is accelerated by 32%, and rendering of physical objects in the game happens to 14% faster.
Home sales of new processors slated for next week in the US.
Source:
habrahabr.ru/post/235023/