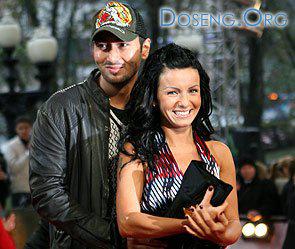 Yulia Volkova and Parviz. Photo: Dni.Ru / Dmitry Kopylov
Singer of the group "Tatu" Yulia Volkova has two children, but officially never been married. It seems that the current mate singer and part-time father of her second child Parviz decided to rectify the situation.
Hand and heart of his beloved young man offered a very original way. The couple arrived together at the festival "Five Stars", and offer to go down the aisle Julia heard right in the lobby of the hotel where we stayed many guests of the event.
According to "Komsomolskaya Pravda" love at first strolled down the hall, all present demonstrate their feelings. Then suddenly Parviz fell to his knees and cried out, "I love you! Marry me! »
This unexpected development has attracted a crowd of photographers and their "I agree" Volkova had to say surrounded by a multitude of witnesses. Moreover, the entire "performance" had to love to play again.
"Wait here a few who did not turn on the camera!" - Experienced photographers, and compassionate with Parviz Julia played the scene for an encore.
When it happens a joyful event in the life of a soloist "Tatu" is still unknown. Recall Julia grows almost 4 year old daughter Vika from Paul Sidorova, with whom relations have not developed and born in late December, the son of Sam.
On the boy's father Parviz Julia all the time does not leave, and the wedding would be a logical continuation of this novel. By the way, most Parviz also has a child from a previous relationship. Before I met Julia guy met ex-soloist of "Tutsi" Masha Weber. The girl gave birth to a son Oscar.