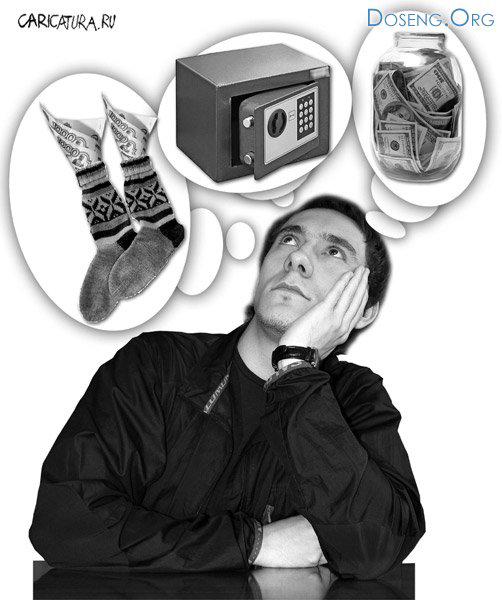 "Citizens, keep your money in savings banks," - this advice Georges Miloslavsky still relevant
According to statistics from the Interior Ministry, every nineteenth reported crime - a burglary.
Insure themselves against such intrusion is practically impossible. In your hands - an opportunity to reduce their own losses: Do not store large amounts of money home, to insure the property and set the alarm.
If you become a victim of a thief professional, then most likely all the valuable things still lose. But from the "touring" can be prevented. The main thing - do not do anything stupid that even recorded in the statistical tables. Namely, to hide things in "secret places" where thieves visited by the first thing.
Here are ten most popular "caches»:
1. In the boxes cabinets, countertops, walls, a secretary, in caskets, pianos, etc. It is unlikely that these places can be called hiding places but for those who keep money at home, they are one of the most popular ...
2. Among clothes: stockings, socks, pockets in the lining, in a basket of dirty laundry. I do not expect that the thief disdain or show tact and will not rummage through your underwear. Of course, there is a chance that the robber taken aback by the abundance of rags and he will drop his hands, but this is unlikely.
3. In the books, CDs and videotapes. Thieves also monitor the statistics and she tells them that the money is in the books stores each fifth. Rummaged home library - one of the main parts of the crime.
4. Under the mattress. Few people in this confesses, but people the old prefer to keep their money right there.
5. For mirrors, paintings, photographs and wall carpets. You have tried to carefully glued tape notes to the back side, and then hung up this complex structure on the wall. After these efforts, more money has become inaccessible just for you (ever you have to prodelyvat the same procedure in reverse order). The thief is all your efforts will destroy one jerk.
6. In tank toilets and ventilation behind bars. Perhaps this movie so influence the subconscious mind of citizens, but 99% of Russians prefer to keep their money right there.
7. In the kitchen: in the refrigerator, in metal cans and oven. Once a thief will check your kitchen on the availability of money, it can also be evaluated for its delicacies. If you're on vacation, and he knows that he hurt no one, then on arrival you will find not only traces of the robbery, but the tea party.
8. In the attic. Robber is not stop the abundance of diverse stuff - he just dumped it on the floor, check All suspicious objects, and empty loft - the presence of cache.
9. In the household appliances. Most likely, if the thief does not find a hiding place, just take him away, along with the equipment.
10. Under the flooring, tiles and wallpaper. From the "touring" You can hide there money, but for professionals such caches is not a hindrance.
Try to keep your valuables in aquariums with potted cactus, banks with jam and worn sneakers. There is a possibility that the thief just do not pay attention to these things.
Statistics show that theft no one is immune. But you must be vigilant taken precautions will help you to confuse newcomers - in a hurry, they can not see, do not check to guess. But experienced by "burglar" virtually no escape. They are able to crack any lock to get into any apartment to open safe or simply endure it.
According to the materials AIF