In mid-August 2004. Florida has undergone impact of hurricane "Charlie", which forced the evacuation of two million people. Victims of "Charlie" were 27 people. Hurricane destroyed hundreds of homes and caused extensive damage to the infrastructure of the state. The total damage from it was $ 7, $ 4 billion.
In early September 2004 the central and north-western parts of the Florida Hurricane "Frances", because of which the time has stopped working spaceport at Cape Canaveral. About six million people in Florida were left without electricity. Was declared the largest in the history of this state evacuation - were forced to leave 2, 5 million people. According to various estimates, material damage from the hurricane was 8 to 10 billion dollars.
September 16, 2004 at Florida, Mississippi, Louisiana and Alabama Hurricane "Ivan" had already claimed the lives of 68 people in Cuba and in other countries. The victims of the hurricane were about 30 people. About three million people, mainly in the states of Florida and Alabama, were without electricity. The amount of damage from the disaster reached 14 billion dollarov.J
These and other terrible hurricanes in the history of the United States in the last hundred years, you will learn from today's selections.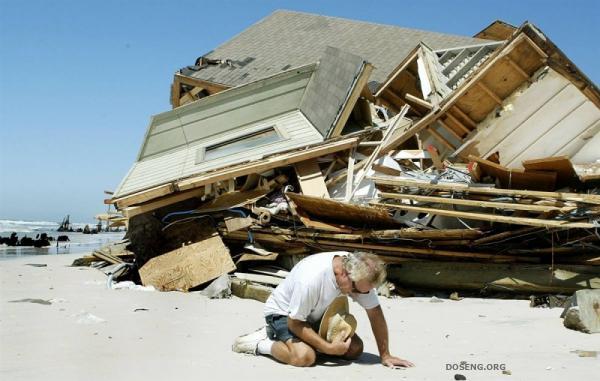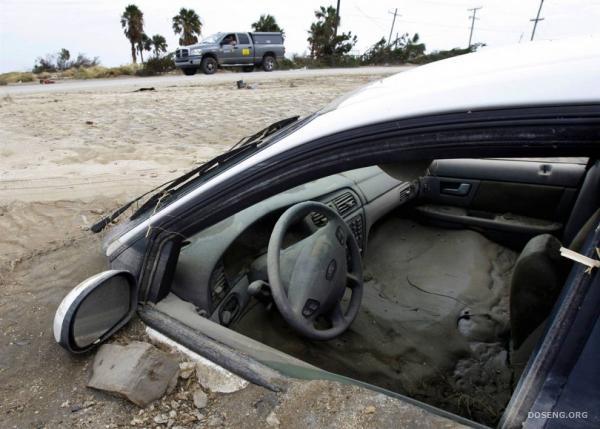 1) In the town of Galveston and in neighboring villages along the coast of Texas saw the epicenter of Hurricane Ike on September 13, 2008. This phenomenon was observed in Crystal Beach (Crystal Beach), which is located on the Bolivian Peninsula, September 18. (Eric Gay / AP)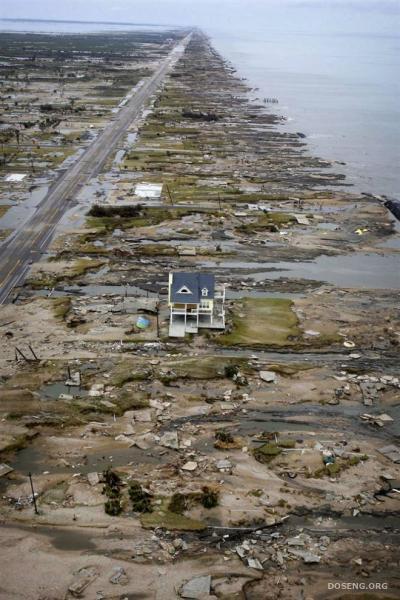 2) September 14, 2008, a day after Hurricane Ike approached the coast, the survivors had only one house standing among the ruins of destroyed homes in Gilchrist, Texas. (David J. Phillip / Getty Images)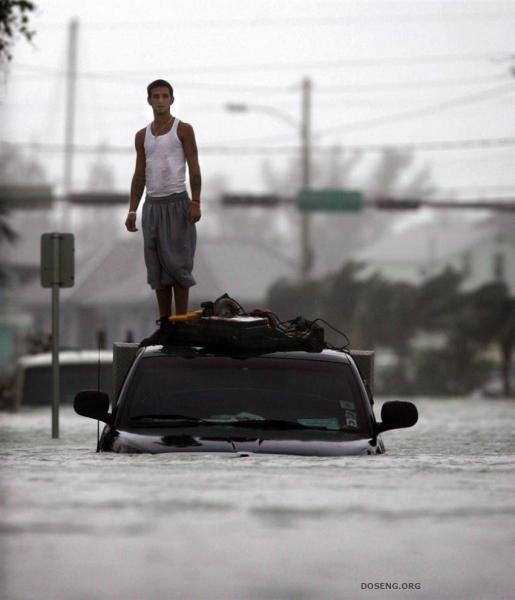 3) Key West, Florida, storm waves hit the shore and flooded the southwestern part of the State of October 24, 2005, when Hurricane Wilma blew. Rumble Wilma swept across the Florida peninsula, the Gulf of water Miami, Fort Lauderdale and West Palm Beach. Wilma has selected 5 lives in Florida, 4 in Mexico and 14 in the Caribbean. (Carlos Barria / Reuters)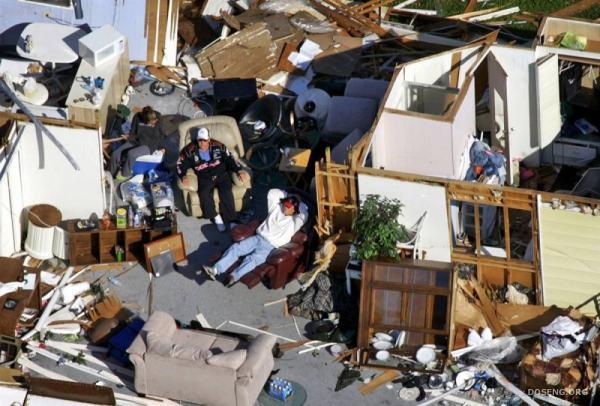 4) Men sit in a ruined mobile home in Fort Lauderdale, Philadelphia, October 25, 2005, after Hurricane Wilma swept across the state about seven hours. Losses caused by the hurricane, to $ 21, 5 billion. (Wilfredo Lee / AP)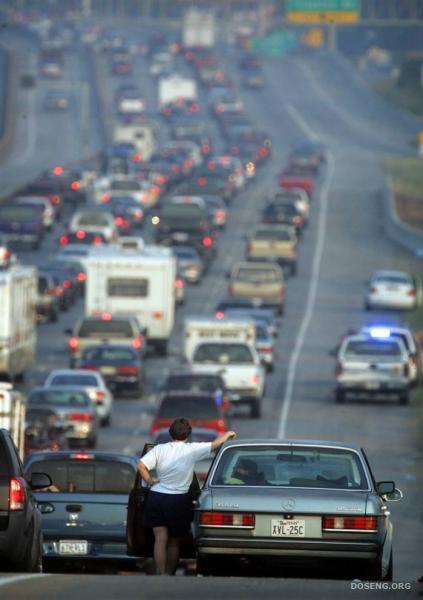 5) Tens of thousands of people fled from Houston, Texas, September 22, 2005, when Hurricane Rita approached the coast. (Rick Bowmer / AP)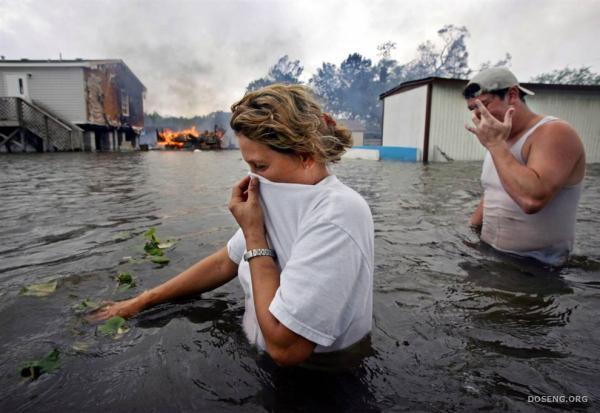 6) The inhabitants of the city Lafitte, Louisiana, September 24, 2005 had to deal with flooding and fire - the aftermath of Hurricane Rita passes through this region. The hurricane caused damage in the amount of $ 11, $ 8 billion in Louisiana, Texas and Florida. (Kevork Djansezian / AP)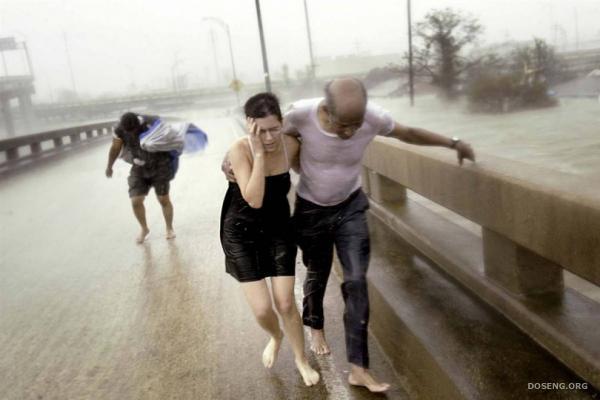 7) The survivors in New Orleans after the hurricane of 2005 under the name Katrina: 33-year-old Jennifer Cooper, 67-year-old Otis Brown and 50-year-old Jean Albe. They escaped by climbing to the top of Avtomagistralnaya facilities when escaping from the water flow in the level of the roofs of houses with a larger group of persons on board a motorboat. (Jim Winn / Vellum Media)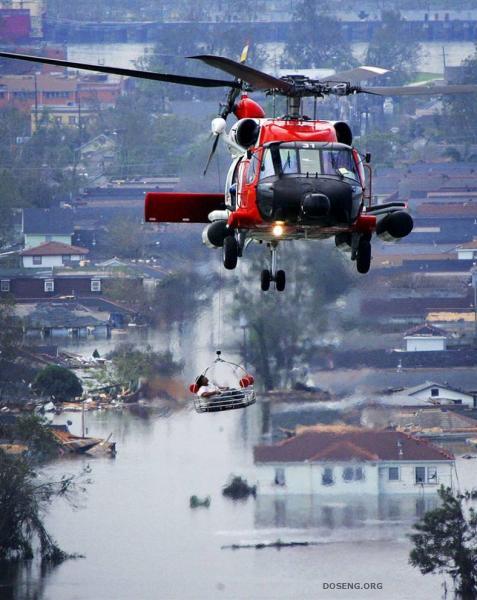 8) Hundreds of residents of New Orleans were rescued by helicopters and other means after Hurricane Katrina reached the coast of August 29, 2005. Approximately 1,500 people died due to Katrina, which became the most "expensive" natural disaster that struck the United States: Hurricane damage brought on $ 85 billion in Louisiana, Mississippi and Florida. (Vincent Laforet / Getty Images)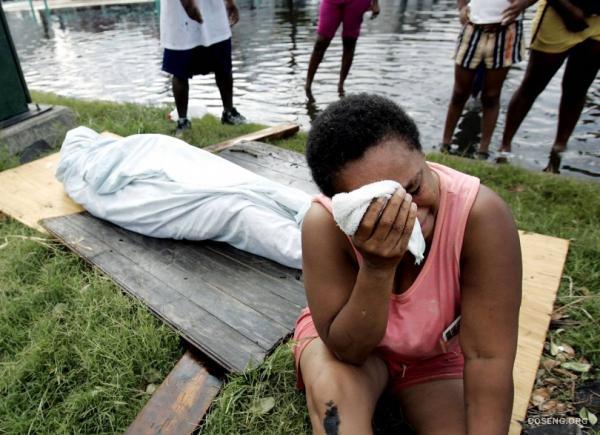 9) Evelyn Turner cries alongside the body of her common law husband, Xavier Bowie, who died in New Orleans on August 30, 2005. Bowie and Turner decided to ride out Katrina, when they could not find a way to get out of town. Bowie, who had lung cancer, died when he ended liquefied oxygen. (Eric Gay / AP)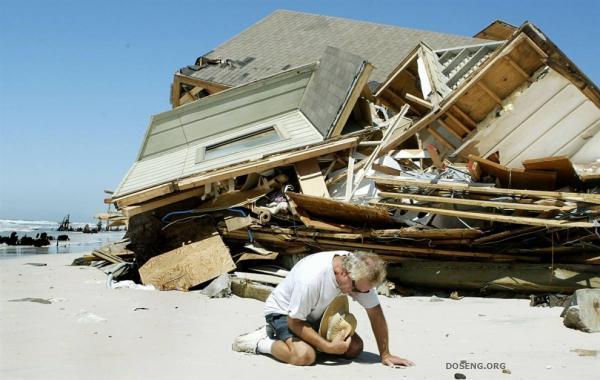 10) The owner of this home on Cape San Blas, Florida, prays after Hurricane Ivan, which destroyed his house and hundreds of homes like this all along the coast. The damage caused to property in the United States reached $ 15, $ 5 billion. In addition, Ivan took 25 lives in Florida and Alabama. (Phil Coale / AP)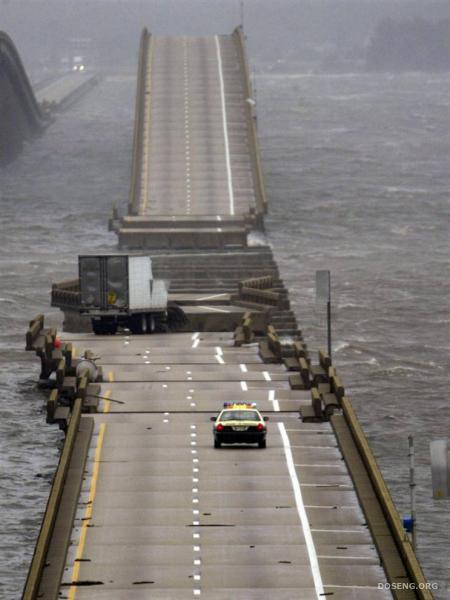 11) storm surge that lifted Hurricane Ivan destroyed the bridge north of Pensacola, Florida, 16 September 2004. (Rick Wilking / Reuters)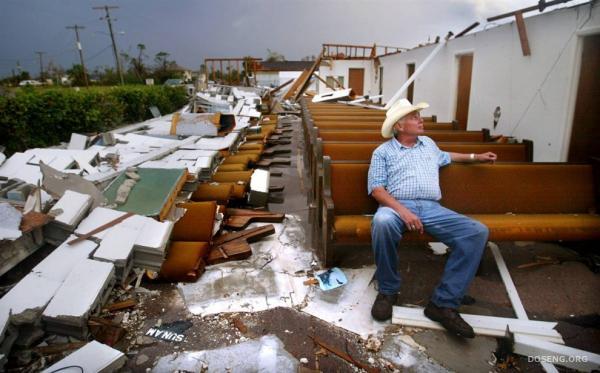 12) Volunteer Buddy Shipp in the ruined Church of Christ Peace River in Punta Gorda (Punta Gorda), Florida on August 22, 2004. The roof of the church disrupted by Hurricane Charley, but the believers vowed to restore it. Material damage from Charley reached $ 16, 3 billion. (Mario Tama / Getty Images)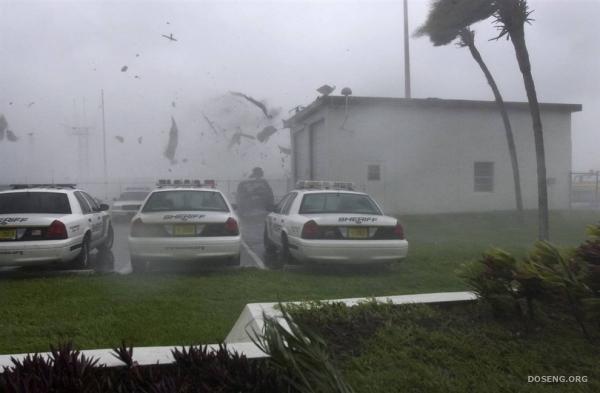 13) on the roof of the garage claimed sheriff's patrol boat in Punta Gorda (Punta Gorda), Florida, August 13, 2004. (Scott Martin / AP)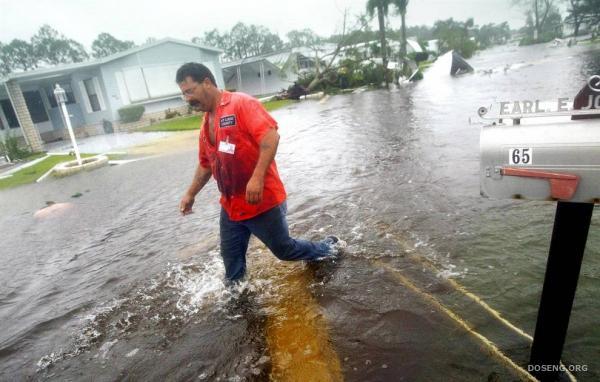 14) This trailer park in Fort Pierce, Florida, was flooded waters of the storm surge September 5, 2004, three days after Hurricane Frances hit the coast. (Chris Hondros / Getty Images)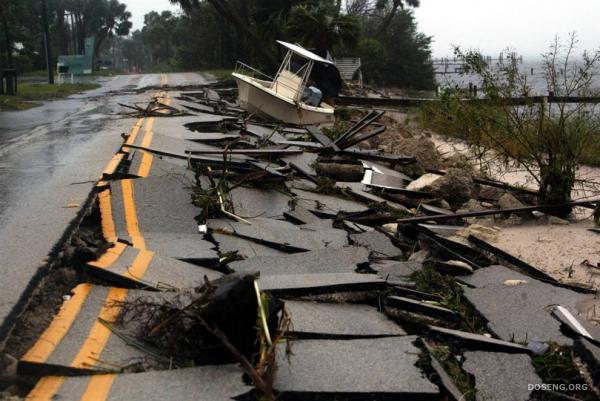 15) Line waves storm provoked by Francis left the coastal road in ruins, including this one in Jensen Beach, Florida. (Chris Hondros / Getty Images)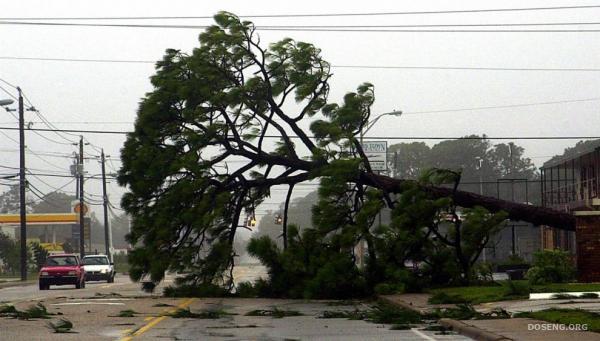 16) Streets Tutsvillya and other southeastern cities of Florida were littered with the aftermath of Hurricane Frances, which reached the coast of September 2, 2004. Strong wind and rain continued for several days. Hurricane Frances brought loss of nearly $ 10 billion. (Bruce Weaver / AFP / Getty Images)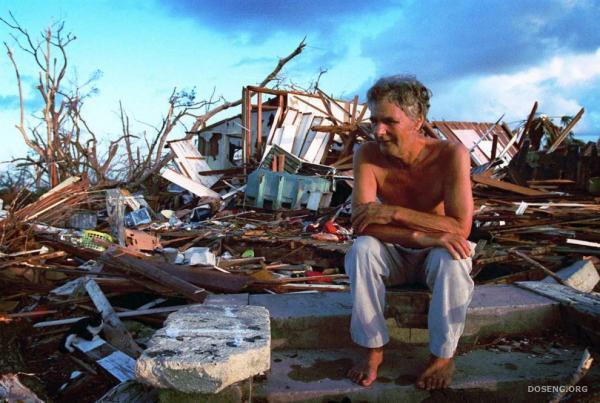 17) Tens of thousands of people were left homeless after Hurricane Andrew. In this photo taken Sept. 1, 1992, you can see Jenny Vansedarfild (Janny Vancedarfield) from Florida City, Florida, on the ruins that were once her home. Andrew was the second most expensive storm in US history with material damage $ 48 billion. (Lynn Sladky / AP)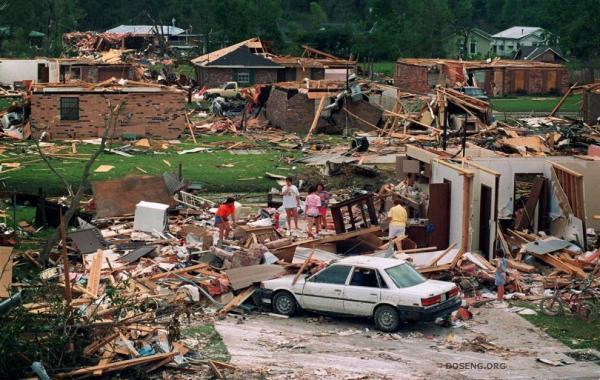 18) August 26, 1992 tornado generated by Hurricane Andrew destroyed this house. (Paul J. Richards / AFP-Getty Images)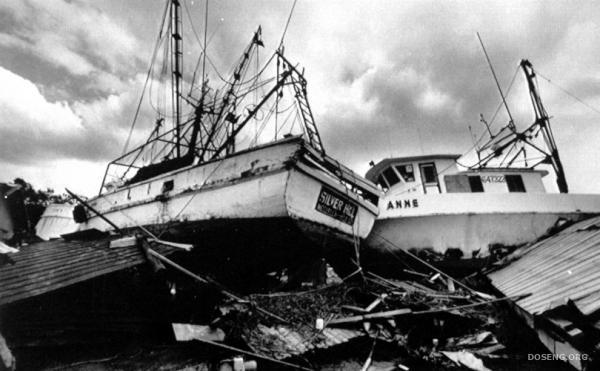 19) The wreckage of boats shrimp on the beach in Makklellenville, South Carolina, September 26, 1989, after Hurricane Hugo. The storm brought material damages to $ 13, 5 billion. (Jeff Amberg / Associated Press)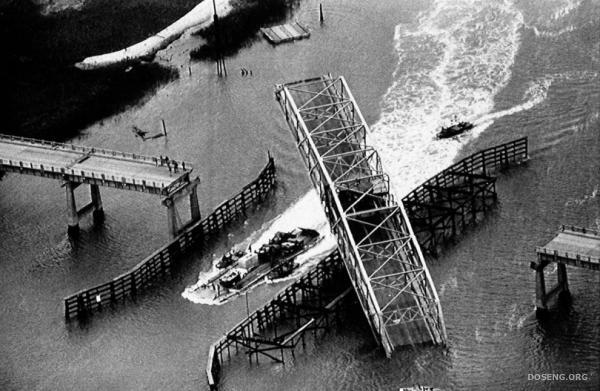 20) The bridge on the Island Sullivan, South Carolina, was destroyed by Hurricane Hugo. The main span of the bridge was turned inside relative to the base during Hurricane Hugo, which reached wind speeds of 135 miles per hour. (Wade Spees / AP)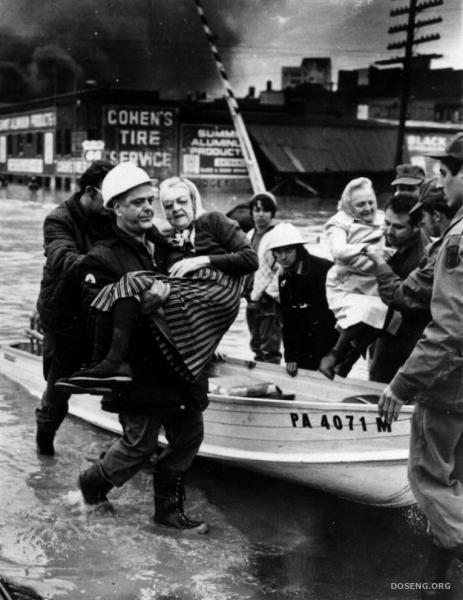 21) Saved pensioners in Wilkes Beira, Pennsylvania, June 23, 1972, after Hurricane Agnes, which forced the Susquehanna River to get out of their coasts. Material damage from the storm was estimated at $ 12, $ 4 billion. (Phil Butler / Scranton Times via AP)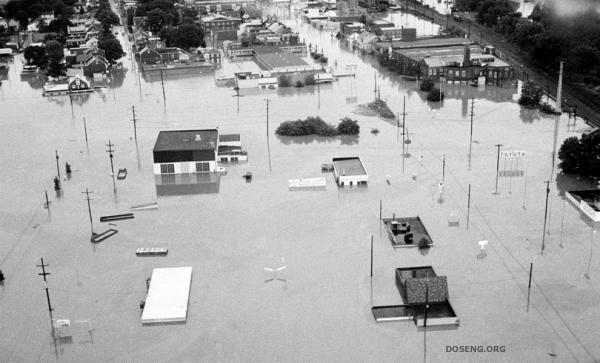 22) Floods caused by rain from Hurricane Agnes flooded home in Pottstown, Pennsylvania, June 23, 1972. Agnes caused 122 deaths. (AP)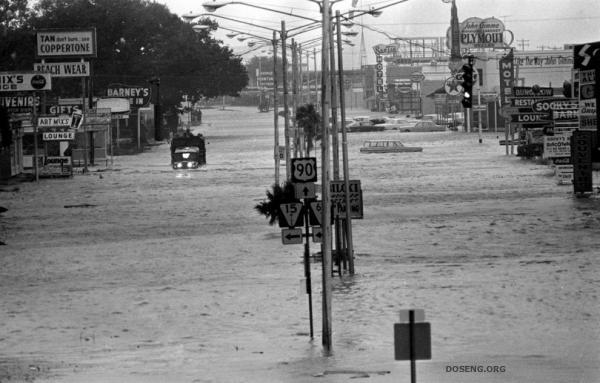 23) The residents of Harrisburg, Pennsylvania, run away from the flooding caused by Agnes 23 June 1972. (Paul Vathis / AP)
24) The residents of Harrisburg, Pennsylvania, run away from the flooding caused by Agnes 23 June 1972. (Paul Vathis / AP)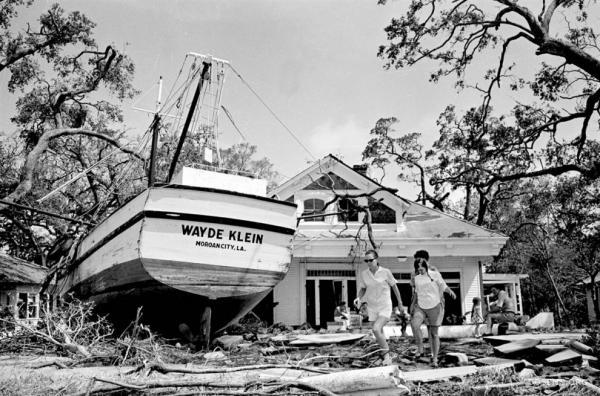 25) 85-foot boat sinks in water (Biloxi, Mississippi), after the storm waves Camille took her more than 100 yards from the pier. (Joe Holloway Jr. / AP)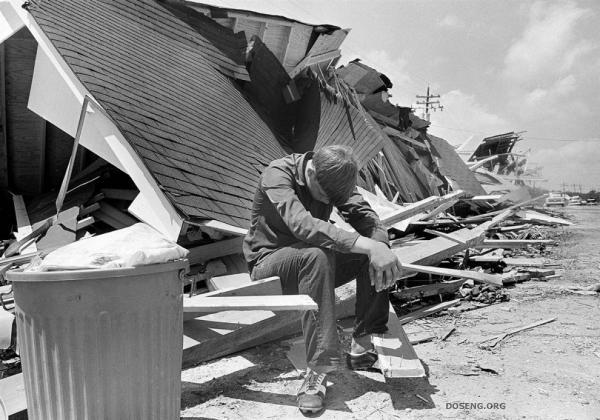 26) The boy has a rest after returning to the ruins of his home in the town of Buras (Buras), Louisiana, August 22, 1969, four days after Hurricane Camille, struck the northern part of the Gulf Coast and caused damage of $ 10 billion. (Jack Thornell / AP)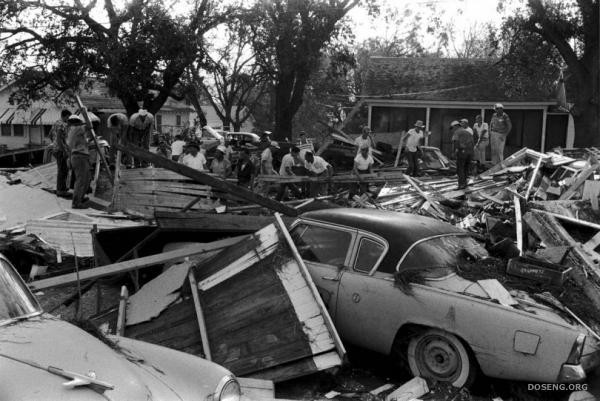 27) Residents of Louisiana dismantle the wreckage after Hurricane Audrey, which has passed through the south-western and eastern parts of Texas. (Shel Hershorn / Getty Images)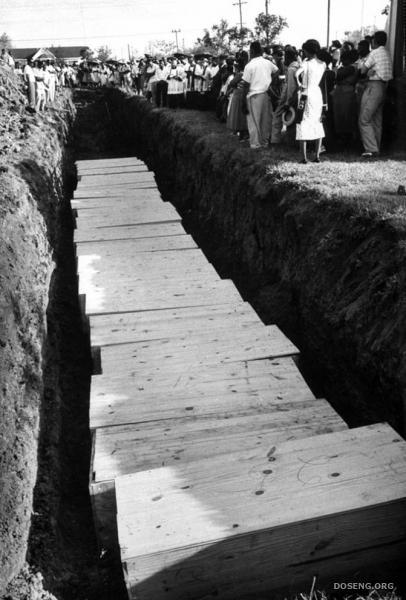 28) People gathered at the mass graves of victims of Hurricane Audrey, reached the coast near the border of Texas Luiziana.27 June 1957. This disaster was the seventh death in the US, and claimed at least 416 lives. (Robert W. Kelley / Time & Life Pictures via Getty Image)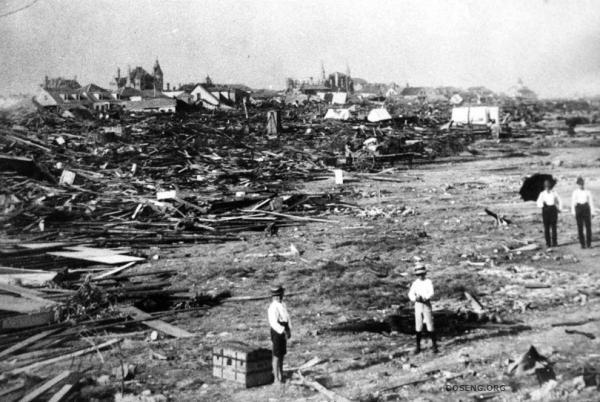 29) Most of the city of Galveston, Texas, flattened by Hurricane September 8, 1900. Then died from 8 to 12 thousand people and another 10,000 were left homeless. The hurricane in 1900 was recognized as the worst natural disaster in American history. (AP)