This is a special medical procedure - fire massage. Aromatic oils, medical infusion of herbs, soft towels, oriental music and fire
 - These are the components of therapeutic massage.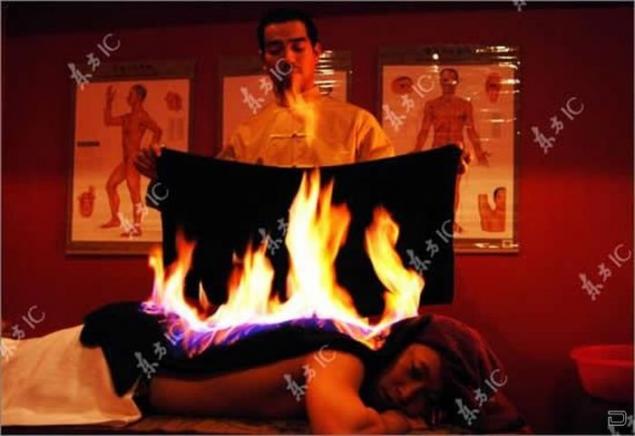 This art originated in Tibet thousands of years ago. Then he took over the Chinese masseurs.
Duration of massage - half an hour. The procedure is painless. First, knead the body with aromatic oils,
then put on the back (or other body part) special towel soaked in medicinal herbal infusion.
All covered with several layers of wet towels, pour rubbing alcohol, also infused with herbs and set on fire.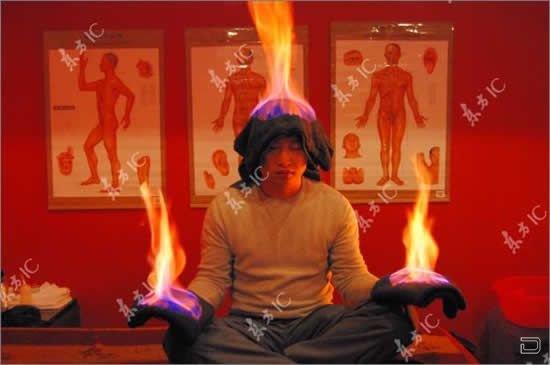 The body is warmed up, the pores open, the back is sweating. Herbal infusion penetrates deeply into the skin and cleans the blood,
also boosts the immune system cheloveka.Ognenny massage relieves fatigue and irritability.
It recommended for the prevention and treatment of cervical and lumbar degenerative disc disease. It has a warming up effect.
Fire massage, recommended for women who want to lose weight (in the literal sense, the fire burns fat),
you must do the procedure, it is the place where there is excess body fat.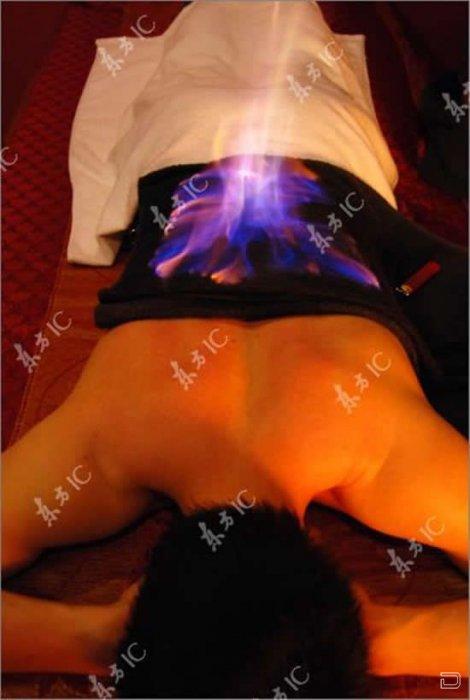 Heat and massage has a therapeutic effect and rasslablinyuschy. Cervical and lumbar osteochondrosis, rheumatism,
inflammatory lung disease in women susceptible to thermal massage, which also has a health tonic effect,
It improves the immune system. Massage well soothes, relieves fatigue, irritability, helps with insomnia.
Rasslablinyutsya muscles that shamelessly numb and woody when sedentary, standing work, sedentary lifestyle.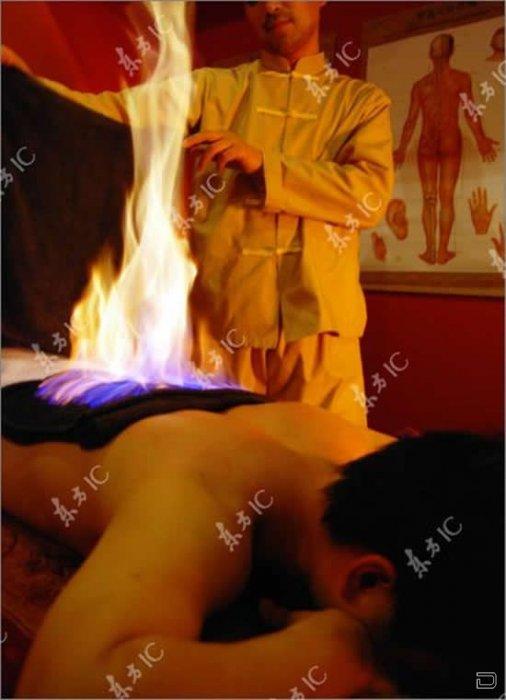 The heat dilates blood vessels and thus improves blood circulation and lymph flow, metabolism is activated.
And this, in turn, helps to eliminate toxins from the body. It exerts its effects on the body and the healing infusion of herbs,
instantly absorbed into the open pores of the heat. One should not forget that the fire has the ability to purify the human aura
and charge it with his energy. (The procedure lasts 30 minutes and costs 300 yuan)